Apple cinnamon overnight oats make for a deliciously easy breakfast! Basic overnight oats get an upgrade from a cinnamon apple topping that makes these taste like apple pie in a jar.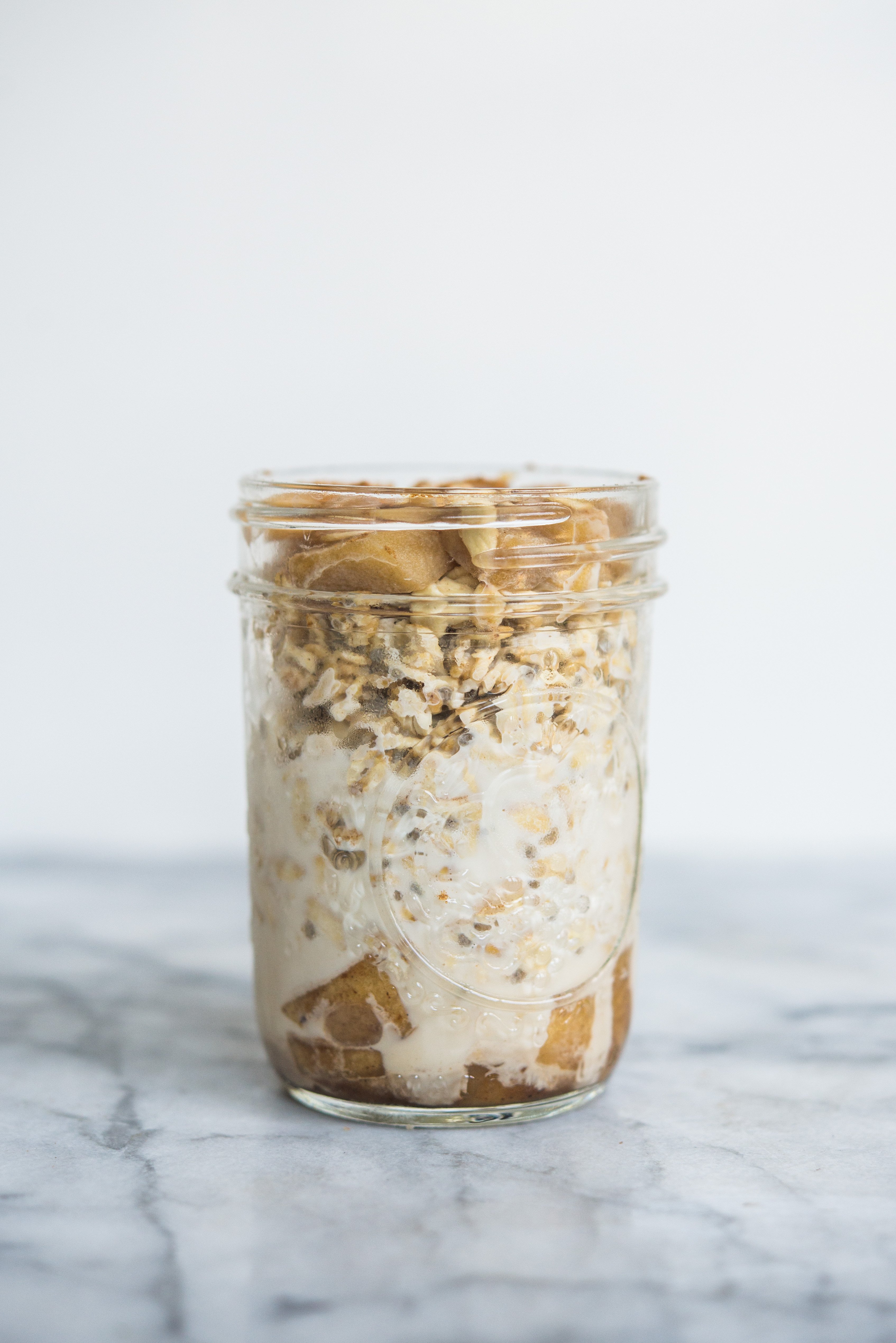 We are wrapping up our last week of Cook Once meal plans with the ultimate easy meal prep breakfast – overnight oats! If you haven't tried overnight oats yet, what are you waiting for? These are so easy to throw together on Sunday, portion into individual jars, and eat all week long. You all loved our maple pecan overnight oats last year, so over the next few weeks, we will be bringing you four more flavors to up your overnight oat game!
First up in the series are these apple cinnamon overnight oats. I grew up eating (and loving) apple cinnamon oatmeal, and now that fall is here we couldn't resist making this classic flavor. What really sets these overnight oats apart is the quick apple compote that goes on the bottom – it's a quickly-cooked mixture of diced apples, maple syrup, and cinnamon that makes this breakfast taste just like apple pie.
Are Overnight Oats Healthy?
Here at Fed and Fit, we are big advocates of eating a diet filled with the foods that work best for you. That being said, if you find that you can tolerate oats well, we think they make a great easy breakfast option. Oats are whole grains that are packed with fiber and low on the glycemic index. They have great benefits for digestion and have been shown to have a positive impact on metabolism and blood sugar as well. Oats have gotten a bad rap in the past partially because so many commercial oatmeals are loaded with excess sugar. In this recipe, we are keeping it simple with the only added sugar coming from the apple compote.
While oats do pack a conservative amount of protein in each serving, if you're looking for a more protein-heavy breakfast you can either pair your overnight oats with eggs or sausage or add a scoop of protein powder when assembling your jars.
Ingredients
Here's what you'll need to make these delicious overnight oats:
An apple – For 4 servings of these oats, you'll need one large diced apple. You can either peel the apple or leave it whole – it's your preference!
Pure maple syrup – If you'd like, you can sweeten these oats up a bit with 2 tablespoons pure maple syrup.
Cinnamon, nutmeg, cloves, and vanilla – These spices help infuse the oats with classic apple pie flavor.
Oats – we like to use rolled oats for our overnight oats. These oats from Bob's Red Mill are a great certified gluten-free option, and these sprouted oats from One Degree Organics are another good option, especially if you feel like you have a bit of trouble digesting whole grains!
Milk – for this recipe, you can use whatever milk you like best! We've tested successfully with whole milk and almond milk. Cashew milk or boxed coconut milk (not the full-fat kind in cans) will also work well here.
Chia Seeds – the chia seeds help thicken up the oats just a bit and give them that delicious, creamy consistency.
How to Make
You can make these apple overnight oats in just a few minutes with these steps:
Cook the apples. First, you'll dice up the apples, then place them in a pot over medium heat along with a bit of water, maple syrup, cinnamon, nutmeg, and vanilla. Cook the mixture for about 5 minutes, until the apples are soft.
Set out 4 mason jars. While the apples are cooking, set up your overnight oats assembly line! You'll need 4 8-ounce mason jars.
Divide the apple mixture. Spoon the apple mixture into the bottom of the 4 jars, reserving a little extra for topping, if desired.
Add in the oats, milk, and chia seeds. Next, add 1/2 cup of oats, 1 teaspoon of chia seeds, and 1/2 cup of milk to each mason jar.
Shake them up! Give the jars a good shake to distribute the milk, then place the lids on them.
Refrigerate overnight. Finally, place the jars in the refrigerator – by morning they'll be ready to eat!
More Favorite Oat Recipes
Apple Cinnamon Overnight Oats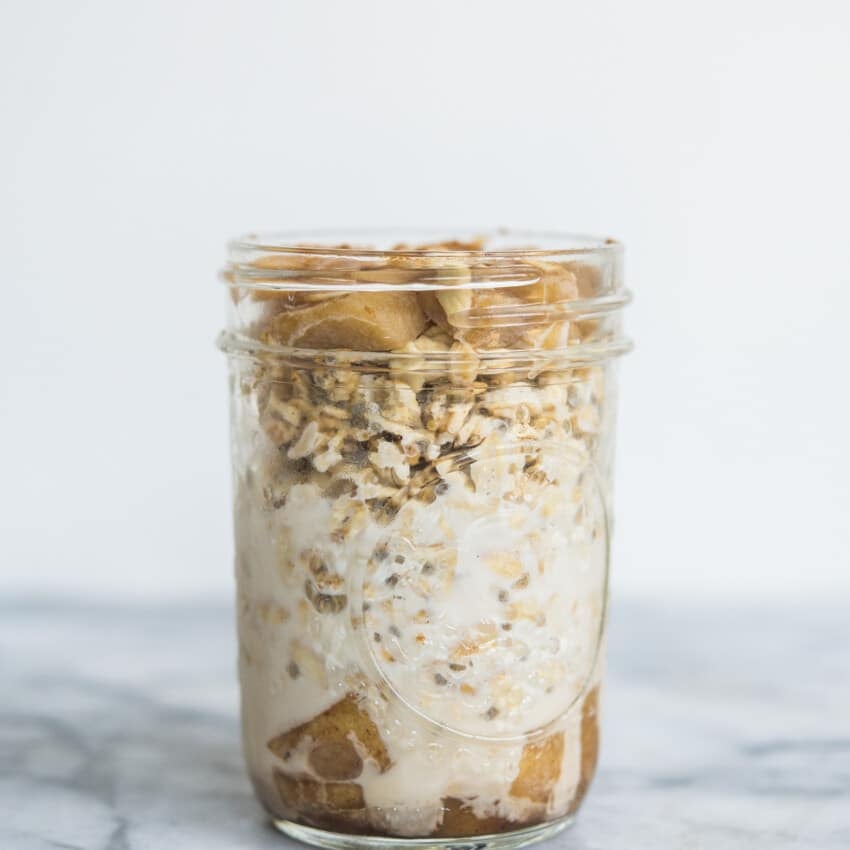 These overnight oats make a perfect meal prep breakfast and taste just like apple pie!
Instructions
Place the apple, maple syrup, water, vanilla, cinnamon, nutmeg, salt, and cloves to a small pot over medium heat. Cook for 4-5 minutes, until softened, then set aside.

Pour 1/2 cup oats, 1 teaspoon chia seeds, and 1/2 cup milk into each jar. Place the lids on the jars, then shake them up to distribute the chia seeds.

Refrigerate overnight, then enjoy! Oats will keep for up to 5 days in the refrigerator.
Nutrition
Calories:
246
kcal
|
Carbohydrates:
43
g
|
Protein:
7
g
|
Fat:
6
g
|
Saturated Fat:
1
g
|
Polyunsaturated Fat:
3
g
|
Monounsaturated Fat:
2
g
|
Trans Fat:
0.01
g
|
Sodium:
168
mg
|
Potassium:
239
mg
|
Fiber:
7
g
|
Sugar:
11
g
|
Vitamin A:
28
IU
|
Vitamin C:
2
mg
|
Calcium:
216
mg
|
Iron:
2
mg