If you've been looking for a new favorite egg-free breakfast, look no further because these Maple Pecan Overnight Oats are the perfect on-the-go option for busy fall mornings! You guys LOVED our DIY Egg-Free Breakfast inspirations so much that we wanted to start giving you some new options to add in to your morning rotation that check all the boxes for breakfast foods – easy, tasty, and portable. It's the ideal combination of creamy and chewy, with just a smidge of sweet!
I have to admit, we've been late to the overnight oats game and I have no idea why we waited this long! This recipe was so incredibly easy to throw together the night before, pull out in the morning, top and go! Admittedly, breakfasts these days aren't always a leisurely affair, so even finding time to reheat things can be a struggle. This may be THE easiest recipe that we've ever had on the blog (and that's sayin' a lot because we love easy around here).  It's so simple and so customizable that it almost doesn't require a recipe! You've got the essential base ingredients as a template, but the sky's the limit when making this your own – go crazy!
I see these Maple Pecan Overnight Oats as being in our line up for the rest of the holiday season and every occasion. We love to host family and friends for long weekends and being able to whip these up in advance are such a lifesaver! The amazing thing about these little mason jar concoctions is that not only are they egg-free but they can also be made dairy-free and gluten-free with a few simple substitutions. If you want to use almond or coconut milk, go for it!  If you want to make sure you have a gluten-free oat, we highly recommend this brand for a great option. We topped ours with a generous serving of chopped pecans and fresh pomegranate seeds, but you could easily swap for your favorites!  Some of our tastiest topping suggestions include: chocolate chips, fresh strawberries, coconut flakes, hemp seeds, crushed graham crackers, or candied orange peels. There really is no bad choice here! You can even toss in a tablespoon or two of collagen peptides in the mix if you want to up the protein content and it won't affect the flavor.
You guys, once you go overnight oats, you will NEVER go back!  It's as simple as mixing the wet ingredients, and then combining with the oats, and popping the mixture into some mason jars.  Set it and forget it in the fridge overnight, and then pop it open and sprinkle with your toppings! BOOM.  Now you've got six servings of Maple Pecan Overnight Oats at your fingertips for the rest of the week, and no stress in the morning! Pro-tip: the oats will expand as they absorb the liquid, so make sure whatever containers you use you leave extra room at the top for just this reason.
Did I get you guys adequately jazzed to "overnight oat"?!  (yes, I totally made overnight oat into a verb, don't judge me!) Tell me, what flavors would you like to see in the future?  The best thing about these egg-free concoctions is we can get creative, so let's have some fun!
More Overnight Oat Recipes
If you loved these, we've got 15 more easy overnight oats for you! Check out our full guide for how to make the best overnight oats, and inspiration for everything from apple pie to almond joy oats.
Maple Pecan Overnight Oats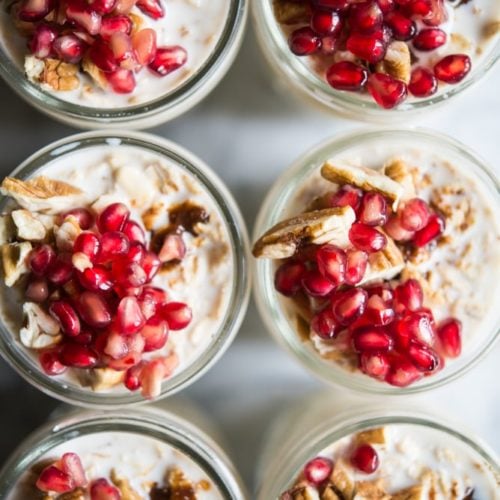 The easiest egg-free breakfast, full of flavor, and perfect for on the go!
Instructions
In a medium mixing bowl, combine all your wet ingredients and whisk well.

Add the oats to the wet mixture and stir to incorporate.

Spoon your oat mixture into individual mason jars (leaving room at the top for expansion), and secure the lid on the jar.

Place in the refrigerator overnight to set.

Remove from refrigerator, top with chopped pecans and pomegranate seed and enjoy!
Recipe Notes
*keeps well in the fridge for 4-5 days
Nutrition
Calories:
359
kcal
|
Carbohydrates:
58
g
|
Protein:
12
g
|
Fat:
9
g
|
Saturated Fat:
4
g
|
Polyunsaturated Fat:
1
g
|
Monounsaturated Fat:
2
g
|
Cholesterol:
20
mg
|
Sodium:
67
mg
|
Potassium:
486
mg
|
Fiber:
5
g
|
Sugar:
20
g
|
Vitamin A:
264
IU
|
Calcium:
250
mg
|
Iron:
2
mg