This spicy spinach and herb salad isn't your typical side salad — it has the potential to steal the dinnertime show + has become one of my very favorite ways to use fresh spring produce!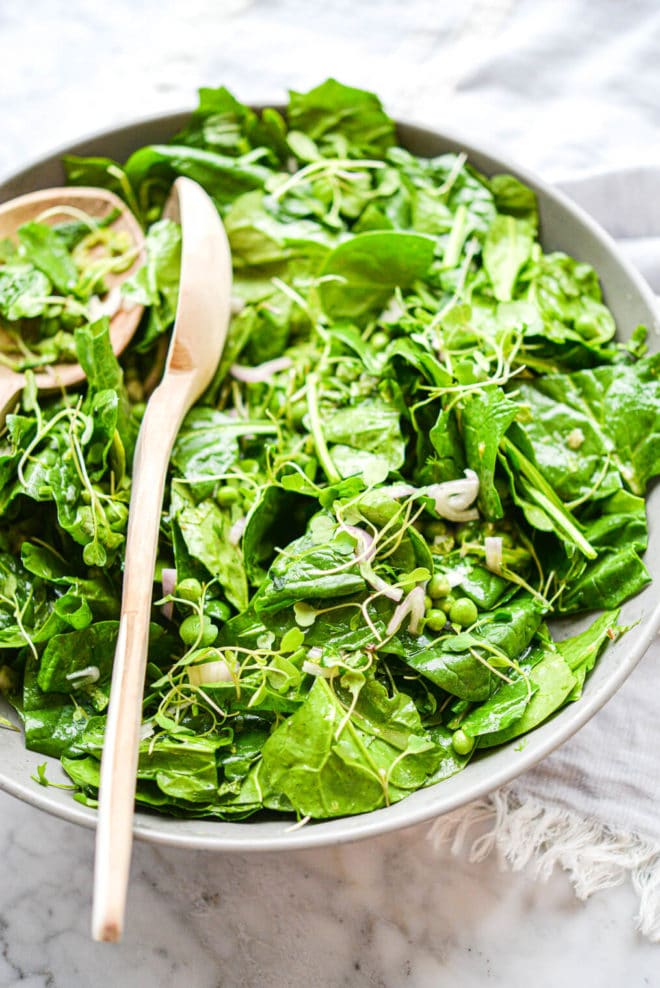 Spicy Spinach Salad Recipe with Herbs
This salad is a show-stealer, y'all! I know, I know, you're probably wondering how in the world a side salad can take the spotlight from a main dish, but we have full confidence that when you try this salad, you'll totally get it. In other words, this is no ordinary salad – the fresh herbs and spicy dressing make sure of that.
What Is In a Spinach Salad with Spicy Dressing and Herbs?
This salad includes all of the good, fresh, green things! Here's everything you'll need:
For the Salad
Spinach – to start, you'll need 2 bunches of spinach with the stems trimmed and roughly chopped. Feel free to sub baby spinach for the bunch spinach if needed!
English peas – to add some texture to the salad, you'll want to grab 8 ounces of English peas. We used fresh peas which added a really nice crunch, but thawed frozen peas will work great too!
Sprouts – 1 cup of sprouts will add to the base of the salad. We used broccoli sprouts, but you can use any sprouts you'd like!
Shallot – 1 finely sliced shallot adds a punch of bold, really delicious flavor.
Fresh herbs – the fresh herbs really make this salad! You'll need ¾ cup of fresh, finely chopped herbs altogether. We used a ¼ cup of fresh mint, a ¼ cup of fresh basil, and a ¼ cup of fresh dill, all finely chopped. Play with the herbs, though, and use what you have on hand!
For the Dressing
Serrano pepper – to add spice to the dressing, you'll need 1 small thinly sliced serrano pepper. We kept the seeds in the pepper for an extra kick of spice, but if you want to tone it down a bit, feel free to scrape out the seeds and trash them!
Garlic – 2 cloves of garlic grated with a microplane adds an extra layer of flavor.
Lemon zest – to brighten things up a bit, you'll need the zest of 1 lemon. Use the same microplane that you used to grate the garlic to also zest your lemon!
Lemon juice – to add to the brightness, you'll also need the juice from 2 lemons.
Olive oil – the base of the dressing is olive oil. You'll need a ¼ cup here!
Sea salt + black pepper – you'll use a ½ teaspoon of sea salt and a ¼ teaspoon of cracked black pepper to lightly season the dressing.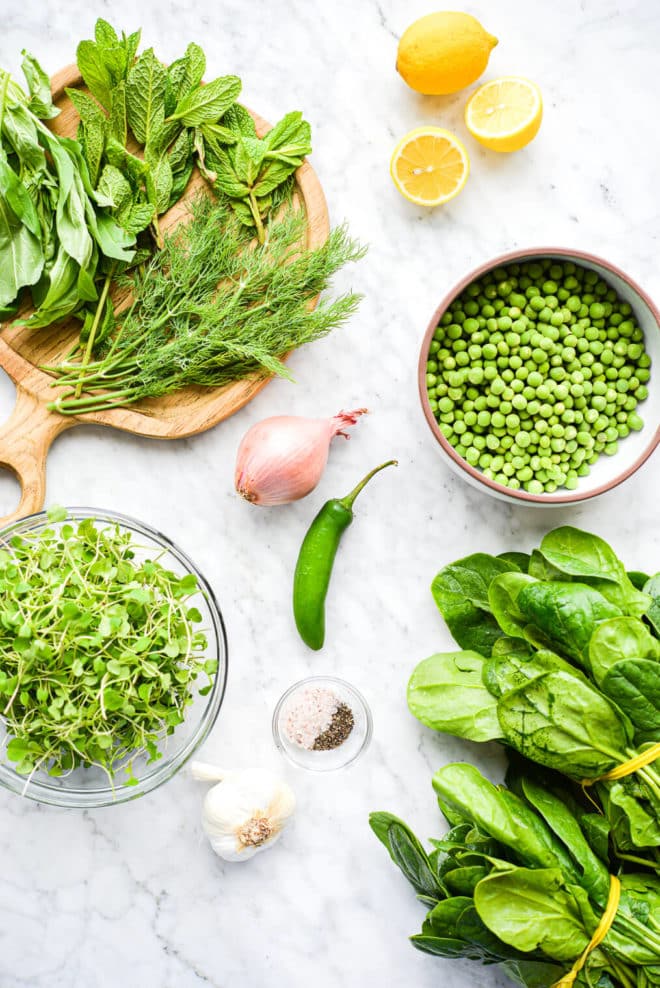 How To Prepare a Spicy Spinach Salad
As with most salads, there isn't much to do to prepare this one! You'll need to give the veggies a rough chop + make the dressing, but no actual cooking needs to be done.
Chop the salad veggies – trim the stems off of the spinach and give the leaves a rough chop, thinly slice the shallot, and finely chop the herbs. Then, toss each of those ingredients into a large bowl with the English peas and sprouts. Toss everything to combine.
Make the dressing – thinly slice the serrano pepper and add it to a mason or salad dressing jar with the grated garlic, lemon zest, lemon juice, olive oil, salt, and pepper. Secure the lid onto the jar and shake to combine everything!
Dress the salad + enjoy – just before serving, toss the salad with the dressing, then serve and enjoy!
What are the three keys to a quality salad?
Sometimes salads just fall short in the satisfying department, don't they? They don't have to, though! Here are 3 things to keep in mind when you're making your next salad to ensure that it isn't disappointing:
Make the dressing ahead of time – if you're making your own dressing, consider making it at least a day in advance. The earlier you make the dressing, the more delicious it'll be because it'll have the opportunity to really meld together, deepening the flavor.
Wait to dress the salad – There's nothing worse than a soggy salad, is there?! For this reason, you'll want to wait until just before serving to dress your salad. This will keep everything nice and crisp!
Incorporate different textures – get creative with your salad and incorporate different textures! This can be in the form of several different types of greens (think: spinach and sprouts) or in crunchy additions to your salad. Fresh veggies (think: English peas, chopped bell peppers, chopped tomatoes, etc.), nuts, seeds, and dried fruit all make for really great texture and flavor adds.
What are the nutritional benefits of Spinach Salad?
Loaded with a ton of vitamins and minerals, spinach all on its own is incredibly nutritious. Every ingredient included in both this herby spinach salad and the accompanying spicy dressing really adds to the salad's dense nutrient profile, though. This spinach salad is full of: vitamin A, vitamin C, vitamin E, folic acid, folate, iron, calcium, fiber, potassium, along with much more!
Is it better to eat Spinach raw or cooked?
Good question! In short, both have their benefits. Folate, vitamin C, and potassium are more available in raw spinach, while vitamins A + E, fiber, calcium, and iron are increased in cooked spinach. Because of this, we recommend working both raw and cooked spinach into your diet!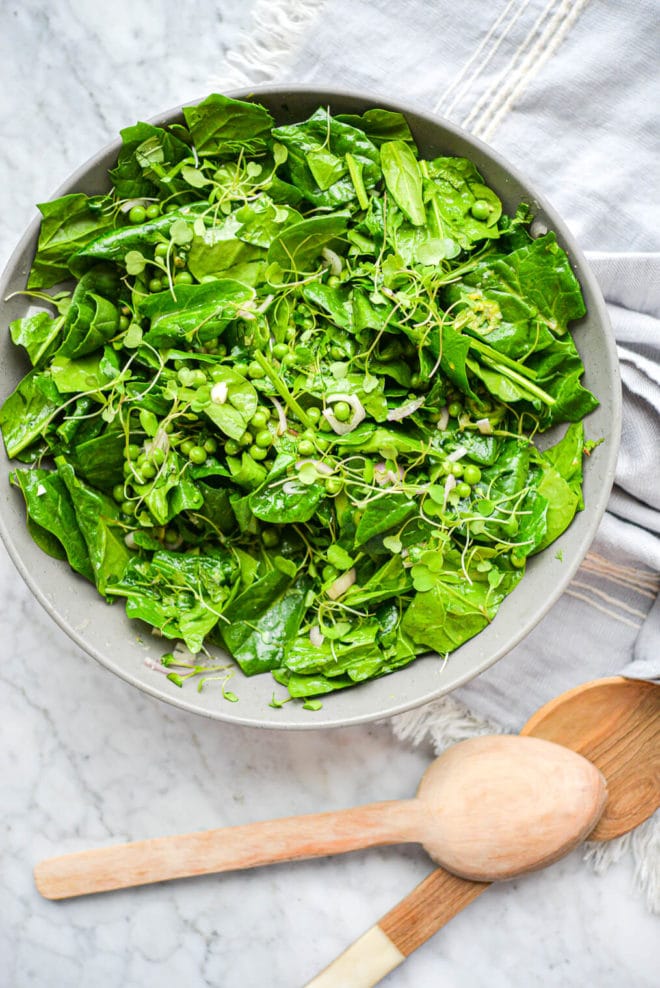 Dishes that pair well with Spinach Salad Recipes
The sky's the limit here! Choose to keep things simple by serving this salad alongside a protein (like these crispy chicken thighs) and a starchy side (like quinoa or rice). This salad also pairs really beautifully alongside a "fancier" protein (like this slow roasted leg of lamb) for, say, a special occasion dinner.
Serving and Storing Tips
If you're planning on saving this salad, we recommend storing the salad itself and the dressing separately to keep the spinach from wilting and getting soggy. The salad (undressed) will stay fresh for 2-3 days in the fridge, and if stored in an airtight jar, the dressing will stay fresh for around 7 days.
How Do You Keep Salad Clean and Crispy
Great question! Soggy greens are a good salad's biggest enemy! Here's how to keep your salad greens as crisp as possible:
Let them dry completely – if you're using bunches of spinach for this salad (opposed to pre-washed and bagged spinach), you'll need to wash it! You'll also need to wash the herbs and sprouts. Be sure to allow for plenty of drying time between washing and assembling the salad. If you start with wet, soggy greens, your salad will, of course, end up wet and soggy! We recommend laying everything you wash out on clean dish towels (or paper towels) on the counter until completely dry.
Dress the salad just before serving – as mentioned above, tossing the salad with the dressing too far ahead of time can cause the greens (especially the spinach) to wilt and become less crisp, so instead, dress the salad just before serving it.
Spring Spinach Salad Recipe with Spicy Dressing and Herbs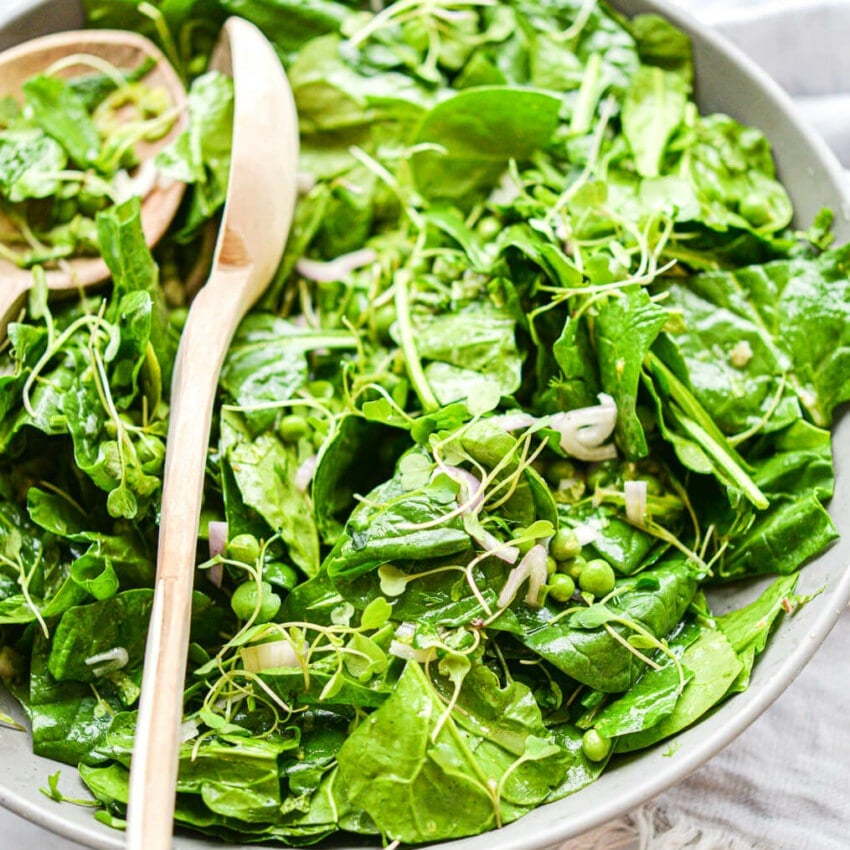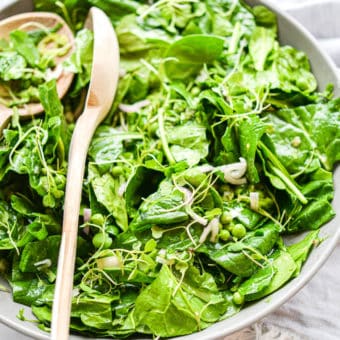 This spinach salad takes your typical side salad to a whole new level thanks to fresh herbs and a spicy lemon dressing!
Ingredients
For the Dressing:
1

small serrano pepper

thinly sliced (for a milder option, remove the seeds from the pepper, then slice)

2

cloves

of garlic

grated

Zest of 1 lemon

Juice of 2 lemons

about 1/4 cup

1/4

cup

extra-virgin olive oil

1/2

teaspoon

sea salt

1/4

teaspoon

cracked black pepper
For the Salad:
2

bunches bunch spinach

stems trimmed and roughly chopped

8

ounces

English peas

fresh or thawed frozen

1

cup

sprouts

we used broccoli sprouts

1

shallot

finely sliced

1/4

cup

fresh mint

finely chopped

1/4

cup

fresh basil

finely chopped

1/4

cup

fresh dill

finely chopped
Instructions
Add the dressing ingredients to a small bowl or mason jar and whisk (or seal and shake the mason jar for a super-easy option!) to combine. 

Add the salad ingredients to a large bowl, then pour the dressing over top and toss to combine. 

Serve the salad immediately so that the spinach doesn't wilt! If you'd like to make this in advance, just wait to dress the salad until you're ready to serve.
Recipe Notes
You can substitute 1 pound of baby spinach for the bunch spinach, if needed
The earlier you make the dressing, the more delicious it will be!
Nutrition
Calories:
150
kcal
|
Carbohydrates:
12.4
g
|
Protein:
6
g
|
Fat:
10
g
|
Saturated Fat:
1.4
g
|
Sodium:
286.7
mg
|
Fiber:
5.4
g
|
Sugar:
3.5
g