This Asian Citrus Brussels Sprouts Slaw is a breeze to whip up and when paired with the delicious orange ginger sauce, will become an instant family favorite. This recipe is from the new Ready or Not Cookbook by Michelle Tam!
I am so thrilled to share this recipe with you today! The genius behind this gem of a dish is none other than Michelle Tam of Nom Nom Paleo. If you're unfamiliar with Michelle, you MUST go check out her stellar food blog, book 1, and brand new book 2 right now. Aside from being one of the darn nicest people I've had the pleasure of meeting, she's also one of the most thorough recipe developers. Michelle's recipes not only *always* work (save for unpredictable human error in the kitchen), but they're always amazingly delicious. If you'd like to learn more about Michelle, check out her interview on my podcast from this week! We had an awesome chat about her new book, her impressive recipe development process, and how she learned to overcome imposter syndrome by GOING FOR IT.
This fabulous recipe comes to us from her stunning second book, Ready or Not! The Ready or Not Cookbook is built on a BRILLIANT concept. It's organized into sections based on *your* state of readiness. This is so relevant because some times (speaking from experience) I'm fully prepared to cook a great meal and other times, I have done zero planning and just need to EAT. Michelle is helping to equip us with a kitchen and a plan that sets us up for success. The sections of the book include:
GET SET! The Stuff You Need to Cook Anytime: As in, these are great meal bases and flavor boosters to have on hand whenever needed. Recipes in this section include Paleo Mayo, Spicy Kimchi, Bone Broth, Grain-Free Tortillas, Umami Gravy, All-Purpose Stir Fry Sauce, etc. after delicious etc.
READY! Prep-Ahead Recipes for When You Have Your (you know what) Together: These are great dishes to make when you do feel like you have time! Whether you make them and enjoy right away or make on your meal prep day, these will add flavor and variety to your diet. Recipes include Buffalo Wings, Orange Dijon Chicken, Pressure Cooker/Slow Cooker Kalua Pig, Bangin' Baby Back Ribs, Sunday Gravy, Vanilla Almond Milk, etc.
KINDA READY! Easy Meals 'Cause You Got a Head Start: Meals that will make good use of anything you've previously prepped. Recipes include the Hangry Soup, Thai Green Apple Slaw, Thanksgiving Bites, Jibaritos, Pork Chicharron Nachos, Meatballs N' Gravy, etc.
NOT READY! Emergency Fast Food that Tastes Good: this is where I live most of the time! Recipes here include the Hobo Stew, Thai Mushroom Stir-Fry, Persian Cauliflower Rice, Honey Harissa Salmon, Thai Roast Chicken, Sheet Pan Sausage Supper, Nomster Burgers, Golden Milk, etc.
Aside from the brilliant arrangement of super tasty (and impeccably tested) recipes, Michelle also offers up step-wise photography for each dish. This way, you'll be able to follow along at each step, able to look back and find reassurance that you're on the right track.
I could go on and on about this great new resource. If you're interested in learning more, check it out HERE! Note that you can also snag a Ready or Not Wall Calendar that has all kinds of fun/bonus content.
Now, let's talk Brussels! This Asian Citrus Brussels Sprouts Slaw comes to us from the last section of the book, NOT READY! I made it while on vacation with my husband's family last week in Asheville! We stayed at the most adorable home-away (full trip recap coming soon) and I took advantage of the big kitchen + lots of hungry people to do what I love most: cook for people. These Brussels were a HIT, to say the least. With some pantry staples and a run for a few fresh ingredients (like, Brussels sprouts), it was a downhill ride to tasty town. My two sisters-in-law even messaged me when they got home saying that they'd ordered Ready or Not Cookbook so that they could have the Asian Citrus Brussels Sprouts Slaw recipe, too! It's that good, y'all.
Enjoy!
Asian Citrus Brussels Sprouts Slaw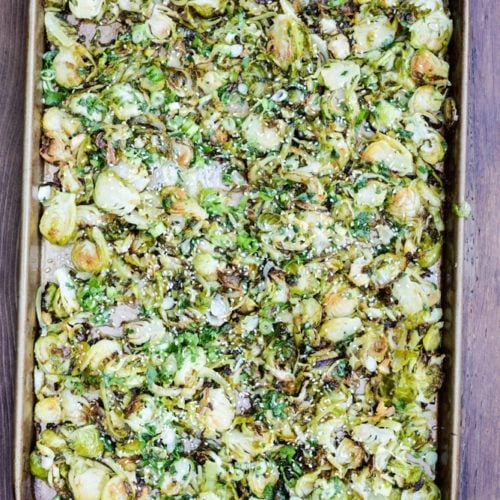 This Asian Citrus Brussels Sprouts Slaw is a breeze to whip up and when paired with the delicious orange ginger sauce, will become an instant family favorite.
Ingredients
For the Brussels Sprouts:
2 1/4

pounds

brussels sprouts

3

tablespoons

melted ghee

coconut oil, lard, or tallow

1/2

teaspoon

kosher salt
For the Sauce:
1

tablespoon

ghee

coconut oil, lard, or tallow

1

tablespoon

grated ginger

1

small shallot

minced

1/4

cup

fresh orange juice

3

tablespoons

coconut aminos

1 1/2

tablespoons

rice vinegar

1/2

teaspoon

fish sauce

1

teaspoon

sesame oil
For the Garnish:
2

scallions

thinly sliced

1/4

cup

minced fresh cilantro

1 1/2

tablespoons

toasted sesame seeds
Instructions
Preheat the oven to 450 degrees with the rack in the middle. While the oven is heating up, trim away the stems of your sprouts.

Remove any outer leaves that easily come off of the sprouts.

Slice the sprouts thinly with a knife (or just pass 'em through the slicing blade of a food processor).

In a large bowl, toss the shredded sprouts, melted ghee, and salt.

Mix well with your hands, and then shred the shredded sprouts evenly on a foil-lined rimmed backing sheet.

Bake for 15 to 20 minutes, flipping and tossing every 5 minutes, or until the sprouts are browned and tender.

In the meantime, prepare the sauce. Melt the ghee over medium heat in a saucepan. Once it's shimmering, add the ginger, shallot, and garlic and saute until fragrant, about 1 minute.

Next, add the orange juice, coconut aminos, rice vinegar, and fish sauce to the saucepan. Bring it to a boil.

Lower the heat, and simmer for 5 to 8 minutes or until the sauce slightly thickens. Remove the pan from the heat, and stir in the sesame oil.

Once the sprouts are ready, take them out of the oven, and pour the sauce over the roasted sprouts.

Garnish with the scallions, cilantro, and sesame seeds.

Toss well, plate it up, and eat.
Nutrition
Calories:
147
kcal
|
Carbohydrates:
15
g
|
Protein:
5
g
|
Fat:
9
g
|
Saturated Fat:
5
g
|
Polyunsaturated Fat:
1
g
|
Monounsaturated Fat:
3
g
|
Cholesterol:
19
mg
|
Sodium:
335
mg
|
Potassium:
545
mg
|
Fiber:
5
g
|
Sugar:
4
g
|
Vitamin A:
1041
IU
|
Vitamin C:
113
mg
|
Calcium:
73
mg
|
Iron:
2
mg