Best Nursing Sports Bras
jump to recipe
In this article, 6 nursing mamas are putting the best nursing sports bras to the test to find out which is best!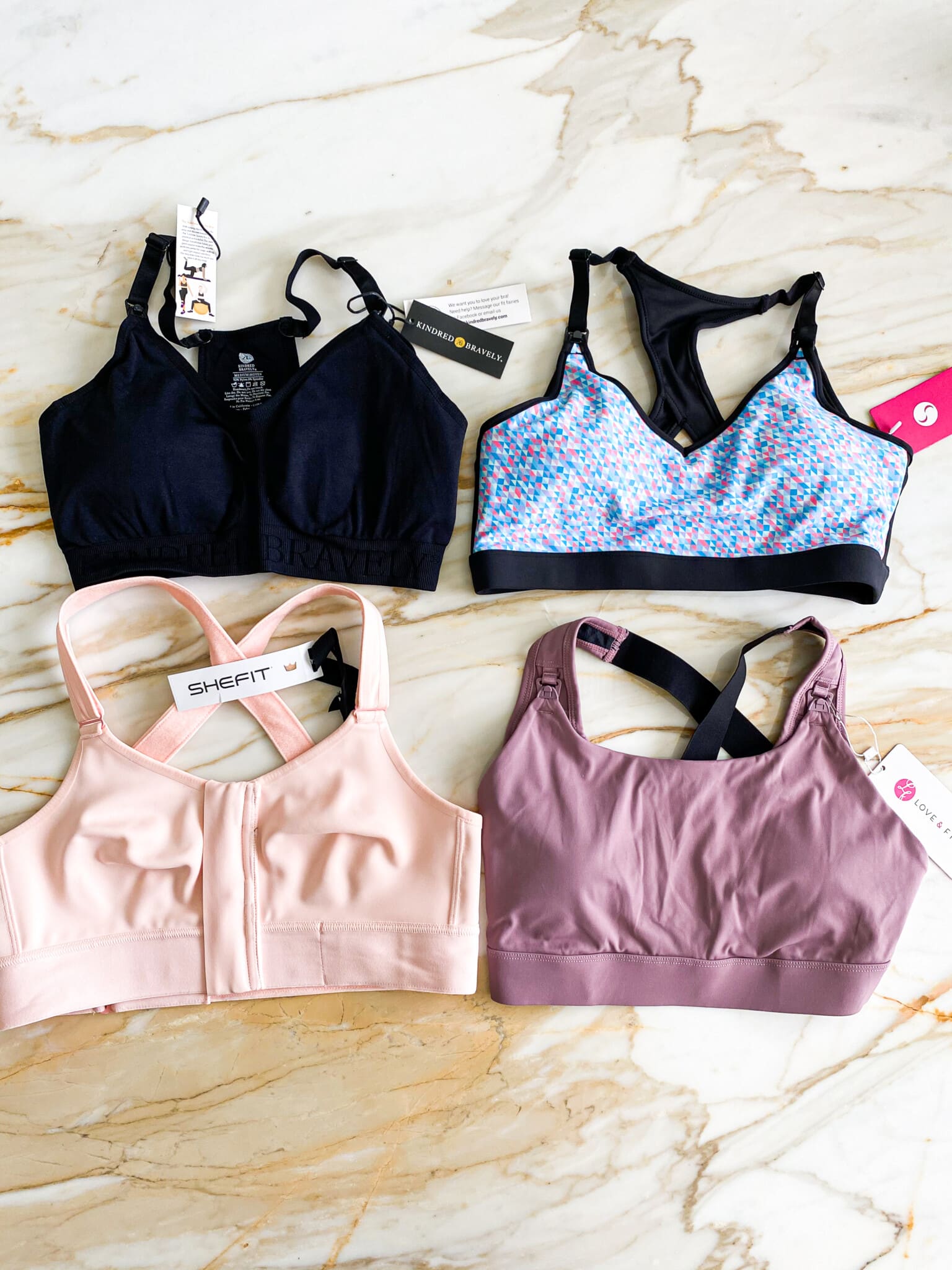 This is our first Fed + Fit community review! This all started because I, Cassy Joy, asked on Instagram for your nursing sports bra recommendations. Bishop ("Bee"), our 2nd baby girl, was nearing 3 months old, and I wanted something that offered a bit more support than the half-dozen lululemon free to be bras in my dresser.
Y'all majorly delivered on the recommendations! I took copious notes of the suggestions that came through and noticed that a few brand names were mentioned over and over again. Several of you also asked that I share the full list. I did this (in Instagram stories), but the request kept coming through to re-share. That's when I realized that we need to publish a list on the website (here we are – you can find the full list at the end of the review!). As I sat with the idea of sharing the recommended nursing sports bras, I knew that I needed to test the most-suggested ones so that I could offer insight into my personal experience. I also realize that my body shape + workout preference + nursing preferences + athletic wear fit preferences aren't the same as the next woman.
That's when the idea for a community review came to me. WHAT IF we put out a call for members of our Fed + Fit community to test the most-suggested nursing sports bras alongside me? What if those reviewers spanned a greater range of body shape, workout preference, nursing preferences, etc.? That would really give y'all (our readers) a better idea of what bra might be the best fit for you and your unique needs.
We put out a call for volunteers and were AMAZED when over 270 women applied. The 5 women (plus myself) were chosen for this article because we feel they address a good span of body shape, workout style, nursing style, etc. We purchased the most-recommended sports bras and then had them sent them to these fabulous ladies to wear, workout-in, and nurse their LO's. They recorded their experience and shared their opinions of each bra. We asked them to pay special attention to comfort, nursing ease while wearing, support during the workout, and overall quality.
I believe that the span of reviews, especially with background on each of our reviewer, will help you see the strengths/weaknesses of each nursing sports bra. I hope you find this helpful! If you have suggestions for our next community review, please let us know in a comment here.
Important: we at Fed + Fit (and I, Cassy Joy, as the Founder) are team "fed is best." This article is not meant to glorify breastfeeding mamas over non-breastfeeding mamas. It's also not meant to glorify women who choose to workout postpartum over those who don't/can't. As with all of our content, this article is intended as a helpful resource IF it resonates with you. Nothing in here is intended as a "should" (re: breastfeeding or exercising postpartum).
For those curious about my own postpartum ab/pelvic floor recovery, I highly recommend finding a Pelvic Floor Physical Therapist who can help aid you in your journey. For online support, I personally used Nancy Anderson's Ab Rehab Program. I've also heard (on good authority) great things about BirthFit.
The Participants
Before we dive into the sports bras themselves, let's take a quick second to get to know our participants! Each of these women did an incredible job of thoroughly reviewing the nursing sports bras, and we are so thankful for that!
Alaina, 34D – "I am a first time mom, my son is 3 months old. I had an unmedicated vaginal birth. I am working through a postpartum fitness program that is currently low impact and looking forward to getting back to higher impact activities like running as my pelvic floor heals. I am breastfeeding my son and pumping once daily."

Beth, 36AA – "I have 4 kids, ages 5 down to 7 months. I've nursed all of them for at least a year full time – which I love, even though it is pretty demanding and draining sometimes! Throughout all of my pregnancies and postpartum I have prioritized exercising, mostly for my own mental and emotional well-being. I love the routine of working out, I love having that time to do something for myself, and I love the energy and strength and calm that it gives me in the midst of chaotic days with my babes."

Cassy, 36B – "I have two little ones! I nursed our oldest, who's now 2.5 until 14 months and our youngest, who is almost 6 months-old, is exclusively breastfed. Like many nursing mommas, it was a rough-go at first. After a very challenging first couple weeks (filled with lactation consultations, cracked nipples, etc.), we've settled into a nice rhythm. At about 2 months postpartum (with our 2nd), I started to get back into very gentle workouts (walks and ab/pelvic floor rehab). It was then that I started to live in my sports bras again, but wanted one that would allow for easier nursing. Now, at almost 6 months PP, I've incorporated more strength training and more intense cardio that I've passed my healing milestones." 

Emily, 40G – "I'm a 35 year old first time mama to a sweet 5 month old boy! We started breastfeeding in the beginning. He immediately latched after he was born and did great in the hospital, but when we got home it wasn't all sunshine and rainbows. I knew there would be a lot to learn, but I wasn't mentally prepared for how hard it would be. After a visit with the lactation consultant, lots of follow up questions over the first month, and trial and error we finally found our groove.  For our family, it's been worth it!"

Erinn, 38C – "Hi! Among other things, I am a long-time CrossFit coach, certified postnatal fitness instructor, and first-time mom of a 9.5 month old boy. He was born in Brazil, where we were living at the time – I only mention this because I think it really positively impacted my breastfeeding journey. Breastfeeding is deeply rooted in the culture there. Although I had done a fair share of research to learn as much about breastfeeding as I could before birth (I am an enneagram 5) I still felt fortunate to have a lot of hands-on support available, both right after delivery and in the first few weeks postpartum – checking the latch, helping with positions, handling engorgement, even laser therapy to heal sore nipples. After about 3 weeks things felt pretty good and it's been pretty smooth sailing since, other than (more than) a few bites- he was a very early tooth popper and now has 8. Babywearing and long walks have been a big part of my activity the last 9 months, with some home weightlifting, yoga, and HIIT mixed in when babe is sleeping."

Jess, 34B – "I'm Jess, and I'm a stay at home mama to 5 sweet girls.  We are a very active family and spend lots of time hiking and I workout (lifting and CrossFit) 5-6 days a week.  My littlest kiddo is almost 2 and is still nursing 3-4 times a day."
The Nursing Sports Bras
Each participant tested out 4 sports bras (each of which came highly recommended by you all!). They kept their physical activity and exercise routine exactly the same as it'd been before the testing began, and simply wore each sports bra for each type of activity that they regularly participate in, and then (of course) wore each bra to nurse their little one. We asked that each participant rate (from 1-10, 10 being the highest) the bras on comfort, ease of nursing while wearing, support during workouts, and overall quality, and then leave a couple of notes about each bra. Below, you'll find the average rating for each category and the participants' notes for each individual bra! 
*Overall takeaway: good, not great; cute.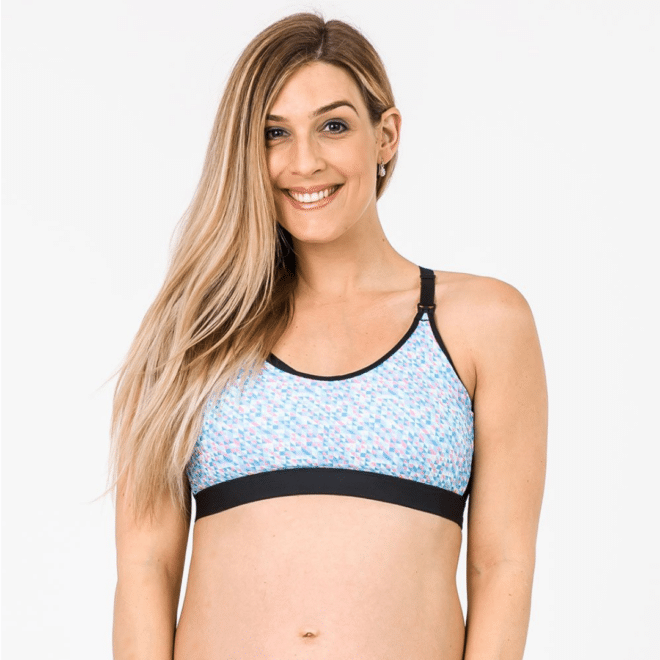 Price: $50
Comfort: 7/10
Ease of Nursing While Wearing: 8/10
Support During Workouts: 6/10
Overall Quality: 8/10
Notes:
Alaina, 34D – "I love the fun design and comfortable feel of this bra it provides medium support. The fabric underneath the nursing flap is a little loose and occasionally pops out to the side or top of the bra not a big deal just a little annoying. If you are looking for a fun cute versatile bra this is a strong candidate."

Beth, 36AA – "Nice fit for me, super smooth and soft and comfortable! Nice padding and support for various types of exercise – I used it doing full body strength and some plyo and it performed well for both. Easy one-handed nursing. Not at all distracting during movement. Underarm fit and band are both comfortable on me – supportive without being constricting."

Cassy, 36B – "I don't have any real complaints about this nursing sports bra! It was cute, comfortable, and easy enough to use. It was supportive during my somewhat high-intensity workouts and was easy to detach to nurse my daughter. I seem to have this issue with almost all nursing bras, but the fabric did roll up a bit once she latched, getting in her face. Otherwise, I'm a fan."

Emily, 40G – "This sports bra was the one I tested the least because it was too small for me.  The band fit and was comfortable, but the cups were too small."

Erinn, 38C – "The fit on this bra was kind of weird for me. The cups felt a bit loose (some gaping fabric on the sides) while the straps (just a typical thin bra strap) seemed to hit too high on the neck and dug into my skin even when on the loosest setting. Because of that, it was not the most comfortable, despite the nice smooth fabric. I would wear it for low-impact activities only and only for the duration of the workout – it's not one I'd want to stay in all day. On the positive side, nursing in it was very easy – one-handed clasp adjustment and cups were easy to get out of the way of my baby's face."

Jess, 34B – "The bra was fairly comfortable, but during my workout (rowing and weightlifting) the clips started to run and irritate my skin.  It is moderately supportive and stayed in place pretty well at the band considering it is not adjustable at the band."
Learn more about the Cadenshae nursing bra on their website!
*Overall takeaway: most comfortable; good for medium/low impact; easy to nurse in.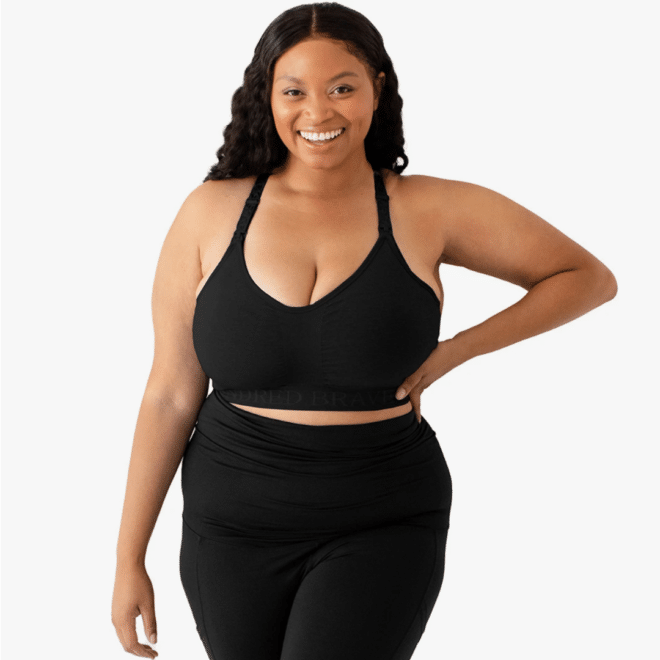 Price: $39.99
Comfort: 10/10
Ease of Nursing While Wearing: 10/10
Support During Workouts: 7/10
Overall Quality: 9/10
Notes:
Alaina, 34D – "This is my favorite of the bras, it is comfortable flattering, and easy to nurse in. It checks all the boxes. The compression might be a little light for high impact activities but since many of us spend a lot of time recovering with low impact activities I highly recommend this bra."

Beth, 36AA – "LOVE this one! Perfect! Buttery soft and so comfortable. I used it for full body barre and cardio and it was supportive for both workouts without restricting movement. Stayed in place and wasn't distracting during exercise. Band is nice and smooth. Comfortable enough to wear all day (which is nice because sometimes I forget/get too busy to change out of my sports bra!)."

Cassy, 36B – "This was my favorite, hands-down. I grab it over and over again! The support it offered was less than the other bras, but I'm slightly smaller-busted and it still gave me plenty of support for my running/higher-impact workouts. The material feels lux and the stretch is really nice. While you can unsnap to nurse, I actually found that I could pull this particular bra down to nurse (my preferred way). It pulled back up easily, didn't lose its shape, and was so comfortable to wear (even hours after a workout). I'll be buying one in another color!"

Emily, 40G – "This my favorite of all of them and the one I find myself reaching for over and over again. It's supportive and comfortable. I've even worn it to work on a more "casual" day and it doesn't look or feel like I'm wearing a sports bra. I was impressed with how well the bra helps keep shape without squishing, but also feeling supportive at the same time. The cups maintained their shape after washing it and so easy to put back in the bra."

Erinn, 38C – "This bra is definitely the one I reach for now when I'm getting dressed in the morning and want to be prepared to be able do a quick lifting or yoga session later that day – it's comfortable enough to wear all day whether you're working out or not, but still gives nice support for lighter impact activities. No part of the bra digs in anywhere – I never have any marks on my skin after wearing it, even for hours on end. The (removable) pads are a bit thick, which is great for support and comfort, but slightly awkward to nurse with – I have to kind of tuck the cups underneath the straps to keep them in place and not be in my baby's face. (Note: I did not test it without the padding.) Even though I have to tuck in the cups, it is still something I can easily unclip/clip with just one hand, which is important when dealing with wriggly babies or you want to nurse on the go."

Jess, 34B – "The bra is only adjustable at the shoulders and not the band.  It rode up a bit during my workout.  It's super comfortable and I ended up wearing it all day before my workout.  It's not as stylish as the other bras I tried, and I probably wouldn't wear it on it's own for workouts like I would the other bras.  The cups rolled up a bit during nursing, but they were fairly easy to fix."
Learn more about the Kindred Bravely nursing bra on their website!
*Overall takeaway: most supportive (great for high-impact); most adjustable; most difficult to nurse in.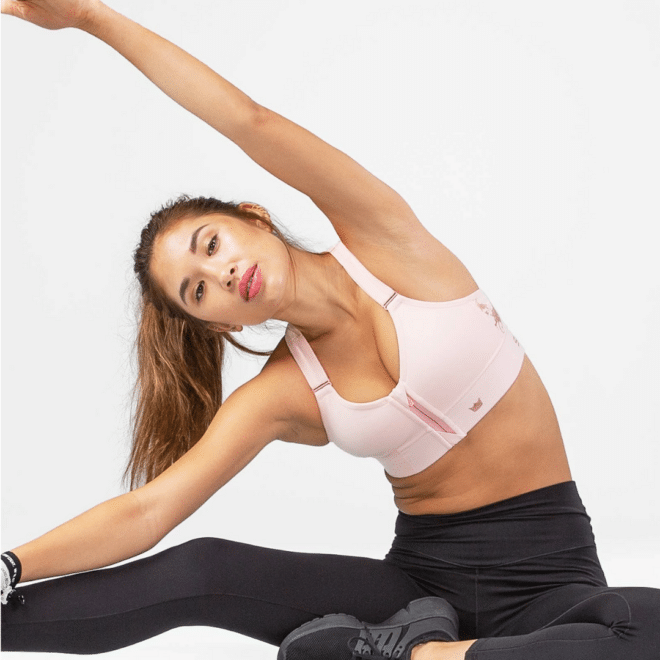 Price: $69
Comfort: 6/10
Ease of Nursing While Wearing: 4/10
Support During Workouts: 9/10
Overall Quality: 7/10
Notes:
Alaina, 34D – "This bra is unique and tried a different way to support the many shapes and sizes of motherhood. it is extremely customizable and has the highest compression. However the access to nurse is by unzipping the bra to fully open it. Great for quick skin to skin but not the easiest access to finish nursing. Also the zipper shows through in most fitness tops. It is definitely the most compression for high impact activities and if you work out in just a sports bra is a great statement piece."

Beth, 36AA – "I do love how adjustable this one is! By far the best part of this bra! I wore it for a cardio HIIT workout and barre cardio and found that the straps shifted a lot, especially when moving my arms overhead. It felt a little uncomfortable and restrictive of movement overall – it didn't allow for free, easy movement. Nursing also felt tricky and complicated to me. I tried both unzipping the front and undoing the shoulder straps – either way, redoing it wasn't one-handed. It wasn't a bra I could sit around in for very long after working out."

Cassy, 36B – "This nursing sports bra made me feel very secure. It's extremely well-made and high-quality, but missed the mark for me. While holding a squirmy, hungry baby, the quickest way "in" the bra was to unzip, and that left me feeling essentially naked. While I was at home for these nursing sessions, it wasn't that big of a deal. If I were at the gym, it would have added a layer of complexity as I re-attached my bra after she finished nursing."

Emily, 40G – "When I first put this sports bra on it felt cumbersome and a challenge to easily nurse in. The strap has velcro instead of a clip for nursing and it was more challenging to get back in after feeding my baby. But the more I wore it the easier it got and more comfortable I was with it. Keeps great shape! My husband would often comment how good my boobs looked when I was wearing this bra.  I love the velcro to adjust the band width and shoulder straps. One thing I don't love is it isn't lined. Not a deal breaker for me, but I appreciate some lining while nursing. After wearing this for a long time I could feel it weighing on my shoulders.  Again, not a deal breaker, but a bra I'd wear just for working out and not lounging."

Erinn, 38C – "The support level of this bra was actually somewhat shocking… true story, it made me actually WANT to run for the first time in almost 18 months just to test out the bounce factor (ZERO). I really couldn't believe it. With the zip-up front, it was not  that much unlike wearing a corset — it is not one that I would choose to wear for much longer than the actual workout, but boy is it secure! I also appreciate how all the straps are velcro so they are easily adjustable even after the bra is on, and you can really tighten them without feeling like they might break. The bra loses points for me on the nursing front. It definitely requires two hands, and is difficult to do when holding a baby. When unzipped, it's completely open across the chest – so while that's nice in terms of access for the baby (no cups to move out of the way), between the lack of coverage and the need to use two hands it's definitely not one I'd choose if trying to nurse in public."

Jess, 34B – "This bra was not comfortable.  The straps adjust with Velcro and did not feel secure while working out.  I stopped twice to tighten.  It did offer support, but almost too much compression for my smaller chested self. I didn't like the zipper for nursing – it was hard to undo and kept poking my kiddo while she was nursing. I did like that the band is adjustable and it didn't ride up at all during my workout, but it was somewhat itchy. The color and design were cute as well."
Learn more about the SHEFIT nursing bra on their website!
*Overall takeaway: most versatile, good for medium and high impact.

Price: $65
Comfort: 9/10
Ease of Nursing While Wearing: 9/10
Support During Workouts: 9/10
Overall Quality: 9/10
Notes:
Alaina, 34D – "This bra is comfortable and supportive in the racerback position. When you switch the straps to the traditional straight straps the bra fits strangely on me and creates a "fabric wing" that pokes out on the sides. It seems like a small design flaw it also has a little bit of surplus in the fabric underneath the nursing straps that doesn't lay well. Provides enough support for all types of activities and is very versatile."

Beth, 36AA – "I used this one for a bodyweight strength workout and a cardio workout and movement felt easy for both. The bra stayed in place and wasn't distracting. I did use a bra extender because the band was a tad tight for me – with that added it was super comfortable! Nursing felt very easy and convenient – I actually left the bra on for several hours it was so comfortable!"

Cassy, 36B – "This bra felt SECURE. It's pretty easy to adjust, but felt like one of the most supportive sports bras (nursing or not) that I have ever tried. The thick straps made it comfortable on top. I don't love the clasp in the back (I prefer a bra that I pull on over my head), but can see how that would be handy if I were sore from a workout. Nursing was easy enough. The fabric folded down well, but I had a hard time keeping it folded so that it didn't roll up in my daughter's face."

Emily, 40G – "This sports bra fit me a little funny. I can still wear it, but not super comfortable for me. The band fit, but the cups were too big, which affects the comfort and feeling supported for me. My least favorite thing about this bra is how small the cups are. I have a large chest, so the small circles gave my boobs a weird shape because it covers so little."

Erinn, 38C – "This bra is generally very comfortable (straps do not dig in anywhere and the fabric is silky-soft — I could and did wear it for many hours on end) and is relatively easy to nurse in (one-handed, and the pull-down cups are not so thick that they are hard to keep out of baby's way), but it has a couple of odd features. First, there is a second layer of fabric in the front, up by the straps and behind the pull-down cup. While this is nice for coverage (especially if trying to nurse discreetly) and probably adds to the support level, it also creates an uneven look and feel across the front of the chest so it is not the most flattering… something to keep in mind if wearing the bra out in public. Second, it is really difficult to put on with the straps worn racerback-style (my preferred style for the medium-high impact workouts the bra is designed for). Other than having a second person to clip you in, the only way to really do it yourself is to pull it on overhead with the clasps already fastened across the back. It feels risky doing this, like the clasps are going to break, and doesn't allow you to get as tight of a fit for support reasons."

Jess, 34B – "I love this bra!  It's adjustable at the shoulders and band.  It felt secure and supportive and didn't ride up at all even with lots of overhead movements.  It was extremely easy to nurse in (the cups rolled a little bit but went to right back into place).  The band is wrapped in soft fabric and was so comfortable. The style is cute and doesn't feel like a traditional nursing bra.  I wore it as a top during my workout and my gym partner didn't realize it was a nursing bra until I told her."
**Special thanks to Love & Fit for gifting the 6 nursing sports bras to each reviewer!
Learn more about the Love & Fit nursing bra on their website!
More Recommended Nursing Sports Bras
Note that we only tested and reviewed the 4 bras listed above, but still want to share all of the recommendations that came from you all!
There you have it, folks! Each of these nursing sports bras performed really well overall, and ultimately, the best one for YOU will be based on your cup size, type of activity, and preferences! I hope you find it helpful. If you have your own takeaways, comments, questions, favorite bras, or a request for another community-based review, please let us know in the comments!