Batch cooking brown rice for the week is an easy time and energy-saving hack. We're walking you through the batch cooking process + giving you 3 family-friendly meals to make great use of your rice throughout the week.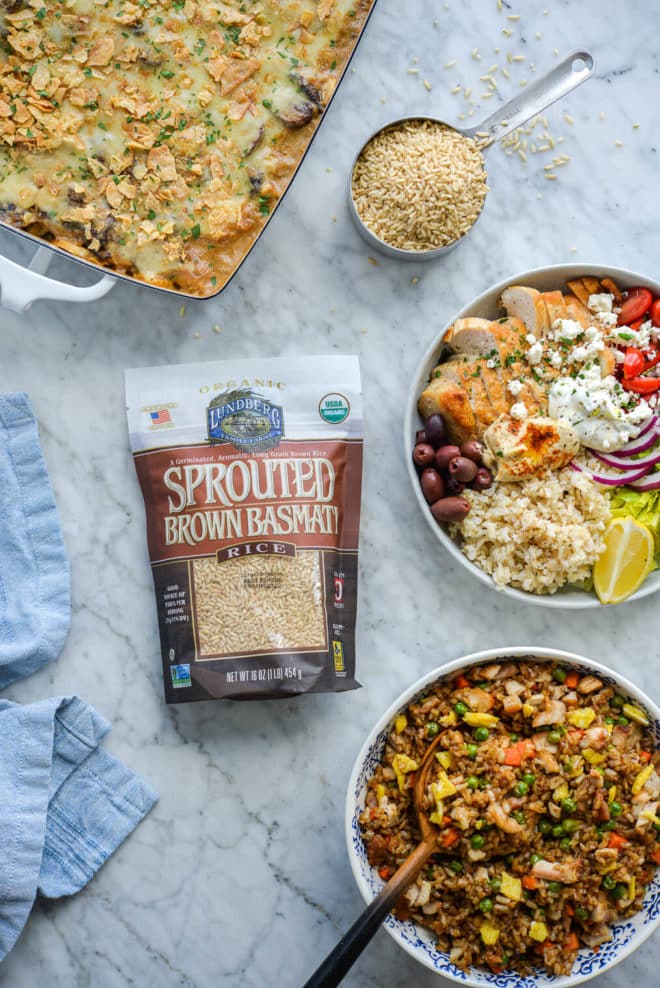 Why is this the best brown rice method on the internet?
We're partnering up with Lundberg Family Farms to bring you a time-saving, efficient cooking hack: batch cooking your rice! Brown rice is a really great nutritional add to any meal, but goodness, I don't always have the time to spend cooking it. When you cook a bunch all at once and then use the rice in completely different dishes throughout the week, so much time and energy is saved. This is something I especially love to do during the back-to-school season (or any especially busy life season) to keep my family well-fed and to keep my time in the kitchen minimal.
Can you batch cook brown rice?
YES! We're chatting all about batch cooking brown rice today. Just as it sounds, you'll cook a bunch of brown rice at once (enough for three 4-serving dinners) and then use it up throughout the week in completely different-style meals (so nobody feels like they're eating the same thing over and over again).
Why batch cook brown rice?
Batch cooking brown rice saves you so much time and energy. Think about it: cooking rice takes the same amount of time whether you're cooking one cup or three, so you may as well get all of it out of the way at once! If you're planning on serving rice several nights a week anyway, batch cooking your rice means that you'll spend about 35 minutes ONE TIME versus 35 minutes every single night you plan on serving it.
Ingredients Needed
The only thing you'll need here is brown rice (and water). Our very favorite brown rice is Lundberg Family Farm's Organic Sprouted Brown Basmati Rice. We love that this is a sprouted rice, for one, and the fact that it cooks in just 30 minutes makes it incredibly convenient. For three complete 4-serving meals, you'll want to batch cook about 3 cups (dry) of brown rice.
Why choose Lundberg?
WE LOVE LUNDBERG! Here's why: Lundberg Family Farms is a family-founded and run company whose mission is to get top-quality, organic, non-GMO grains on grocery store shelves so that getting healthy, nourishing, and really delicious meals onto the table is easy and accessible. This is a brand that the entire Fed + Fit team truly loves, trusts, and consumes regularly! We also really love that Lundberg is committed to leaving the land better than they found it through sustainable farming practices, conservation, recycling, and energy initiatives. Learn more about their commitment to sustainability HERE.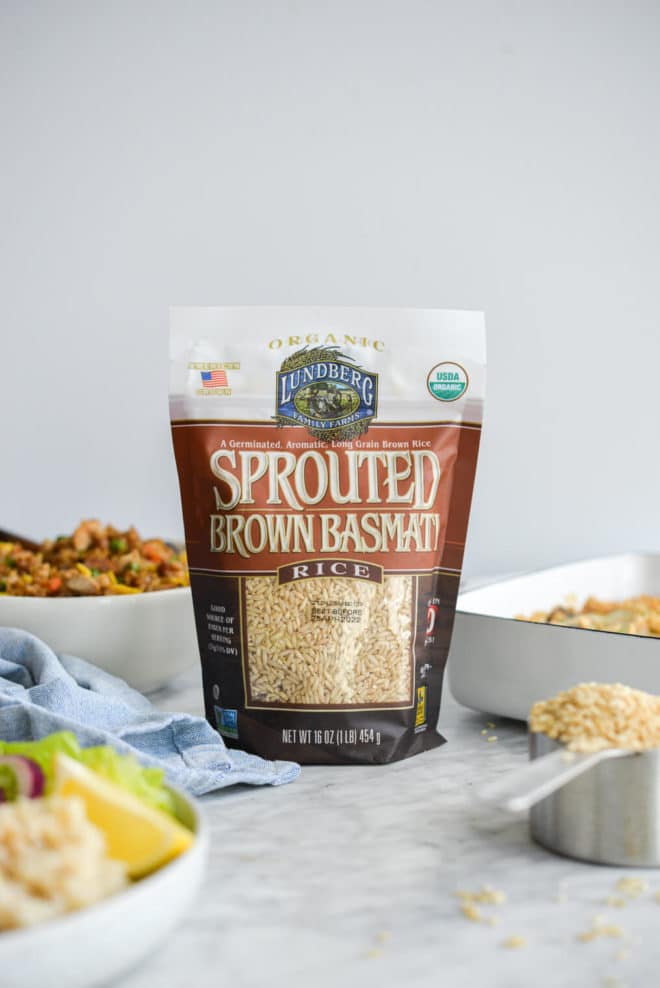 How to Make
Making rice in general is really simple, and brown rice is no different. You'll want to follow the package instructions of the brown rice you're using, but if you're using Lundberg Organic Sprouted Brown Basmati (like we did), you'll just need to:
Add the rice and water to a pot on the stovetop – for every cup of brown rice you're cooking, you'll need 1 ¾ cups of water, so in this case, you'll need to add 3 cups of rice and 5 ¼ cups of water to the pot.
Bring to a boil – once the water and rice are in the pot, you'll need to bring the water to a boil.
Cover, reduce the heat, and simmer – once the water is boiling, go ahead and cover your pot with a tight fitting lid, reduce the heat to low, and let the rice simmer (on low) for 30 minutes.
Remove from heat + steam – once the 30 minutes is up, remove the pot from heat, and let it steam (covered) for about 10 minutes.
Fluff and store – give the cooked rice a good fluff with a fork, then, once the rice is at handling temperature, transfer it to an airtight container to store for. Of course, if you're using a portion of the rice right away, leave that out.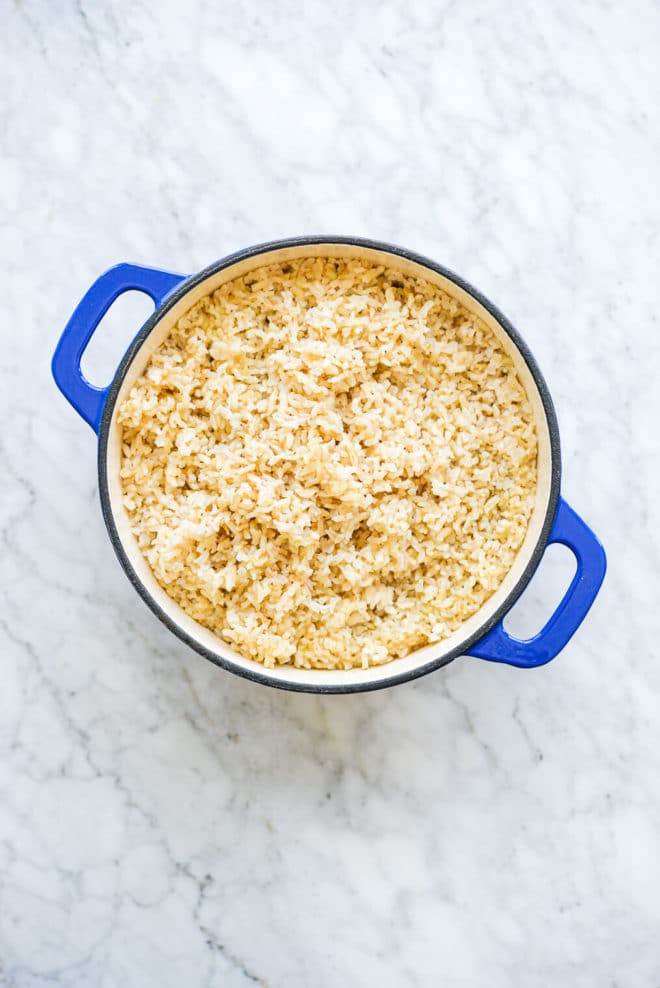 Brown Rice Frequently Asked Questions
Does brown rice need more water?
Yes, brown rice requires more water than white rice, so be sure to check the package instructions (if you're not using Lundberg's sprouted basmati) for the exact water amount. It's typically anywhere from 1 ¾ – 2 cups of water per cup of rice.
What is the ratio of brown rice to water?
This will vary slightly based on the exact brown rice you're using, but if you're using Lundberg's Organic Sprouted Brown Basmati, the ratio will be 1 cup of brown rice to 1 ¾ cups of water. If you're using something different, be sure to check the package instructions.
How long to cook brown rice?
Brown rice typically takes anywhere from 30-45 minutes to cook. Once it's finished cooking, it'll need to steam for about 10 minutes before being served. One of the many reasons that we love Lundberg's sprouted basmati is because the cooking time is 30 minutes on the dot, which is definitely on the shorter end for brown rice!
Can you cook the brown rice in advance?
Yes, yes, yes! Please cook your brown rice in advance! Doing this will save you so much time.
Can you cook the perfect brown rice then freeze it?
You can! This is a great route to go if you know you won't eat all of the brown rice before it goes bad (in 5 days) or if you just want to have an easy-button starchy side in the freezer and ready to go. To do this, simply cook your brown rice according to package instructions, let it cool completely, and then portion it into Ziplock bags (freezing it in bags allows you to freeze it in a flat, even layer which is super convenient for preserving freezer space and quick reheating). When you're ready to reheat, pop the rice into a microwave-safe bowl or container, cover it, and reheat it in the microwave in 1-minute increments until heated all the way through. That's it — so easy!
What recipes go great with brown rice?
Brown rice is nutty, delicious, and goes with SO MANY dishes. While it's the perfect accompaniment to a simple grilled protein and veggie side, it's also really great in casseroles, fried rice dishes, and bowls. Below, you'll find three meals that Cassy designed specifically for 3 cups of batch-cooked brown rice: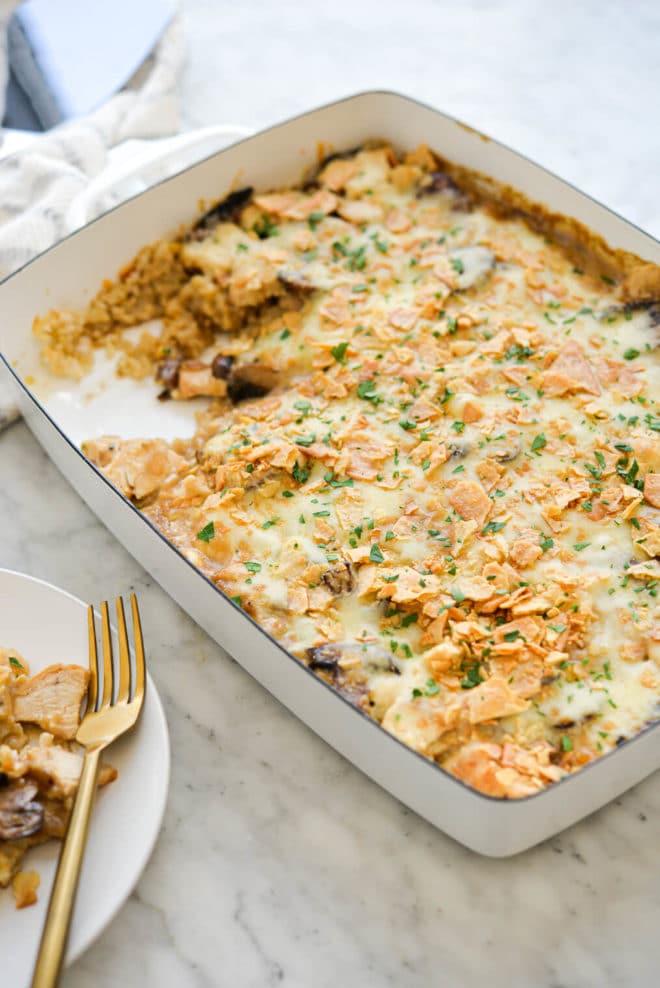 Complete with pan-seared chicken, brown rice, a homemade (but really easy) creamy mushroom gravy, shredded cheese, and crushed crackers, this casserole is hearty, family-friendly, and so delicious.
Recipe: Creamy Chicken and Rice Casserole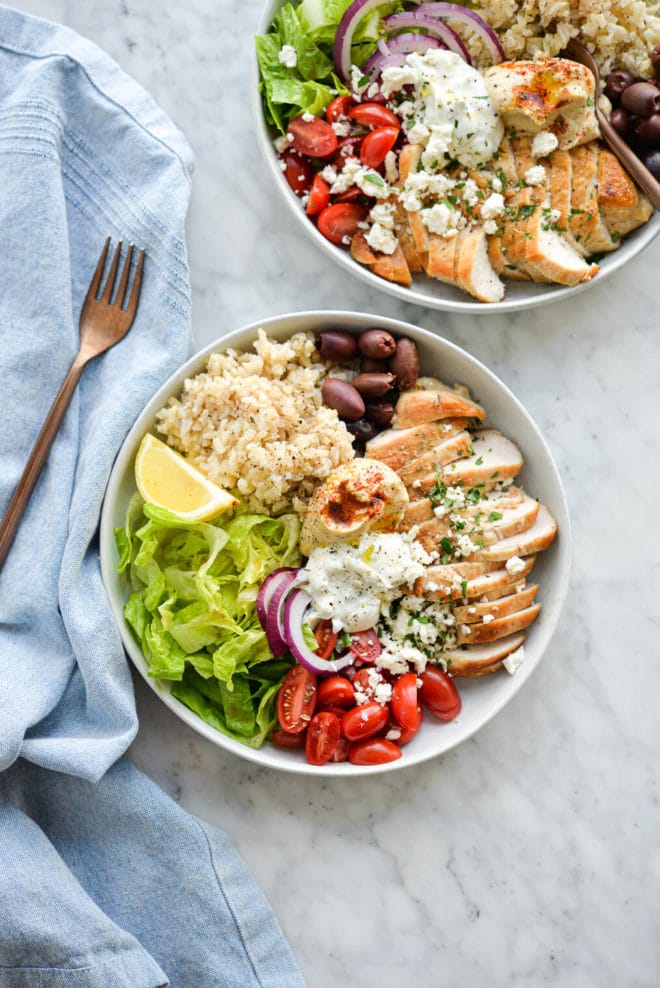 With a bunch of really delicious, energizing ingredients, this is a power bowl at its finest!
Recipe: Rice and Greek Chicken Bowls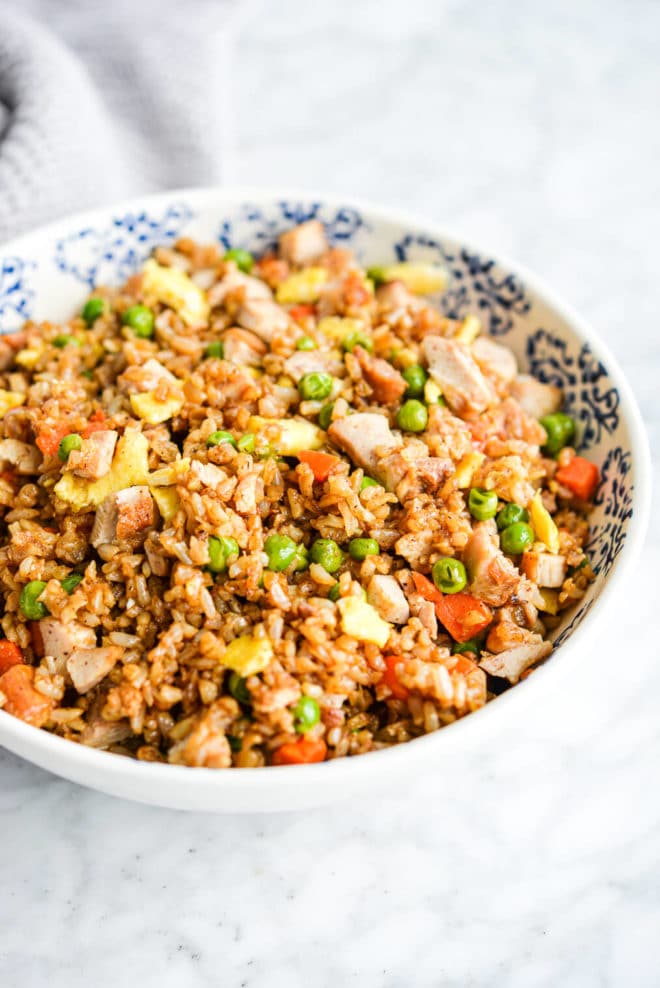 This recipe is REALLY delicious and best suited for day-old (or several-days-old) rice.
Recipe: Easy Chicken Fried Rice