Every item on this page was chosen by The Fed & Fit team. The site may earn a commission on some products (read more here).
Made with brown rice (or your favorite grain), sliced chicken breasts, greens, olives, hummus, tzatziki, and Greek dressing, these easy Greek-style bowls are delicious and so easy to throw together!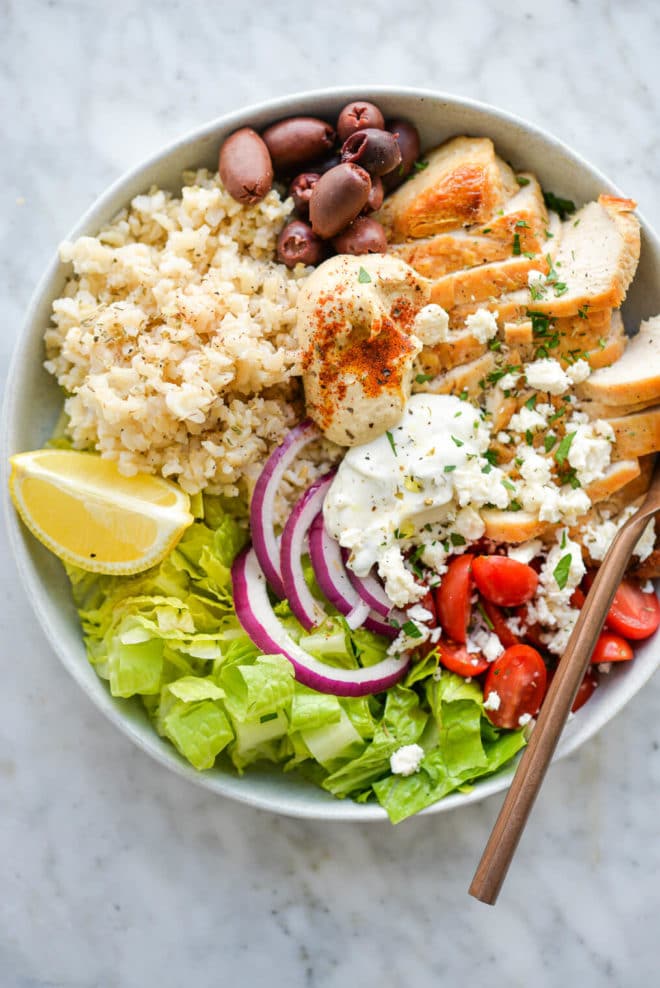 Why are these Greek-style Chicken and Rice Bowls such a great dinner option?
These dinner bowls make for the BEST dinner option because they're incredibly easy (especially if you're using batch-cooked brown rice + leftover cooked chicken) and they allow everyone to pick and choose which ingredients they want included in their bowl. They're also well-rounded with a really balanced nutrient profile.
More of our Favorite
Chicken Recipes
Mediterranean Grain Bowl Ingredients
The beauty of this Mediterranean power bowl is that you can swap or omit ingredients as you see fit. If you don't LOVE one of the ingredients, swap it for something you do love. Here's everything that Cassy included in her version: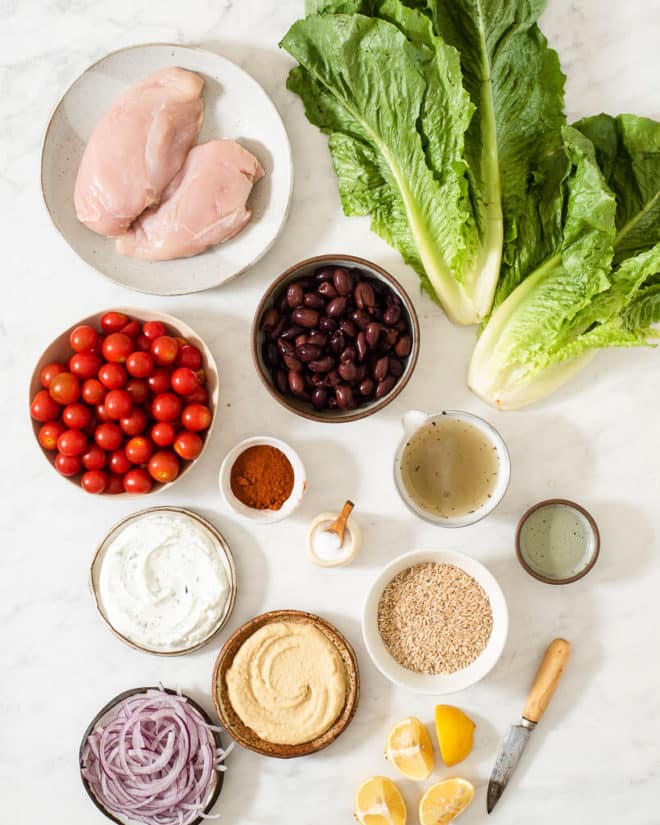 Brown Rice – to start, you'll need 1 cup of uncooked brown rice (about 2 ½ cups of cooked brown rice). Do know that you can substitute ANY grain you love here (quinoa, farro, etc.) for the brown rice.
Chicken Breasts – acting as our main protein source, 2 pounds of chicken breasts get pan seared, sliced, and added to the bowl.
Romaine Lettuce – you'll need 2 small heads of chopped romaine lettuce. The romaine provides some bulk to the bowls as well as a nice, crunchy texture. Feel free to use any greens you love here in place of the romaine — arugula, spinach, and mixed greens are all great options.
Kalamata Olives – 1 cup of kalamata olives give the bowls a nice briney taste.
Cherry Tomatoes – you'll also throw in 2 cups of sliced cherry tomatoes.
Hummus – a ½ cup of hummus gets split between the 4 bowls — feel free to use store-bought or homemade here!
Tzatziki – a ½ cup of tzatziki brightens the bowl and adds a nice tangy flavor.
Purple Onion – a ¼ of a purple onion (optional, but adds great flavor) gets thinly sliced and added to each of the Greek chicken bowls.
Greek Dressing – for some additional flavor (and to bring the bowl together really nicely), use a ½-batch of our homemade Greek dressing.
Olive Oil – a drizzle of olive oil over the entire bowl really takes the dish over the edge.
Paprika – a pinch of paprika over top the hummus is a GREAT flavor add.
Sea Salt – as another bold flavor add, add a pinch of sea salt to the bowl (especially the tomatoes) before serving.
Lemon – serve each of the bowls with a lemon wedge (4 in all, so 1 lemon total!).
How to make a Greek Bowl with Chicken and Rice
Here's how you'll bring your meal together. Note that using leftover, already-cooked rice (learn about batch cooking your brown rice HERE) and chicken makes this meal even easier to bring together.
Cook the rice – because it takes a while to cook, you'll want to get started on your rice/grain (if you aren't using leftovers) first. To do this, simply cook the rice according to package instructions.
Pan sear the chicken – if needed, cook your chicken. Add a tablespoon of olive oil to a pan over medium-high heat. Once hot, add the chicken and pan sear for 4 minutes on each side. Then, cover the skillet, turn the heat down to low, and let the chicken continue to cook for 10 minutes. Once cooked, transfer the chicken to a cutting board and let it rest for 10 minutes. Then, slice it into ½-inch pieces.
Assemble – add all ingredients to a bowl (these plate-bowls are Cassy's favorite!), mix together (if you'd like), and enjoy!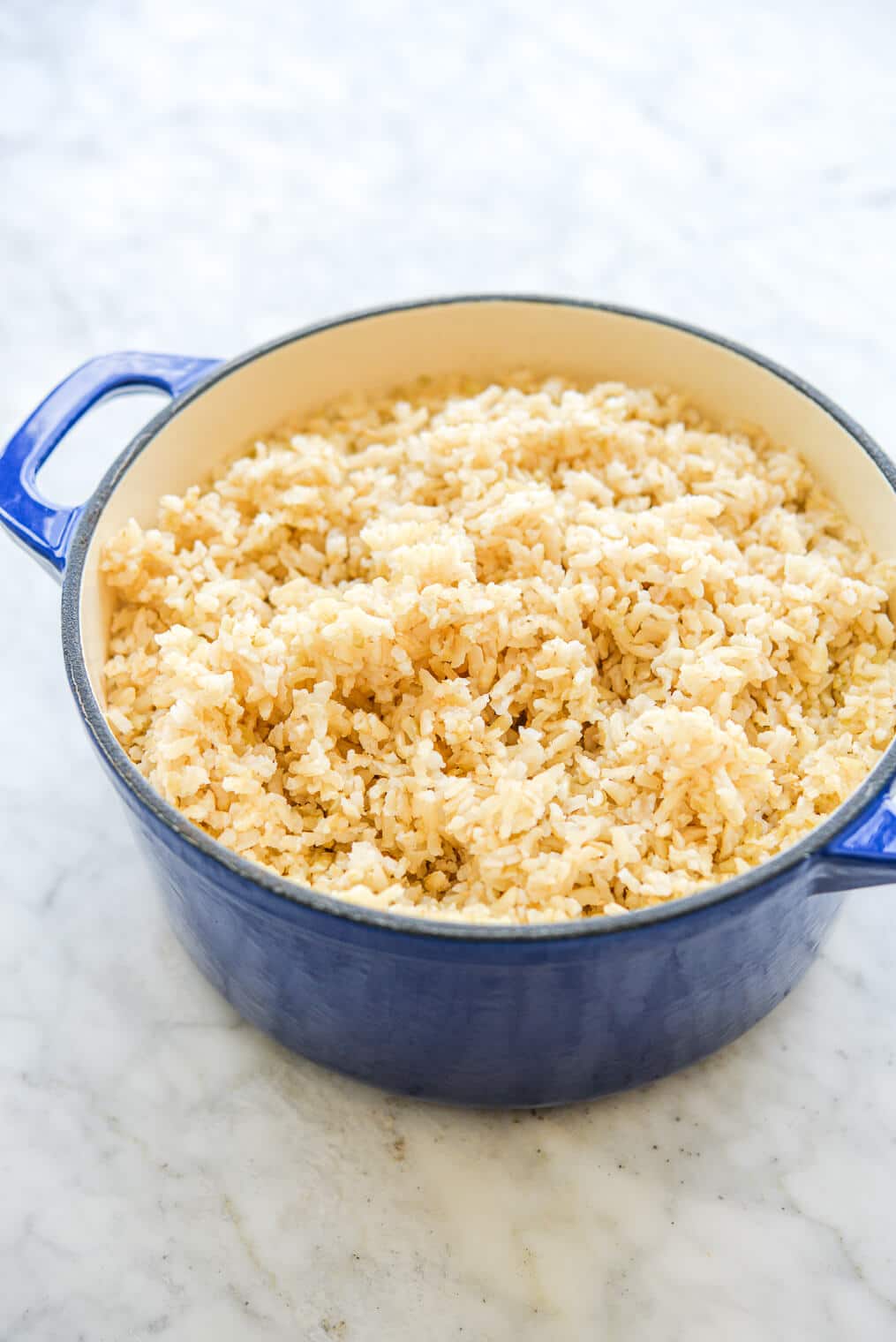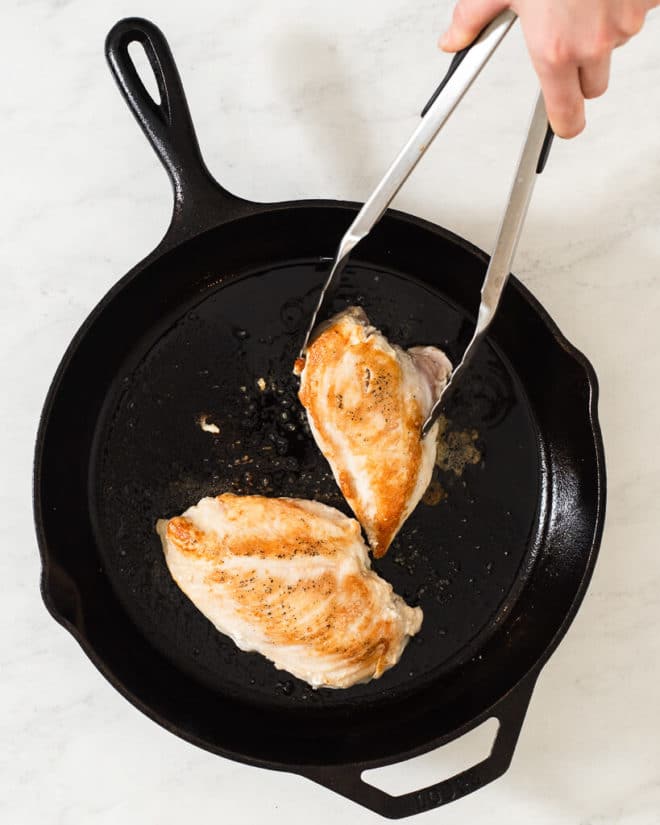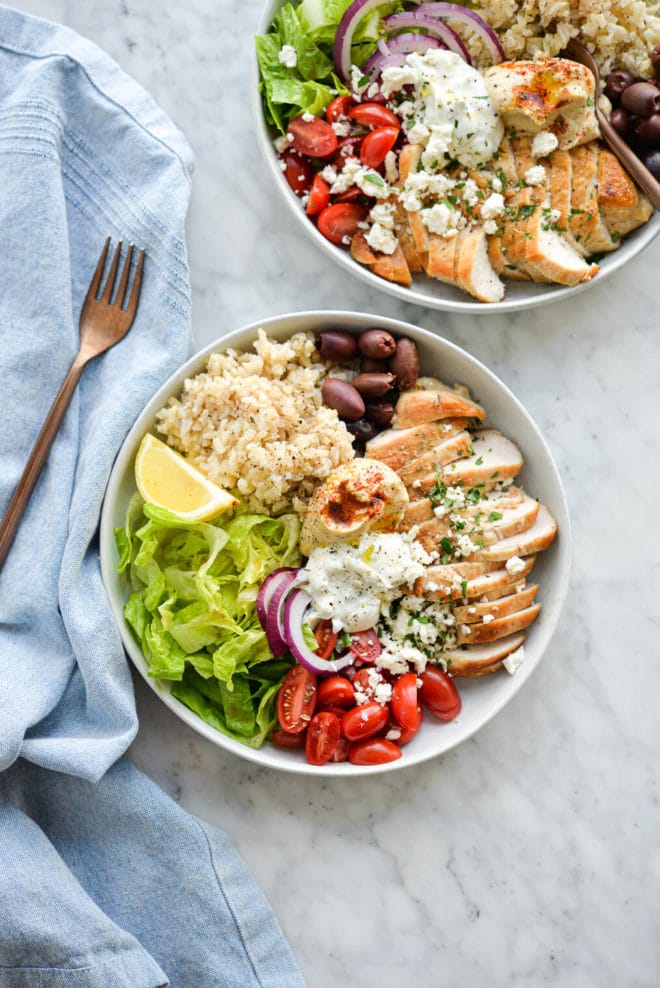 Just for You
Chicken Recipes
Want more recipes like this?
Greek Chicken Rice Bowl Frequently Asked Questions
Q
Can you make this recipe with raw chicken?
A
The recipe, as written, calls for raw chicken, and if that's what you're using, you'll simply pan sear it while the rice cooks. Alternatively, you can totally use any already-cooked, leftover chicken that you have on hand.
Q
How long does it take to make a Greek Rice and Chicken Bowl?
A
The most time consuming part here is making the brown rice, which can take up to 45 minutes. This is a GREAT reason to batch cook your brown rice ahead of time. Once the rice is cooked, you'll just add everything to the bowl, mix together, and enjoy!
Q
How do you fix dry chicken and rice?
A
The way you fix dry chicken and rice is by adding in plenty of flavorful sauces and dressings! This recipe calls for hummus, tzatziki, homemade Greek dressing, an extra drizzle of olive oil, and a squeeze of lemon juice, so your Greek chicken and rice bowls should NOT be dry. If you'd prefer more of any of the items listed above, add more — this is definitely a recipe that can be customized to your liking!
Q
Is a Greek-style Chicken Rice Bowl healthy?
A
We like to think so (there's an abundance of fresh, whole food ingredients here), but this will really depend on what your body tolerates and what it doesn't! If the ingredient list looks like one that will make your body feel good, it can definitely be a healthy choice for you.
Q
How do you serve the grain bowl?
A
Cassy served these grain bowls with each of the ingredients segmented in a shallow bowl so that those enjoying the bowls could mix ingredients as needed/desired! Speaking as someone who did enjoy one of these grain bowls after she made them, I thought that serving the bowls this way was PERFECT — it allowed me to mix what I wanted and leave out anything I didn't.
Q
What goes with a Greek chicken rice bowl?
A
This bowl has it all. Protein, grains, plenty of veggies …the list goes on and on. Because of this, you don't need to serve anything extra alongside your bowls. If you're really itching for an addition here, some pita bread would be delicious.
Q
How long does the chicken bowl recipe last?
A
While you don't want to mix any of the ingredients together until you're ready to serve and enjoy, each of the components will last for 4-5 days in the fridge. 
Q
How do you store a chicken rice bowl?
A
You have a couple options here! If you're planning on using this recipe to meal prep for lunch for the week (that's what Cassy does), you can actually assemble the bowls as you see them at once. What she does is assemble everything MINUS the dressing, hummus, and tatziki. Then, just before enjoying one of her lunches, she'll add those on top as a final touch.
Otherwise, if you don't mind mixing a bowl each time you want to enjoy one, you can store the chicken bowl ingredients separately (in their own airtight containers) in the fridge, and then assemble just before serving.
Q
Can you freeze a rice and chicken bowl?
A
The only two components of this bowl that I'd recommend freezing are the chicken and the brown rice. Cooked brown rice actually does really well when defrosted from frozen. Find instructions on how to do that in THIS article.
Ingredients
1

cup

uncooked brown rice

2

pounds

chicken breast

2

small heads of romaine

chopped

1

cup

kalamata olives

2

cups

cherry tomatoes

halved

1/2

cup

hummus

1/2

cup

tzatziki

1/4

purple onion

thinly sliced (optional)

1/2

Greek dressing recipe

Drizzle of olive oil

Pinch

of paprika

Pinch

of sea salt

1

lemon

cut into 4 wedges
Instructions
Cook rice according to package instructions.

Pan sear chicken: add a tablespoon of olive oil to a pan over medium-high heat. Once hot, add the chicken to the pan and sear for 4 minutes on each side. Cover the skillet, turn the heat down to low, and let the chicken continue to cook for 10 minutes. Once cooked, transfer the chicken to a cutting board and let it rest for 10 minutes. Then, slice it into 1/2-inch pieces.

Add everything to bowls, mix together (if you'd like), and enjoy!
Nutrition Information
Nutrition Facts
Greek Chicken Grain Bowl Recipe
Amount per Serving
% Daily Value*
* Percent Daily Values are based on a 2000 calorie diet.