This easy coconut rice recipe is the perfect way to change up your everyday rice! It is fluffy, flavorful, and pairs perfectly with Asian and Indian dishes.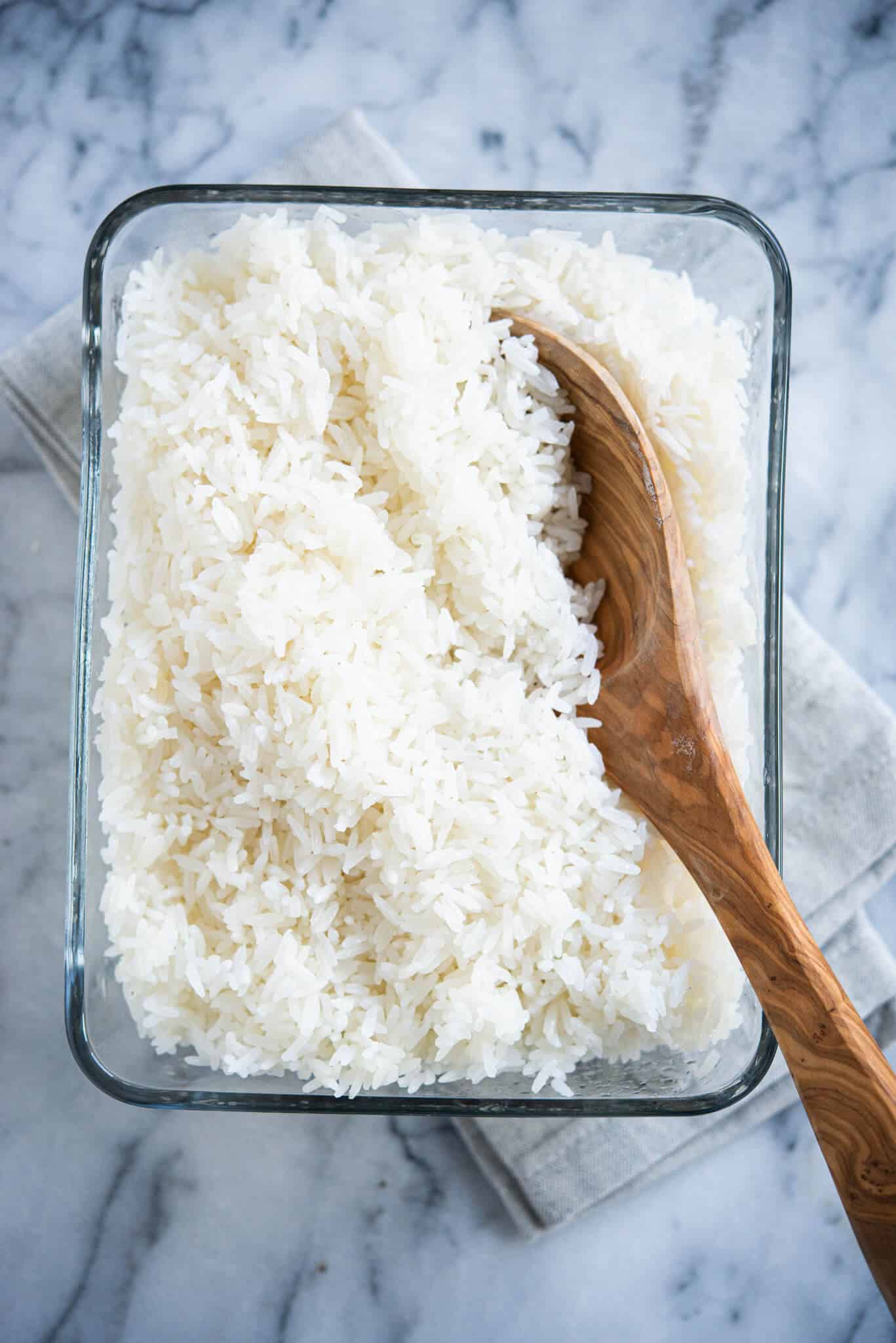 This rice is so good! If you haven't had coconut rice before, it's simply white rice cooked in coconut milk. This simple swap really takes your rice to the next level and gives you fluffy, fragrant rice with a slight hint of coconut. It is a great side to serve with Indian and Asian dishes, but is also truly crave-worthy on its own!
I've been making coconut rice for a long time and was often frustrated by the mixed results I'd get from other recipes. Sometimes, my rice would be amazing, and other times, it would be a gloppy mess. So, we decided to develop our own recipe! The main obstacle was nailing down the right ratio of rice to coconut milk to water. With too much coconut milk, the rice can easily get greasy and sticky, and with too much water, you lose the light flavor of the coconut milk and get something more like traditional rice. When developing this recipe, we also wanted to be mindful of ingredient waste and not leave you with leftover coconut milk. After many tries, I'm happy to say that this recipe uses a full can of coconut milk, and we've found the ideal ratio of ingredients to use!
How to Make Perfect Coconut Rice on the Stovetop
We know that making rice on the stovetop can be a challenge for a lot of people, but this method really works and it is simple! Here's what you need to do for perfect, fluffy rice:
Rinse the rice. Start off by rinsing the rice, the best way is to place it in a fine-mesh strainer and run it under water for about one minute, until the water runs clear. The reason the water runs opaque/white at first is because it is filled with excess starch from the rice. By removing the excess starch, you'll get fluffier rice.
Add all ingredients to a pot. Next, you'll add the rinsed rice, coconut milk, water, and salt to a pot over high heat.
Bring to a boil. Whisk all of the ingredients together, then bring the mixture to a boil. Once boiling, drop the heat to the lowest setting, whisk the rice, making sure to get any that is stuck to the bottom of the pot off, then cover the pot.
Cook for 20 minutes. Cook the rice on low for 20 minutes, then remove from heat, fluff with a fork, and serve!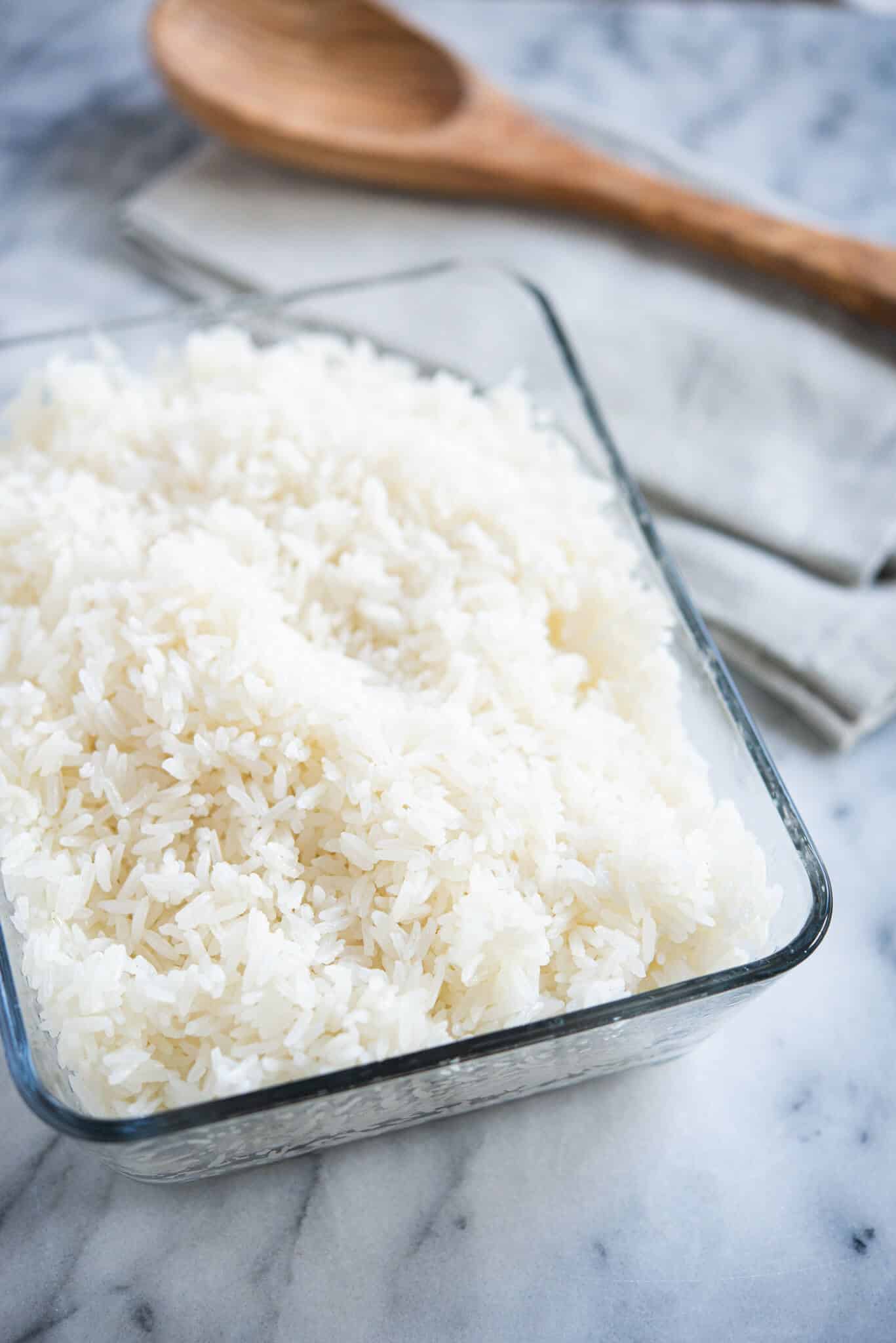 How to Make Coconut Rice in the Instant Pot
While making rice on the stovetop is totally doable, the Instant Pot makes it foolproof! For this method, all you'll need to do is combine all of the ingredients in the Instant Pot, set it to cook on high pressure for 4 minutes, then allow the pressure to naturally release for at least 10 minutes.
Ingredient Substitutions
Rice – we chose jasmine rice for this recipe and highly recommend it because the flavor of the jasmine pairs perfectly with the coconut. If you need to though, you can use long-grain white rice or basmati rice in its place. We do not recommend substituting brown rice in this recipe because the cooking time and liquid ratio will be different!
Coconut Milk – we recommend using full-fat coconut milk in this recipe. While you can use light coconut milk, the end result will be similar to plain rice because it is watered down.
Variations
While this coconut rice is delicious on its own, here are a few ways to make it even more flavorful:
Ginger Scallion – Once the rice is done cooking, stir in 2 tablespoons of sliced green onion and 2 teaspoons of fresh ginger to the rice.
Cilantro Lime – Once the rice is finished, stir in the juice of one lime (about 2 tablespoons) and 1/4 cup of chopped fresh cilantro.
Indian Basmati – Use basmati rice and add 1 cinnamon stick, 2 cardamom pods, 2 cloves, and a tablespoon of cumin seeds to the rice before bringing it to a boil.
Sweet Mango – Once the rice is fully cooked, stir in one chopped mango and 1 tablespoon of lime juice.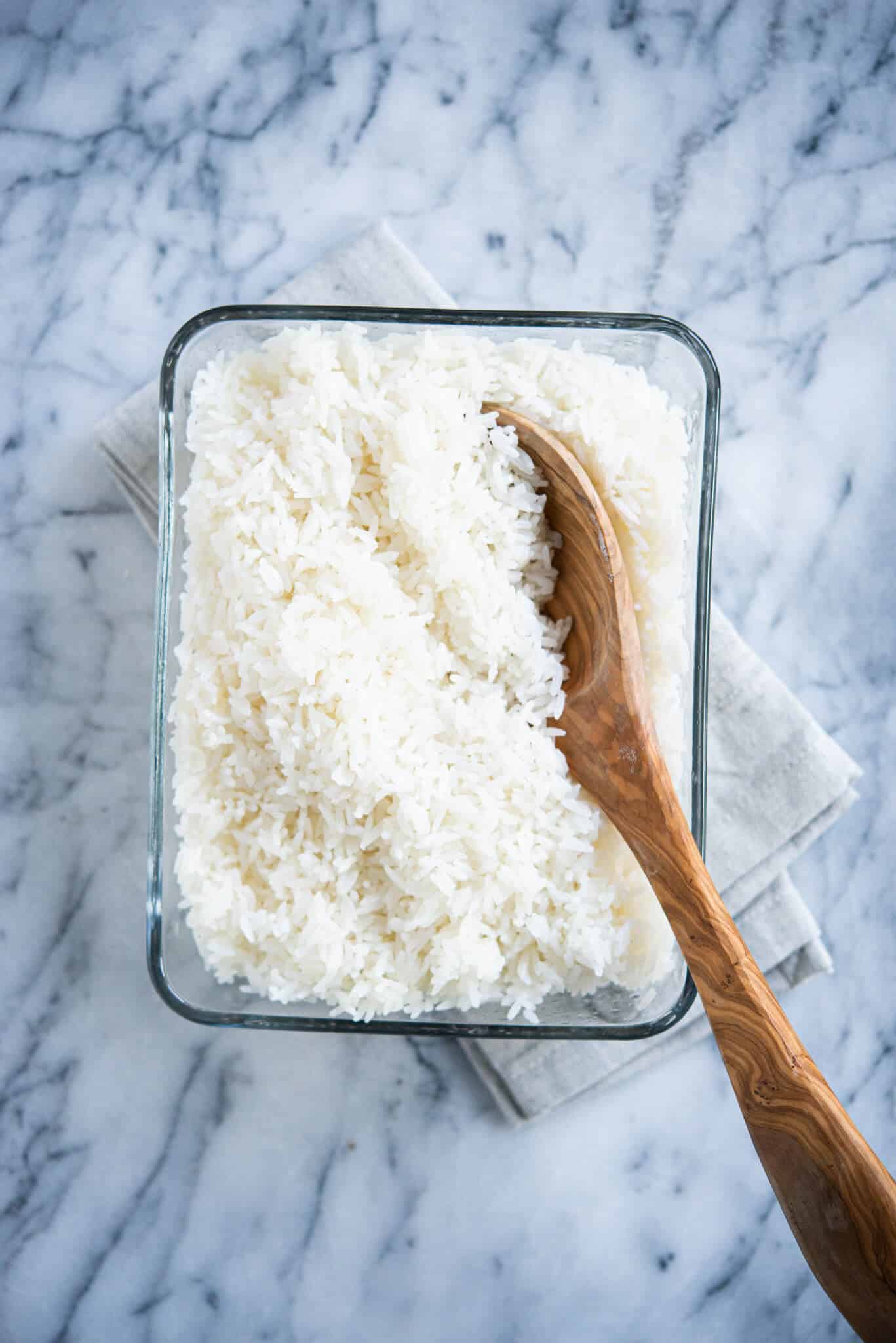 What to Serve with Coconut Rice
Here are some of our favorite recipes to serve with this rice!
More Favorite Starchy Sides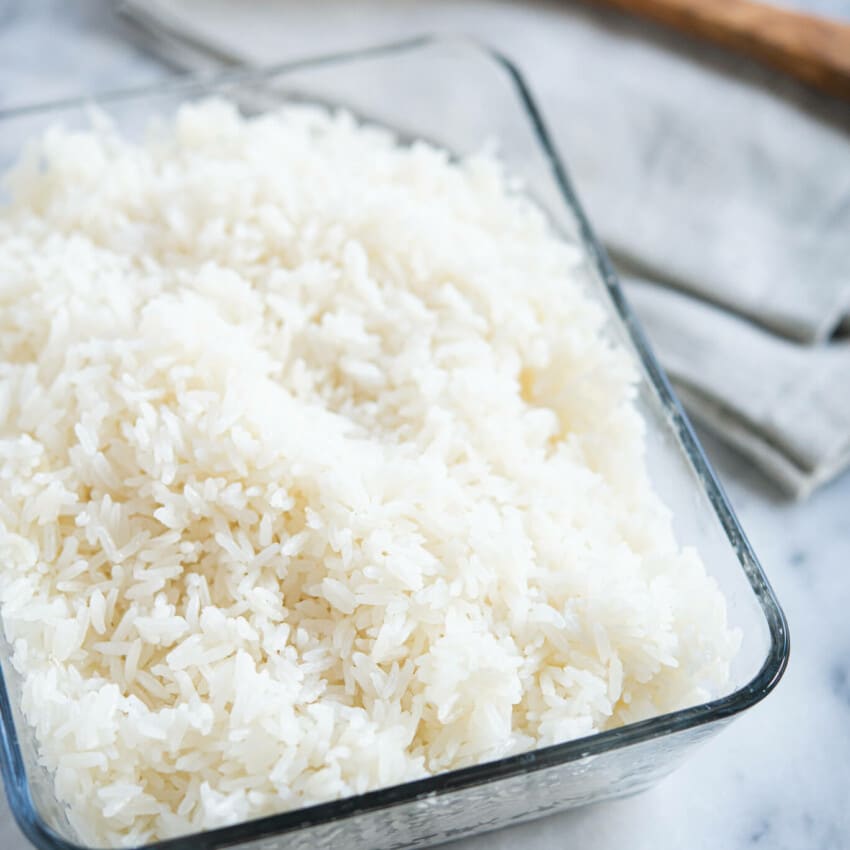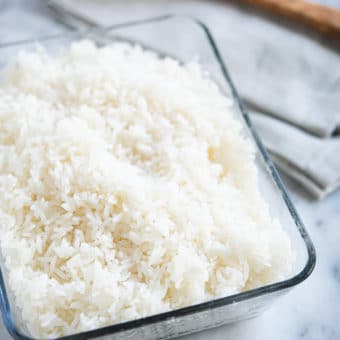 This rice is perfectly fluffy and flavorful, with a slight hint of coconut, and can be made on the stovetop or Instant Pot!
Ingredients
2

cups

jasmine rice

rinsed

1

13.5 ounce can full-fat coconut milk

1

cup

water

3/4

teaspoon

coarse salt
Instructions
Stovetop:
1. Add the rinsed rice, coconut milk, water, and salt to a pot over high heat and whisk to combine.

2. Bring the mixture to a boil, then reduce the heat to lowest setting, whisk it again, cover, and cook for 20 minutes.
Instant Pot:
1. Add the rinsed rice, coconut milk, water, and salt to the Instant Pot then secure the lid and set to cook on high pressure for 4 minutes. Once the timer goes off, let the pressure naturally release for at least 10 minutes, then manually release the remaining pressure and serve!
Nutrition
Calories:
351
kcal
|
Carbohydrates:
51
g
|
Protein:
6
g
|
Fat:
14
g
|
Saturated Fat:
12
g
|
Polyunsaturated Fat:
0.3
g
|
Monounsaturated Fat:
1
g
|
Sodium:
304
mg
|
Potassium:
211
mg
|
Fiber:
1
g
|
Sugar:
0.1
g
|
Vitamin C:
1
mg
|
Calcium:
30
mg
|
Iron:
3
mg