Every item on this page was chosen by The Fed & Fit team. The site may earn a commission on some products (read more here).
These simple chicken teriyaki bowls are sure to be a crowd-pleaser and come together with just a few simple ingredients – including the tastiest gluten-free teriyaki sauce!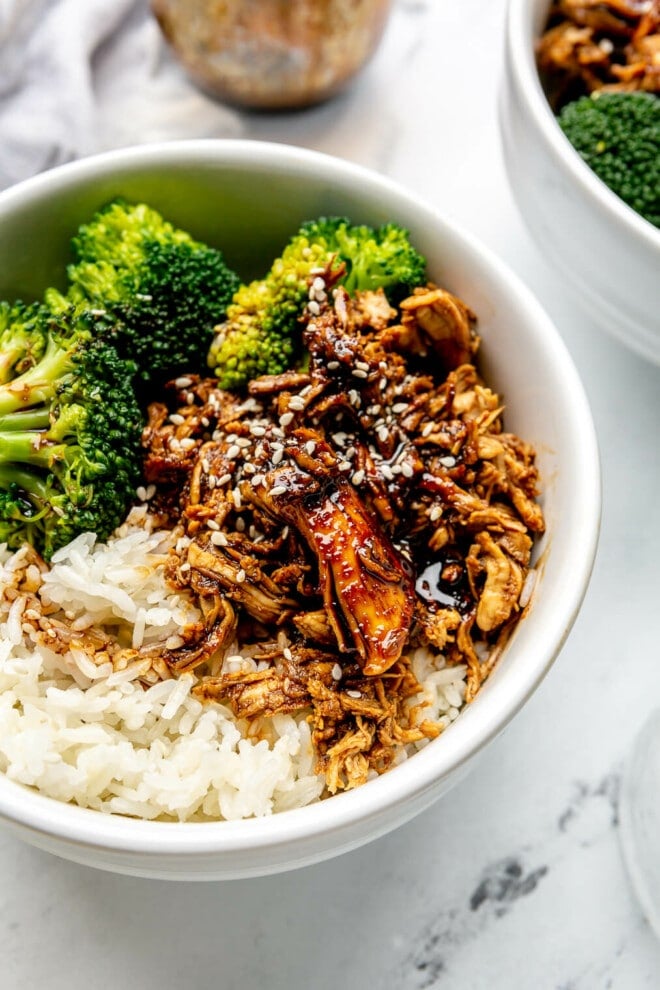 These chicken teriyaki bowls are one of my go-to dinners in my household! They take almost no time at all to assemble, especially if you already have shredded chicken or a rotisserie chicken on hand, and they're topped with my favorite sticky-sweet teriyaki-inspired sauce that I could truly eat on anything. Even better, they are totally kid-friendly!
Ingredients

Needed

Here's what you'll need to make these delicious teriyaki bowls!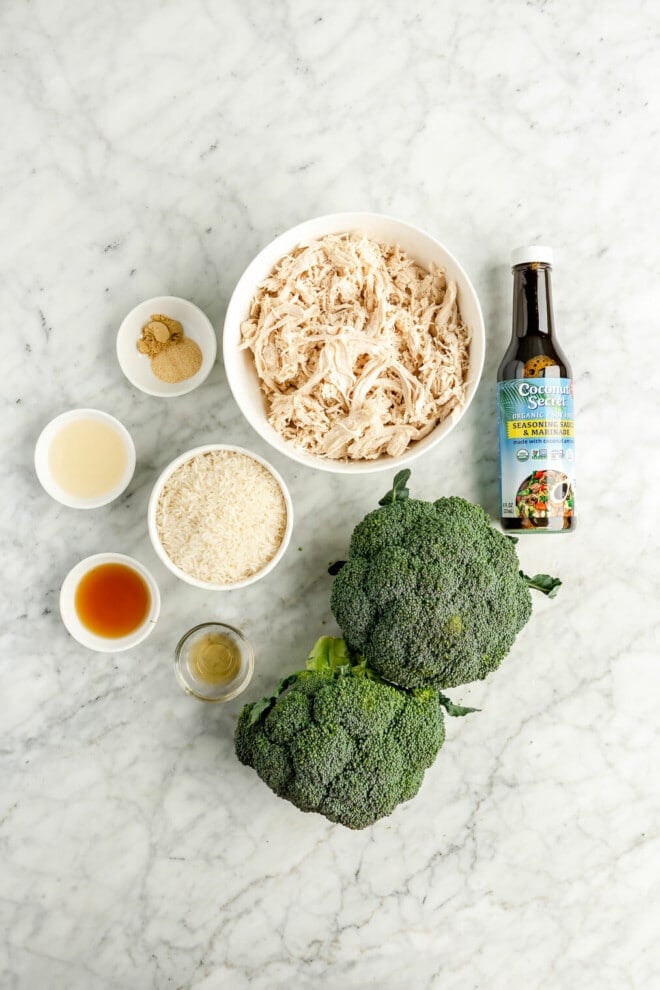 For the Bowls
Teriyaki Sauce – we'll share our easy teriyaki sauce recipe here, but if you'd rather take a shortcut, you'll need 2 cups of store-bought teriyaki sauce.
Shredded Chicken – you'll need 3 cups of shredded chicken here. I recommend grabbing a rotisserie chicken or making 1 ½ pounds of shredded chicken from chicken breasts or thighs. You can find a full how-to in our shredded chicken recipe
Rice – we recommend about 4 cups of cooked rice to serve 4 people. White rice, brown rice, and cauliflower rice all work great here!
Broccoli – finally, you'll need about 2 heads of broccoli, or about 1 pound of broccoli florets to finish off this meal!
For the Teriyaki Sauce
Coconut Aminos

– to make this recipe gluten and soy-free, we are relying on coconut aminos! Coconut aminos come from the sap of the coconut tree and are both sweet and salty. You cannot replace the coconut aminos in this recipe with soy sauce, as it is too salty when boiled down!

Rice Vinegar

– we opted for rice wine vinegar to add an acidic element to the sauce.

Sesame Oil

– one teaspoon of sesame oil adds another layer of flavor to the sauce.

Fish Sauce

– this one is optional, but I urge you to try it! Fish sauce is known for adding umami (savoriness) to dishes.

Ginger and Garlic – fresh or dried ginger and garlic help round out the flavor.
Red Pepper Flakes – crushed red pepper flakes add just a touch of heat. You can easily leave them out if you prefer no spice!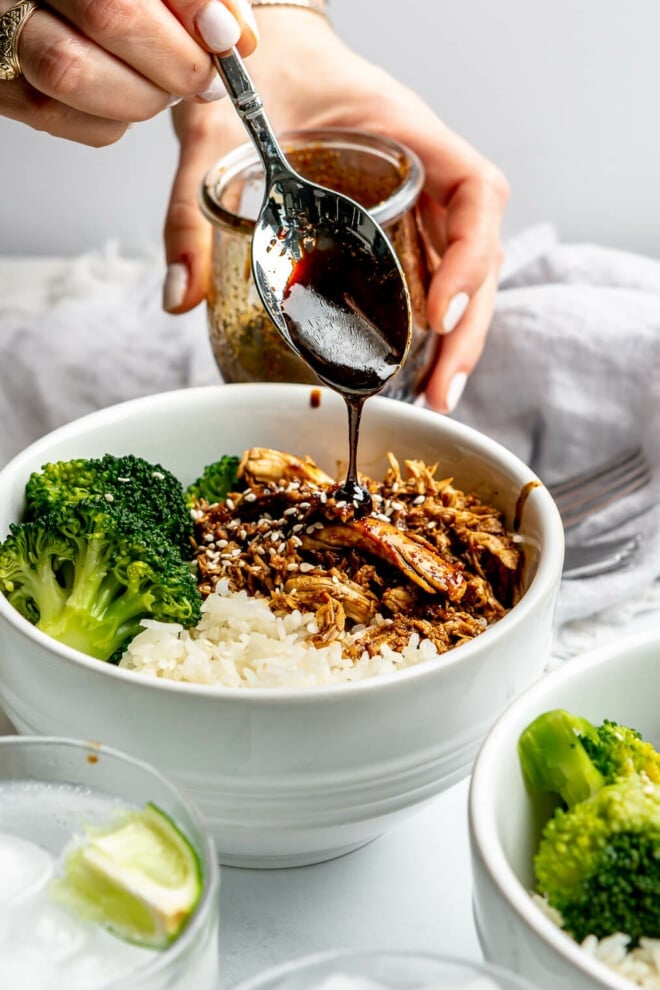 How to Make
Since we're using pre-cooked shredded chicken here, assembling these bowls is super simple! Here's how you'll do it.
Make the rice

– make the rice according to package instructions, or follow our

cauliflower rice recipe

for a grain-free option.

Make the sauce

– next, you'll make the teriyaki sauce. Whisk together all of the ingredients in a bowl, then pour them into a skillet over medium heat. Cook for 10 to 15 minutes, until it thickens enough to coat the back of a spoon, then remove from heat.

Steam the broccoli

– while the sauce cooks down, steam the broccoli either via a quick microwave method or on the stovetop.

Toss the chicken with the sauce

– add the chicken to the skillet with the teriyaki sauce and toss it to coat. 

Assemble

– finally, you'll assemble your bowls: place the rice in each bowl, then top with the teriyaki-coated chicken and steamed broccoli.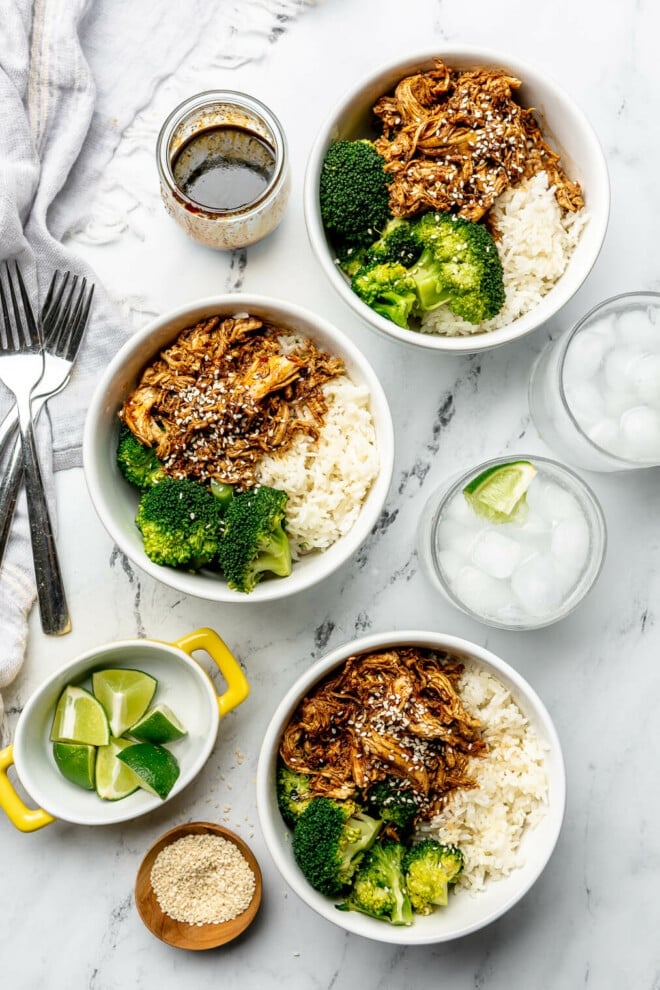 Frequently Asked Questions
Q
What does teriyaki mean in Japanese?
A
While we typically associate teriyaki with sauce, it actually refers to meat or fish that has been marinated in a soy-based sauce, then cooked. The word "teri" means luster or gleam, and "yaki" means grilled or broiled.
Q
Is teriyaki sauce unhealthy?
A
It depends on what ingredients are used! Personally, we prefer the teriyaki sauce included in this recipe to store-bought brands because you can control the ingredients. It doesn't contain any added sugars or weird oils, so we think it is a great option!
Q
What is teriyaki sauce made of?
A
Traditional teriyaki sauce has just three components: soy sauce, sugar, and sake (or mirin for a lower-alcohol option). It can also have additional flavors like ginger, and it is often used as a marinade but can also be boiled down to create a delicious, syrupy sauce. 
This recipe takes inspiration from the flavors of teriyaki sauce (salty, sweet, and slightly acidic), but uses a base of coconut aminos that allows us to make it both gluten and soy-free!
Q
What can you serve teriyaki chicken and broccoli on instead of rice?
A
If you don't want to use rice for your bowls, here are a few options!
Noodles – rice noodles, ramen noodles, zucchini noodles, or even

kelp noodles

Cauliflower Rice

Stir-Fried Vegetables – you could turn this into a full stir-fry dish with veggies like cabbage, carrots, and bell peppers.
Q
How do you make teriyaki chicken ahead of time?
A
You can make teriyaki chicken ahead of time by prepping all or some of these components in advance! That way, when dinner time hits, all you have to do is assemble the final bowl. 
Q
How do you store teriyaki?
A
On its own, the teriyaki sauce is good for about 1-2 weeks in an airtight container in the refrigerator (we recommend a small mason jar). For the teriyaki chicken bowls, you can store them in a container in the refrigerator for up to 4-5 days.
Video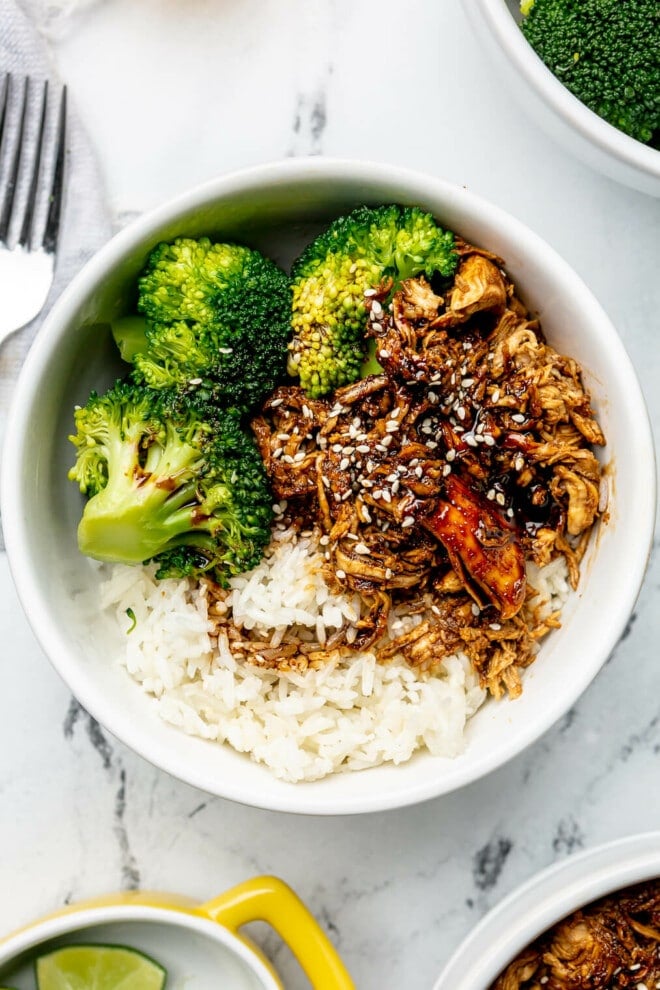 More Favorite Asian-Inspired Recipes
Ingredients
For the Teriyaki Sauce:
16

ounces

coconut aminos

1

teaspoon

dried ginger

1

teaspoon

garlic powder

2

tablespoons

rice vinegar

4

teaspoons

sesame oil

1

teaspoon

fish sauce
For the bowls:
3

cups

shredded chicken

from a rotisserie chicken or about 1 1/2 pounds boneless, skinless chicken breast or thighs

1 1/2

cups

uncooked white rice

may also use brown rice or cauliflower rice

2

heads broccoli

or about 1 pound broccoli florets

Sesame seeds

for garnish

Cilantro

for garnish (optional)
Instructions
Cook the rice according to package instructions.

For the sauce, add all the coconut aminos to a large skillet over medium heat. Simmer for 10 to 15 minutes, or until it thickens to coat the back of a spoon. Then, remove from heat and whisk in the ginger, garlic, vinegar, sesame oil, and fish sauce.

Steam the broccoli using one of the following methods:

Microwave Method: Place the broccoli florets into a large glass bowl with about ¼ cup water. Affix with either a microwave-safe lid or seal with plastic wrap. Microwave on high for 5 minutes, until the florets are bright green and easily pierced with a fork. Drain the water from the broccoli and set aside.

Stovetop Method: Place the broccoli florets into a medium-sized pot with ¼ cup water. Place the lid on and let simmer for 10 minutes, until the florets are bright green and easily pierced with a fork. Drain the water from the broccoli and set aside.

Assemble the bowls: toss the chicken with the teriyaki sauce, then spoon the rice into each bowl, top with the teriyaki chicken and broccoli, then garnish with cilantro and sesame seeds and serve!
Nutrition Information
Nutrition Facts
Easy Chicken Teriyaki Bowl Recipe
Amount per Serving
% Daily Value*
* Percent Daily Values are based on a 2000 calorie diet.
Recipe Notes
If you'd prefer, you can use 1/2 cup store-bought teriyaki in this recipe instead of making your own!
The coconut aminos cannot be replaced with soy sauce in this recipe – it will be too salty.