Looking for a simple and flavorful noodle recipe? Try our quick and easy sesame noodles recipe that's perfect for weeknight dinners. Packed with protein and veggies and covered in a ridiculously tasty sesame peanut sauce, this dish is sure to become a family favorite!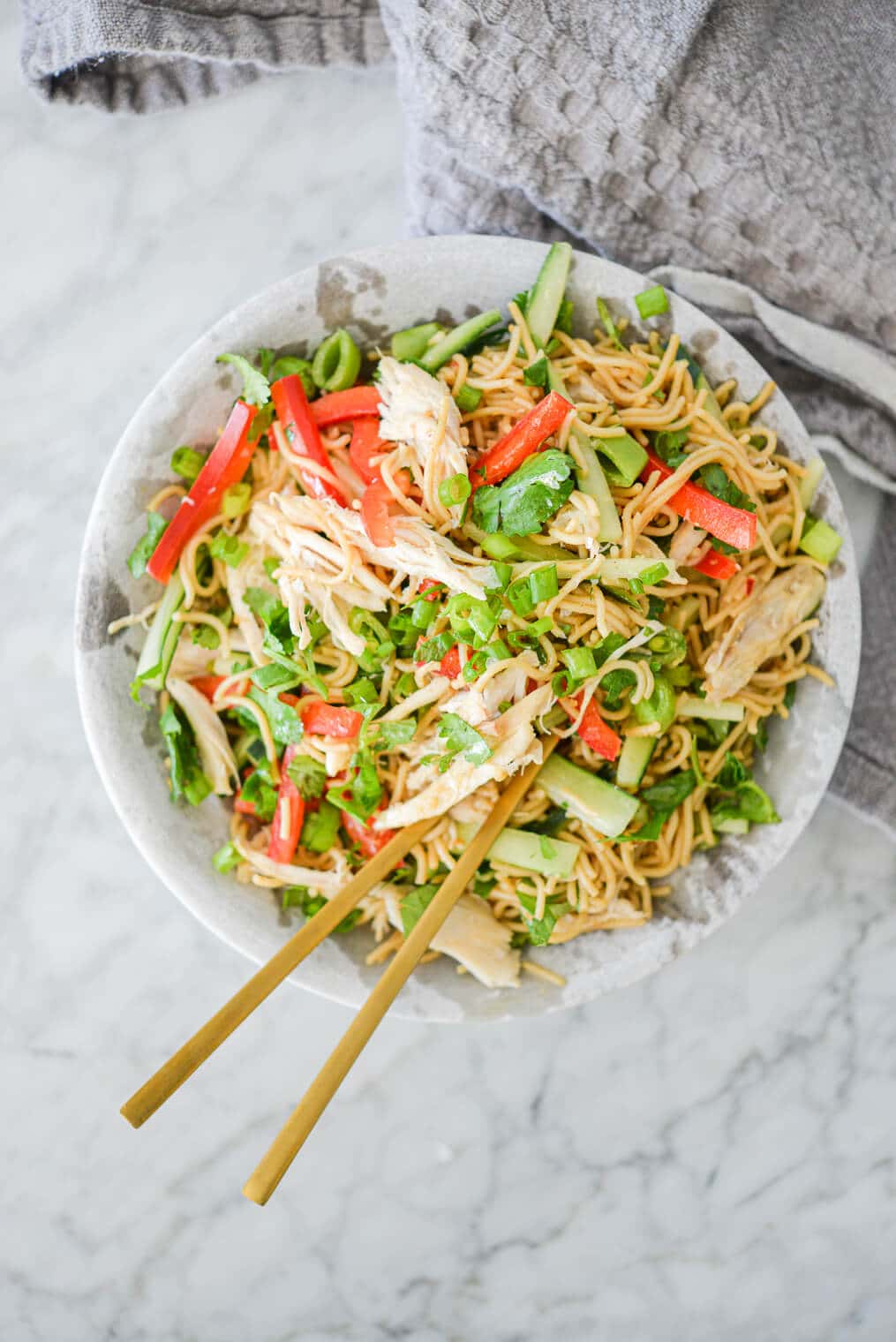 Sesame noodles are a Sichuan dish first created in the 70s by Shorty Tang at his restaurant Hwa Yuan in New York City. The noodles were dressed in a sauce made of sesame paste, peanut butter, rice vinegar, a bit of sugar, additional spices such as ginger, garlic, and chile-garlic sauce, and cucumbers, then served cold. They quickly gained popularity in New York and eventually became a staple on takeout menus across the US.
You can learn more about the origin of sesame noodles in this article by New York Times writer Sam Sifton.
In this recipe, we've adapted the traditional sesame noodles to create a main dish filled with vibrant, crunchy veggies and protein, and opted for ingredients that can easily be found at your local grocery store.
If you're looking for another delicious Asian-inspired recipe, we've got you. These Asian-inspired lettuce wraps are super easy and so flavorful!
Ingredients Needed
While the noodle ingredients are mostly comprised of veggies and noodles (obviously!), the sauce ingredients may feel a little bit intimidating to you if you haven't made many Asian-inspired dishes. Don't worry, though – they are all super accessible (your local grocery store is bound to have them) and really bring these noodles to life!
For the Sauce:
Sesame Oil – 3 tablespoons of sesame oil really make this sauce – sesame oil is powerful (but oh so delicious), but these are called sesame noodles for a reason!
Lime Juice – 2 tablespoons of freshly squeezed lime juice adds the perfect acidity to the sauce. We always think that fresh is best when it comes to citrus, so instead of buying a bottle of juice, grab 1 lime and juice it yourself!
Soy Sauce OR Coconut Aminos – you'll also need a ¼ cup of soy sauce or coconut aminos here. We love this brand of coconut aminos!
Rice Vinegar – 2 teaspoons of rice wine vinegar,…
Honey – …1 tablespoon of honey,…
Fresh Ginger – …a freshly grated 1-inch piece of ginger (don't be intimidated by this – just peel an inch-long piece of fresh ginger, then grate it with a zester!),
Creamy Peanut Butter – …2 tablespoons of smooth natural peanut butter (no added sugars!), and…
Crushed Red Pepper Flakes (Optional) – …¼ teaspoon of crushed red pepper flakes finish out the sauce!
For the Noodles:
Ramen Noodles – noodles make up the bulk of today's dish – you'll need about 10 ounces of ramen noodles, we love these for gluten-free, but if you can't find them, spaghetti noodles, rice noodles, or even soba noodles work here, too!
Avocado or Olive Oil – You'll need 1 tablespoon of either avocado or olive oil to toss the noodles in! This will really keep the noodles from clumping together.
Cucumber – now for the fun part – all of the fresh veggies! You'll need to julienne ½ of a cucumber,…
Red Bell Pepper – …julienne 1 red bell pepper,…
Snap Peas – …thinly slice 1 cup of snap peas,…
Green Onions – …thinly slice 3 green onions,…
Fresh Cilantro – …and chop ¼ cup of fresh cilantro!
Protein of Choice – we went with 2 cups of shredded rotisserie chicken here, but this would also be great with pork, shrimp, or even edamame for a vegetarian option.
Sesame Seeds – you'll finish everything off with a teaspoon of sesame seeds!
Recipe Instructions
This is a super easy recipe! Once all of your veggies are chopped (which is quite therapeutic, I must say), your noodles are cooked, and your sauce is whisked, you'll essentially just throw it all together and give it a good mix!
Cook the Noodles – start by cooking your noodles in a large pot according to package instructions until they are al dente. Once they're done, drain the noodles and rinse them with cold water to stop the cooking process, then toss them with the tablespoon of oil.
Make the Sauce – while the pasta cooks, whisk together the sesame oil, lime juice, coconut aminos (or soy sauce), rice wine vinegar, honey, freshly grated ginger, peanut butter, and red pepper flakes. The sauce should be thin enough to easily drizzle.
Combine the Sauce, Noodles, and Veggies – toss the noodles with the sauce, cucumber, bell pepper, snap peas, green onions, and cilantro, then garnish with sesame seeds.
Enjoy! – You can either eat the dish warm immediately or refrigerate and enjoy as cold sesame noodles!
Add-Ins and Variations
Add Extra Veggies – the sky is the limit here – if you've got veggies needing to be eaten, chop them up and throw 'em in the mix!
Use Cooked Veggies instead of Raw – if you don't like the crunch of raw veggies, you can also go ahead and saute your veggies for about 5 minutes over medium heat, then combine them with the noodles.
Use Kelp Noodles – to make this dish low-carb, use kelp noodles instead of ramen noodles! To soften the kelp noodles, boil a pot of water, add the juice of one lemon, then add the kelp noodles to the pot, and remove it from the heat. Let the noodles soak in the hot water for about 10 minutes before straining!
Sesame Noodles Frequently Asked Questions
Is sesame pasta the same as tahini?
Good question! It's not. Tahini is ground sesame paste (think: the peanut butter equivalent for sesame seeds), but these sesame noodles are actually made from ramen (rice or regular) and a really yummy peanut sesame sauce!
What kind of noodles do you use to make sesame noodles?
We used these rice ramen noodles, but feel free to use any ramen noodles that you love!
What do you serve with sesame noodles?
What do you serve with sesame noodles?
This sesame noodle dish is loaded with protein, carbohydrates, and healthy fats, so it really is a complete meal all on its own. If you're looking for more veggies, though, feel free to double the veggies in the recipe, steam or saute bok choy with sesame oil and lime juice, or just press the easy button and steam some good ole broccoli to serve alongside the noodles.
Can I make sesame noodles ahead of time?
Absolutely! That's actually one of the beautiful things about this dish – it can be eaten hot or cold, and it saves really well. Because of this, Sesame Noodles are actually an ideal meal prep lunch option. Make a big batch on Sunday, shred a store-bought rotisserie chicken, and portion the two together in individual containers for easy grab-and-go lunches!
More Favorite Asian-Inspired Dishes
Quick and Easy Sesame Noodles Recipe
This easy noodle dish has the yummiest sesame peanut sauce and a variety of crunchy veggies for a delicious, crave-worthy meal!
Ingredients
For the Sauce:
3

tablespoons

sesame oil

2

tablespoons

lime juice

1/4

cup

soy sauce or coconut aminos

2

teaspoons

rice wine vinegar

1

tablespoon

honey

1

inch

of ginger

freshly grated

2

tablespoons

creamy natural peanut butter

1/4

teaspoon

crushed red pepper flakes

optional
For the Noodles:
10

ounces

ramen noodles or spaghetti noodles

– we used these for gluten-free

1

tablespoon

avocado or olive oil

1/2

cucumber

julienned (about 1 cup)

1

red bell pepper

julienned

1

cup

snap peas

thinly sliced

3

green onions

thinly sliced

1/4

cup

fresh chopped cilantro

2

cups

shredded chicken*

1

teaspoon

sesame seeds

for garnish
Instructions
Bring a pot of water to boil and cook the noodles according to package instructions. Once they are done, drain the noodles, then rinse them with cold water to stop the cooking process, and toss with the tablespoon of oil.

Whisk together all ingredients for the sauce. It should be thin enough to easily drizzle.

Toss the noodles with the sauce, cucumber, bell pepper, snap peas, green onions, and cilantro, then garnish with sesame seeds. You can either eat the dish warm immediately or refrigerate and eat cold!
Recipe Notes
For protein, you can use about 1 pound of chicken, pork, or shrimp here. For a vegetarian option, use edamame.
For nightshade-free – omit the bell peppers and use more cucumber and snap peas in their place.
For low FODMAP – omit the snap peas and use an additional bell pepper in their place.
Nutrition
Calories:
653
kcal
|
Carbohydrates:
58
g
|
Protein:
34
g
|
Fat:
32
g
|
Saturated Fat:
9
g
|
Polyunsaturated Fat:
8
g
|
Monounsaturated Fat:
14
g
|
Cholesterol:
60
mg
|
Sodium:
2347
mg
|
Potassium:
598
mg
|
Fiber:
4
g
|
Sugar:
10
g
|
Vitamin A:
1446
IU
|
Vitamin C:
59
mg
|
Calcium:
70
mg
|
Iron:
5
mg