Citrus Chicken with Cilantro Garlic Sauce
jump to recipe
This Citrus Chicken with Cilantro Garlic Sauce is packed with flavor and perfect for a quick, grilled dinner!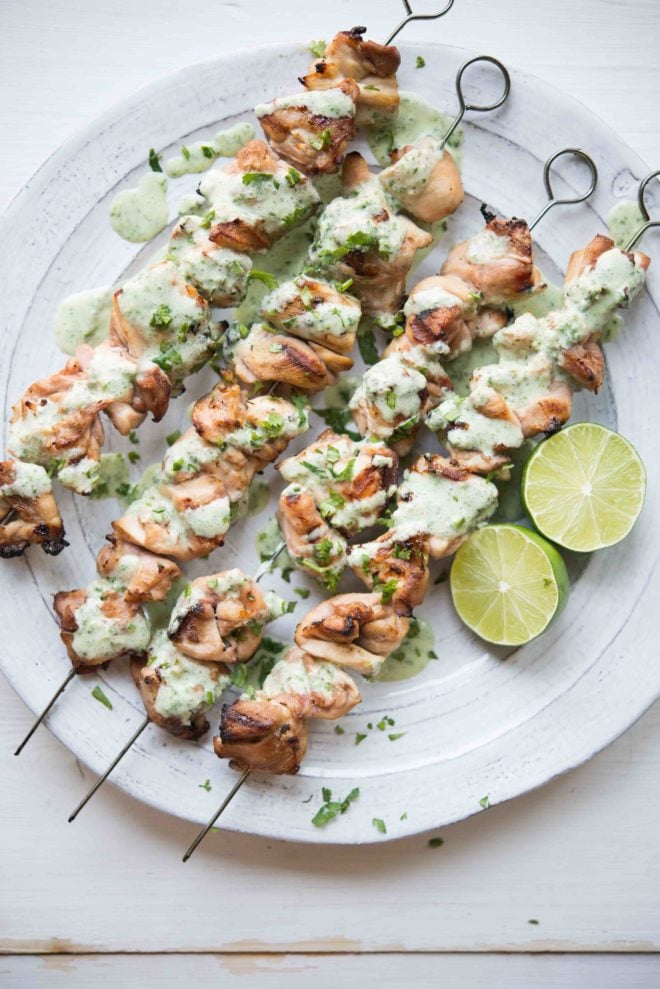 Hello YOU! Welp, my book goes to the printer in a matter of hours and I'm struck by a mixture of feelings. I'm still humbled, still terrified, still have more to say (thank goodness I have a blog, podcast, social media, and upcoming YouTube videos as outlets), and still giddy beyond belief. The final product will include 420+ pages of my best work, I held nothing back. Nothing! I can't wait for you to see it, dog-ear your favorite pages, and use it as a tool to share healthy lifestyle tips with the people in your life. You can expect 190 recipes, a copy of my 28-Day Fed+Fit Project (meals and workouts), grocery shopping lists, an introduction to the 4 Pillars of Health, and a special mobile phone-related SURPRISE! I'm just so excited. Remember that I'll be hosting a launch party in San Antonio (you're ALL invited!) on Saturday, July 9th and then will kickoff a 2-week national book signing tour starting on July 12th!
Okay, back to the present. I'm writing to you from my white fluffy bed in the stunningly gorgeous Kiawah Island Resort near Charleston, SC. My incredible mother-in-law was gifted three amazing sons and, now that she has three daughters (their wives), she wanted to plan a getaway for just us girls. Such a special time! We're in South Carolina for 4 nights and the only things on our schedule, so far, include: bike rentals so we can ride over the island, golf, morning yoga, spa (can someone work on my book writing shoulders?), a trip to Charleston, and maybe some ocean kayaking. We've been here about 16 hours and I'm already relaxed. Find me on Snapchat (at username "fedandfit") if you'd like to follow our adventures!
Today's Citrus Chicken with Cilantro Garlic Sauce is inspired by one of my favorite fast-food spots in San Antonio, Pollo Tropical! Though their citrus chicken with cilantro garlic sauce is MUCH different, the spirit is the same. I tried to make this recipe as easy to replicate from home as possible, so ANYONE can make these little tasty morsels!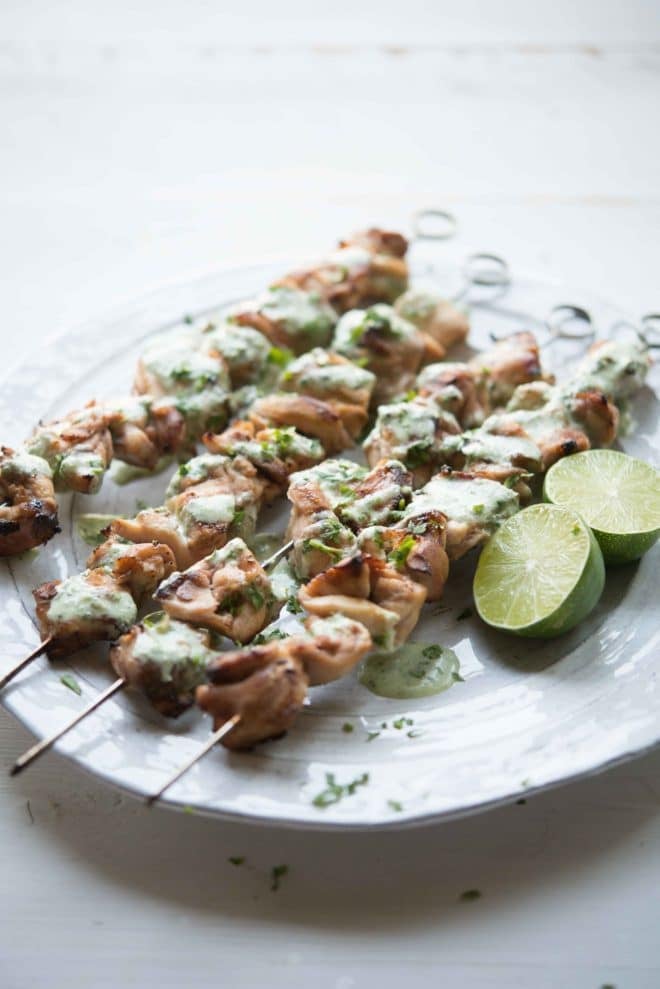 This Citrus Chicken with Cilantro Garlic Sauce is my first (of 3!) recipes that features the incredible cuts from ButcherBox! They help bring affordable, healthy, delicious cuts of grass-fed beef, organic chicken, and Heritage Breed pork RIGHT to your door.
Though we now understand that the nutritional benefits of grass-fed, grass-finished beef significantly outweigh their conventional beef counterparts, finding sources that are both trustworthy and affordable can prove difficult! If you caught my latest podcast episode where I reviewed the "is grass-fed better" question, you know that I outlined the three ways to find healthy sources of protein:
The grocery store! Pros: convenient location. Cons: you may fall victim to false marketing claims (like beef labeled "organic" means very little in terms of the health of the animal and the cut); cost of truly grass-fed, grass-finished cuts can be highest here; availability of actual grass-fed, grass-finished cuts is inconsistent.
A local farmer! Pros: more trustworthy source and (sometimes) more affordable. Cons: products aren't always available year-round and finding a nearby farmer you trust can prove difficult, especially for folks in a dense metropolitan area.
ButcherBox! Pros: trustworthy, reliable, convenient, and affordable (breaks down to approximately $6.50 a meal). Cons: shipping isn't the most sustainable model (though, arguably, the food you're consuming from the grocery store was shipped) and it's a new concept which can be intimating.
If you've been looking for a reliable source of healthy protein to feed you and your family, I wholeheartedly recommend ButcherBox. Every cut I've tried has been incredibly delicious (especially the bacon) and I can't wait for my next shipment! Shipping is free and the cuts are all delivered frozen, so you can work your way through them as quickly or as slowly as you like. Customize the shipment to your liking and keep your eyes peeled for my website over the next month, I've got 2 more recipes coming that feature ButcherBox cuts!
ButcherBox is offering all Fed & Fit readers a FREE package of bacon AND $10-off your first order with the code "fedandfit" – the offer is until Tuesday, May 17th, so don't wait!
Click HERE to grab your bacon and to learn more about this great new company.
Print
Citrus Chicken with Cilantro Garlic Sauce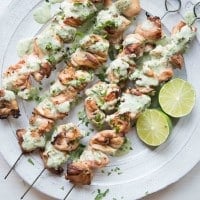 Author:
Prep Time:

4 hours for marinade

Total Time:

4 hours for marinade
Scale
Ingredients
For the chicken:
2

pounds boneless skinless chicken thighs (ButcherBox has great ones!), cut into 1-inch cubes

1/2 cup

fresh lime juice (about

4

limes)

2 tablespoons

extra-virgin olive oil

1 teaspoon

fine sea salt

1/4 teaspoon

ground black pepper
fresh chopped cilantro leaves, for garnish
fresh lime, for garnish
For the sauce:
1/2 cup

full-fat coconut milk

1/4 cup

fresh lime juice (about

2

limes)

2

cloves garlic

1/4 cup

fresh cilantro leaves

1/4 teaspoon

fine sea salt
Instructions
Toss the chicken in the lime juice, cover, and refrigerate for a minimum of 30 minutes, maximum of 4 hours. Using 5-6 metal skewers, pierce the chicken pieces so that you have 10-12 pieces on each. Drizzle the skewers with the olive oil and then sprinkle with the salt and pepper.
Heat either a grill or grill pan over high heat. Once at temperature, add the skewers and cook each side for 4 to 5 minutes, or until they start to brown. Transfer to a plate and let rest for 5 minutes.
For the sauce, add the ingredients to a blender and blend on high for about 1 minute, or until it looks mostly even.
Serve the sauce over the chicken and garnish with the cilantro and fresh lime. Enjoy!