These Greek Beef Kabobs plus simple homemade tzatziki are a dazzling crowd-pleaser. Enjoy the recipe and information about Butcher Box!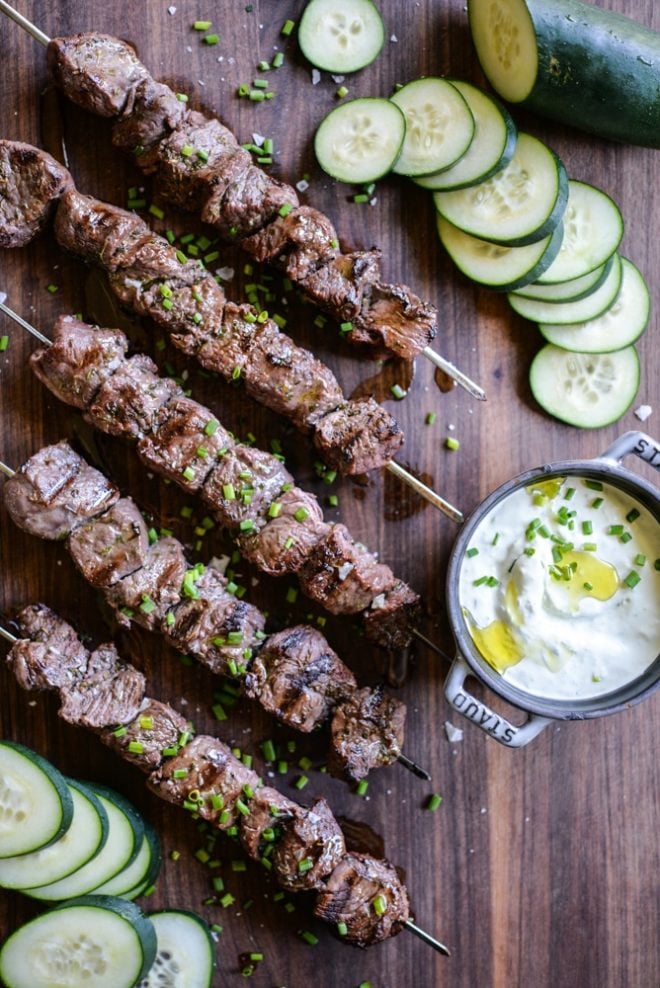 Boy howdy, am I ever excited to share this recipe with you! BUT, before we get to it, let's have a mini accidentally long, semi-random, bulleted life update.
I'm currently 30,000 feet up in the air (or at least, higher than feathered a bird can fly …I think) on my way to Vancouver, BC! I'm headed to the Pacific NW (or, is the Canadian Pacific SW?) to meet up with my dear friend Diane Sanfilippo. I love and respect her bunches (two necessary ingredients in a true friendship). To be TOTALLY honest, this trip happened because we both love traveling and hated the idea of going much longer without some QT. So, we contacted our publisher (we both went through the same publishing house) to see about setting up a book signing to help anchor our girl's trip to the misty land of seafood and lululemon. It worked! We have a signing scheduled for this Saturday. BAM! Two birds (QT with my frand and hug the necks of local readers), one trip. Note that I do have a travel post planned for after the trip to recap all of the things we ate, saw, did …so stay tuned.
Next important topic, airplanes and work. You guys, I LOVE working on airplanes. I feel like a giddy Ron Swanson, tapping away on my lap-nestled laptop. Next to getting work hammered out while waiting at the doctor's office, it's probably my favorite time to be productive. This is probably because I'm able to tackle two things at once: work + travel. Dang it, I love efficiencies. Though I COULD sit here and play my embarrassing iPhone made-for-kids-game and listen to the "My Favorite Murder" podcast, I get to use the time to sneak up on my to-do list. It makes my heart so, so happy.
NEXT, let's talk about pain tolerance. This is something that I (#humblebrag, brace yourself) have in abundance. I was a clumsy kid, broke a lot of bones, and just learned to deal. So, I can handle A LOT …unless we're talking about head pain. I'm a big, giant, bumbling baby when I have a headache. I get them on the semi-regular, but recently endured my first full-blown migraine. Note: I do know the cause and I'll happily share soon. You all shared some amazing tips for natural headache management on social media and I promise to pass the buck soon, turning your abundance of advice into a podcast episode.
This leads us into TV. Because I'm a giant, bumbling, unproductive baby when I have a headache, I can do nothing but sit, embark on a painfully slow crawl through something (anything) productive on my laptop, hydrate, rub EO's on my temples, beg my husband for neck massages, and watch all the Netflix. Here's what I've watched lately:

The Keepers – heavy, painful, and eye-opening. I recommend not binging, it's not good for the soul. Watch one at a time.
Parks and Rec – what rock have I been living under? This show is THE BEST EVER. I'm on the last season and have started rationing episodes, I don't want it to end.
Westworld – an HBO show, this one blew my mind. It reminded me of the Matrix and maybe a little of LOST …but with a western + Anthony Hopkins theme. It's a trip, watch if you're not the queasy type.
Grace & Frankie – hilarious. This is one of the shows I save for when my hubby travels. It follows two reluctant friends who figure out life after a MAJOR plot twist in their twilight years.
Gray's Anatomy – I know, now you're thinking, "okay really, what rock HAVE you been living under?!" I used to watch this show back in college, but gave up after Meredith drowned. Spoiler alert: the show goes on and it's still just as entertaining. I have approximately 932 episodes to go, so I'll be watching this one until I too am in my twilight years.
The Fall – it's heavy and disturbing and I don't recommend if you're already fearful of a possible home invasion. If you AREN'T the neurotic "what was that sound??" type, then enjoy! It's an incredibly well-done crime show.

Speaking of entertainment, did you check out my Summer 2017 Reading List? I just finished Norse Mythology and have moved onto Anne of Green Gables. Oh dear, oh dear, how I am LOVING this sweet story. If you want a book that puts you in an instant Summer good mood, I highly recommend it. ALSO, if you're an audio book consumer, make sure you snag the newer edition narrated by Rachel McAdams. It's beyond delightful.
Lastly, I started using a face oil (4 drops) after cleansing and toning, but before my night cream, and it has made a HUGE difference in my skin in just 3 days! My skin is more moisturized and less irritated. Don't you just love it when something WORKS for your skin? Best of all, this one is made MUCH safer ingredients than much of the competition. I'm a happy, happy girl.
NOW, let's talk about these Greek Beef Kabobs.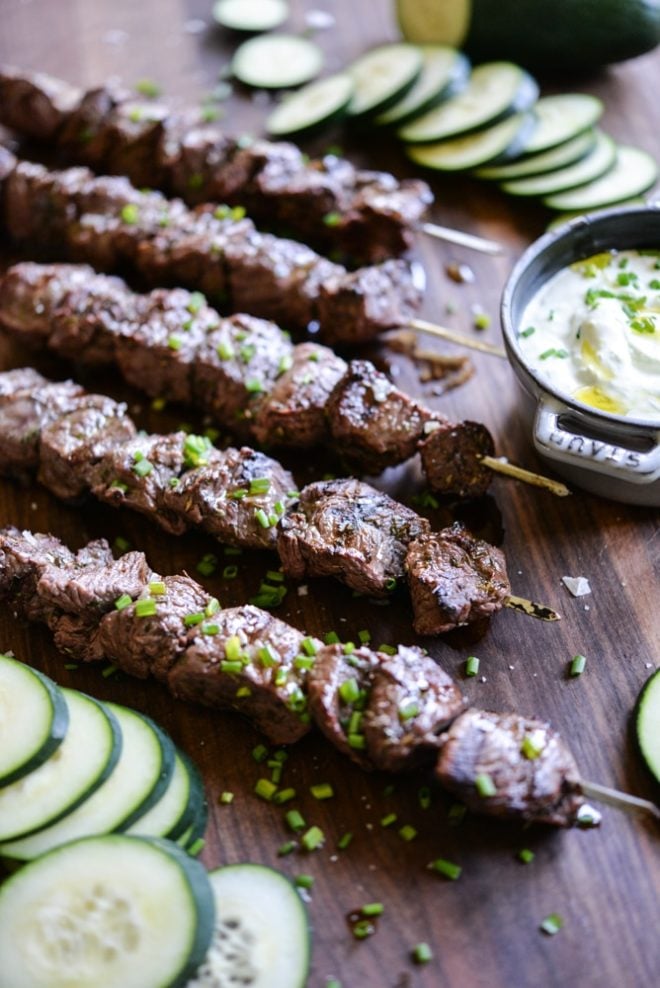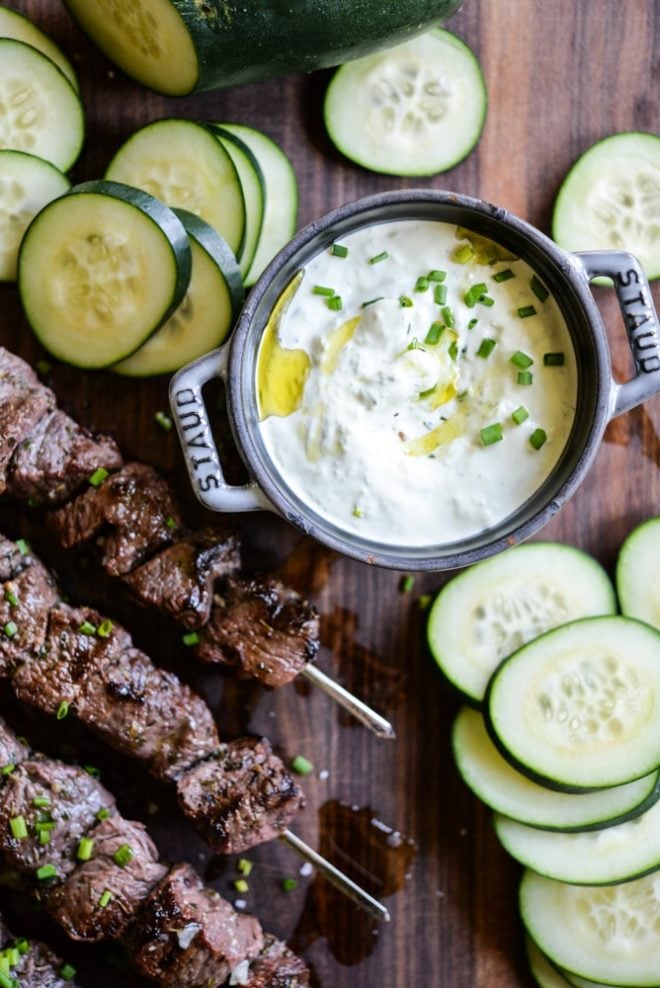 When my husband got home to our house, I had just packed up the leftovers from this photoshoot, went out for errands, and left him a note that dinner was in the fridge. I then got the following text messages:
Austin: "Babe you're a rockstar" (100 points for correct use of "you're")
Me: "You tried the beef?"
Austin: "Yep it's gooooood" (I counted the number of "o's")
Me: "right? Did you try the sauce?"
Austin: "It's good too. I'd put this over a salad and crush it every day."
I share this because, though Austin always likes my food, acclamations of THIS sort are a rare and precious bird.
These kabobs are good, y'all. Real good.
Here's how they happened: I defrosted the top sirloin steaks from my latest Butcher Box delivery; cut them into 1-inch cubes; and toss them in a simple marinade of olive oil, lemon juice, sea salt, pepper, and the Super Gyro Blend by Primal Palate. I let the steak pieces infuse with flavor for about 45 minutes, during which time I whipped up a simple tzatziki sauce (which, I could eat by the bucket). Tzatziki is made by mixing shredded/drained cucumber with a little raw grated garlic and Greek yogurt. If you tolerate dairy, I recommend a full-fat, grass-fed Greek yogurt. If you're looking for a dairy-free option, I have you covered in my recipe below.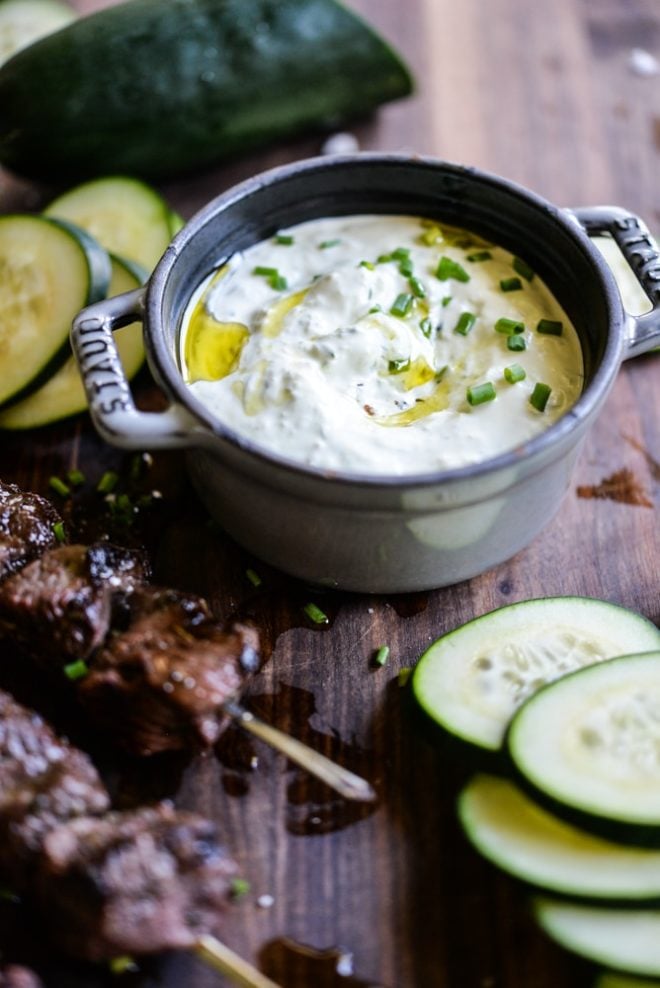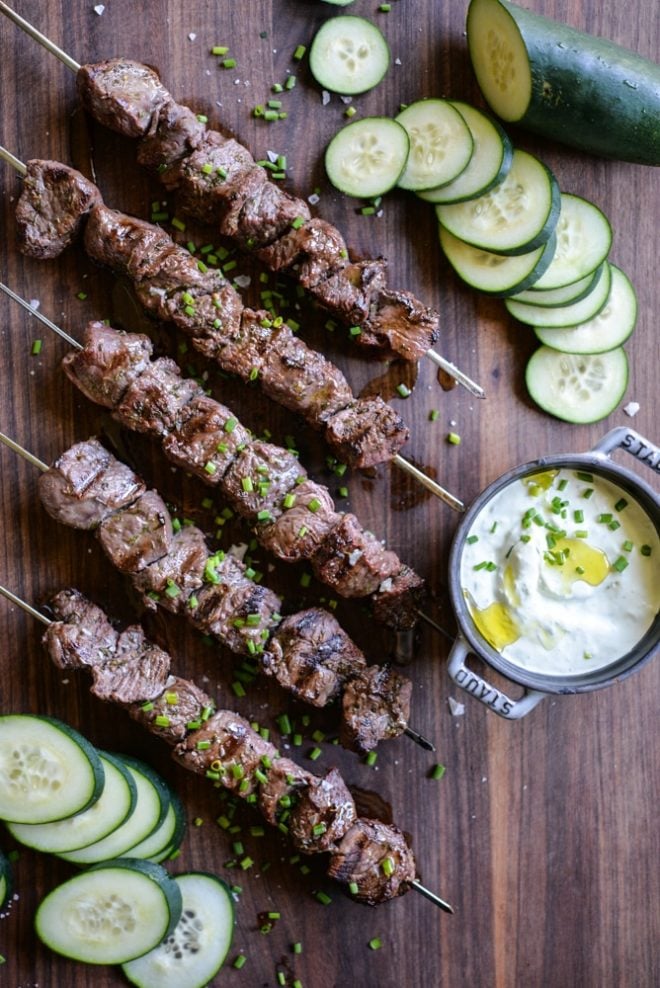 Once nice n' flavored-up, get those beef pieces on a skewer and grill for about 10 minutes, 5 on each side. Plate with a few sprinkles of fresh sea salt, drizzle of olive oil, dash of fresh chives, and your homemade tzatziki.
The proteins shown here (+ 80% of our home-cooked meals) are provided by my trusted friends over at Butcher Box! I am set up on a monthly delivery and I LOVE the service. I get grass-fed beef, pastured chicken, and heritage pork delivered each month. It helps make my grocery shopping life SO much easier knowing that healthy proteins are already accounted for.
And remember, if you get some top sirloin in your next BB delivery, I've got you covered with this Greek Beef Kabob recipe!
More Favorite Kabob Recipes
Greek Beef Kabobs & Homemade Tzatziki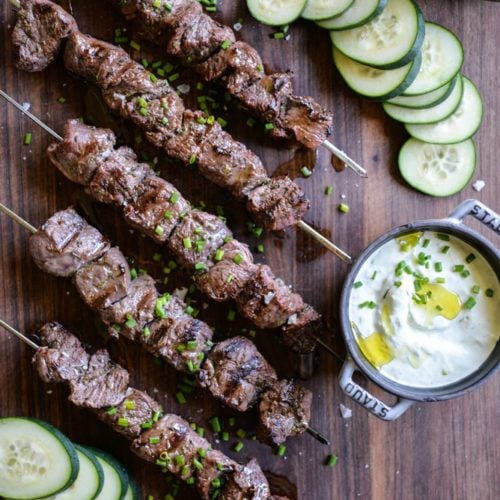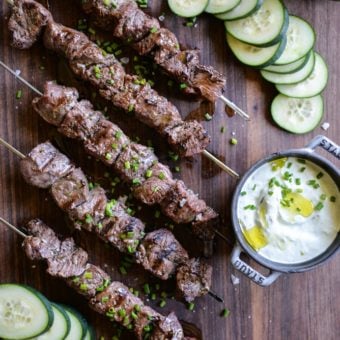 These Greek Beef Kabobs plus simple homemade tzatziki are a dazzling crowd-pleaser.
Ingredients
For the Beef Kabobs:
4

top sirloin steaks

about 2 pounds, defrosted and cut into 1-inch cubes

1/3

cup

olive oil

more for garnish

1/3

cup

fresh lemon juice

about 2 lemons

1

tablespoon

Primal Palate Super Gyro Blend

1/2

teaspoon

fine sea salt

more for garnish

1/4

teaspoon

ground black pepper

1

tablespoon

fresh chives

for garnish
For the Tzatziki (regular):
3/4

cup

full-fat, grass-fed, Greek yogurt

3

tablespoons

grated & drained fresh cucumber

water squeezed out

1

clove

garlic

finely grated

Pinch

fine sea salt
For the Tzatziki (dairy-free and Paleo):
1/2

cup

thick cream from a can of full-fat coconut milk

1/4

cup

fresh lemon juice

more if needed to thin

3

tablespoons

grated & drained fresh cucumber

squeeze the water out

1

clove

garlic

finely grated

pinch

fine sea salt
Instructions
For the kabobs, place all the ingredients, minus the chives, in a large bowl. Stir to combine and let marinate for 30 minutes to 1 hour. Heat a grill to 300 F, spear the pieces on metal skewers, and grill for 5 minutes on each side. Let rest 5 minutes before serving. Note: you can follow this same method via a grill pan on the stove, just be sure to grease the pan first.

For the traditional and Paleo-friendly tzatziki: whisk the ingredients together and set aside until ready to serve. Note: for the coconut milk-based tzatziki, you may need to whisk vigorously until all lumps are out. Add more lemon juice or even water until you get the consistency you like.

Serve the kabobs with an additional drizzle of olive oil, sea salt, and fresh chives next to the tzatziki.

Enjoy!
Nutrition
Calories:
592
kcal
|
Carbohydrates:
9
g
|
Protein:
56
g
|
Fat:
37
g
|
Saturated Fat:
15
g
|
Polyunsaturated Fat:
2
g
|
Monounsaturated Fat:
17
g
|
Trans Fat:
0.003
g
|
Cholesterol:
136
mg
|
Sodium:
435
mg
|
Potassium:
1084
mg
|
Fiber:
3
g
|
Sugar:
3
g
|
Vitamin A:
116
IU
|
Vitamin C:
16
mg
|
Calcium:
163
mg
|
Iron:
6
mg