Baked Feta Pasta
jump to recipe
Made into a one-pot meal, this simple baked feta pasta is a leveled up version of the creamy, delicious, trendy dish that's taking over the internet!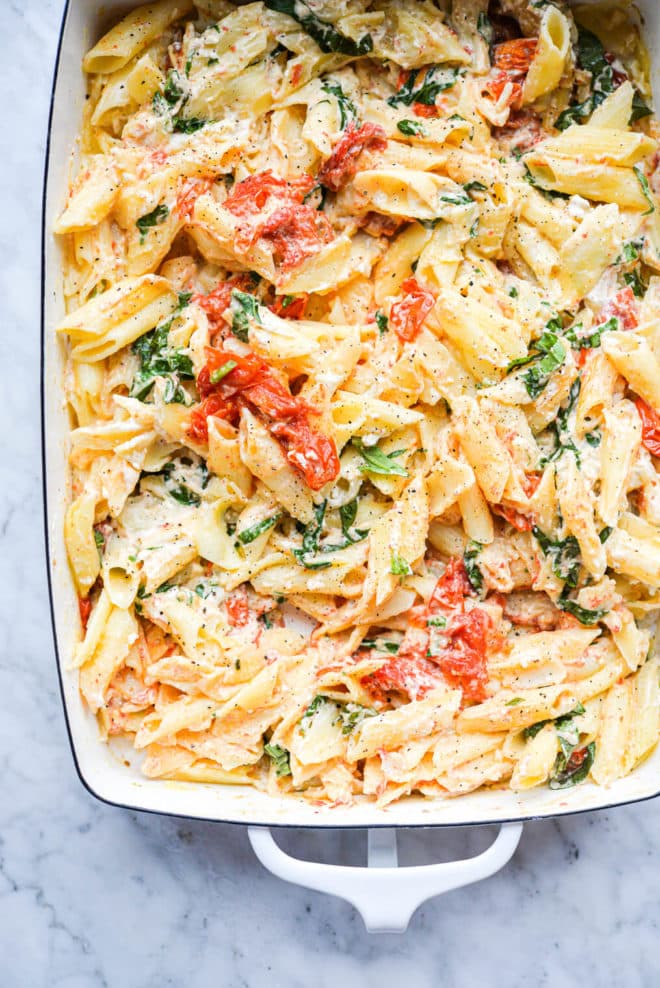 Baked Feta Pasta Recipe
Though baked feta pasta is taking the internet world by storm right now, we actually feel like our version of it is totally leveled up — here's why:
Most baked feta recipes call for baking the feta along with the cherry tomatoes, olive oil, and spices, and boiling the noodles separately (while everything else is in the oven). Once the noodles and the feta + cherry tomato bake are done, these recipes call for mixing the two together. OUR recipe, though, calls for baking EVERYTHING (noodles, feta, cherry tomatoes, everything!) together so that you don't have to worry about the extra step of boiling noodles separately. This makes the entire process completely fuss-free and basically hands-off!
Where did Feta Pasta start?
Good question! We first saw baked feta pasta when our friend, Yumna Jawad of Feel Good Foodie, posted it on her website (you can find her recipe HERE). Yumna said that she learned about this recipe from Grilled Cheese Social who heard about it from a viral recipe called #uunifetapasta that was made famous in Finland by Liemessa but originally shared by Tiiu.
Ingredients for Pasta with Feta
To bring this creamy feta pasta bake together, you'll need…
Dry Pasta – to start, go ahead and grab 12 ounces of dry (uncooked) pasta. Penne, bowtie, rotini, or elbow pasta will all do here — basically, any short noodle is great!
Broth or Water – to cook the pasta, we'll also need 3 cups of broth or water. Broth gives the final product a bit of a richer flavor, but if you don't have any on hand, just use water!
Feta Cheese – this wouldn't be the famous baked feta pasta without the feta! You'll want to grab 1 (8-ounce) block of feta cheese for this recipe. Be sure that when you're shopping for your feta, you buy an actual block of it, and not 8 ounces worth of feta crumbles!
Cherry Tomatoes – again, a staple ingredient for this trendy dish! You'll need 1 pint of cherry tomatoes here.
Olive Oil – 1 tablespoon of olive oil adds a rich flavor + helps our noodles not to stick together.
Sea Salt + Ground Black Pepper – a ½ teaspoon of sea salt (plus more to taste) and a ¼ teaspoon of ground black pepper go a long way in seasoning this pasta dish!
Garlic – for an added depth of flavor, you'll also need 2 minced cloves of garlic.
Fresh Basil – ¾ ounce of fresh roughly chopped basil (approx. a ¼ cup) finishes everything off beautifully!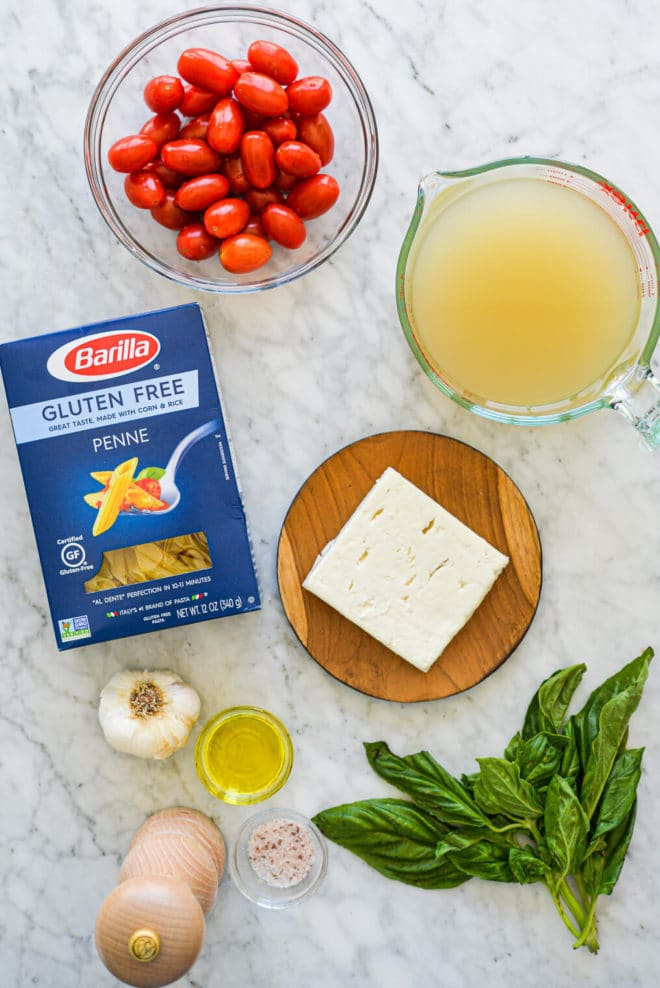 How To Make Baked Feta Cheese Pasta
The process is simple, and that's what we think makes this recipe so great! Here's what you'll need to do:
Preheat the oven to 400°F.
Add the block of feta to the baking dish – place the block of feta cheese in the middle of the dish.
Add pasta + broth – add the dry pasta to the baking dish (around the block of feta), pour the broth over top the uncooked pasta, and carefully stir the pasta and broth together (being careful not to bump any noodles under or on top of the feta) to make sure that all of the pasta is submerged in the liquid.
Add the cherry tomatoes, EVOO, salt, and pepper – sprinkle the cherry tomatoes over top of the noodles and drizzle everything with the EVOO, salt, and pepper.
Cover tightly + bake – cover the baking dish with foil as tight as possible, and bake at 400°F for 40 minutes.
Add the garlic and basil + stir – once finished baking, remove the foil, add the minced garlic and fresh basil, and stir everything together until well combined. Serve and enjoy!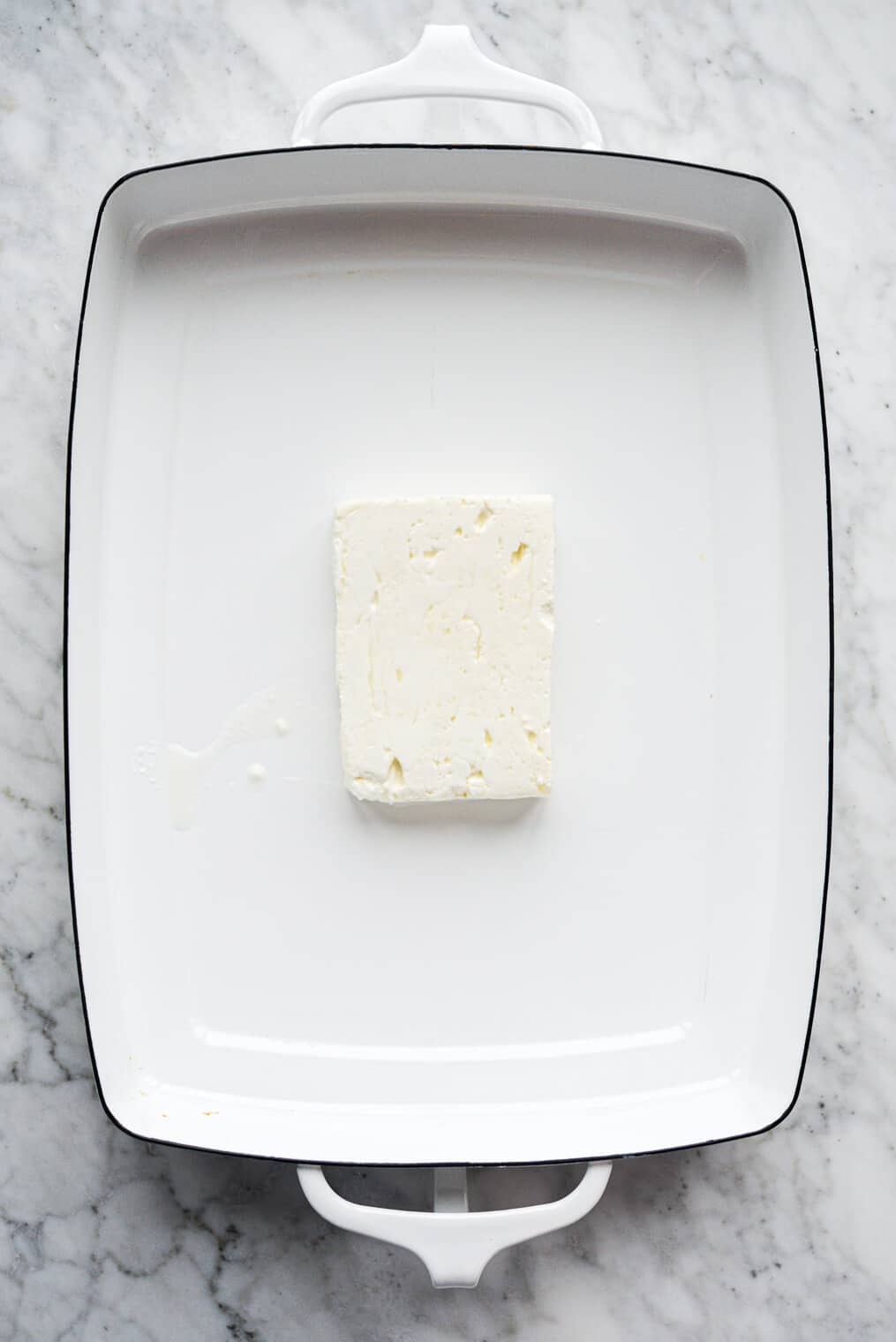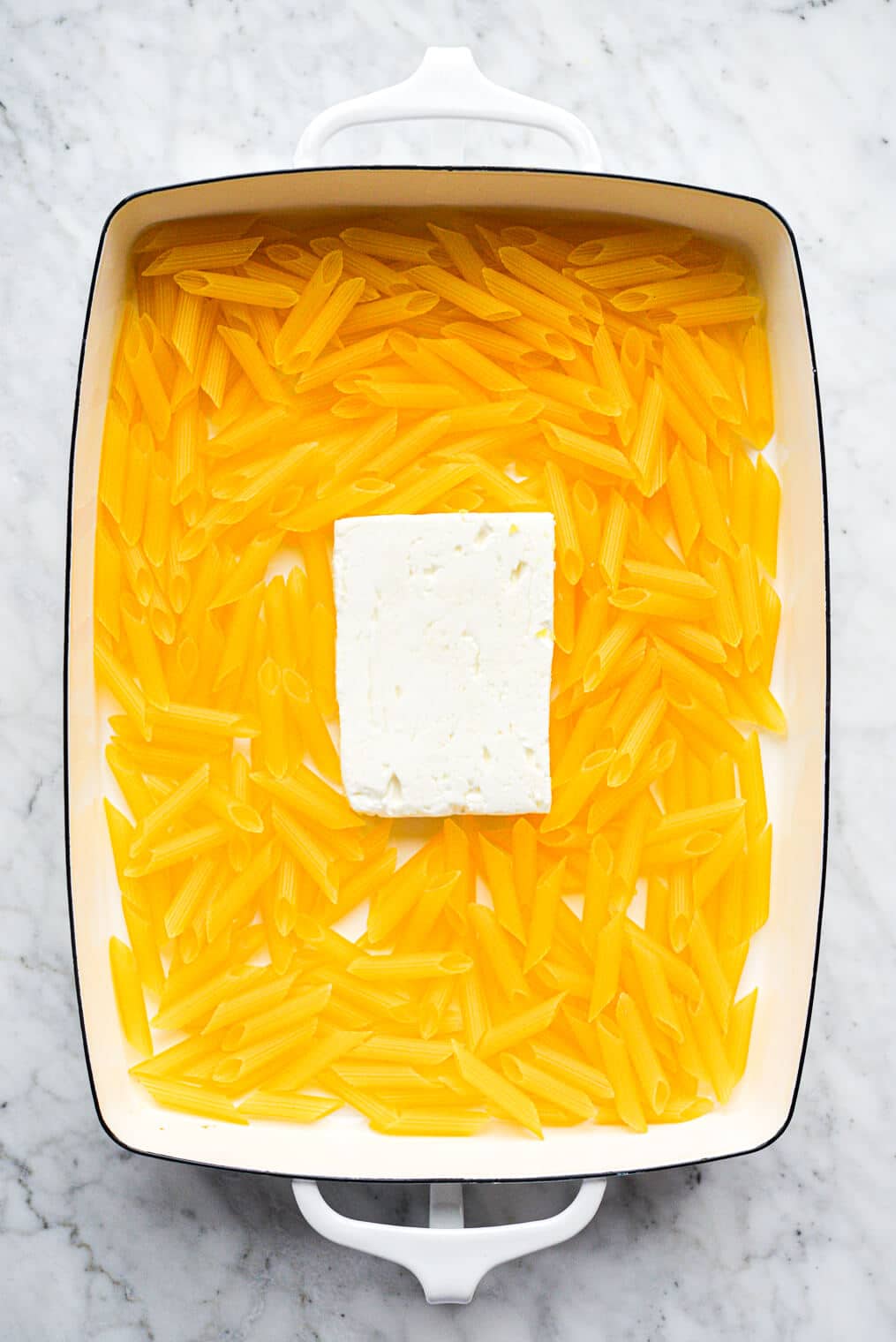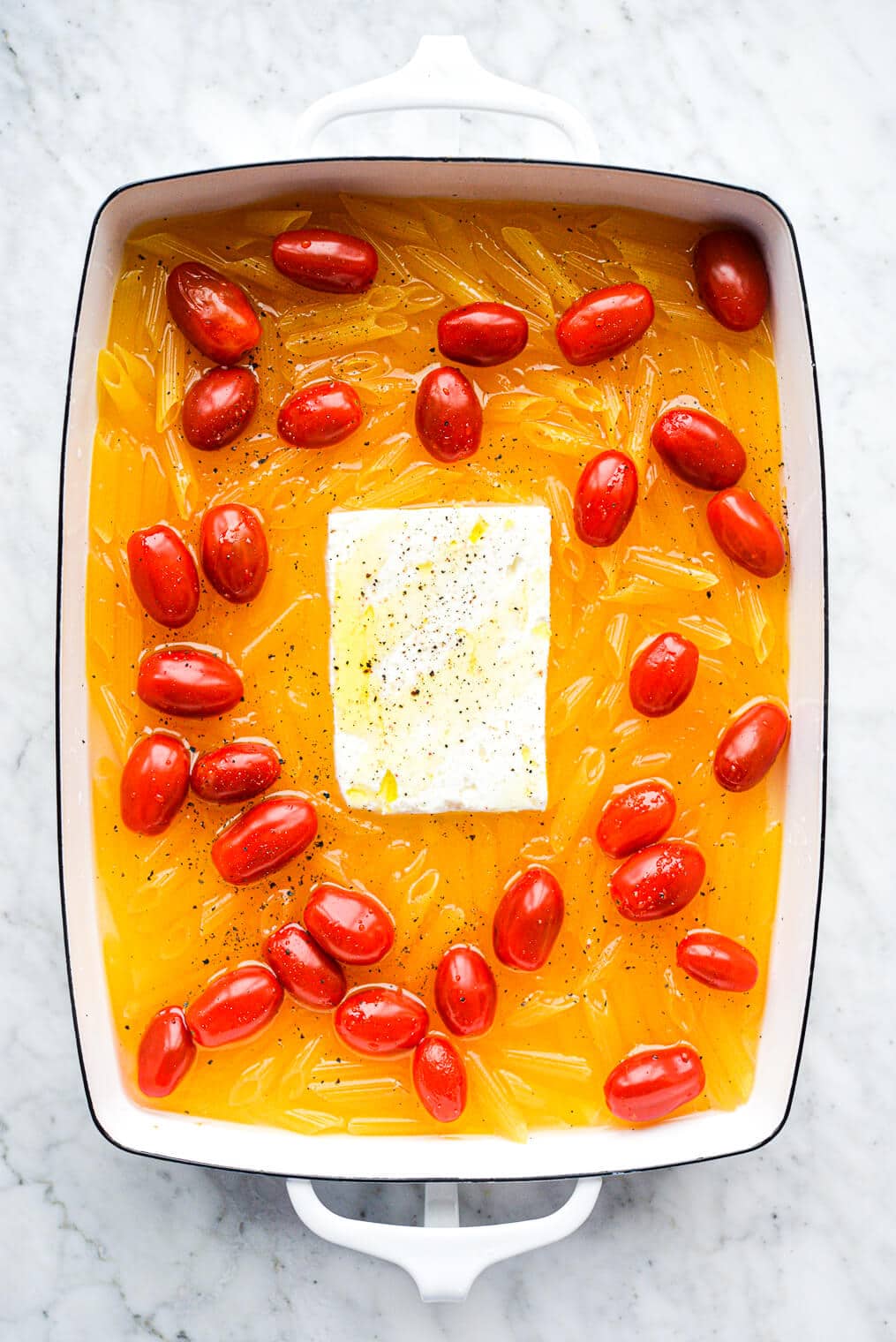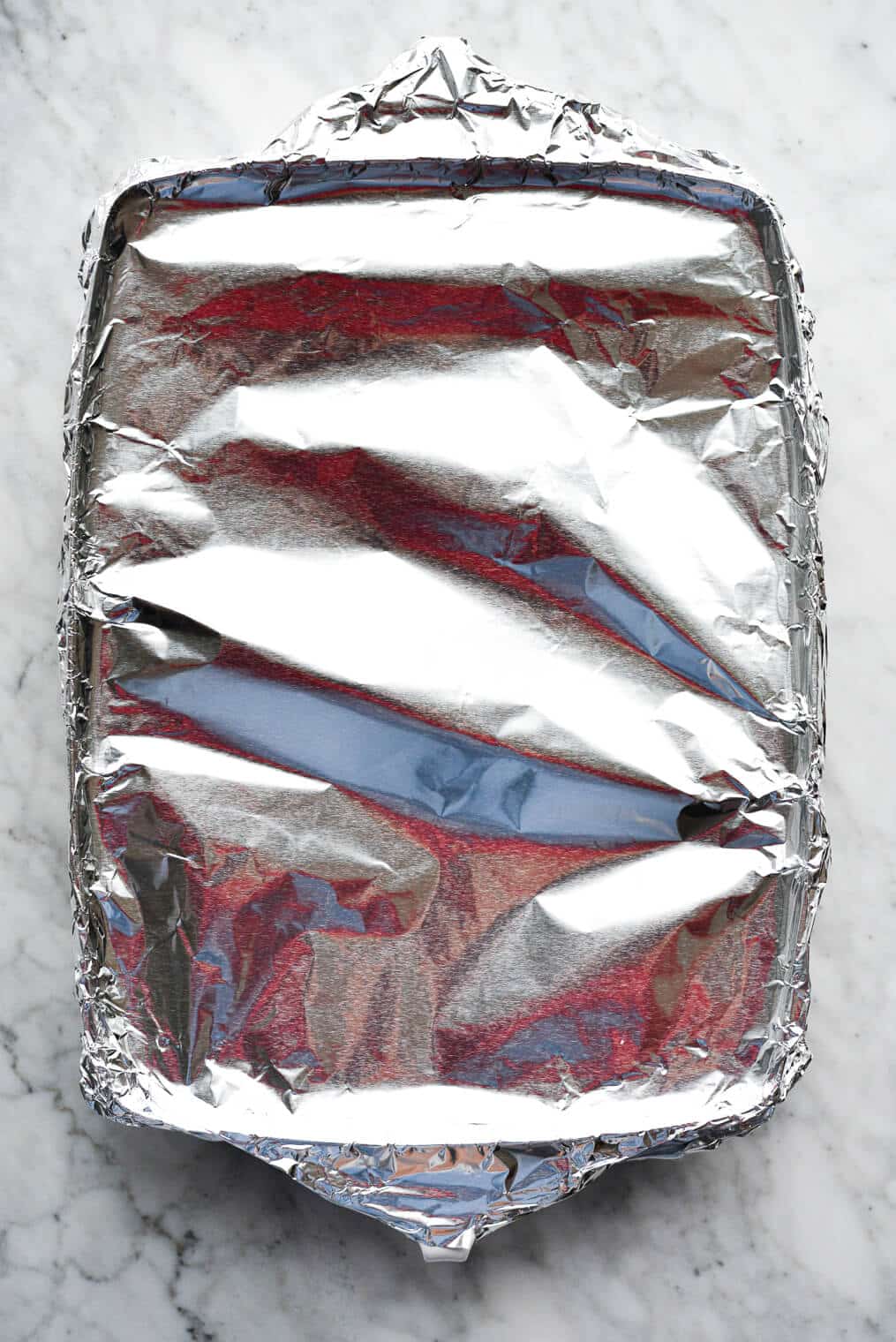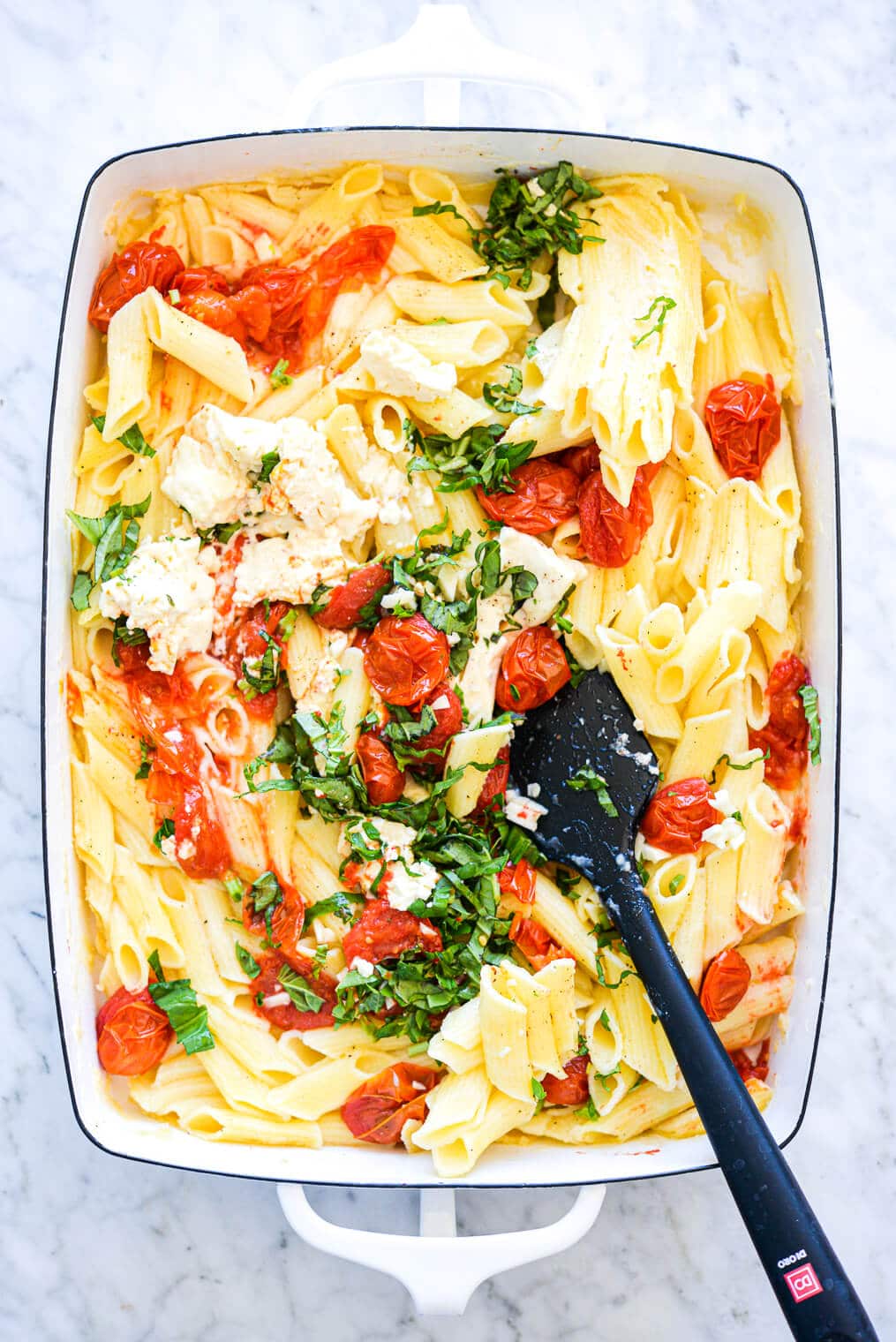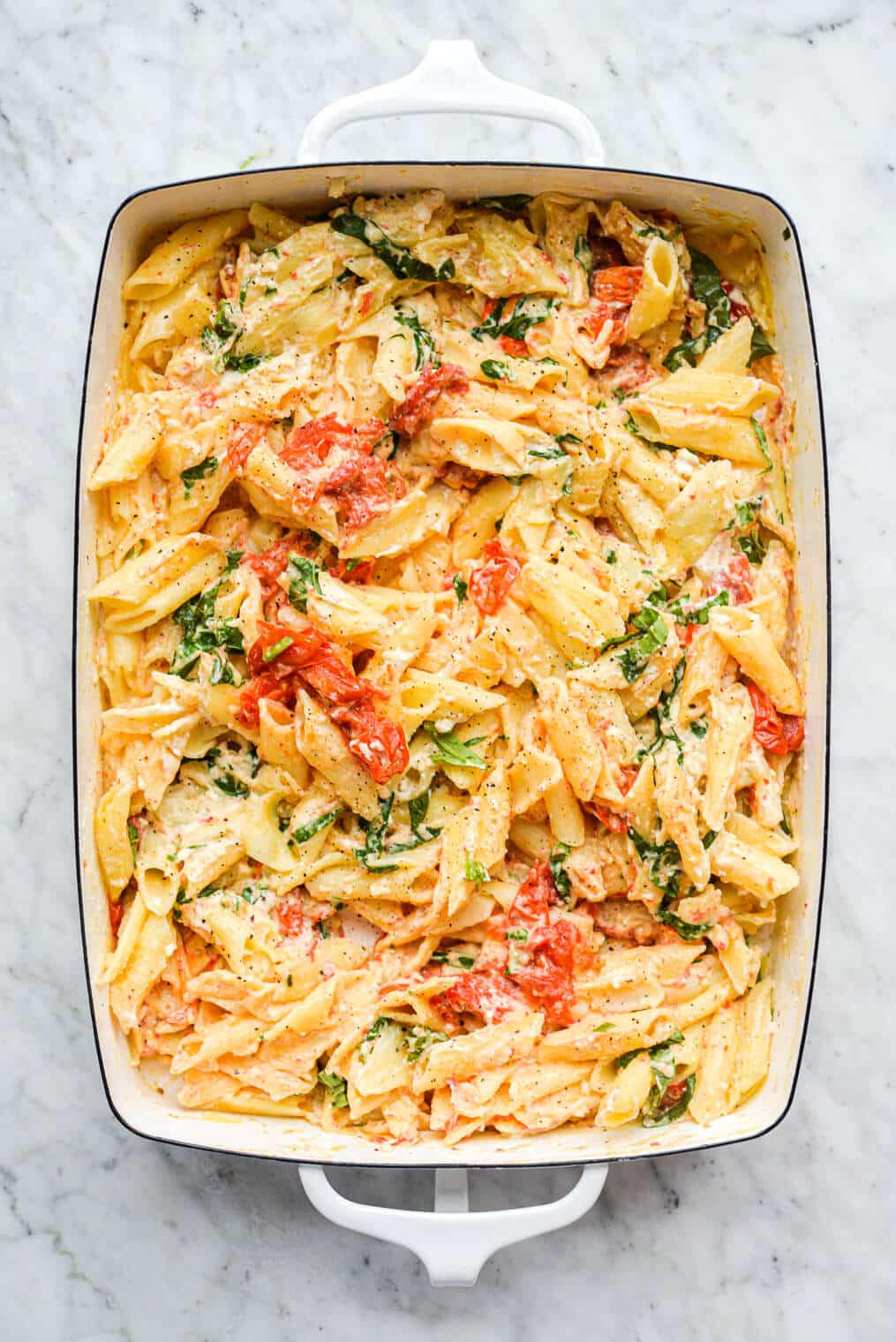 Is Feta Cheese Healthy?
This totally depends on what healthy means to you! If your body tolerates dairy well, then feta cheese is a really delicious option that's loaded with protein and calcium. As with any cheese, though, it does come with a higher fat content (though lower than many other cheeses) than many other protein-rich foods.
Is Feta Cheese the Healthiest Cheese?
Whether it's the healthiest cheese or not, we're not totally sure (that's truly variable from person to person), but it does tend to be lower in calories than other cheeses. While it may be lower in calories, though, it's actually higher in sodium than many other cheeses. Feta cheese also contains significant amounts of CLA (conjugated linoleic acid), a super nutritious fatty acid.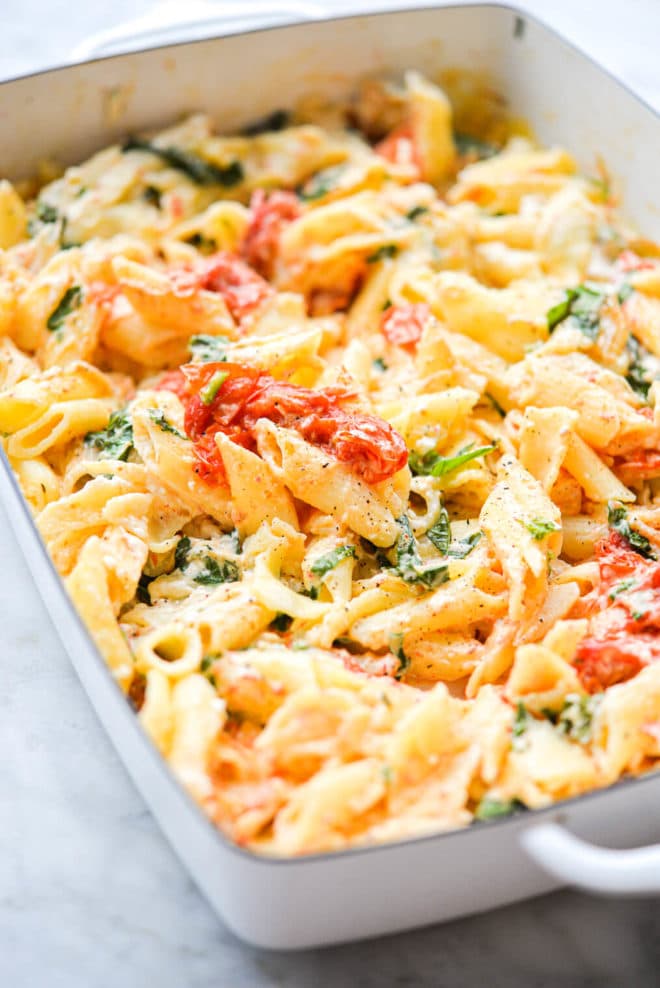 Can you make feta cheese pasta with feta crumbles?
The recipe will work with crumbled feta, but it'll definitely yield a less creamy, melty texture. For best results, we definitely recommend using a block of feta if possible!
What tastes good with feta cheese?
The bursting cherry tomatoes in this recipe pair beautifully with the feta cheese, as does the garlic and basil! If you want to round out your meal with a protein + side salad, you've got a couple of options! You can…
Press the easy button – keep things super and hands-on cooking time minimal simple and purchase a rotisserie chicken and bagged side salad.
Make your own – while your feta pasta bakes, throw in some chicken thighs to bake alongside it (then slice and serve them over top the finished pasta)! While everything is baking, make a quick arugula salad.
Serving and Storage Tips
This pasta is best served right out of the baking dish, but reheated leftovers are also really tasty! Store any leftover baked feta pasta in an airtight container in the fridge for up to 4 days.
Print
Easy Pasta with Feta Cheese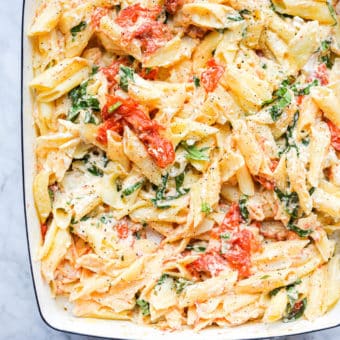 This feta pasta is ultra-creamy, studded with roasted tomatoes, and baked entirely in one dish!
Author:
Prep Time:

10 minutes

Cook Time:

40 minutes

Total Time:

50 minutes

Yield: Serves

5

1

x
Category:

Dinner

Method:

Oven

Cuisine:

Italian
12 ounces

penne pasta (rotini, bowtie, or elbow pasta will also work)

3 cups

chicken broth or water

1

, 8-ounce block of feta cheese

1 pint

cherry tomatoes

1 tablespoon

extra-virgin olive oil

1/2 teaspoon

sea salt, plus more to taste

1/4 teaspoon

ground black pepper

2

cloves garlic, minced

0.75 ounces

(about

1/4 cup

) fresh basil, roughly chopped
Instructions
Preheat the oven to 400 F. 
Place the block of feta in the center of a 9×13 inch baking dish, then pour the dry pasta around the feta. 
Pour the broth over the uncooked pasta, then carefully stir the pasta with the broth (making sure not to stir the feta in with it), to make sure that the pasta is fully submerged in liquid.
Sprinkle the cherry tomatoes over top of the noodles, then drizzle over the olive oil and salt and pepper. 
Cover the baking dish with foil as tight as possible, and bake at 400 F for 40 minutes.
Once finished baking, remove the foil, add the minced garlic and fresh basil, and stir everything together until fully combined. Serve and enjoy!
Notes
Make sure you use a block of feta cheese, not crumbled feta.
For gluten-free, we recommend Barilla or Jovial pasta
Keywords: feta pasta, pasta with feta, baked pasta