This Lemon Sea Salt Arugula Salad is probably the side salad that I make the most! You just need 5 ingredients and about 2 minutes to whip this refreshing, nutritious green side dish up for the family to enjoy.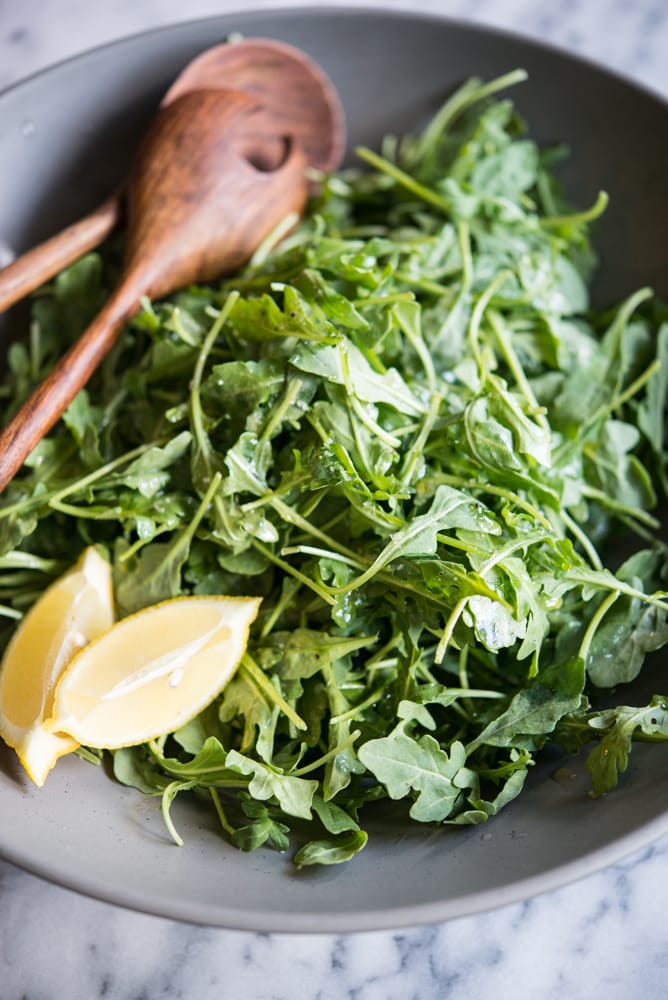 Once upon a time, I thought, "goodness, I haven't posted anything to my Instagram Stories today!" So, while I was whipping up a quick dinner, I quickly showed the UBER simple (but UBER delicious, of course) side dish that was accompanying our grilled steaks and baked potatoes. It was a side dish that I made (and still make) ALL THE TIME. It was none other than my very most favorite salad: the Lemon Sea Salt Arugula Salad. I shared (in Stories) how this simple salad came together, settled in for dinner with my hubby, and thought nothing else of it. THEN, the notes started rolling in. Several of you MADE the salad (I'm always amazed when you make my recipes) and LOVED it! After the story series disappeared, as they do after 24 hours, I received dozens of notes asking for a repeat/repost. Even though it took me a few months, I'm finally making good on my promises to you!
What is Arugula?
Arugula has soared in popularity over the last few years, but what exactly is it? Arugula is peppery, slightly bitter leafy green cruciferous veggie also known as rocket. It's not quite as fragile as lettuce varieties like butter or romaine, but not quite as sturdy as kale, either. It falls right in the middle – which means it holds up well to dressings, but won't be a great choice for a make-ahead salad or for sauteeing like kale or chard.
Is arugula good for you?
Yes, arugula is a great food to incorporate into your diet as it is high in calcium and Vitamins A, K, and C. We are big proponents of including leafy greens in your daily diet whenever possible, and peppery arugula is a great one to rotate in.
Simple Arugula Salad Ingredients
Just 5 super simple ingredients yield the tastiest, goes-with-everything side salad! Here's what you'll need:
Arugula – about 4 cups of fresh arugula make up the base of this simple salad.
Olive Oil – a good drizzle of olive oil (this is my favorite), and…
Lemon Juice – …the juice from a whole lemon (freshly squeezed is KEY here + this citrus squeezer makes that super easy) create the salad 'dressing.'
Sea Salt – a pinch (½ teaspoon to be exact) of sea salt, and…
Cracked Black Pepper – …cracked black pepper are both crucial components of this simple salad + give it a *really* great flavor! Don't skip these two!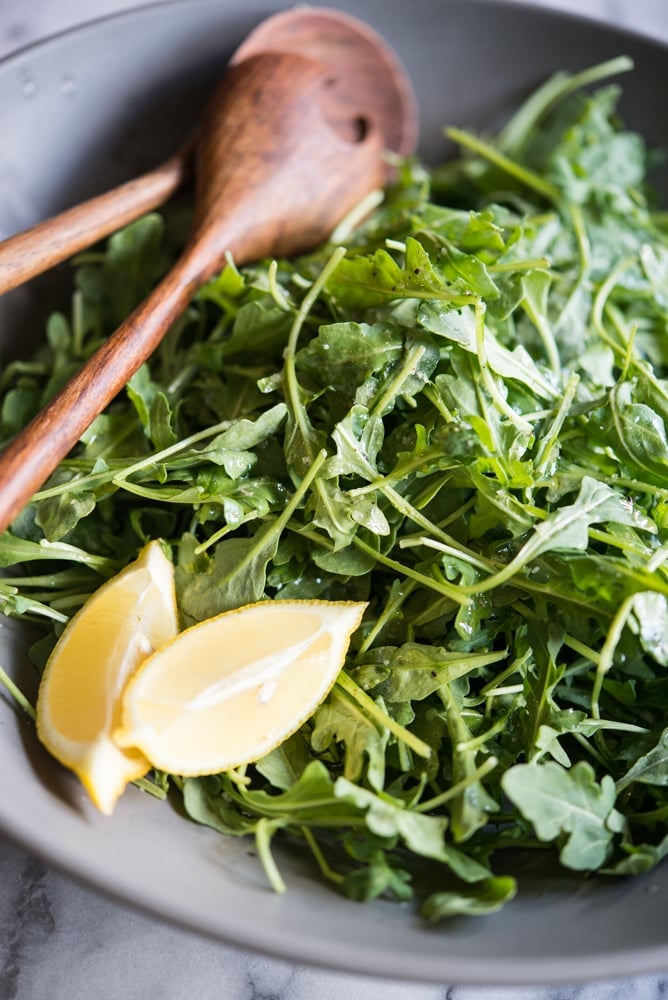 How to Make
This salad is so simple, I feel a little silly sharing it …but it's also so good, so I know you're in good hands if you want to give it a go! Now that the weather is cooler, arugula is back in season, so this salad can be quickly made any night of the week.
Grab your arugula. Grab your fresh arugula and add it to a large bowl.
Drizzle with olive oil + season. Drizzle the arugula with a little olive oil, a squeeze of fresh lemon, a pinch of sea salt (crucial), and a crack of black pepper (also crucial).
Toss + enjoy! Give it a quick toss and BOOM – a fresh, delicious side salad that will go nicely next any meal!
More Arugula Salad Toppings
If you want to take your arugula salad up a notch, here are a few more toppings to consider:
Cheese – Shredded parmesan cheese, goat cheese, or feta would all be great options here!
Nuts – I love a little extra crunch in my salad, so nuts are usually a go-to add-in for me. Pecans, walnuts, sunflower seeds, or even pine nuts work great, especially if you toast them first!
Red Onion – If you like a little bit of bite, thinly sliced, diced, or even pickled red onion pack a delicious punch.
Dried Fruit – For a little hint of sweetness, dried cranberries or even chopped dates serve as a great contrast to the bitterness of the arugula.
What to Serve with Arugula Salad
Honestly, this simple salad goes with just about ANYTHING! I especially like it next to Italian food because the bright flavors balance out anything heavy. Here are a few of my favorite dishes to serve with this salad:
I hope you enjoy this simple Lemon & Sea Salt Arugula Salad as much as I do!
More Favorite Salad Recipes
Lemon Sea Salt Arugula Salad
This Lemon Sea Salt Arugula Salad is probably the side salad that I make the most! You just need 5 ingredients and about 2 minutes to whip this refreshing, nutritious green side dish up for the family to enjoy.
Instructions
Place the arugula in a large bowl.

Sprinkle with the remaining ingredients, toss, and serve!
Nutrition
Calories:
75
kcal
|
Carbohydrates:
3
g
|
Protein:
1
g
|
Fat:
7
g
|
Saturated Fat:
1
g
|
Polyunsaturated Fat:
1
g
|
Monounsaturated Fat:
5
g
|
Sodium:
297
mg
|
Potassium:
115
mg
|
Fiber:
1
g
|
Sugar:
1
g
|
Vitamin A:
482
IU
|
Vitamin C:
17
mg
|
Calcium:
40
mg
|
Iron:
1
mg