These Crispy Oven Baked Chicken Thighs are the perfect simple protein main to cook up alongside your very favorite sides for a delicious, effortless meal the whole family will enjoy!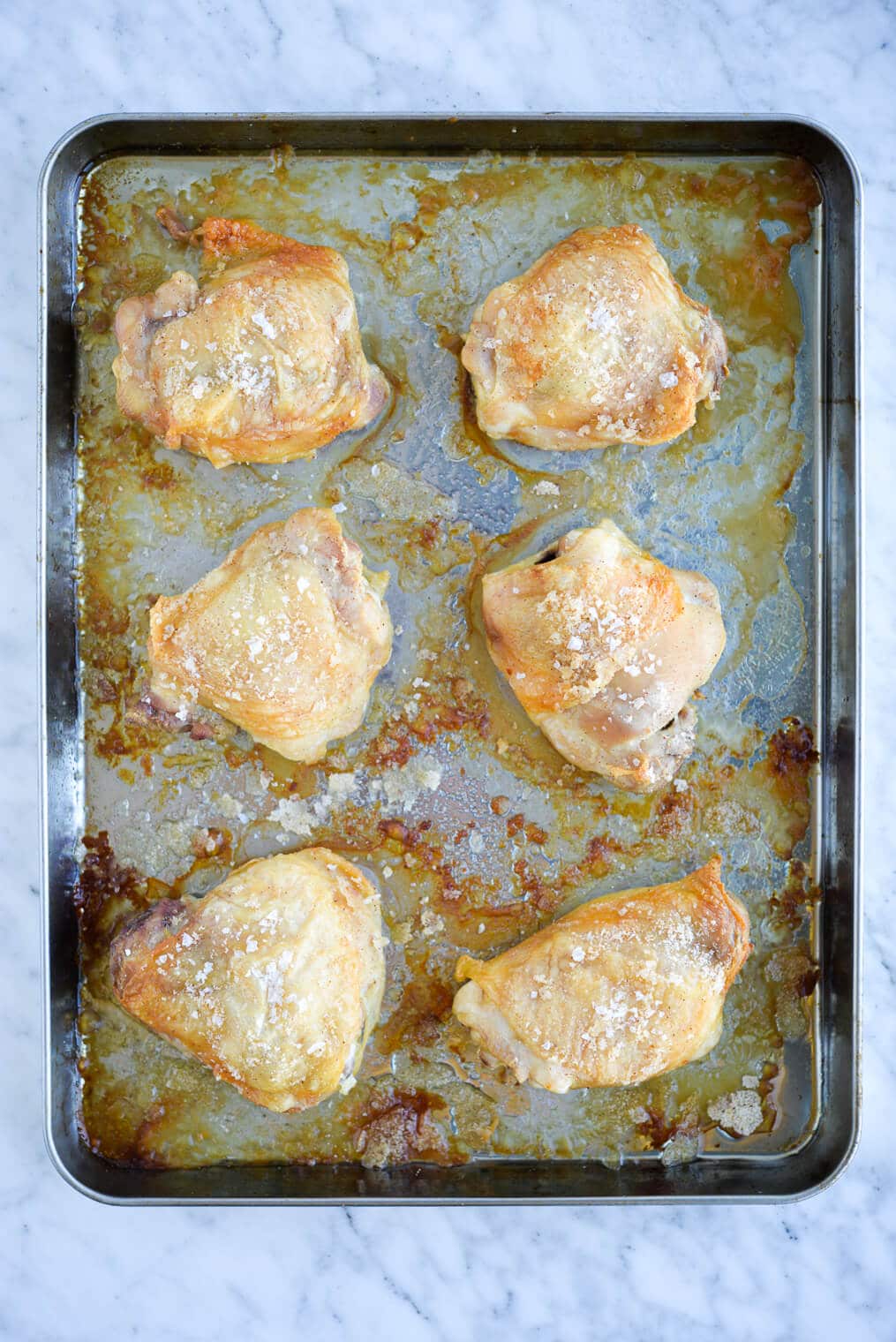 Today we're partnering with our friends at ButcherBox to bring you these perfect crispy chicken thighs! Are you team chicken breast or thighs? I definitely think that they can each hold their own, but when it comes to wanting a juicier, fall-apart cut of chicken, thighs win every single time! One of my very favorite things about chicken thighs, though, is the good crisp that you can get on the skin – there's something really appealing about the combo of crispy skin + juicy meat that has me ready to get into the kitchen and whip up a batch of these right now.
I love even more that the crispy skin can be achieved beautifully without the need to fry in a vat of oil – instead, we're popping these bad boys in the oven at a high temperature!
Our Favorite Source for Chicken Thighs – ButcherBox!
First off, what is ButcherBox?! ButcherBox is a delivery service that can serve as your monthly source of meat – you choose the cuts of high-quality meat that you want in your monthly box, and ButcherBox delivers it straight to your door. It's amazing! We love the convenience of ButcherBox, the quality of the meat that they deliver (100% grass fed beef, free-range organic chicken, and heritage breed pork), and the cost savings and exclusive deals that are available to ButcherBox members! Read our complete ButcherBox review to learn more.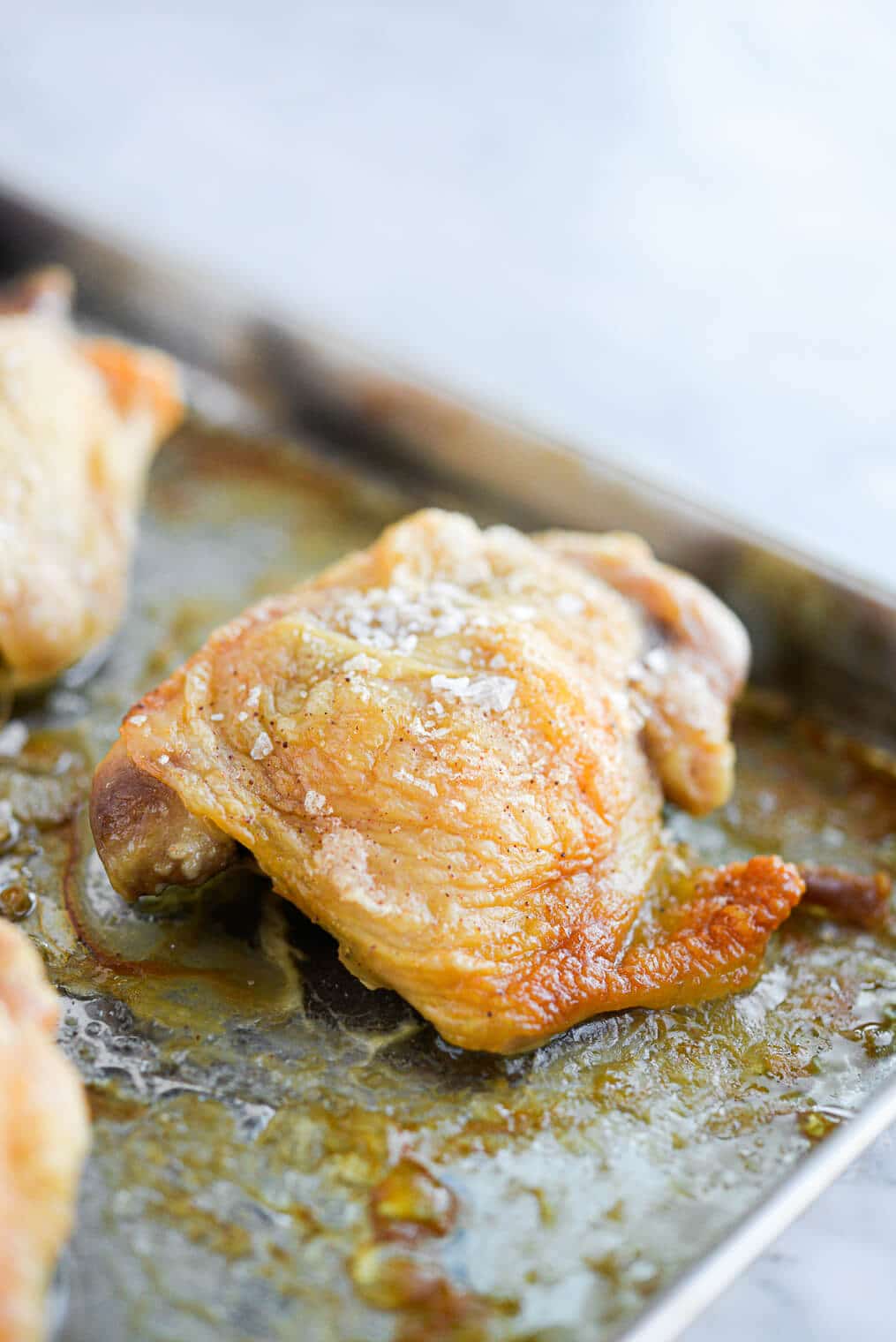 Why choose free-range, organic chicken?
ButcherBox's chicken is free-range and organic. This means that the chickens have access to the outdoors seasonally, that the chickens are fed an organic diet, and that they are never given antibiotics or added. growth hormones. In contrast, conventionally-raised chickens often have no access to the outdoors and may even be raised in crowded crates or cages.
It's important to know, though, that not all free-range, organic chicken is created equally! This is because the USDA's labeling guidelines only state that the chickens need to have been allowed to access the outside in order to receive the free-range label, without any requirements for how much access they should have or how long they should be able to spend outside.
Luckily, the Global Animal Partnership (GAP) has created an animal welfare labeling program that is audited by farm visits to help consumers make more informed decisions about what they are buying. The GAP certification takes these three factors into account:
Health & Productivity – raising animals so that they're healthy and productive with good quality feed and water, shelter, and free from disease, illness and injury.
Natural Living – raising animals in environments that allow them to express their natural behaviors effectively – both indoors and outdoors.
Emotional Well Being – raising animals in environments that provide them the ability to be inquisitive and playful and minimize restlessness, frustration, stress and pain, as much as possible
The GAP certification has 5 levels, and ButcherBox sources their chicken from GAP Level 3 farms. This means that the chickens have an enriched environment, outdoor access, access to natural light indoors, shade outdoors, and more space.
Keto Bundle Special
Right now, ButcherBox is offering an amazing deal that just so happens to include bone-in, skin-on chicken thighs! Here's the rundown: from now until January 18th, new members will receive 1 pork butt, 2 lbs of grass-fed/grass-finished ground beef, and 3 lbs of bone-in chicken thighs for FREE in their first box. Sign up as a new ButcherBox member here!
How do you make chicken skin crispy?
When we were developing this recipe, we thought, why not try the same method we use for our crispy baked buffalo wings? Just like wings, chicken thighs have more fat which means you can cook them for longer without drying them out. While I've seen various tricks like sprinkling baking soda or brushing egg whites on chicken skin to make it crisp more quickly, all you truly need is high heat (in this case, 400°F) and a longer cooking time (we went for an hour)!
Tips for Perfect Baked Chicken Thighs
This recipe is super easy, but in order to end up with the crispiest baked chicken thighs, we recommend doing these things:
Pat the chicken totally dry. If your chicken skin is moist to begin with, it probably isn't going to crisp up like you want it to!
Salt the chicken 30 minutes to an hour beforehand, if possible. This will draw excess moisture out of the chicken (so setting the thighs on a paper towel-lined surface is a good idea!) and allow the salt to permeate the chicken.
Bake the chicken on a rimmed baking sheet. It will release a lot of moisture, so you will need the rim, but the chicken will sit too low in a standard baking dish to fully crisp.
Use bone-in, skin-on thighs. Boneless, skinless thighs will bake more quickly, and since they don't have skin, won't get as crispy.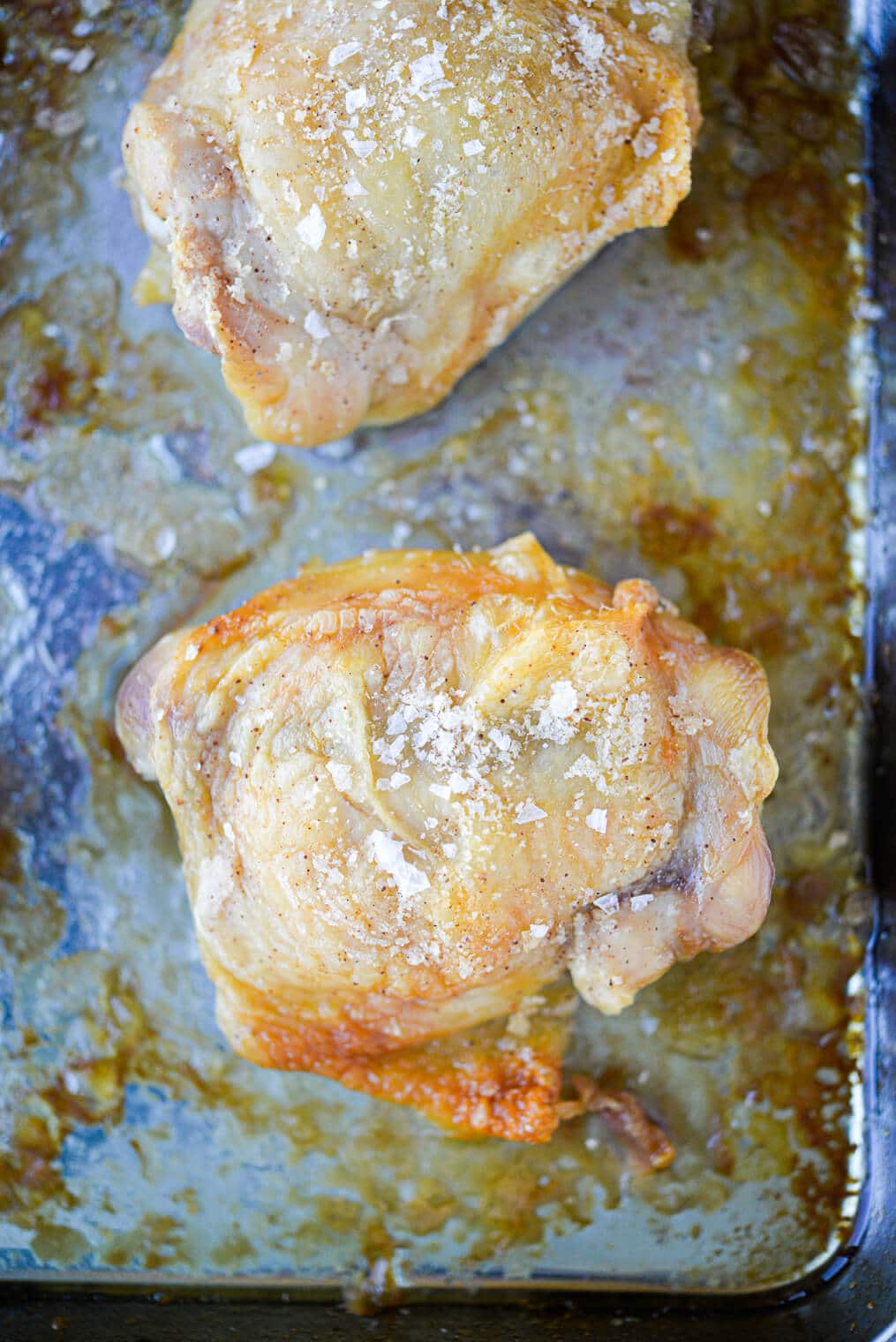 Crispy Chicken Thigh Ingredients
TWO ingredients, y'all. That's all you need for basic, crispy chicken thighs! While you can absolutely add more seasoning to this recipe, you can also totally leave it as-is and still have a fan favorite protein option! Here's what you'll need:
Bone-in, Skin-on Chicken Thighs – to start, you'll need about 3 pounds of bone-in, skin-on chicken thighs (about 6-8 chicken thighs).
Sea Salt – to season the thighs and draw out any excess moisture, you'll use 2 teaspoons of sea salt.
How to Make Crispy Oven Chicken Thighs
While this recipe isn't necessarily fast, it is definitely EASY! Here's how you'll pull it together:
Prep – preheat the oven to 400°F.
Rub the Salt into the Thighs – place the chicken thighs on a rimmed baking sheet, sprinkle the salt onto the chicken thighs, and then rub it in on all sides of the thighs.
Bake – bake the chicken for 1 hour, or until the skin starts to puff, is crisp, and the juices of the chicken run clear.
Let Rest, Serve, and Enjoy – let the chicken rest for 5 minutes, then enjoy!
How long do you cook chicken thighs?
We cooked ours for exactly an hour, and they were perfect! If you know that your oven tends to cook a little bit quicker, try lowering the time to 50 minutes instead.
What temperature to bake chicken thighs?
To get the skin nice and crispy, you'll want to bake the chicken thighs at a high temperature. We baked ours at 400°F.
Can you use boneless, skinless chicken thighs?
You can, but they won't get nearly as crispy. You'll also need to reduce the cooking time by about 20 minutes so that the thighs don't dry out.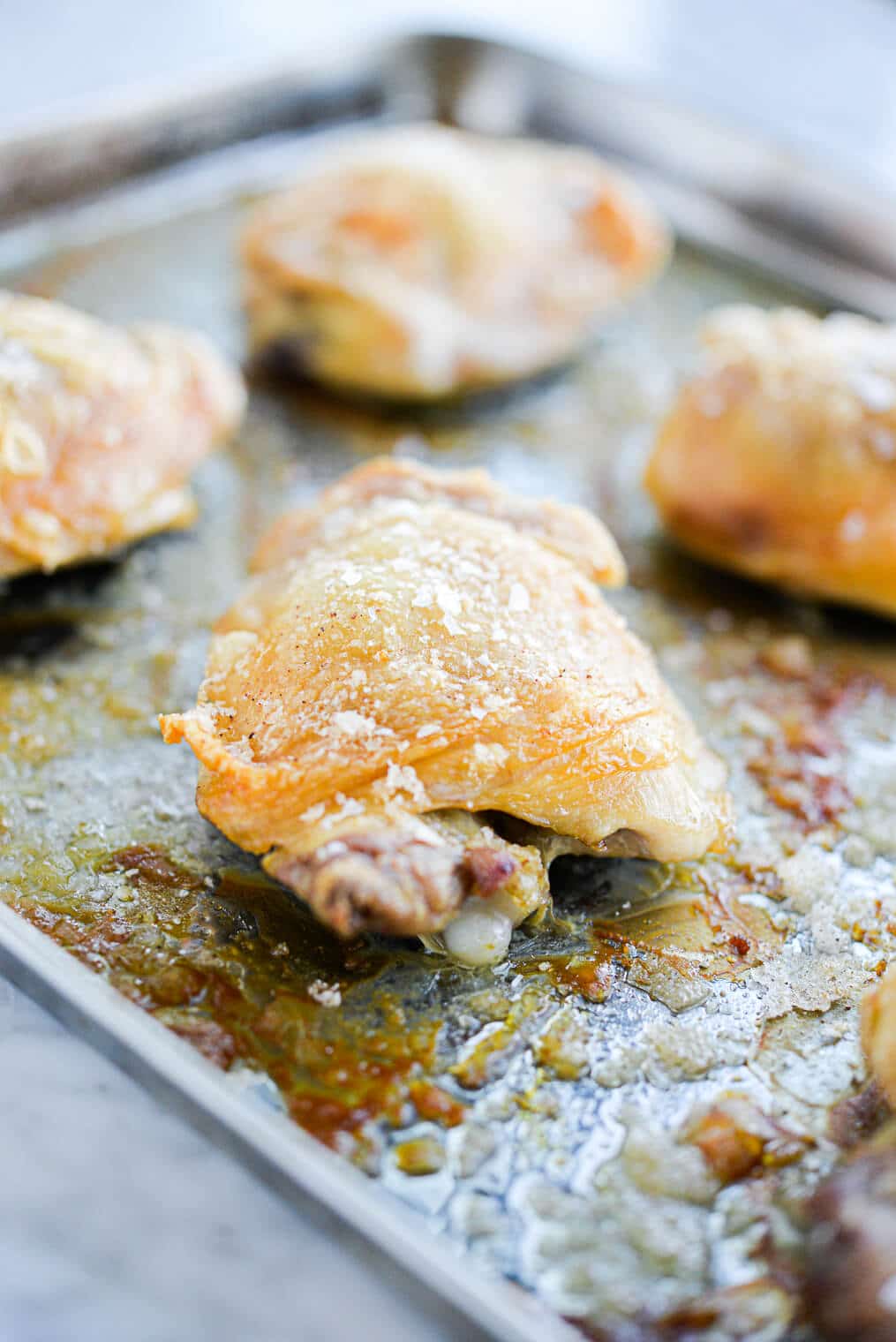 How to Flavor Chicken Thighs
There are two ways to go about this: dry seasoning or sauce. Both are really great options, so it really just depends on what flavors you're going for!
Seasoning for Chicken Thighs
To flavor your chicken thighs with dry seasoning, coat them in seasoning on both sides, then bake. Here are some seasoning ideas:
Curry Powder
Italian Seasoning
Herbs de Provence
Taco Seasoning
Za'atar
Sauce for Chicken Thighs
You can also brush sauce over the thighs to flavor them. Since these cook for a longer time, I recommend brushing any sauce with a sweetener over the thighs in the last 15 minutes of cooking time so that it doesn't burn. Here are some sauce ideas:
Can you cook vegetables in the same pan as the chicken?
Yes! Sturdy root veggies like potatoes and sweet potatoes or cubed winter squash can cook for the full 50 minutes, while softer veggies like broccoli, brussels sprouts, green beans, and bell peppers should be added to the pan in the last 30 minutes of cooking.
We hope you take advantage of ButcherBox's Keto Bundle Special and then make these YUMMY crispy chicken thighs!
Crispy Oven Baked Chicken Thighs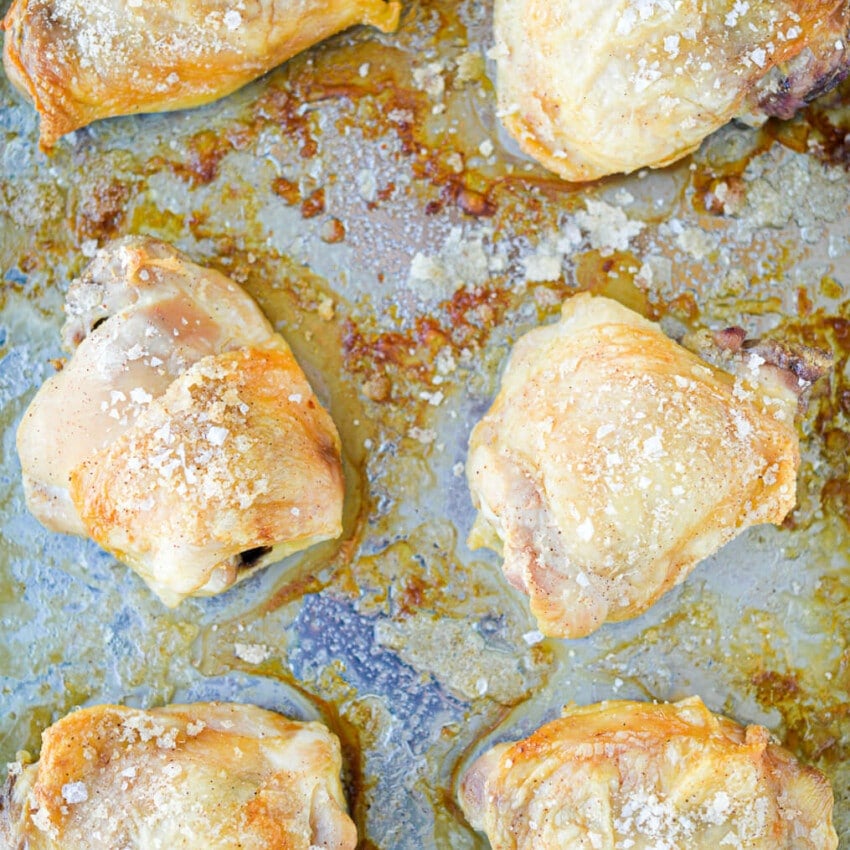 These baked chicken thighs are easy to make and come out with perfectly crisp skin and juicy chicken every time!
Ingredients
3

pounds

bone-in

skin-on chicken thighs (about 6-8)

1

teaspoon

sea salt
Instructions
Preheat the oven to 400 F.

Place the chicken thighs on a rimmed baking sheet and rub the salt into both sides of the chicken.

Bake for 50-60 minutes, or until the skin is crisp and the juices of the chicken run clear.

Let rest for 5 minutes, then enjoy!
Nutrition
Calories:
507
kcal
|
Carbohydrates:
1
g
|
Protein:
38
g
|
Fat:
38
g
|
Saturated Fat:
10
g
|
Polyunsaturated Fat:
8
g
|
Monounsaturated Fat:
16
g
|
Trans Fat:
0.2
g
|
Cholesterol:
227
mg
|
Sodium:
643
mg
|
Potassium:
474
mg
|
Vitamin A:
180
IU
|
Calcium:
19
mg
|
Iron:
2
mg