As a team of nutritionists who also love good food, we are 100% behind the concept of meal prep! So much so that we actually wrote a book on it with 26 weeks-worth of meal prep plans.
We love meal prep because we know just how hard it is to prepare meals from scratch during busy weekdays. This method helps you eat healthy without sacrificing your time or forcing you to eat boring meals.
However, we've found that traditional meal prep methods present a few problems:
A prep day can take up a full day of your weekend. No one wants to spend 8 hours in the kitchen on a Sunday!
Leftovers can get boring fast. While you CAN make a giant casserole and eat it all week, most people don't want to. You'll find yourself bored of leftovers by Wednesday and calling for takeout again.
It can be expensive. Eating healthy can be very expensive, and you might get sticker shock and the register if you've recently switched over to a healthier lifestyle.
Luckily, it doesn't have to be that way! Below, we've outlined how to avoid these meal prep pitfalls.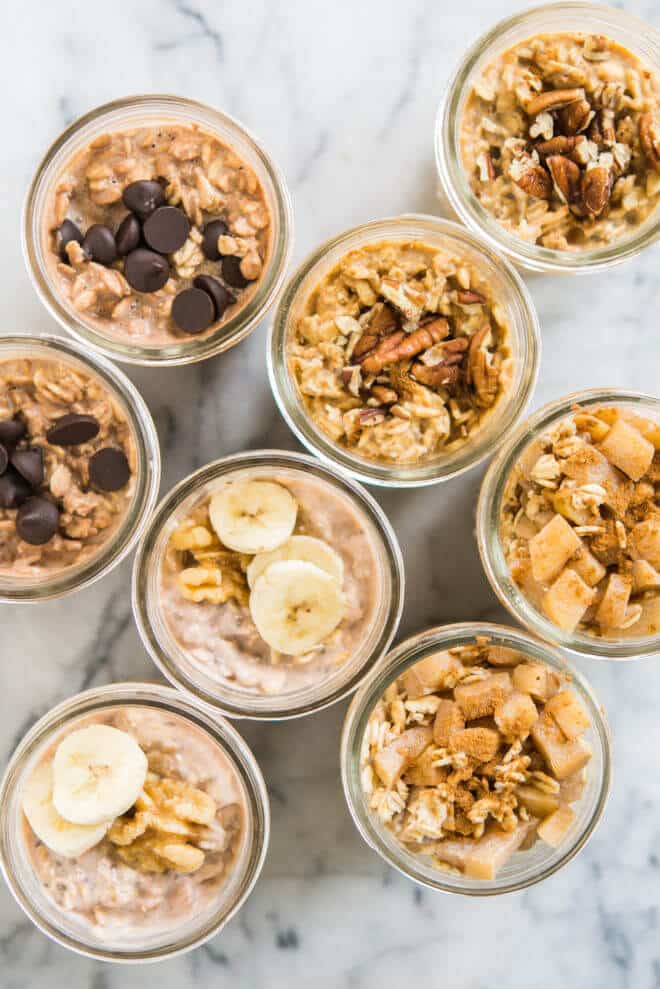 How to Meal Prep
When we kept running into the issues listed above with our weekly meal prep, we got to work on a new method. That method is known as Cook Once, Eat All Week. With this method, we have you prep a protein, starch, and veggie in bulk then assemble it into three (totally different and completely flavorful) dinners throughout the week.
Here's how to put a meal prep plan together with this method.
Pick two breakfasts and two lunches. Do yourself a favor and keep breakfast and lunch simple for the week! We recommend picking two of each so that you can maintain variety. If needed, you can double a recipe to make sure you have enough to serve your family for the week. If you find that you normally aren't scrambling for breakfast or lunch, feel free to leave it off of your plan!
Pick a week from the book or free eBook. This will give you three dinners for the week that you can assemble in under 20 minutes! If your family size is larger than 2, we recommend adding a few more meal-prep meals to your menu or choosing one of the dinners below to add to your prep day.
Pick a dessert and snack. This is totally optional, but you can also choose to add a meal prep snack or dessert to your prep – pick one from our recipes below!
Make your shopping list. Next, you'll want to make your shopping list to keep everything organized. All of our Cook Once meal plans have shopping lists included!
Go grocery shopping. Now that you have your recipes and grocery list, the next step is grocery shopping! If you want to save some time here, you can also order your groceries. During this shop, make sure you are also fully stocked up on meal prep containers.
Prep! Now, it's time to prep. When you're organizing your prep day, look at your list and figure out how you can use your time best. For example, if you're baking a breakfast casserole and you have another dish that's going to go in the oven, work on prepping something for the stove or Instant Pot while you wait on the oven. This will greatly cut down on the amount of time you spend in the kitchen.
Pack it all up. Now that you're done, the last thing to do is pack up your meals and clean the refrigerator. Scroll down below for our best storage tips.
Meal Prep FAQ
4 Healthy Meal Prep Plans
Feeling a little overwhelmed at the thought of putting together your own meal prep plan? We got you! Download 4 weeks of healthy meal prep plans complete with plans for families of 2 and 4 for free! Once you learn the method, you can start building out your own easy meal prep plans.
The Best Meal Prep Containers
Personally, we prefer using glass meal prep containers. They are durable, the locking lids seal food better, and you don't have to worry about reheating your food in a plastic container.
Shop our favorite meal prep containers below or head to our full overview on the Best Meal Prep Containers.
How to Store Your Food
Once you've chosen your meal prep containers, follow the tips below for storing your food for the week.
Salads and Slaws
Place in a glass bowl or storage container and cover with a lid of your choosing. Dressed salads and slaws will last about one day before wilting, so the best way to extend the life of your salad is to leave the dressing on the side and dress it as you eat it! You'll also have better luck with sturdier veggies, like kale and cabbage, vs. a tender green like butter lettuce.
Casseroles
You can store a fully baked casserole in the refrigerator with a tight-fitting lid or with aluminum foil for up to 5 days, or portion them into individual containers.
Note: When reheating casseroles, avoid putting a chilled glass or ceramic casserole dish in a preheated oven; you risk shattering the dish.
Breakfast Casseroles or Egg Cups
You can either store the breakfast casserole whole or cut it up and portion it and the egg cups out into airtight containers. These will keep for up to 5 days in the refrigerator.
Everything Else
Virtually all other foods (roasted veggies, cooked proteins, pizzas, soups, stews, etc) can be stored in sealed containers in the refrigerator for up to 5 days. For anything with components, such as a slaw, garnish, or tortillas, we recommend storing each component separately. This will keep the garnish and slaws from wilting, and make it easier to reheat later.
20 Healthy Meal Prep Breakfasts
Breakfast can be one of the hardest meals of the day to squeeze in! These easy meal prep breakfast recipes are perfect for prepping ahead so that you can grab them on your way out the door.
20 Easy Meal Prep Lunches
These healthy meal prep lunches are easy to prepare and a great alternative to the classic sandwich!
40 Healthy Meal Prep Dinners
These easy meal prep dinner recipes range from batch cook proteins to recipes from our Cook Once, Eat All week series. There is something for everyone here!
20 Meal Prep Snacks
These healthy meal prep snacks are great for prepping in advance for the week and keeping on hand for whenever hunger strikes!
20 Healthy Meal Prep Desserts
Last, but not least, these healthy meal prep desserts are perfect for those times during the week when you need something just a little bit sweet.
Just for You
Meal Prep Ideas
Want more recipes and ideas like this?