Every item on this page was chosen by The Fed & Fit team. The site may earn a commission on some products (read more here).
Made with good-for-you ingredients and also really delicious, this pumpkin bread is an excellent option for anyone who wants to bake a healthier loaf.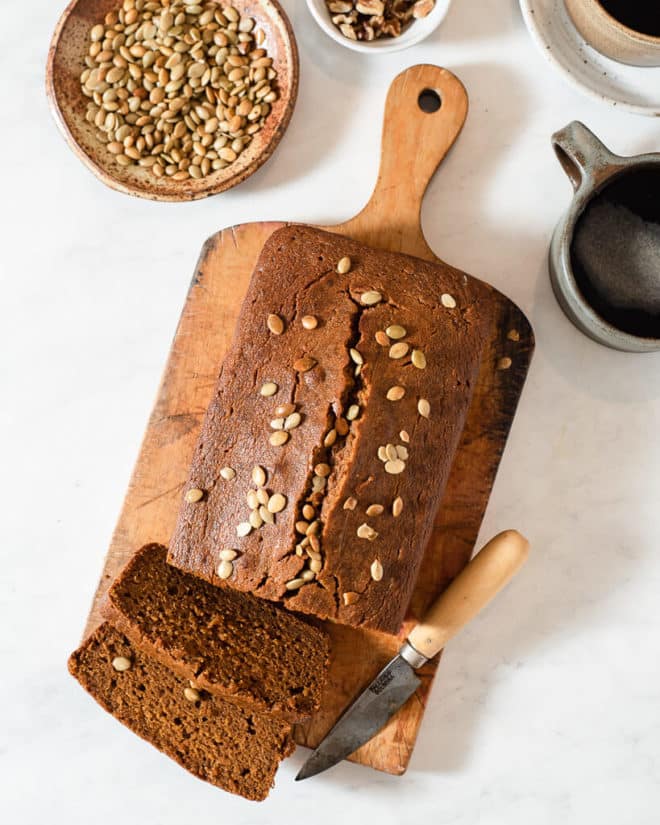 What makes this the best Healthy Pumpkin Bread Recipe ever?
Pumpkin bread, how I love thee! When I think about fall, a few things come to mind first: boots, football, and ALL THINGS pumpkin. To say I'm a pumpkin fanatic would be, well, an understatement. This pumpkin bread uses coconut oil, coconut sugar, and whole wheat (or a cup for cup GF swap) for a healthier take on things, and WOW, it is delicious.
This is another really wonderful recipe developed by none other than Brittany Angell! She's an incredible recipe developer that is really gifted in specialty (think: special diets) baked goods. Brittany knocked this recipe out of the park (no surprise there, though!).
Healthy Pumpkin Bread Ingredients
You'll need a handful of ingredients for this healthy pumpkin bread (all of the usual baking ingredients + a few pumpkin-specific ones). Here's everything you'll need:
Pumpkin Puree – to start, you'll need 1¼ cups of pumpkin puree. When you're buying this, make sure that you purchase pureed pumpkin and not pumpkin pie "filling."
Eggs – in addition to the pumpkin puree, you'll also need 2 large eggs.
Coconut Oil – ⅔ cup of melted coconut oil goes into the bowl with the rest of the wet ingredients.
Coconut Palm Sugar – 1¼ cups of coconut palm sugar adds the perfect amount of sweetness to the pumpkin bread.
Salt – as with most baked goods, salt is a must! We're using 1 teaspoon of pink himalayan salt here.
Vanilla Extract – 1 teaspoon of vanilla extract adds a delicious flavor to the loaf.
Pumpkin Pie Spice – what would pumpkin bread be without pumpkin pie spice?! You'll need 1 tablespoon of pumpkin pie spice to add all of that warm, comforting fall flavor to the bread.
Ginger – a ½ teaspoon of ginger powder adds a nice kick of spice to the bread.
Baking Powder – 1¼ teaspoon of double acting baking powder helps the bread to rise really nicely.
Flour – as for the flour, you'll need 1½ cups of whole wheat flour (or King Arthur's GF all purpose flour if you're gluten-free).
Milk, Water, Orange Juice, or Coffee – 6 tablespoons of either milk, water, orange juice, or strong coffee adds some needed liquid to the batter.
Mix-Ins (optional) – if you'd like, feel free to add up to 2 cups of your favorite pumpkin bread mix-ins in too! Chopped Pecans, chopped walnuts, dark chocolate chips, dried cranberries, and pumpkin seeds are all really delicious options.
How to make homemade healthy pumpkin bread from scratch
The process is super easy and, essentially, consists of measuring, mixing, pouring, and baking! Here's what you'll do:
Preheat the oven + line a loaf pan – first, preheat the oven to 350°F and line your loaf pan with parchment paper.
Combine the ingredients – add all of the wet ingredients to a large bowl, and mix until combined. Then, add the sugar, baking powder, spices, salt and flour to the bowl, and mix just until the batter is smooth. If you're using in mix-ins, go ahead and add those in now too.
Bake – pour the batter into the parchment-lined loaf pan, and cover with tinfoil (the tinfoil will stay on the loaf pan for the first 15 minutes of baking). Bake 50-55 minutes total, until a toothpick comes out clean when inserted into the loaf.
Tips and Tricks for Healthy Pumpkin Bread
Because baking can be finicky, we asked Brittany to give us all of her best tips and tricks for this recipe — here they are:
Use the right pan – for best results, use an 8.5×4.5 OR 9×5 loaf pan here.
Use exact gram measurements – use gram (weight) measurements rather than cup (volume) measurements for perfect results.
Use more ginger – 1 teaspoon of ginger (instead of a ½ teaspoon) can be used for a little bit more of a kick.
Don't use too much salt – because table salt is finer than pink Himalayan salt, decrease the amount of salt to a ½ teaspoon if you're using it.
Gluten-free all-purpose blends work great here – other gluten free cup for cup blends should work as long as the gram measurements are used.
Use white whole wheat flour – for a lighter bread with more rise, use white whole wheat flour rather than regular whole wheat flour.
How do you keep pumpkin bread from scratch moist?
Brittany developed this recipe with moist, delicious, health(ier) pumpkin bread as the goal, so between the pumpkin puree, coconut oil, and added liquid (milk, water, orange juice, or coffee) you shouldn't run into any issues with your pumpkin bread being too dry.
How can you tell if pumpkin bread is done?
You'll know that your pumpkin bread is done and ready to come out of the oven when you insert a toothpick into the bread and it comes out clean. If there is batter on the toothpick, your bread will need to go back into the oven for a little bit longer.
Is this pumpkin bread recipe healthy?
While this pumpkin is by no means a "health food," it is a healthier version of classic pumpkin bread. Because "health" really means something different to every person, though, take a look at the ingredients before diving in to see if it's something that you feel really good about.
How do you fix undercooked pumpkin bread?
If you pull your pumpkin bread out of the oven, check the doneness with a toothpick, and the toothpick comes out of the bread with batter on it, don't worry! Just pop it back into the oven to cook for a little bit longer.
What goes best with pumpkin bread?
There are a couple of ways that I LOVE enjoying pumpkin bread:
On its own with a cup of hot tea or coffee.
As an accompaniment to my normal savory breakfast (eggs of some sort, bacon or sausage, and fruit).
Crumbled into a Greek yogurt bowl with granola and nut butter.
With a good smear of nut butter (I especially love peanut butter) on it.
How should you store this homemade bread?
Store your homemade pumpkin bread covered on the counter for up to 5 days.
Can you refrigerate this healthy pumpkin bread recipe dough?
You can't. Once you've made your bread batter, you'll want to get it into the oven ASAP. The reason here is because the baking powder will start to activate as soon as it comes in contact with liquid, so if the mixed batter sits out too long before baking, the baking powder won't rise the bread in the oven.
Is it ok to freeze easy healthy pumpkin bread?
Sure! Freezing already baked goods is a great idea. I like to slice my pumpkin bread before freezing it, though, so that I can pull out a slice at a time to warm up and enjoy (vs. the entire loaf).
Video
More Pumpkin Bread Recipes
Ingredients
1 ¼

cup

pumpkin puree

264 g

2/3

cup

melted coconut oil

126 g

6

tablespoons

milk

water, orange juice, or strong coffee

2

large eggs

1

teaspoon

vanilla extract

1 ½

cups

whole wheat flour

220 g or King Arthur GF Measure for Measure flour

1 ¼

cup

coconut palm sugar

176 g

1

teaspoon

pink Himalayan salt

1

tablespoon

pumpkin pie spice

1 ¼

teaspoon

double acting baking powder

½

teaspoon

ginger powder

2

cups

mix-ins (optional)

max of optional mix-ins (chopped pecans, chopped walnuts, dark chocolate chips, dried cranberries, pumpkin seeds, etc.)
Instructions
Preheat oven to 350°F. Line loaf pan with parchment paper.

Combine all wet ingredients in a large bowl and mix.

Add to the bowl, the sugars, baking powder, spices, salt, and all-purpose flour. Mix just until the batter is smooth. If adding any mix-ins, stir them in.

Pour into the prepared loaf pan. Cover with tinfoil for the first 15 minutes. Bake 50-55 minutes total until a toothpick comes out clean.
Nutrition Information
Nutrition Facts
Healthy Pumpkin Bread Recipe
Amount per Serving
% Daily Value*
* Percent Daily Values are based on a 2000 calorie diet.
Recipe Notes
Tips and tricks:
Use an 8.5×4.5 loaf pan OR 9×5 loaf pan. THIS is the pan we use most often.
Use gram measurements for perfect results
1 teaspoon of ginger can be used for a little bit of kick
If using table salt, decrease the amount to a ½ teaspoon
Other gluten-free cup for cup blends should work as long as the gram measurements are used
For lighter bread with more rise, use white whole wheat flour