These pumpkin spice overnight oats are a healthy breakfast option that taste just like pumpkin pie! They're a great make-ahead breakfast option that you can eat all week long.
Next up in our overnight oats series are these pumpkin spice overnight oats! When thinking of different flavors of oats to bring you this month, we couldn't resist throwing in one last pumpkin-themed recipe. These oats have just a bit of canned pumpkin in them, maple syrup for just a touch of sweetness, and, of course, pumpkin spice.
What are Pumpkin Overnight Oats?
Overnight oats are an easy make-ahead breakfast option, because unlike traditional oats, which require cooking over the stovetop or in the microwave, you mix them up then refrigerate overnight, and they are ready to eat in the morning. So, you have all of the deliciousness of oatmeal without the work. These make for an ideal meal prep option because you can quickly assemble jars of these overnight oats and eat them all week long.
Overnight Oats Pumpkin Spice Ingredients
Here's what you'll need for these overnight oats:
Rolled Oats – we love Bob's Red Mill for these because they always come out perfectly, and they're certified gluten-free! You'll want to look for quick-cooking or old-fashioned rolled oats, as thicker or steel cut oats will require a different ratio of oats to liquid.
Milk – You can use whichever milk you prefer here! We like whole milk, almond milk, and cashew milk the best. If you want to use coconut milk, we recommend steering clear of canned full-fat coconut milk, as it's a little bit too thick and creates a gummy texture with the oats.
Pumpkin Puree – We used canned pumpkin here, but if you happen to have homemade, go for it! The pumpkin helps add the pumpkin pie flavor to these oats, gives them a great consistency, and adds a little bit of fiber as well.
Pure Maple Syrup – For even more fall flavor, we recommend lightly sweetening your oats with a bit of pure maple syrup.
Chia Seeds – Chia seeds help thicken the oatmeal just a bit and give them a good consistency.
Pumpkin Pie Spice – Of course, these oats wouldn't be complete without a bit of pumpkin spice! If you don't have pumpkin spice on hand, you can use a combination of cinnamon, nutmeg, cloves, and ginger in its place.
Pecans – Last but not least, you'll top your oats off with pecans for a bit of crunch.
How to Make Pumpkin Spice Overnight Oats
Follow along with the steps below to make individual grab-and-go jars so that you can grab-and-go breakfast jars!
Add Oats + Chia Seeds – fill each of 4 mason jars with a ½ cup of oats, then sprinkle in the chia seeds.
Whisk the Wet Ingredients + Seasoning – next, you'll whisk together the milk, syrup, pumpkin, vanilla, and pumpkin spice.
Add the Wet Mixture to the Jars – pour about a ½ cup of the wet mixture into each jar.
Shake + Refrigerate – shake the jars up, then cover them, and refrigerate.
Let Sit + Enjoy – after about 8 hours, they'll be ready to eat!
Ready for more overnight oat variations? Check out our how to make overnight oats guide with 15 easy recipes!
Just for You
Breakfast Recipes
Want more recipes like this?
Pumpkin Overnight Oats Recipe FAQs
Pumpkin Spice Overnight Oats Recipe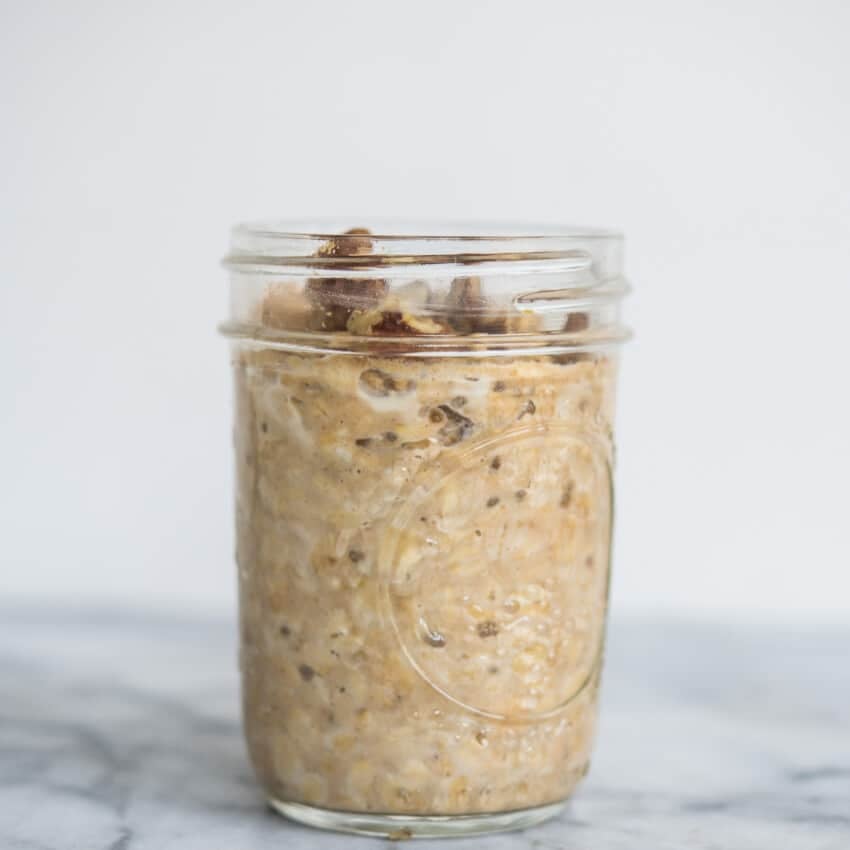 These pumpkin spice overnight oats are a healthy breakfast that taste like pumpkin pie!
Instructions
Pour 1/2 cup oats into 4,

8-ounce mason jars

, then pour 1 teaspoon chia seeds into each jar.

Blend or whisk the milk, pumpkin puree, pumpkin spice, vanilla, and maple syrup until smooth, then pour an equal amount of the mixture (about 1/2 cup plus 1 tablespoon) into each jar.

Seal the jars, shake them, and then refrigerate overnight. When you're ready to eat them, sprinkle the pecans over top. These can be enjoyed hot or cold, depending on your preference.
Nutrition
Calories:
327
kcal
|
Carbohydrates:
44
g
|
Protein:
11
g
|
Fat:
12
g
|
Saturated Fat:
3
g
|
Polyunsaturated Fat:
3
g
|
Monounsaturated Fat:
4
g
|
Trans Fat:
0.01
g
|
Cholesterol:
15
mg
|
Sodium:
52
mg
|
Potassium:
433
mg
|
Fiber:
7
g
|
Sugar:
13
g
|
Vitamin A:
2589
IU
|
Vitamin C:
1
mg
|
Calcium:
223
mg
|
Iron:
3
mg