Get ready to fall in love with a crispy, cozy twist on a classic! Our Pumpkin Spice Rice Krispie Treats are like a warm hug for your taste buds – a delightful mashup of autumn's favorite flavor and crispy marshmallow goodness. Grab one (or two) and dive into pumpkin spice paradise!
Are you ready to take your taste buds on a wild autumnal adventure? Brace yourselves, because we've whipped up a deliciously fun treat that's bound to be the star of your fall dessert lineup. We're talking about none other than our irresistible Pumpkin Spice Rice Krispie Treats!
Picture this: a crispy, marshmallow-infused square that's been transformed into a pumpkin spice masterpiece. These treats are an ode to the fall season – get ready to whip up a batch of these goodies and enjoy a taste of autumn in every delightful, chewy bite!
Looking for more delicious recipes that give all the cozy fall vibes? We've got you. Try our easy candied pecans, spiced apple cider, and classic pumpkin bread.
Why You'll Love This Recipe
They're quick and easy – whip up a batch of Pumpkin Spice Rice Krispie Treats in no time! They require minimal effort and just a few ingredients, making them a hassle-free dessert for spontaneous cravings or fall gatherings.
They're a childhood favorite – these treats are a delightful twist on a childhood favorite, making them the most comforting indulgence.
Recipe Ingredients
Five ingredients stand between you and the most delicious treat. Just FIVE ingredients! Find ingredient notes (including substitutions and swaps) below.
Rice Krispies – as a gluten-free option, we love these sprouted brown rice crisps from One Degree Organics, but you can use any brand of rice crisp that you prefer!
Marshmallows – of course, you can't have rice krispie treats without marshmallows. While you can use whatever marshmallows you'd like here, we really like Dandies. Dandies marshmallows are free of high fructose corn syrup and made with natural ingredients.
A full ingredient list with exact amounts can be found in the recipe card below.
Ingredient Variations and Modifications
Make it gluten-free – use these sprouted brown rice crisps to make this recipe gluten-free.
Swap the white chocolate chips – get creative and swap the chocolate chips for dark chocolate chips, butterscotch chips, dried cranberries, or even chopped pecans!
How to Make Pumpkin Rice Krispie Treats
You'll only need to follow a few easy steps to make these treats!
Step 1: Place the marshmallows and butter in a microwave-safe bowl, and microwave them for about 1 minute, stirring every 30 seconds. Continue microwaving in 30 second increments (stirring after each stint) until melted. Alternatively, place the butter and marshmallows in a pot on the stove over medium-low heat and stir until melted.
Step 2: Add the rice crisp cereal and pumpkin spice to a large bowl and mix to combine, then add in the white chocolate chips and mix again.
Step 3: Once the mixture is fully combined, press it into a parchment paper-lined 9×13 inch pan, and refrigerate for 30 minutes.
Step 4: Cut, serve, and enjoy!
Recipe Tips
Use fresh marshmallows – fresh marshmallows are key for a smooth, gooey texture in your treats, so avoid using marshmallows that have become stale or overly dry.
Mix quick – once you add the cereal to the melted marshmallow mixture, work quickly to combine them evenly. The mixture can become harder to work with as it cools, so aim to spread it in the pan as soon as it's well-mixed.
How to Store
These rice krispie treats will keep for about 5 days on the counter, but you can extend their life by about 1 week if you refrigerate them.
You can also freeze them in a Ziplock bag or other airtight container for up to 3 months – we recommend placing parchment paper in between each layer of treats to make sure that they don't stick together.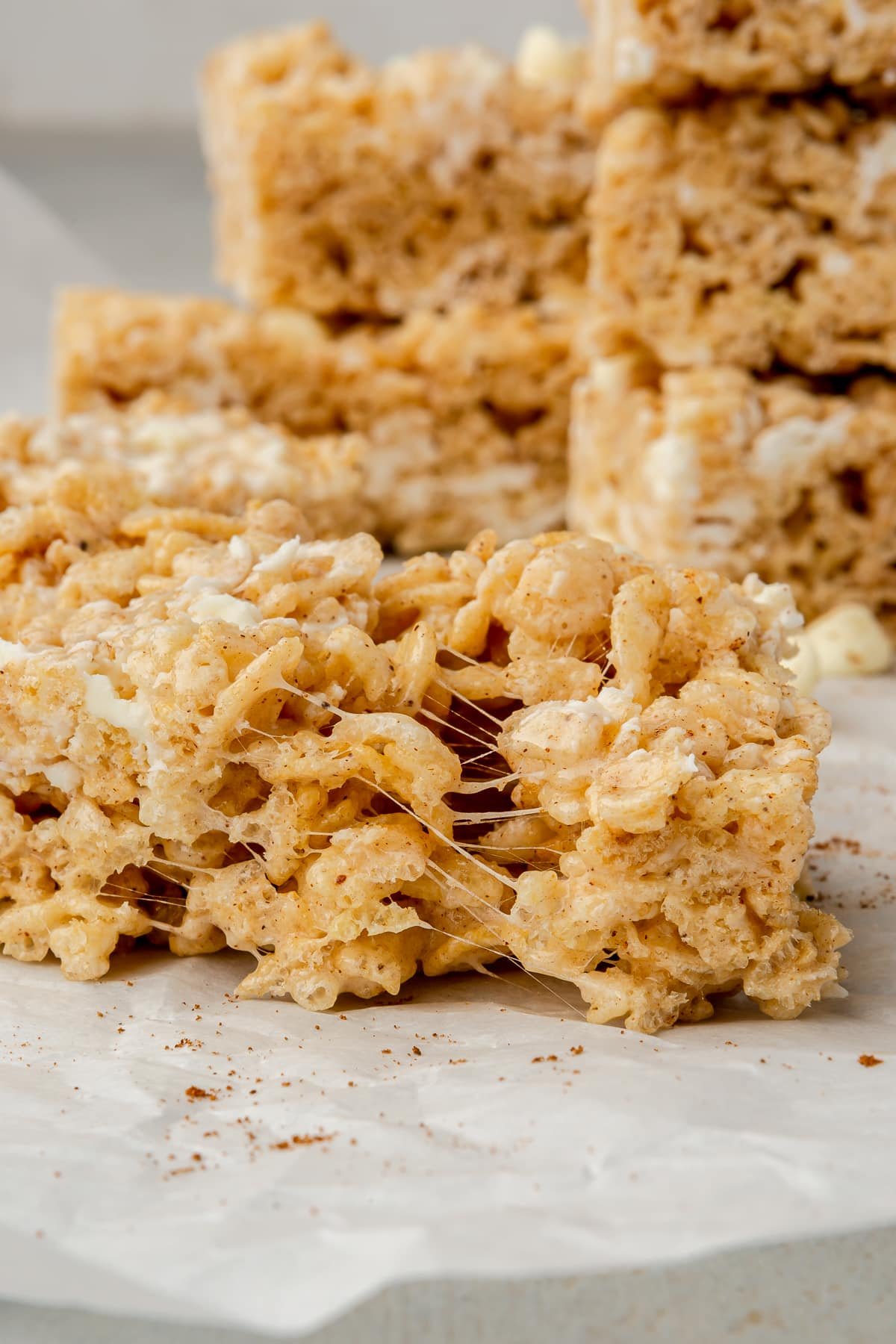 Frequently Asked Questions
Can I make Rice Krispie Treats ahead of time?
Yes, you can definitely make these ahead of time and store them in an airtight container at room temperature for a few days. For the freshest texture, though, it's best to consume them within a day or two.
How do I cut Rice Krispie Treats neatly without them sticking to the knife?
To get clean-cut squares, be sure to let your Rice Krispie Treats sit in the fridge for 30 minutes before cutting them. If they're still sticking, butter/grease the knife, or dip the knife in warm water, wipe it dry, and then cut the treats.
More Pumpkin Spice Desserts
If you tried these Pumpkin Spice Rice Krispie Treats or any other recipe on my website, please leave a 🌟 star rating and let me know how it went in the 📝 comments below!
Pumpkin Spice Rice Krispie Treats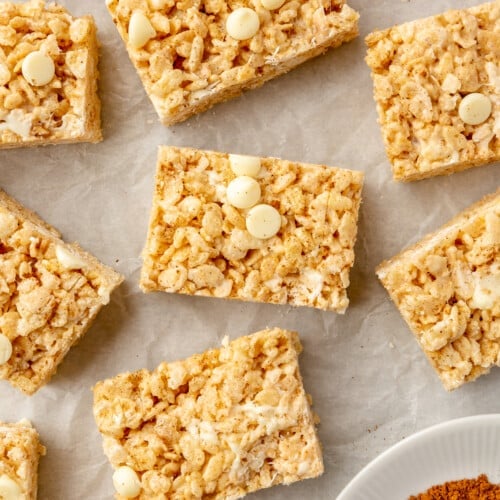 These pumpkin spice rice krispie treats have everything you love about the classic with a hint of pumpkin spice!
Instructions
Place the marshmallows and butter in a microwave safe bowl and microwave for 1 to 1 1/2 minutes until fully melted, stirring every 30 seconds. Alternatively, you can melt the butter and marshmallows in a saucepan over medium-low heat by stirring for 3-4 minutes.

Add the rice krispies and pumpkin spice to the bowl, and stir to combine, or carefully work the mixture with your hands (it will be hot!), then add in the white chocolate chips.

Line a 9×13 inch pan with parchment paper, and press the mixture into the bottom of the pan in an even layer. Refrigerate for 30 minutes, then slice and eat!
Recipe Notes
We've found that if using Dandies marshmallows, you'll need about 12 ounces of marshmallows total.
These will last for about 5 days if stored at room temperature, 1 week stored in the refrigerator, or up to 3 months if frozen.
Nutrition
Calories:
244
kcal
|
Carbohydrates:
40
g
|
Protein:
2
g
|
Fat:
9
g
|
Saturated Fat:
5
g
|
Polyunsaturated Fat:
0.4
g
|
Monounsaturated Fat:
2
g
|
Trans Fat:
0.2
g
|
Cholesterol:
13
mg
|
Sodium:
136
mg
|
Potassium:
64
mg
|
Fiber:
0.1
g
|
Sugar:
24
g
|
Vitamin A:
1053
IU
|
Vitamin C:
9
mg
|
Calcium:
34
mg
|
Iron:
4
mg