Every item on this page was chosen by The Fed & Fit team. The site may earn a commission on some products (read more here).
These pumpkin spice rice krispie treats are the perfect treat for the fall season! They're buttery, sweet, and have just the right amount of pumpkin spice in every bite.
Disclaimer: This post may contain affiliate links. Any purchases made through these links will result in a small commission for me (at no extra cost for you), but all opinions are my own. You can find our full affiliate disclaimer here. 
We are finally having our first 'cool front' here in Texas (meaning the high is only 81 instead of 95 today), which makes it a perfect day to talk about these pumpkin spice rice krispie treats! A few years back, we made these adorable Rice Krispie Ghost Bars, so we wanted to do another spin on those – but make them even easier to make. If you're looking for an easy dessert to satisfy your pumpkin spice cravings – this is it!
Pumpkin Spice Rice Krispie Treats Ingredients
Here's what you'll need to make these rice krispie treats:
Rice Krispies – as a gluten-free option, we love these sprouted brown rice crisps from One Degree Organics, but you can use any brand of rice krispies that you prefer!
Marshmallows – of course, you can't have rice krispie treats without marshmallows. While you can use whatever marshmallows you'd like here, we really like Dandies. Dandies marshmallows are free of high fructose corn syrup and made with natural ingredients.
Butter – butter provides great flavor to rice krispie treats and thins out the marshmallows. If dairy-free is a concern, we recommend using ghee or your favorite dairy-free butter spread.
Pumpkin Spice – you can either use storebought pumpkin spice here or make your own by using cinnamon, nutmeg, cloves, and ginger.
White Chocolate Chips – we added white chocolate chips for just a little extra touch of decadence in these treats – but chocolate or cinnamon chips would also work great here.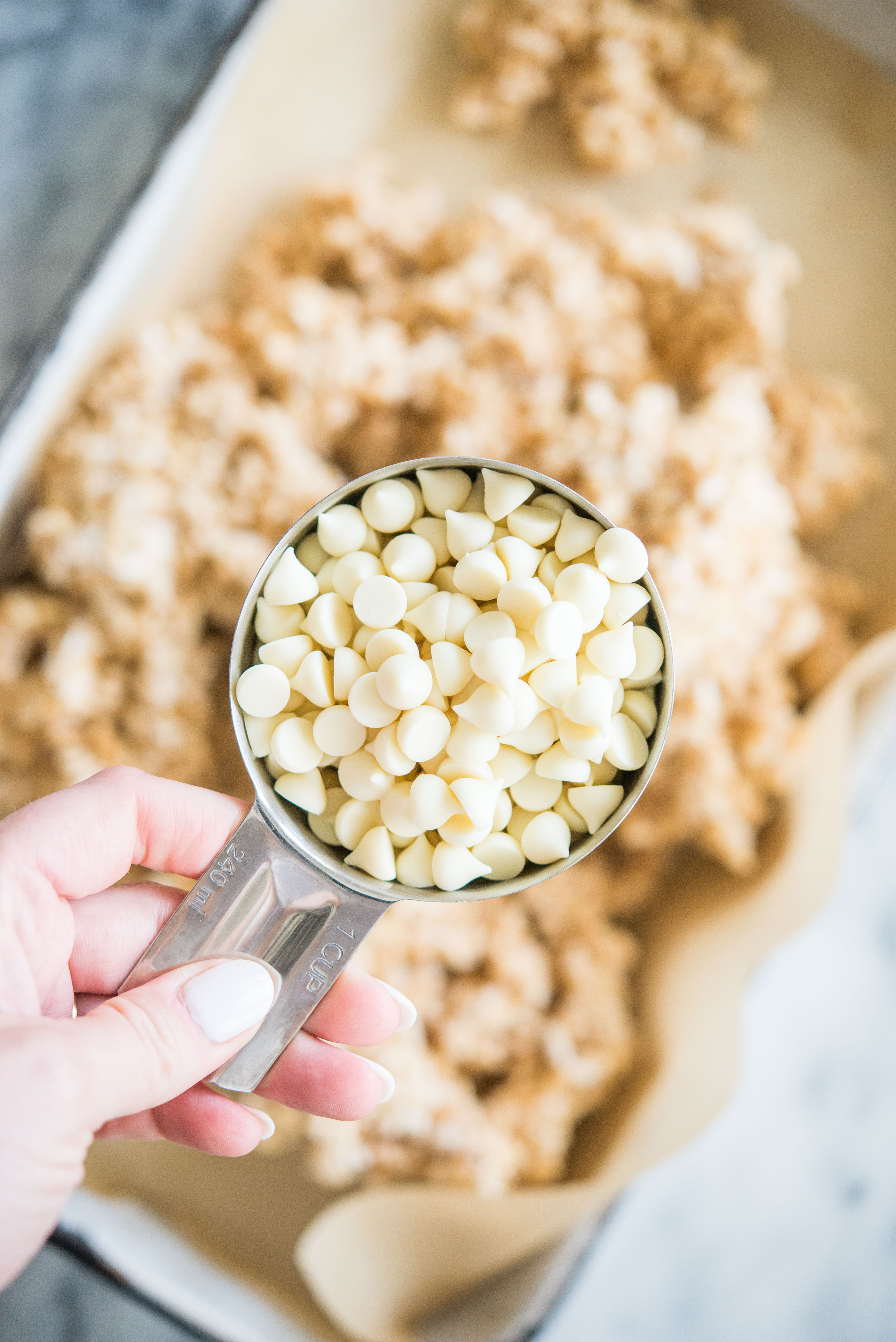 How to Make Pumpkin Rice Krispie Treats
You'll only need to follow a few easy steps to make these rice krispie treats!
Melt the butter and marshmallows. You can do this either by microwaving them for about 1 minute and stirring every 30 seconds or by placing the butter and marshmallows in a put on the stove over medium-low heat and stirring until melted.
Add everything to a bowl. Next, you'll add the rice krispies and pumpkin spice to a large bowl and mix to combine, then add in the white chocolate chips. We find that the most successful way to do this is to simply mix with your hands!
Press into a parchment paper-lined pan. Once the mixture is fully combined, press it into a parchment paper-lined 9×13 inch pan. The parchment paper will allow the treats to easily release once you're ready to cut them.
Refrigerate for 30 minutes. Finally, you'll refrigerate the rice krispie treats for 30 minutes – this will firm them up and make them easier to cut in a clean line. Once the 30 minutes are up, you'll just cut and serve!
How long will rice krispie treats keep?
These rice krispie treats will keep for about 5 days on the counter, but you can extend their life by about 1 week if you refrigerate them. You can also freeze them in a Ziploc bag or other airtight container for up to 3 months – we recommend placing parchment paper in between each layer of treats to make sure that they don't stick together.
More Pumpkin Spice Desserts
Instructions
Place the marshmallows and butter in a microwave safe bowl and microwave for 1 to 1 1/2 minutes until fully melted, stirring every 30 seconds. Alternatively, you can melt the butter and marshmallows in a saucepan over medium-low heat by stirring for 3-4 minutes.

Add the rice krispies and pumpkin spice to the bowl, and stir to combine, or carefully work the mixture with your hands (it will be hot!), then add in the white chocolate chips.

Line a 9x13 inch pan with parchment paper, and press the mixture into the bottom of the pan in an even layer. Refrigerate for 30 minutes, then slice and eat!
Nutrition Information
Nutrition Facts
Pumpkin Spice Rice Krispie Treats
Amount per Serving
% Daily Value*
* Percent Daily Values are based on a 2000 calorie diet.
Recipe Notes
We've found that if using Dandies marshmallows, you'll need about 12 ounces of marshmallows total.
These will last for about 5 days if stored at room temperature, 1 week stored in the refrigerator, or up to 3 months if frozen.