Every item on this page was chosen by The Fed & Fit team. The site may earn a commission on some products (read more here).
This pumpkin pie dump cake is sure to satisfy all of your fall dessert dreams! A pumpkin pie filling is topped with cake mix and butter to create a delicious cobbler-style dessert that combines the classic pie with a crisp, buttery topping.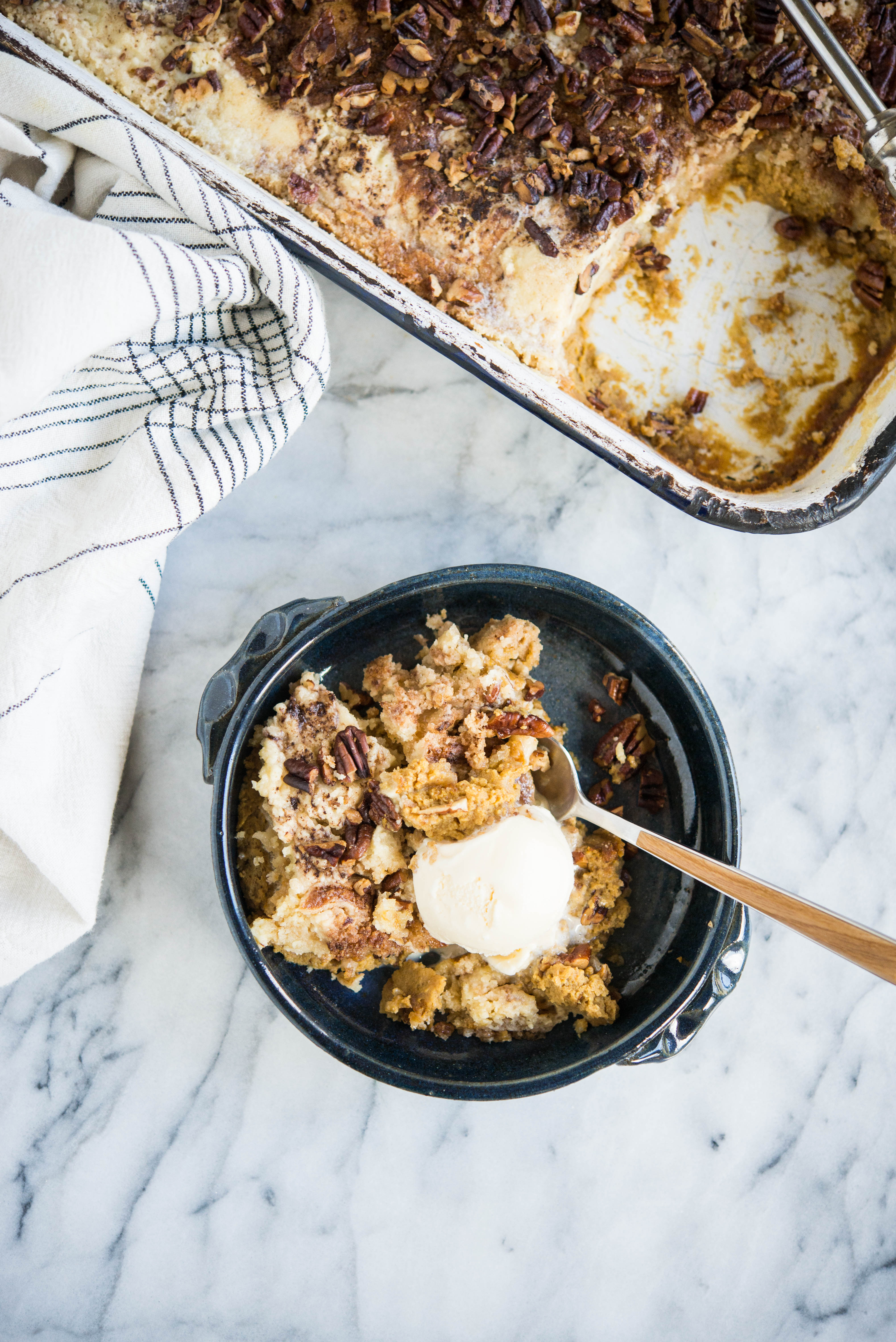 If there's one pumpkin recipe you make this fall, PLEASE make it this pumpkin pie dump cake! This cake is based on the super-popular peach cobbler we shared on Instagram over the summer. You all loved the ease (and the taste) of that recipe so much, we wanted to put some more easy spins on it for you. First up – pumpkin. To make this cake, you'll basically make a pumpkin pie-style filling, pour cake mix over top, then top it with butter and bake. The result is something similar to pumpkin pie but with a crisp, buttery, delicious cobbler-style topping that you won't be able to get enough of. This cake is easy enough to make on a whim, but tasty enough to serve at a dinner party and would be a great addition to a Friendsgiving!
What is a dump cake?
Dump cake. It's not the most appetizing name, right? Luckily, the flavor MORE than makes up for the name. The reason it's called a dump cake is that unlike a normal cake, which requires multiple steps and measurements, with a dump cake you simply dump everything together. In this case, we mix together a quick pumpkin pie filling for the bottom layer, but traditional dump cakes use fruit. Next, you dump cake mix over the filling then dot it with butter and bake – it really is a foolproof dessert!
How to Make Pumpkin Pie Dump Cake
There are just a few simple steps for this delicious recipe:
Make the pumpkin pie filling. First, you'll make the pumpkin pie filling by combining 2 cans of pumpkin puree, maple syrup, eggs, cinnamon, ginger, nutmeg, cloves, and vanilla. Once the mixture is fully combined, you'll pour it into the bottom of a 9×13 baking dish.
Sprinkle cake mix over the pumpkin filling. Next, you'll sprinkle a box of white or yellow cake mix over the pumpkin in an even layer, then top it with about 1 teaspoon of pumpkin pie spice.
Dot it with butter. Once the cake mix has been added, you'll slice 3/4 cup (1 1/2 sticks) butter and lay the slices on top of the cake.
Bake for 1 hour. Now you're ready to bake! You'll bake the cake for 45 minutes, then pull it out, sprinkle pecans on top, and return to the oven for an additional 15 minutes, until the crust is browned and crisp.
Let cool. Finally, you'll remove the cake from the oven, let cool for about 15 minutes, then serve warm with ice cream or whipped cream, if desired.
How do you know when a dump cake is done baking?
You'll know that it's time to pull your dump cake out of the oven when the top of the cake is browned and crisp!
Tips for making pumpkin dump cake?
Dump cake is SO EASY and truly fail-proof, but here are a few things to keep in mind:
The Dump Cake May Brown Unevenly – don't be alarmed or intimidated if the crust browns more in some areas than others! The parts of the crust that have more butter will brown more than the spots with less butter, and that's totally fine and normal!

Best Served Warm – dump cake is best served warm about 30 minutes to an hour after it comes out of the oven. If you want to enjoy it warm after it's all the way cooled down, just pop a serving of it in the microwave!

Any Box Mixed will Work – any brand of vanilla cake mix will work here, so buy your favorite and enjoy!
Can you make this recipe gluten-free or dairy-free?
Absolutely! We chose to make this recipe with King Arthur gluten-free cake mix and it baked up perfectly. For dairy-free, we would recommend substituting full-fat coconut milk in the pumpkin pie mixture, and either ghee or your favorite vegan butter substitute for the butter in the crust.
Can you use white or yellow cake mix?
Both white and yellow cake mix work here! Any vanilla cake mix will do the trick beautifully.
Does Dump Cake Need To Be Refrigerated?
Yes, we do recommend that you store your dump cake in the refrigerator, and when stored this way, it'll last for up to 5 days!
Can Dump Cake Be Made Ahead of Time?
Definitely! Though we love enjoying dump cake warm (about 30 minutes after it comes out of the oven), it microwaves REALLY well (and also tastes great out of the fridge), so making it ahead of time is a great idea!
We hope that this recipe satisfies all of your pumpkin cravings!
More Pumpkin Recipes
<
Instructions
Preheat oven to 375 F.

Add the pumpkin, cinnamon, ginger, cloves, nutmeg, milk, vanilla extract, maple syrup, and eggs to a large bowl and whisk to combine.

Pour the pumpkin mixture into a 9×13-inch baking dish, then pour the yellow cake mix over top in an even layer. Sprinkle the pumpkin spice over top.

Layer the slices of butter on top of the cake mixture, then bake for 45 minutes. After 45 minutes, pour the pecans on top of the cake, then return to the oven and bake for an additional 15 minutes, until the cake is browned and crisp.

Let cool slightly, then serve warm. Top with vanilla ice cream or whipped cream, if desired.
Nutrition Information
Nutrition Facts
Pumpkin Dump Cake
Amount per Serving
% Daily Value*
* Percent Daily Values are based on a 2000 calorie diet.
Recipe Notes
To make this cake dairy-free, substitute full-fat coconut milk for the milk in the pumpkin filling, and top with ghee or your favorite vegan butter substitute.