Nothing says summertime with friends quite like a big pitcher of a refreshing Pineapple Sangria!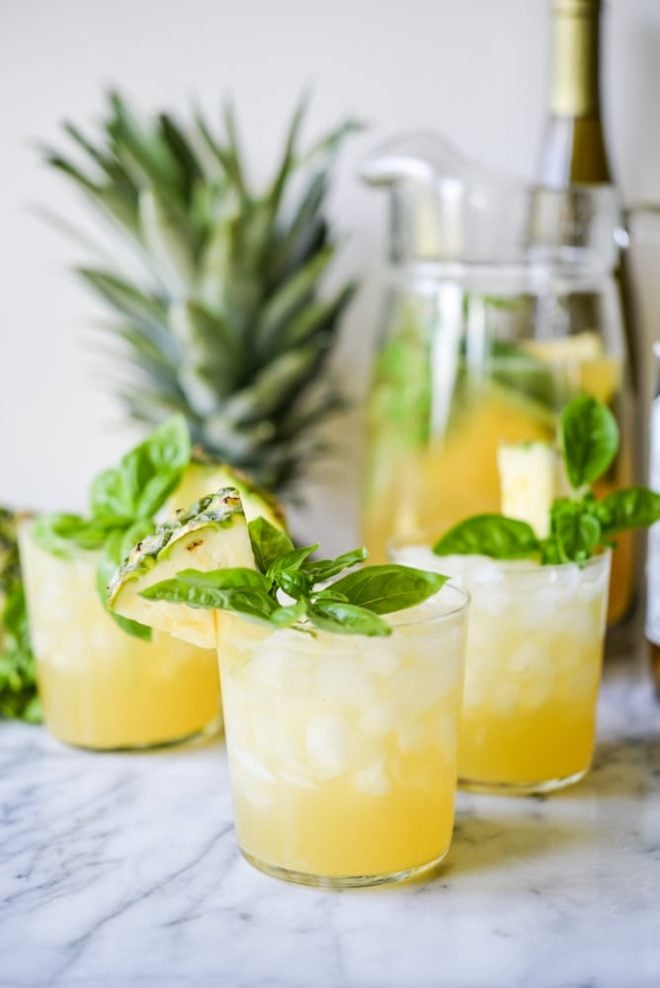 It's Friday before a long weekend and I thought the best send-off gift I can give you is a new pitcher cocktail recipe! In the spirit of embracing all things summer fruit related, I turned to the sweet, tropical pineapple. Pineapples are interesting fruits. In fact, I think I know more interesting facts about pineapples than I do most other fruits. For example, did you know that the best place to smell for ripeness is the bottom end? If it smells sweet and pineapple-y, then you've probably got a good one! Another interesting fact, pineapple has a special enzyme called bromelain! It's a proteolytic enzyme, meaning that it digests protein. It has been used in the past to help aid with digestion, but it is ALSO the reason your pineapple gummies never set. THAT'S RIGHT, if you try to make gummies with gelatin and pineapple, the bromelain will digest the proteins and your gummies will not set.
The proteolytic bromelain is also the reason why the roof of your mouth may start to sting a bit if you eat a bit too much fresh pineapple.
Neat, huh?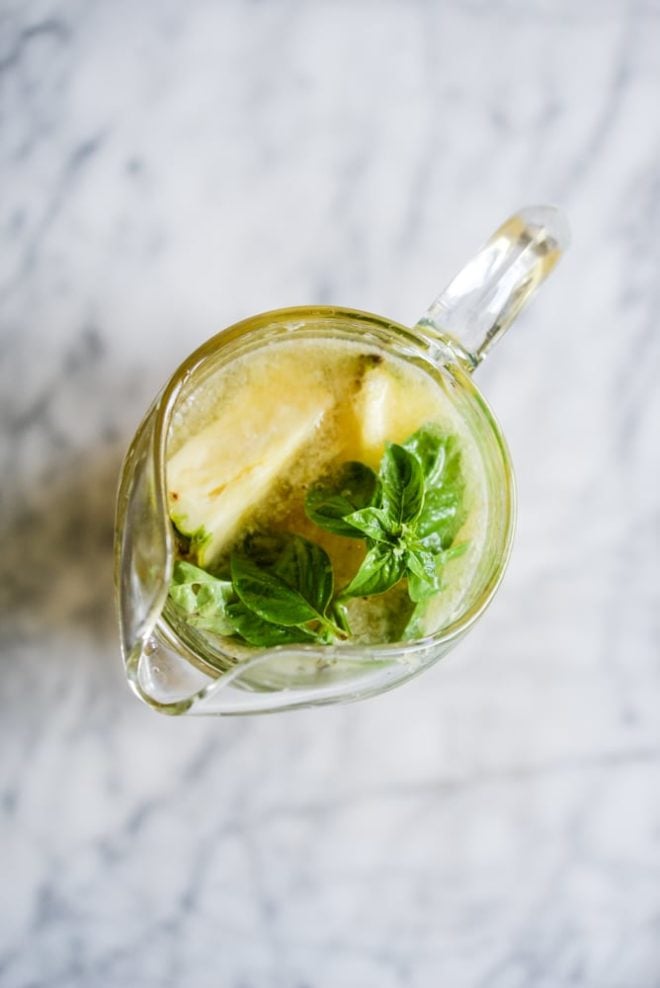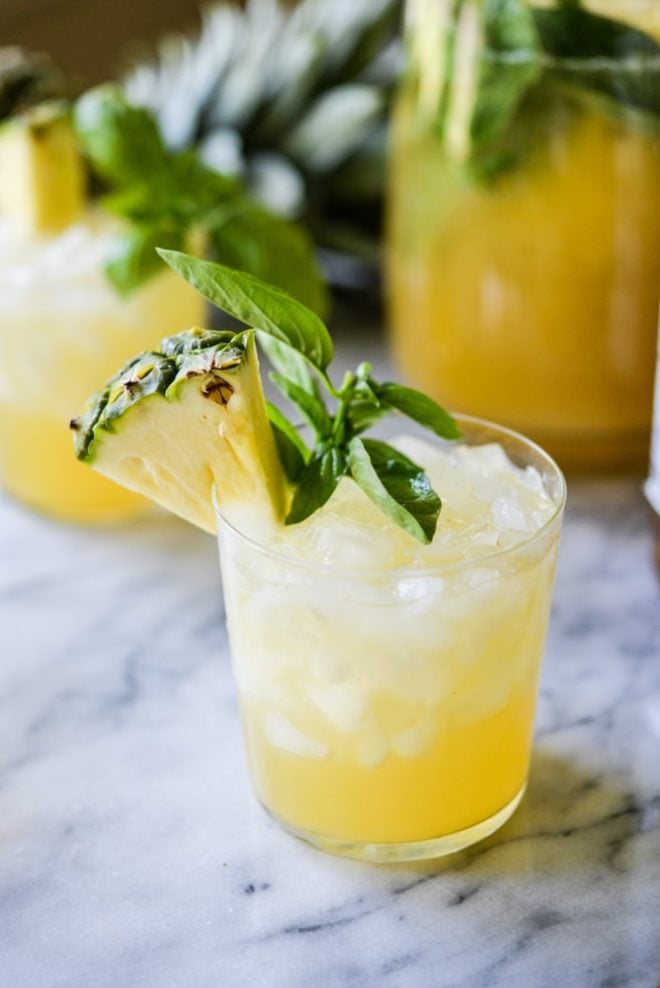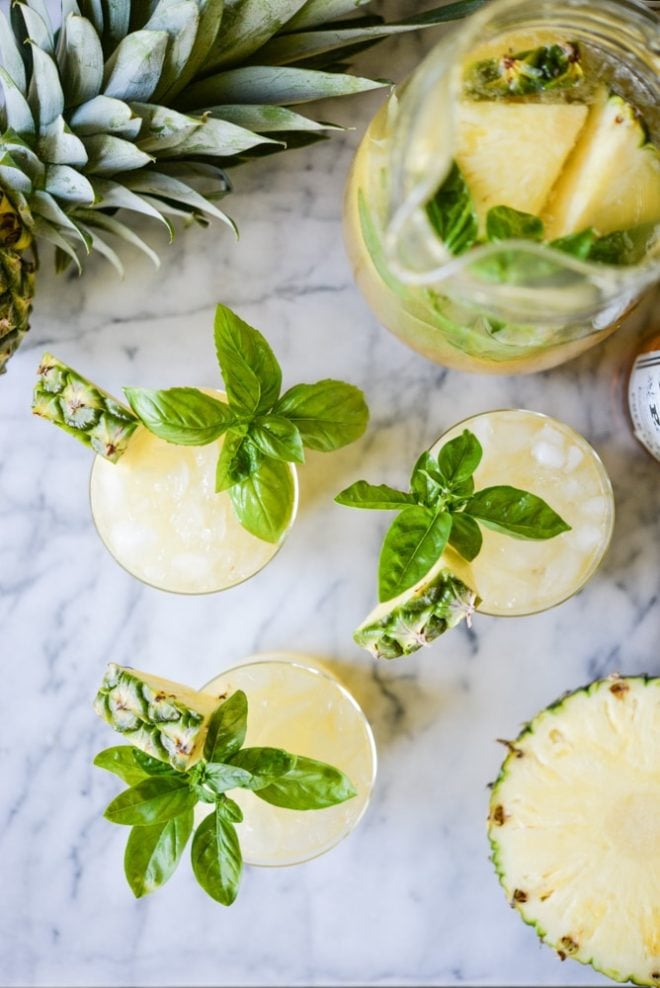 Now, let's talk cocktail! I was asked onto a local morning show this week (SA Living with Shelly Miles here in San Antonio, TX), and they requested that I come with a pitcher cocktail. Because I've already made my Sparkling Peach Sangria on air before, I knew it was time to add another recipe to the lineup. Inspired by all the lovely pineapples and the abundance of basil in my backyard, I got to work on a tropical mix.
Pineapple Sangria Ingredients
This pineapple sangria is simple and customizable. Feel free to use it as a template to make all your wild sangria dreams come true! This version starts off with some fresh pineapple slices, a handful of fresh basil, some 100% pineapple juice (you can usually find it at Whole Foods, among other stores), a bottle of white wine, a bottle of ginger beer (for tasty effervescence), a few (or several) glugs of rum, and a splash of fresh lemon juice (for a different kind of tart-centered accent).
Give the whole mix a whirl, let it set until your guests arrive, and serve the pineapple sangria over crushed ice. If you really want to be fancy, you can garnish with a fresh slice of pineapple and fresh sprig of basil!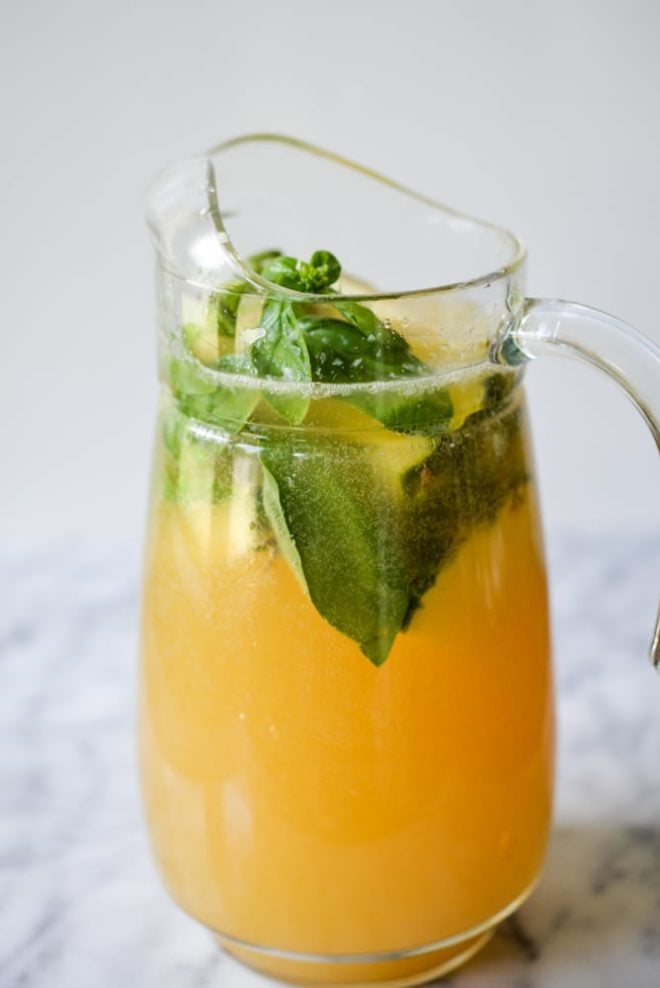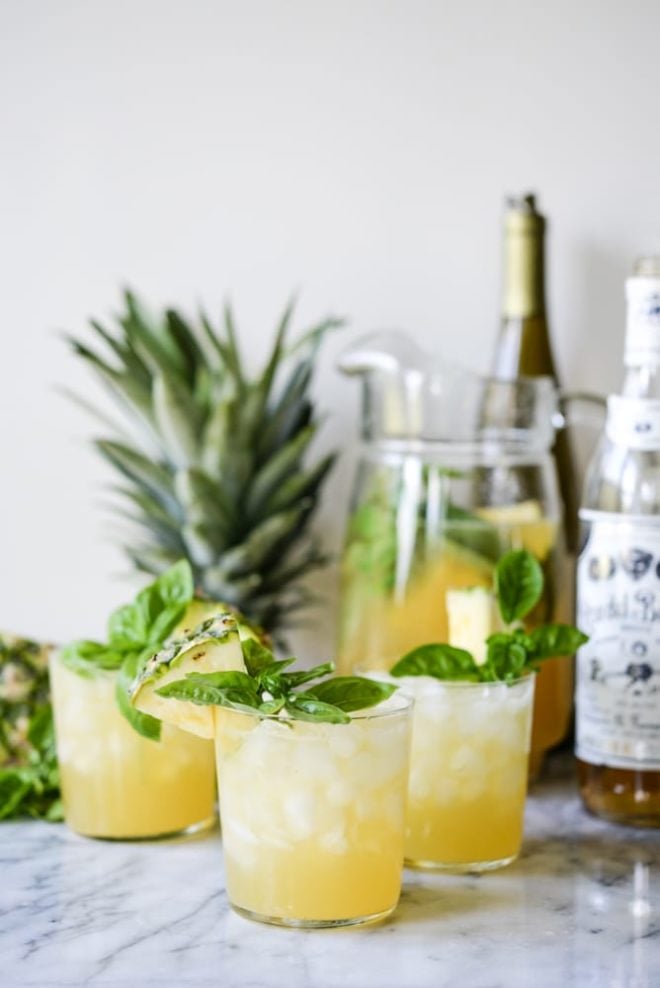 A Note on the White Wine
I opted for a riesling (sweet) for this pitcher, but if you prefer less-sweet drinks, know that a pino grigio or chardonnay are also good choices.
Enjoy and happy pitcher cocktailing!
More Favorite Sangria Recipes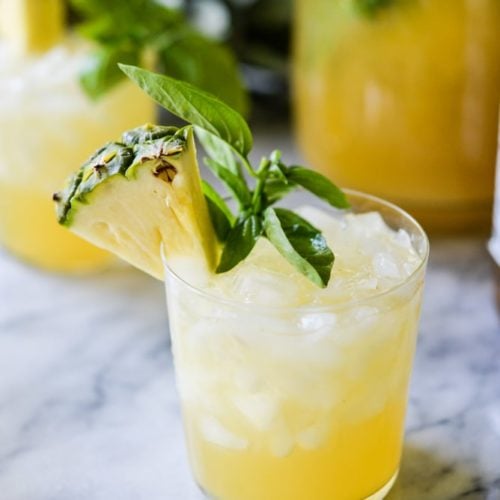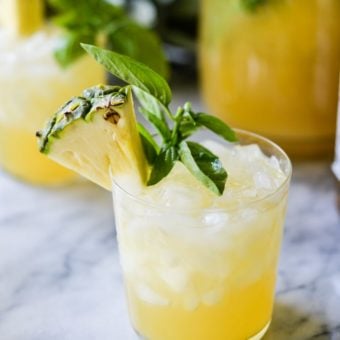 Nothing says summertime with friends quite like a big pitcher of a refreshing Pineapple Sangria!
Ingredients
1/2

of a pineapple

cut into pieces

4

large sprigs of fresh basil

3

cups

100% pineapple juice

1/2-1

cup

rum

1

bottle white wine

– riesling for a sweeter sangria

1

bottle of ginger beer

– may substitute with sparkling water

1/4

cup

fresh lemon juice
Instructions
Place half of the pineapple slices and basil sprigs in the bottom of a large pitcher.

Pour the rest of the liquid ingredients in and stir. Serve immediately or let the flavors meld overnight.

Serve over crushed ice in glasses garnished by pineapple and fresh basil.

Enjoy!
Nutrition
Calories:
204
kcal
|
Carbohydrates:
26
g
|
Protein:
1
g
|
Fat:
0.2
g
|
Saturated Fat:
0.02
g
|
Polyunsaturated Fat:
0.1
g
|
Monounsaturated Fat:
0.02
g
|
Sodium:
10
mg
|
Potassium:
252
mg
|
Fiber:
1
g
|
Sugar:
20
g
|
Vitamin A:
48
IU
|
Vitamin C:
39
mg
|
Calcium:
29
mg
|
Iron:
1
mg