This Semi-Homemade Stuffing recipe elevates store-bought box stuffing all while taking the fuss out of the traditional homemade Thanksgiving dish.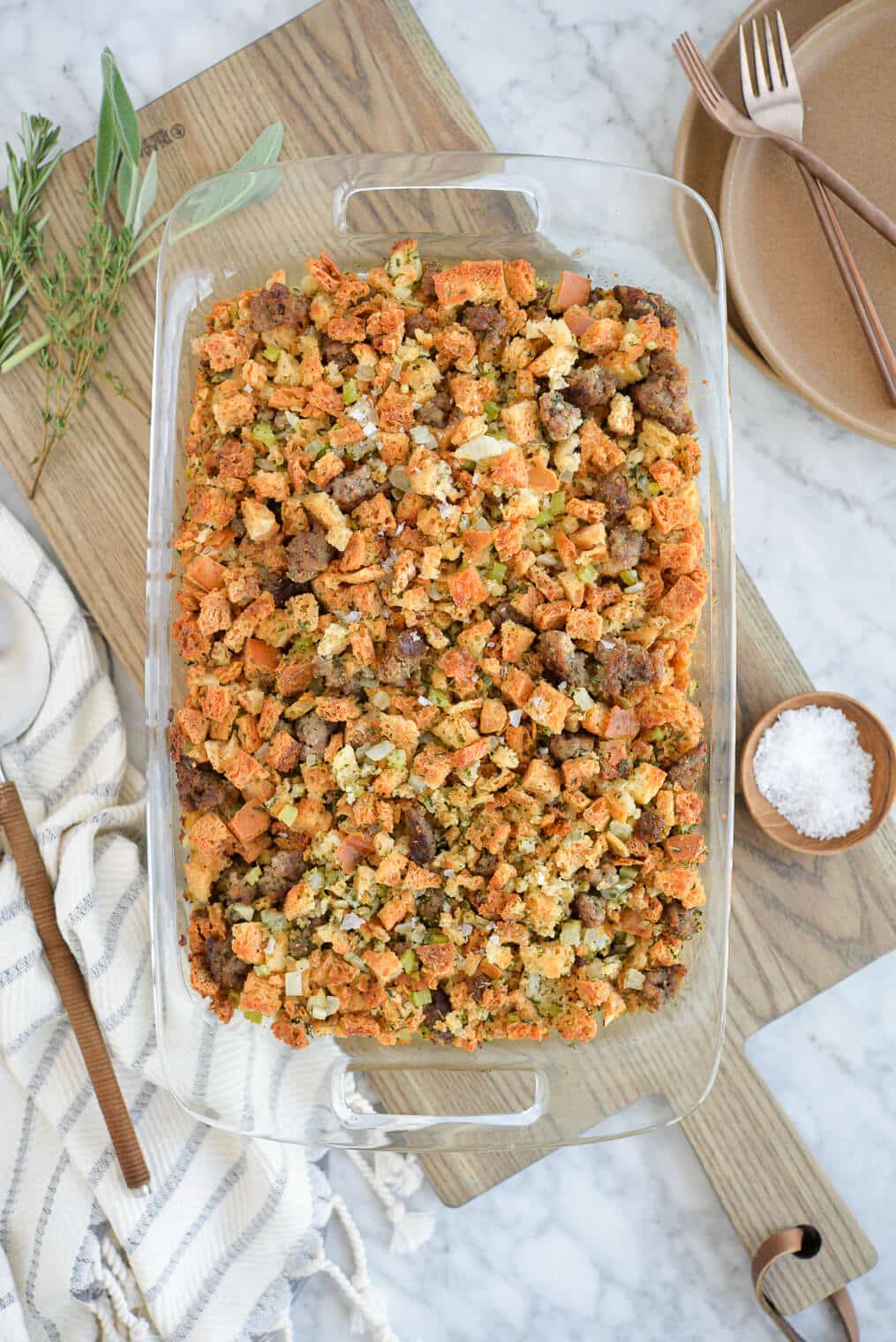 There are a few very essential components of Thanksgiving dinner that I feel like are *musts* and not just yummy extras. Turkey, stuffing, mashed potatoes, gravy, green beans, some form of marshmallowy sweet potatoes, and pie (preferably pumpkin!) are ALL musts in my book, and Thanksgiving just wouldn't be complete without each and every single one of those components sitting on the holiday table!
Here's the deal, though, stuffing, though a favorite classic side, can be fussy and finicky, leaving less experienced cooks frustrated, discouraged, and generally just "over" the whole thing. Ready for the good news, though? IT DOESN'T HAVE TO BE! This semi-homemade box stuffing recipe is as easy as they come, but still yields an incredibly delicious finished side dish!
Stuffing vs. Dressing
Let's get this out of the way first! What in the world is the difference between stuffing and dressing? Simply put: stuffing is *technically* only stuffing when it is actually stuffed inside of the turkey. Makes sense, doesn't it? Because the two names (stuffing and dressing) have been thrown around interchangeably for so long now, though, either is acceptable, stuffed or not.
This stuffing is NOT stuffed inside of a turkey, but we're calling it stuffing nonetheless because that's what it is to us! It's baked bready goodness that soaks up gravy beautifully and sits next to our sliced turkey and green beans and totally holds its own on our holiday plates.
Bottom line: if you've always called this delish side "stuffing" (even if you've never actually stuffed your bird with it), keep calling it stuffing! If you prefer the term "dressing," call it that! You do you.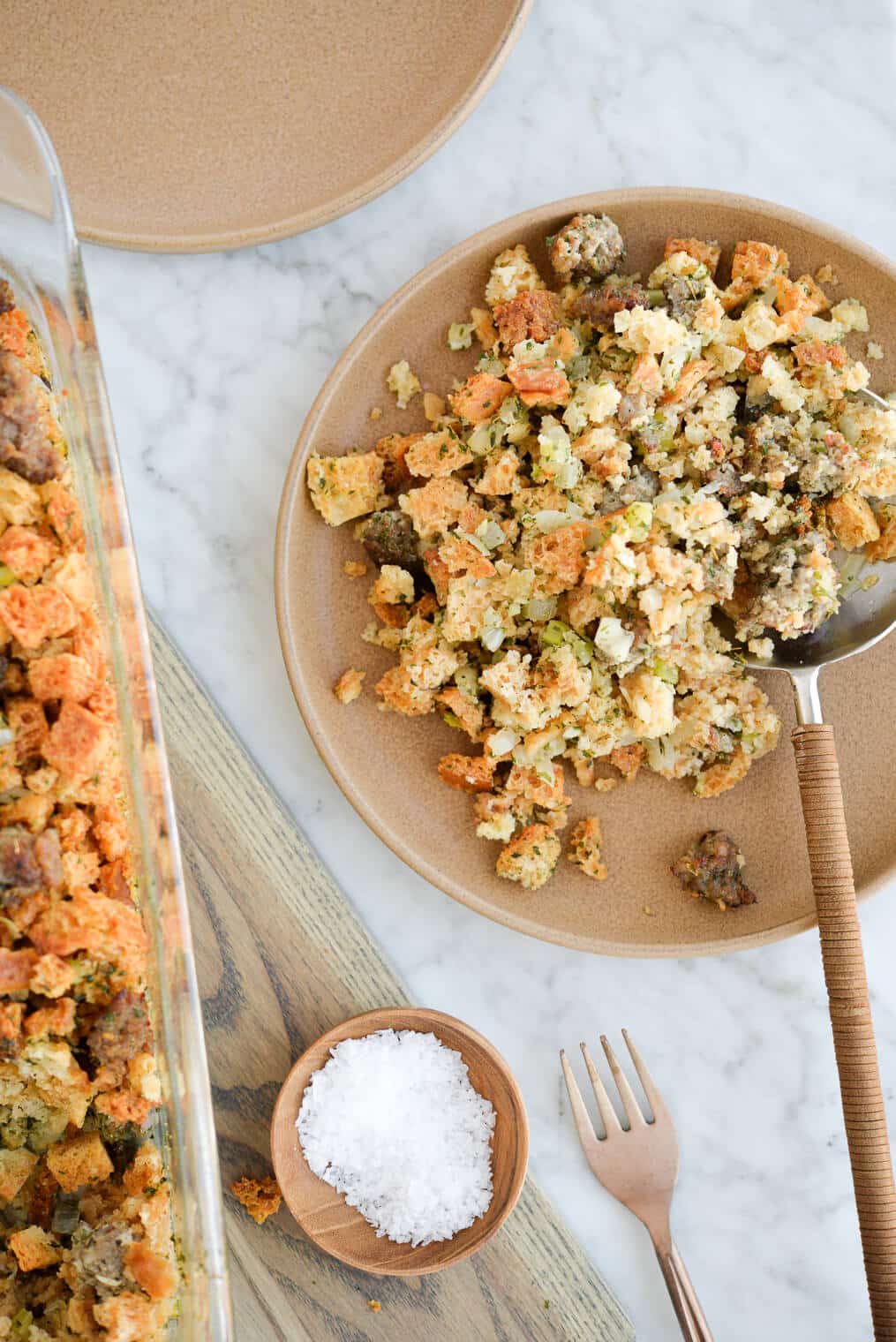 How to Make Box Stuffing Taste Great
While we've included a recipe below, the beauty of starting with boxed stuffing mix is that you can really make it your own! Because boxed stuffings come in different sizes, know that this recipe is super forgiving and can absolutely be doubled (or even tripled) as needed!
Must-Have Ingredients for Semi-Homemade Stuffing:
Boxed Stuffing – first, you'll need a 6-to-10-ounces of boxed of stuffing mix, or you could even use plain stuffing croutons since we will be throwing out the seasoning package. We used this boxed stuffing for gluten-free.
Spices – you can choose between either 1 tablespoon of minced fresh herbs (such as sage, fresh thyme, and rosemary) OR 1 teaspoon of dried herbs here.
Eggs – we recommend using an egg to bind everything together!
Stock – you'll also need 1 1/2 cups of chicken (or turkey!) stock. The higher-quality your stock, the better your stuffing will taste!
Butter – of course, it isn't Thanksgiving without butter! 2 tablespoons of melted butter poured over top of the stuffing gives it a delicious crispy golden crust.
More Boxed Stuffing Additions
You can pick a few of these, or add multiple!
Protein – 1/2 pound of breakfast sausage, Italian sausage, or even cooked and crumbled bacon (about 6 strips) work great here!
Veggies – Using fresh onion and garlic instead of onion and garlic powder go a long way toward making this stuffing taste truly homemade. Diced celery, shallots, and carrots are also great additions!
Fruit – about 1/4 cup of dried cranberries or 1/2 cup of fresh give a pop of tangynesss and sweetness with each bite. Dried figs would also make an unexpected sweet addition!
Cheese – mix in about 1/2 cup of shredded parmesan for a fun cheesy spin on traditional stuffing!
Mushrooms – mushrooms are another great stuffing addition. Simply saute them with your other veggies before mixing everything up.
Nuts – about 1/2 cup of pecans, walnuts, hazelnuts, or pine nuts adds a wonderful flavor and satisfying crunch!
Thanksgiving Stuffing Video
Step-By-Step Instructions
Truly, this stuffing is exceptionally easy! In fact, it's easy enough that we'd be willing to bet that ANYONE (regardless of prior Thanksgiving stuffing experience) can *not only* just pull it off, but pull it off REALLY well! Here's how you'll bring this lovely side together:
Preheat the Oven – first thing's first, preheat the oven to 375°F.
Brown the Sausage – add the sausage to a large skillet on the stovetop over medium heat and cook for 8-10 minutes, breaking it up as it cooks. Once browned, remove the sausage from the skillet and drain the excess fat.
Saute the Veggies – add the butter to the same skillet that the sausage was browned in, and then add the onion, celery, and garlic. Cook for 8-10 minutes, until softened, then remove from heat.
Combine the Ingredients – discard the stuffing seasoning packet (we found that the already sodium-laden seasoning packet combined with our additions made for a super salty stuffing!), then combine the boxed stuffing croutons (or bread cubes), browned sausage, cooked veggies, herbs, beaten eggs, and turkey stock to a 9×13 inch casserole dish (or another 4-quart baking dish), and stir it all together. Press the stuffing into an even layer in the dish, then drizzle the top with butter.
Bake – cover the dish with foil, then bake at 375 degrees F for 30 minutes. Once the timer goes off, remove the foil and bake, uncovered, for an additional 15 minutes, until the top of the stuffing is browned and crisp.
Serve + Enjoy!
Thanksgiving Stuffing Frequently Asked Questions
Is it safe to stuff a turkey?
We do feel like it's safe to stuff a turkey, but it actually isn't our preference. Here's why: generally speaking, when a turkey is stuffed, it takes a longer amount of time to cook, and as a result of this, the turkey inevitably dries out. To avoid this, we think that serving your stuffing (er, dressing!) on the side is the best way to go.
Can I make stuffing ahead of time?
YES! Sausage stuffing is an excellent thing to make (or semi-make) ahead of time. We like the idea of getting the veggies and sausage cooked the day before Thanksgiving (just pop them both in an airtight container and store in the refrigerator) so that a quick mix and bake is all that is required on Thanksgiving day.
Semi-Homemade Thanksgiving Stuffing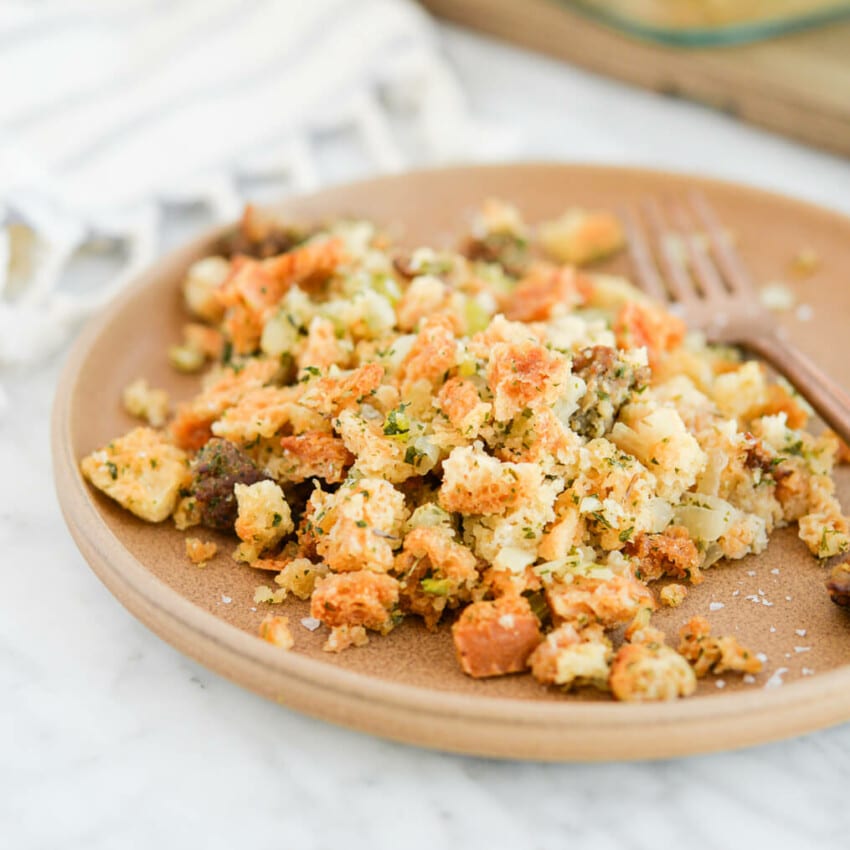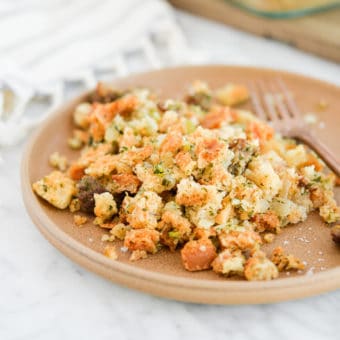 This recipe elevates boxed stuffing so that it tastes just as good as homemade!
Ingredients
6-to-10-

ounces

boxed stuffing mix

1/2

pound

breakfast or Italian sausage

1/2

small yellow onion

diced

2

stalks celery

diced

2

cloves

garlic

minced

1

tablespoon

minced fresh herbs

such as sage, fresh thyme, or rosemary OR 1 teaspoon dried herbs

1/2

teaspoon

sea salt

1

egg

whisked

1 1/2

cups

chicken or turkey stock

3

tablespoons

melted butter
Instructions
Preheat the oven to 375 F.

Add the sausage to a large skillet over medium heat and cook for 8-10 minutes, breaking it up as it cooks, until browned, then remove the sausage from the skillet.

Add the onion, celery, and garlic to the skillet and cook for 5-7 minutes, until softened, then remove from heat.

Remove the seasoning pack from the stuffing mix, then add the stuffing croutons, sausage, cooked veggies, herbs, salt, egg, and stock to an 8×8 inch pan or other 3-quart baking dish and mix it all together. Press the stuffing into an even layer in the pan, then drizzle the top with butter.

Bake for 35-40 minutes, until the top of the stuffing is browned and crisp. Let cool slightly, then enjoy.
Recipe Notes
For dairy-free: use extra-virgin olive oil or vegan butter in place of the butter.
For gluten-free: use a gluten-free boxed stuffing mix, like this one.
Nutrition
Calories:
398
kcal
|
Carbohydrates:
30.6
g
|
Protein:
13.7
g
|
Fat:
24.1
g
|
Saturated Fat:
10.3
g
|
Cholesterol:
92.5
mg
|
Sodium:
948.3
mg
|
Fiber:
1.6
g
|
Sugar:
4.6
g