Pumpkin Spiced Icebox Cookies
jump to recipe
These gluten free pumpkin spiced icebox cookies are the perfect way to indulge in pumpkin this fall! These cookies are soft and fluffy, with just the right amount of pumpkin, warm spices, and hints of white chocolate chips and toasty pecans to create the perfect bite.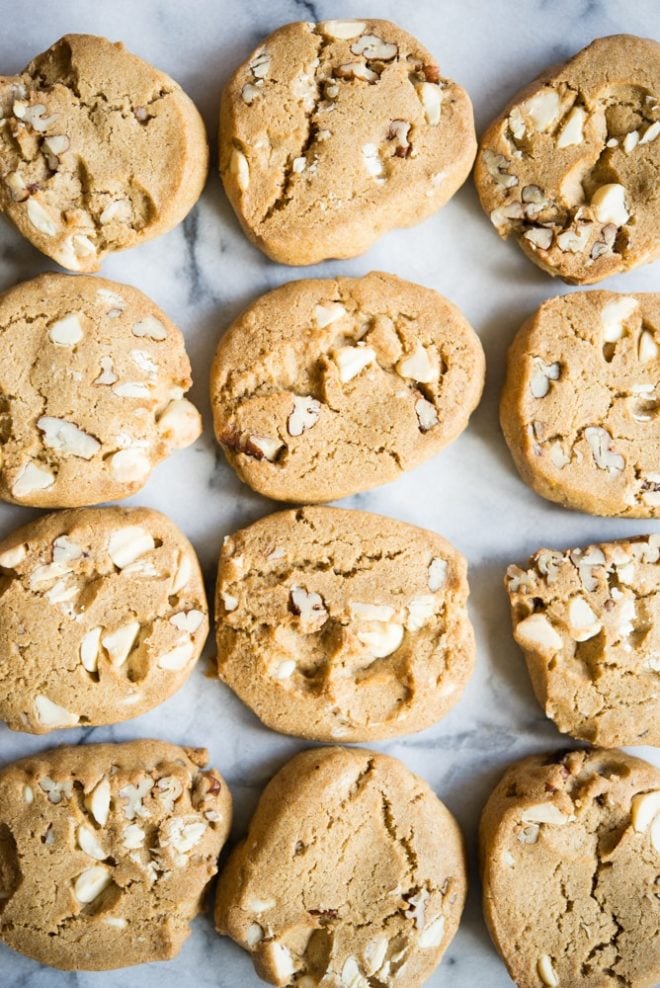 It's officially pumpkin season and these pumpkin spiced icebox cookies are, quite possibly, my favorite cookie creation yet! Best of all, you can keep the dough in your fridge or freezer, slice a few pieces off, and bake as needed (though, once you have one you might want to go ahead and bake them ALL right away!).
We started developing these pumpkin spiced icebox cookies by creating a gluten and egg-free dough with REAL pumpkin and grass-fed butter as the perfect base for these fall-inspired cookies. Throw in some roughly chopped pecans, chunks of decadent white chocolate, and pumpkin spice, and you've got everything you could ever need in a dessert! After you mix the dough, you'll roll it into a log, and wrap it in parchment paper, refrigerate until firm, and then remove to slice and bake!
Why are they called icebox cookies?
Let's talk about the history and science behind "icebox" or "refrigerator" cookies for a minute. You may or may not know that "iceboxes", or refrigerators didn't become a common household appliance until the 1920s, when some incredibly smart innovator figured out how to make a convenient at-home version of a cooler. Around this time, families started to develop recipes that called for refrigeration prior to baking. What started as icebox cakes, quickly developed into all sorts of icebox goodies, and now the world has some of the darn tastiest desserts you can imagine because of this little development almost 100 years ago! 
So, now you may be wondering what makes icebox cookies different. Well, I'm glad you asked! Icebox cookies come with two benefits – first, freezing the cookie dough means it keeps for longer and you can use it as needed. Second, (and most important in my opinion) freezing the dough results in cookies that spread less. Why is this important? Because for these pumpkin spiced icebox cookies, less spread = the perfect ratio of browned, crisp top to chewy, doughy, delicious center. Yes, please!
How do you freeze icebox cookies?
To freeze the cookie dough, you'll need to lay out two pieces of parchment paper and set half of the dough on each piece. Then, you'll form each half of the dough into a 1.5-2-inch thick roll, wrap the paper around the dough roll, and then twist the ends of the paper to secure the rolled packaging (think: similar to how a Tootsie Roll is packaged!). Once rolled and wrapped, stick the dough into the freezer until you're ready to use it!
Tips for Icebox Cookies
These icebox cookies are pretty fail-proof, but here are a few things to keep in mind so that yours turn out perfect every single time!
Refrigerate the Dough – be sure to either refrigerate or freeze the dough for a minimum of 2 hours. This is key in helping the cookies to not spread!

Drain Homemade Pumpkin Puree – if you're using homemade pumpkin puree (this Instant Pot pumpkin puree is SO delicious and easy!), be sure to drain it first since homemade puree tends to be more watery than canned puree.

Swap the Nuts – if you don't like pecans, feel free to swap them for any nut that you do like (walnuts would be delicious here!), or if you'd rather go nut-free, just omit the nuts altogether!

Swap the Chips – if white chocolate chips aren't your thing, swap them for dark chocolate chips or even butterscotch chips (YUM!). 
Our favorite way to eat these Pumpkin Spiced Icebox cookies (besides inhaling 5 in one sitting straight out of the oven) is with a tall glass of cold almond milk. Preferably after a warm pumpkin-inspired meal like our Pumpkin Turkey Chili because is there ever such a thing as too much pumpkin?!
Print
Pumpkin Icebox Cookies
These pumpkin icebox cookies are soft and fluffy, with just the right amount of pumpkin, warm spices, and hints of white chocolate chips and toasty pecans to create the perfect bite.
Author:
Prep Time:

45 minutes

Cook Time:

10 minutes

Total Time:

55 minutes

Yield:

24

cookies

1

x
Category:

Dessert

Method:

Oven

Cuisine:

Dessert
Instructions
In a medium bowl, whisk together the flour, pumpkin spice, baking soda, and salt. Set aside.
In a large bowl, add the butter and sugar. With a hand-held mixer or stand mixer, whip the butter and sugar on high speed until the mixture is slightly fluffy.
Add the vanilla and pumpkin to the butter mixture, then beat with the mixer on high speed until fully combined.
Gradually add the flour into the butter mixture ½ cup at a time, mixing on high speed, until you can no longer see the flour and a thick dough has formed.
Stir the chocolate chips and pecans into the dough.
Lay out two pieces of parchment paper then set half of the dough on each piece of paper.
Roll the dough into two equally-sized rolls, each 1 1/2-2 inches thick. Then, roll the paper around the dough and twist the ends until dough is securely wrapped. Refrigerate dough for 2 hours, until firm.
Preheat the oven to 350 F.
Line a baking sheet with parchment paper.
Remove the dough from the parchment paper and cut 1/2 inch thick slices. Lay the slices on a parchment paper-lined baking sheet and bake for 10-12 minutes, until cookies have slightly spread and begun to brown on top.
Remove from the oven and let cool. Enjoy!
Notes
You may also freeze the dough for later use. With this method, you'll want to allow the dough to thaw on the counter after removing from the freezer so that it is easier to slice.
You can use dark chocolate chips instead of white chocolate, omit the nuts and replace them with more chocolate chips, and vice versa.
If you are using homemade pumpkin puree for this recipe, make sure it is drained first as homemade puree tends to be more watery than canned versions.
Keywords: Fall, baked goods, egg free, dairy free, gluten free, freezer friendly, holiday