Baked Gluten Free Orange Chicken
jump to recipe
This baked gluten free orange chicken tastes just like your favorite Chinese takeout while also being better for you! Chicken is coated in a mixture of arrowroot and rice flour then baked to crispy perfection and tossed in a perfectly sweet and tangy orange sauce.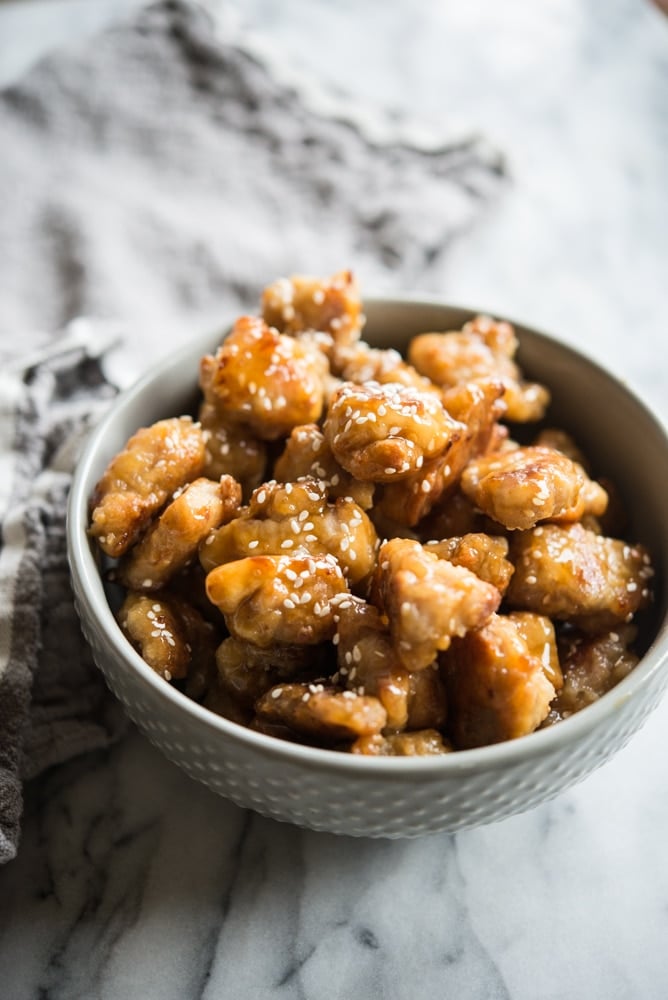 I have been bursting to share this recipe with y'all! In fact, I think this baked gluten free orange chicken may be one of my favorite recipes we've EVER created – and after nearly 8 years that's saying something! In my pre-gluten free days, I had a real love for Panda Express orange chicken and chow mein, and while we nailed a spaghetti squash chow mein a few years ago, it had been years since I'd gotten to eat anything close to that crispy orange chicken.
Even though we've successfully converted many takeout favorites before, like Mongolian Beef and Kung Pao Chicken, this baked gluten free orange chicken was a tall order. We knew we wanted a classic crispy orange chicken, but we wanted to avoid deep-frying it if we could so we could avoid the mess and oil waste.
After some trial and error, we were able to to get baked gluten free orange chicken that was crisp on the outside, but still tender inside. Here's what makes this recipe work:
A coating of half arrowroot starch and half rice flour: we found that regular gluten free flour was too dense to produce a crispy texture, but the combination of arrowroot and rice flour created a light and crispy coating.
Boneless, skinless chicken thighs: since the chicken needs to bake at a high temperature for a fairly long amount of time to get the coating crisp, we recommend using chicken thighs to avoid drying out the chicken.
Avocado oil spray: While you can brush the chicken with avocado oil if you're in a pinch, avocado oil spray is really key in this recipe for making sure that the chicken is evenly coated.
While the chicken is baking, you'll make a quick orange sauce, then toss the chicken in it and serve over rice or cauliflower rice. We hope you love this baked gluten free orange chicken as much as we do!
More Asian-Inspired Dishes
Print
Baked Gluten Free Orange Chicken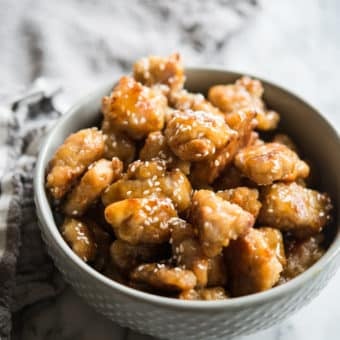 This gluten free crispy orange chicken is everything you've ever been looking for in healthier Chinese food!
Author:
Prep Time:

00:15

Cook Time:

00:30

Total Time:

45 minutes

Yield:

Serves 5
Ingredients
For the marinade:
For the flour coating:
For the sauce:
Instructions
Preheat the oven to 425 F and line a rimmed baking sheet with parchment paper, then lightly spray it with the avocado oil spray, or brush it with half of the avocado oil.
In a large bowl, whisk together the egg white, arrowroot starch, coconut aminos, apple cider vinegar, and salt. Add the chicken to the marinade and toss to coat.
In a small bowl, whisk together the arrowroot starch, white rice flour, and sea salt.
Remove the chicken from the marinade then dredge in the flour mixture, then shake off the excess flour and lay the chicken on the baking sheet. Lightly spray the chicken with avocado oil, or brush it with the remaining oil, then bake for 15 minutes. After 15 minutes, flip the chicken then bake for an additional 15 minutes, until browned and crisp.
While the chicken is baking, whisk together the water, orange juice, coconut sugar, coconut aminos, apple cider vinegar, and red pepper flakes in a saucepan over medium heat. Bring to a boil, then whisk together 1 tablespoon arrowroot starch with 2 tablespoons water. Pour the arrowroot mixture into the sauce, then bring to a boil. Once the sauce has thickened, remove from heat.
Toss the chicken with the orange sauce then garnish with white sesame seeds. Serve over white rice or cauliflower rice and enjoy!