This spiced ham & potato soup is a delicious, easy, healthy meal option and a great way to use up leftover ham!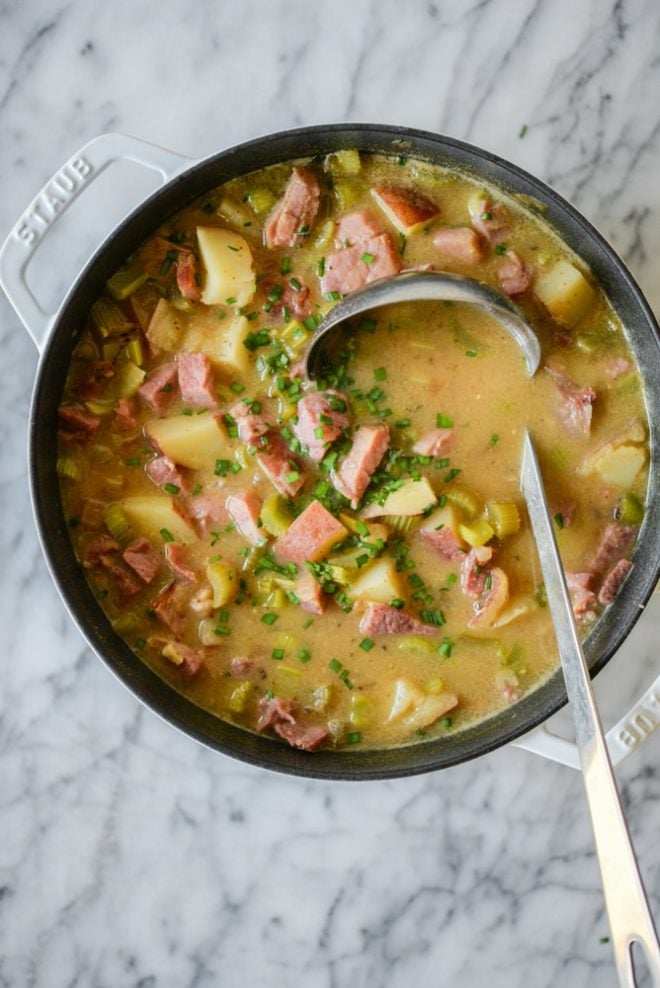 Oh boy, my friend. We're in an exciting time. Let me start off by saying that I am truly, deeply thankful for the difficult and the stagnant times in life. Of course, this feeling of thanks grows more easily once the season has passed, but it's a priority nonetheless. I'm thankful for my health struggles, because I KNEW and I TRUSTED that I was struggling for a reason. I'm also thankful for these periods because they teach me how to live with joy that isn't derived from circumstance. What a precious lesson that I will gladly and patiently receive over and over again.
Stagnant times are often marked by a routine that helps you navigate the day, reflection on your prior decisions, intentional (as in, chosen) happiness, and hopeful daydreams. It's those times between projects, between life's big events, that often leave us wondering if we're on the right track. These are fertile grounds for doubt and frustration …but they're also fertile grounds for faith and peace. We get to choose what we plant and what we nurture.
I started my blog in the summer of 2011. I had NO IDEA how/if this business would evolve, but I knew that I had to start. I had to share my story. If my story helped just one other person, I'd consider it a resounding success. So, I started blogging! I shared my healthy recipes and my belief that there is NO one-size-fits-all diet. I had 3 daily readers and I was beyond tickled that those precious people even considered my words worth reading.
THEN, I went into (what felt like a semi-aimless) holding pattern that spanned about 4 years. From the outside-looking-in, my decision to spend 20+ hours a week (outside my full-time job) on (what so many considered) a hobby, was difficult to understand and it was difficult for me to explain. I just knew, in my core, that I must continue. I couldn't tell folks where I was headed, I just knew that I couldn't let you down. I had to keep at it. I had to keep answering your questions and honoring your requests.
You started to ask great questions about nutrition science, so I went and found you answers (by going back to school and becoming a certified Nutrition Consultant). You asked for more recipes, so I created more recipes. You asked for even more science, so I launched the podcast. You wanted more recipe demonstrations, so I've been hard a work to bring you more videos. You wanted to see more of my travel, fashion, and beauty tips, so I launched those columns.
I want you to know that YOU are the muse, you are the compass, and you are my professional North star. YOU pulled me out of that long holding pattern by trusting me with your requests. It's because of you that I wrote a book, launched a program, and actually turned this blog into a real-deal business. You're the reason I can spend 100% of my time on this work and why I'm now able to extend that opportunity to a growing Fed & Fit team.
ALL OF THAT to say that, (once again) because of you, the next stage of this business has been revealed. I pay attention to what recipes you make most, what content you enjoy, and what challenges you face. I take note of the struggles you share and the wishes you hold. I keep track of your feedback and always walk away with a deep sense of responsibility. Your problems are my problems. Let's tackle them together.
That was a long, giant tease …because I'm not yet in a position to share details. But know that the next project we're working on is the BIGGEST YET.
I hope you're encouraged by this news and I hope you know how important you are to this mission! I consider us a team and, thanks again to you, I'm now bubbling-over again with inspiration and excitement for our shared future.
Oh the places we'll go together!
I just had to get that off my chest before we talked about this fabulous Spiced Ham & Potato Soup. This soup was born out of a knowledge that A) you love soup recipes and B) I had a LOT of leftover ham on hand and a hungry husband in the house. All we need for this soup is some roughly chopped ham, potatoes, a few stalks of celery, broth, and a healthy splat of (spicy, if you dare) mustard. Once cooked up and well-loved, these simple ingredients evolve into a most-satisfying spiced ham & potato soup!
For those of you who pay attention to my husband's stamp of approval, this one has it! While he likes all of the dishes that make it to the blog/book, he only truly LOVES a small handful.
Also note that this recipe freezes exceptionally well! We spooned leftovers into small serving-sized containers for long term storage. Simply plop into a saucepan and bring to a simmer to enjoy again!
This spiced ham & potato soup is a delicious, easy, healthy meal option and a great way to use up leftover ham!
Ingredients
2

tablespoons

butter or olive oil

1/2

onion

finely chopped

4

cloves

garlic

minced

8

stalks of celery

chopped

1/2

cup

spicy mustard

okay to sub regular mustard

2

pounds

red skin potatoes

cut into 1/2-inch pieces

8

cups

64 ounces chicken broth, more if needed

2

pounds

thick-cut ham

cut into 1-inch pieces

2

lemons

juiced

1/2

teaspoon

fine sea salt

more to taste

1/4

teaspoon

cracked black pepper

2

tablespoons

fresh chives

chopped, for garnish
Instructions
Melt the butter in a large pot over medium heat. Add the onions and saute until translucent or just starting to brown. Add the garlic and celery and saute until fragrant, about 2 more minutes. Stir in the mustard and toss so that everything is well coated.

Add the chopped potatoes to the pot and cover in the chicken broth. Cover and bring to a simmer. Let simmer for about 20 minutes, or until the potatoes are easily pierced with a fork. Add the ham and simmer for an additional 5 minutes.

Turn the heat off, add the lemon juice, salt, and pepper. Stir to combine and taste to determine if it needs any additional seasoning.

Garnish with the chives and enjoy!
Nutrition
Calories:
557
kcal
|
Carbohydrates:
32
g
|
Protein:
39
g
|
Fat:
31
g
|
Saturated Fat:
12
g
|
Polyunsaturated Fat:
3
g
|
Monounsaturated Fat:
14
g
|
Trans Fat:
0.2
g
|
Cholesterol:
110
mg
|
Sodium:
3442
mg
|
Potassium:
1298
mg
|
Fiber:
5
g
|
Sugar:
5
g
|
Vitamin A:
224
IU
|
Vitamin C:
34
mg
|
Calcium:
71
mg
|
Iron:
3
mg