Honey Glazed Ham
jump to recipe
This semi-homemade honey glazed ham is the perfect way to get a flavorful, crowd-pleasing ham on your table with minimal effort.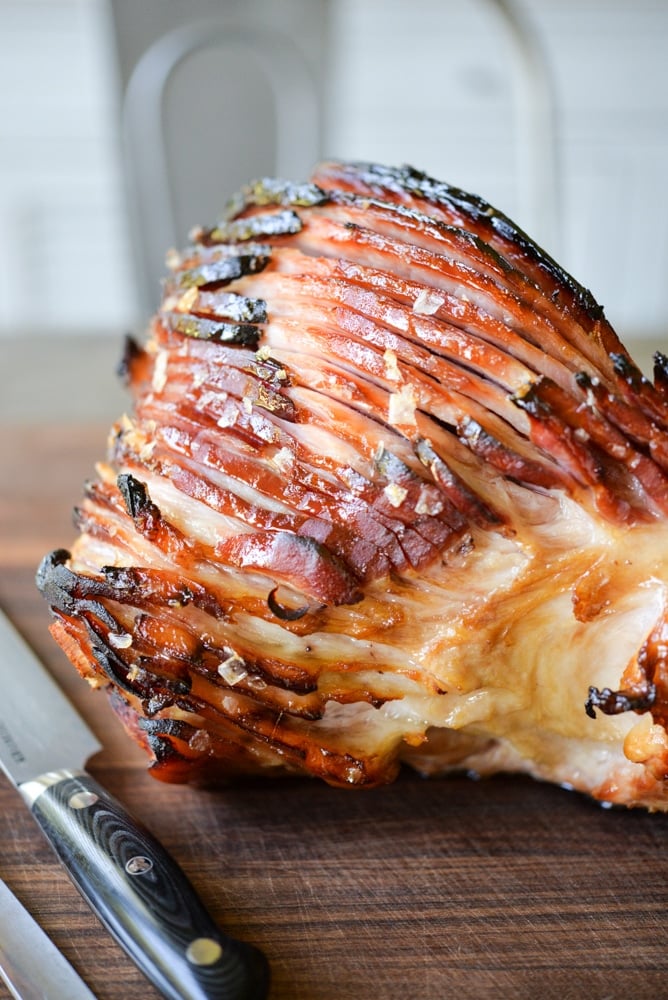 It's the first half of HAM SEASON!! I think most people call it Spring? The 2nd half of ham season rolls in around Christmas …right when we're ready to dig into the flavorful protein once again.
I've wanted to bring you simple recipe for a Honey Glazed Ham for years. I've tried this recipe countless different ways (even using a fresh ham), finally landing on a method that yields the most flavor with the least amount of effort. Honey Glazed Hams are all the dinner party rage around Easter and then at Christmas. They're simple to prepare and can feed a crowd. I modeled this recipe after the Honey Glazed Hams you can grab at the store, only ours has a homemade touch. It starts with a pre-brined and smoked ham (ask your butcher). When choosing a smoked ham, read the ingredients. I suggest opting for the ham with the least amount of ingredients listed, paying special attention to anything that contains soy or wheat (good to avoid if you're sensitive). If your ham isn't already pre-sliced, use a nice sharp knife to slice down to the bone as best you can into even, 1/2-inch thick pieces.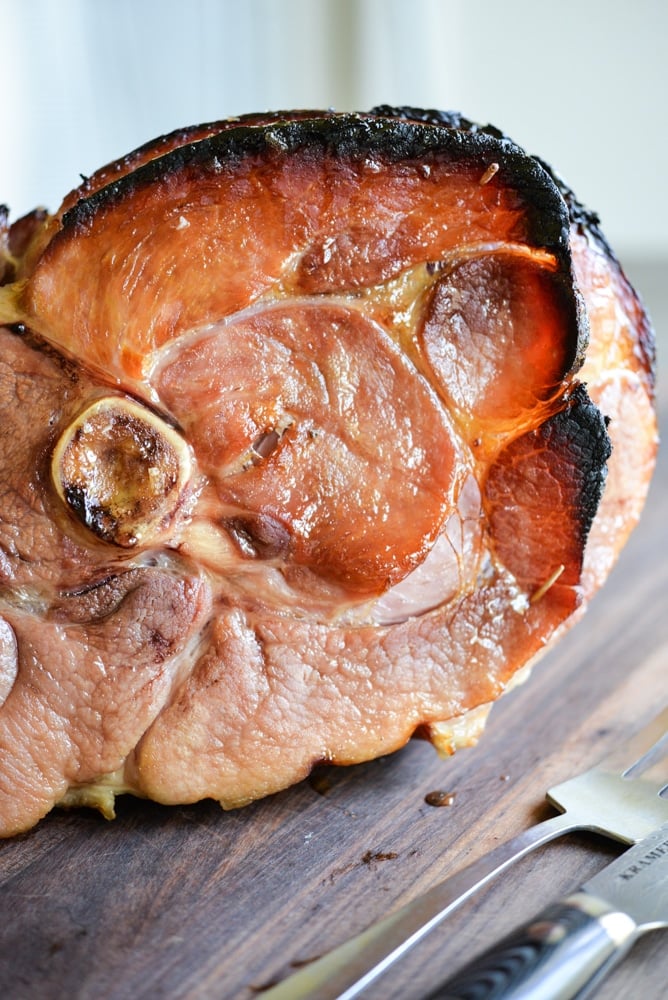 From here, it's REALLY easy. All you need to do is melt a little butter with a little honey and pinch of sea salt. Place the ham in a roasting pan, pour half of the honey glaze over the ham (making sure it gets into all the nooks and crevices), and then pop it in the oven. The ham will hang out in the oven twice, the first time is just to bring it up to a nice warm temperature and the 2nd time is to help secure the honey glaze. If you notice that your ham is starting to brown too deeply on top, simply tent it loosely with a piece of aluminum foil.
Let your ham cool for a bit, drizzle with additional honey (if you like), and serve! It is DELICIOUS and will truly feed an army. Keep your eyes peeled for my an upcoming recipe that can help you repurpose the leftover honey glazed ham in a totally different dish.
Happy Ham Season!
Print
Honey Glazed Ham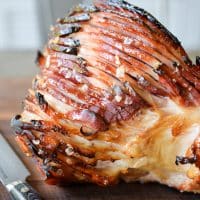 Author:
Prep Time:

15 minutes, to slice

Cook Time:

1 hour

Total Time:

1 hour 15 minutes

Yield:

12 to 15 servings
Ingredients
1

smoked ham, sliced into 1/2-inch thick pieces to the bone (if not already spiral sliced)

1/2 cup

honey, additional for garnish (optional)

1/4 cup

butter, melted

1 teaspoon

fine sea salt
Instructions
Place the sliced ham on a roasting sheet or in a large pot.
In a small bowl, whisk together the honey, butter, and sea salt. Pour half of the mixture over the ham, massaging it into all available surfaces.
Bake the ham at 350 for 45 minutes, or until the top is starting to look golden brown. Pour the 2nd half of the honey mixture over the ham and return to the oven for an additional 15 minutes.
Note: if the top of your ham starts to darken too quickly, place a piece of aluminum foil loosely over the top.
Let the ham rest for about 5 minutes before serving and drizzle with additional honey, if desired.