Loaded with strawberries, pecans, feta cheese, and a delicious homemade balsamic vinaigrette, this strawberry spinach salad is fresh, delicious, and easy to throw together!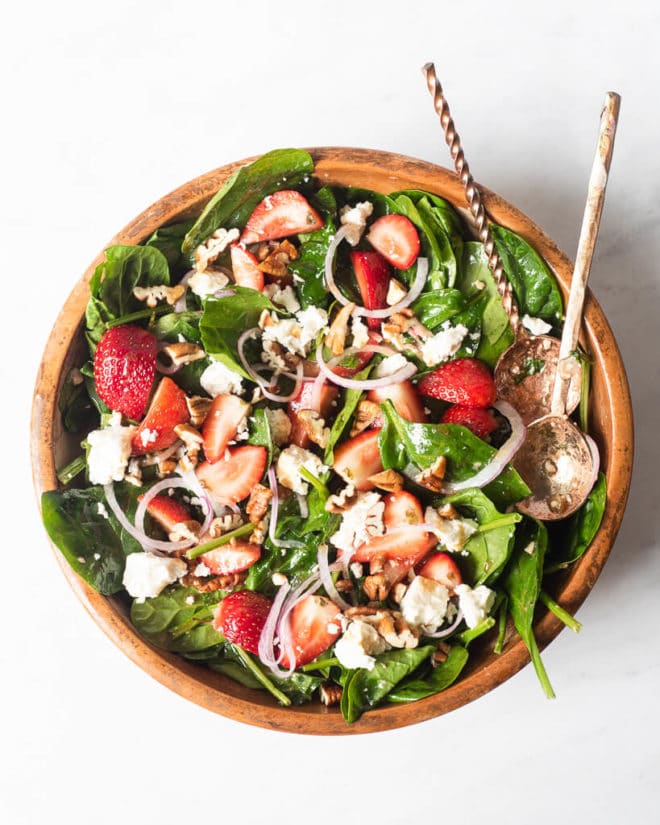 What makes strawberry spinach salad so special?
This salad has it all! It's super nutrient dense, really easy to throw together, and incredibly delicious. The strawberries bring such a delicious sweetness to the salad + the feta cheese counters that sweetness with some tangy saltiness. IT'S THE BEST!
Our favorite ways to enjoy this flavorful salad? Either with sliced grilled chicken on top for a complete meal or tossed and served next to a protein (again, grilled chicken would be great, as would steak or seafood!) and a starchy side.
Easy Strawberry Spinach Salad Ingredients:
The ingredients list is super simple, but includes everything you need in a really satisfying, delicious salad. Here's what to add to your grocery list: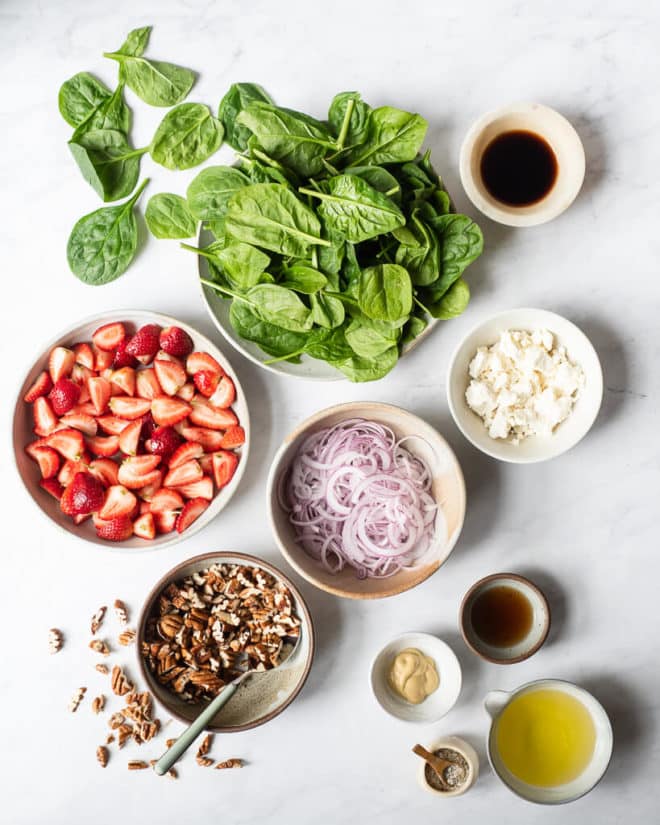 For the Balsamic Vinaigrette
Balsamic Vinegar – this vinaigrette wouldn't be a balsamic vinaigrette without balsamic vinegar! You'll need 1½ tablespoons of balsamic vinegar here.
Honey – while this is totally optional, we think that adding 1 teaspoon of honey to the dressing adds a real depth of flavor and really counters the acidity that comes from the balsamic vinegar.
Dijon Mustard – this may be an unsuspecting ingredient, but just 1 teaspoon of dijon mustard gives the dressing the yummiest tang and also helps to make it a little bit creamier than the standard vinaigrette.
Extra-Virgin Olive Oil – the bulk of the vinaigrette is made up of extra-virgin olive oil. You'll need 2 tablespoons here.
Sea Salt + Black Pepper – there are so many delicious flavors in the dressing already, so we're keeping the seasoning really simple here. You'll just need a ¼ teaspoon of sea salt and a ¼ teaspoon of cracked black pepper to finish off the dressing.
For the Salad
Baby Spinach – to start, you'll need 6 cups (or about 8 ounces) of baby spinach.
Red Onion – a ¼ of a thinly sliced red onion really adds a nice punch of savory flavor to this semi-sweet salad!
Strawberries – you'll also need a ½ pint of fresh quartered strawberries.
Pecans – to add some crunch and a delicious nuttiness to the salad, you'll need a 1/3 cup of coarsely chopped raw pecans.
Feta Cheese – as mentioned above, the saltiness of the feta cheese perfectly counters the sweetness of the strawberries. You'll need a ⅓ cup of crumbled feta cheese here, but if you're not a fan of feta cheese, feel free to substitute it for an equal amount of goat cheese if you'd like!
How to Make a Spinach Strawberry Salad:
Here's a two-step rundown of how you'll bring your strawberry spinach salad together:
Make the dressing – first, make the vinaigrette by whisking together the vinegar, honey, mustard, olive oil, salt, and pepper in a small bowl until fully combined.
Assemble the salad – add the spinach, onion, strawberries, pecans, and feta to a large bowl, then drizzle the dressing on top and toss to combine.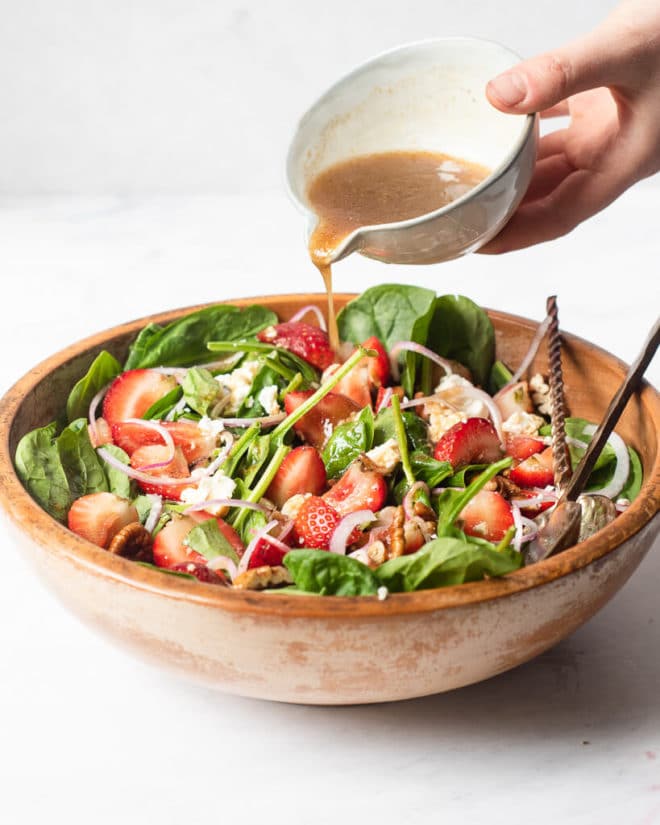 Tips, Tricks, and Substitutions
Though this salad is DELICIOUS as written, know that you can make swaps if you need to! Here are a few that we think are worth trying:
Switch up the fruit – if you can't find really beautiful, juicy strawberries, grab a different fruit instead! Blueberries, grapes, or sliced peaches would all be delicious swaps.
Use a different nut or seed – if pecans aren't your thing, use walnuts, pistachios, or even pumpkin seeds instead!
Swap the cheese – change things up with goat cheese or any other soft cheese that you love.
Use a store-bought dressing – though this dressing is incredibly easy, if you just don't have the bandwidth to make your own dressing in the season of life you're in, we *totally* get that. Use your favorite store-bought dressing here instead! A store-bought balsamic vinaigrette would obviously be delicious, but so would honey mustard or even ranch!
Use different greens – if you don't love spinach, arugula or mixed greens would work great here!
What dressing goes best with a strawberry spinach salad?
We think that the accompanying homemade balsamic vinaigrette is the ideal salad dressing for this strawberry spinach salad, but truly, the possibilities are endless here. A creamy honey mustard would be really delicious, and as odd as it may sound, I also really love ranch dressing on salads like this! Don't be afraid to experiment with your dressing here!
Can I add protein to this spinach strawberry salad?
You sure can! If you're choosing to enjoy this salad as a meal (and you're a meat eater), grilled or shredded chicken would be really great here, as well as shrimp or salmon for seafood options!
Can this spinach strawberry salad be stored?
Because spinach is a more delicate salad green, we don't recommend storing this salad already dressed. If you'd like to prep it for a week of lunches or just want to get ahead on a weeknight dinner side, be sure to store the dressing separately from the assembled salad.
What else pairs well with spinach strawberry salad?
Steak, shrimp (or any other seafood you love), and chicken are all great next to this salad. This is truly one of those back-pocket recipes that will pair beautifully with meal after meal!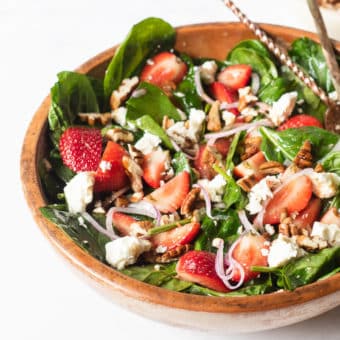 With sweet strawberries, salty feta cheese, and tangy balsamic vinaigrette, this salad is the perfect summer side!
Ingredients
For the Balsamic Vinaigrette:
1 1/2

tablespoons

balsamic vinegar

1

teaspoon

honey

optional

1

teaspoon

dijon mustard

2

tablespoons

extra-virgin olive oil

1/4

teaspoon

sea salt

1/4

teaspoon

cracked black pepper
For the Salad:
6

cups

baby spinach

about 8 ounces

1/4

red onion

thinly sliced

1/2

pint

fresh strawberries

quartered

1/3

cup

raw pecans

coarsely chopped

1/3

cup

crumbled feta cheese
Instructions
Add the vinaigrette ingredients to a small bowl and whisk to combine.

Add all of the salad ingredients to a large bowl, then pour the dressing over top and toss to combine.
Recipe Notes
If you want to make this salad in advance, leave the dressing separate and dress it right before you serve it. 
Nutrition
Calories:
196
kcal
|
Carbohydrates:
10.3
g
|
Protein:
4.3
g
|
Fat:
16.5
g
|
Saturated Fat:
3.5
g
|
Cholesterol:
11.1
mg
|
Sodium:
330.2
mg
|
Fiber:
3
g
|
Sugar:
6
g