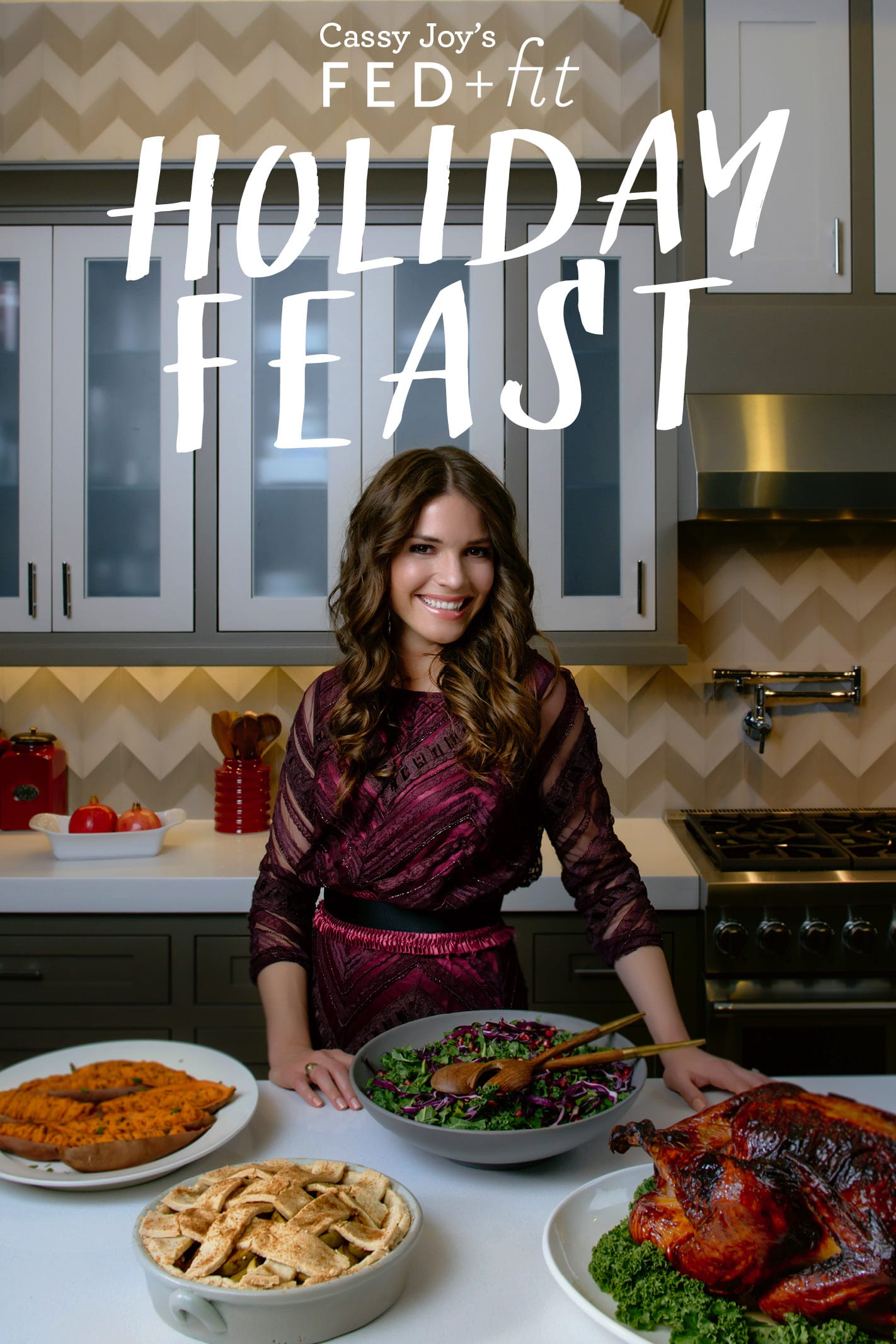 I am BESIDE myself, I'm so excited.
The Fed+Fit Holiday Feast eBook is here at last!
After some sleepless nights, countless trips to Whole Foods, and several bottles of Chameleon Cold Brew, we've finally reached the finish line.
Before I jump into my sappy heartfelt thank-you's, you can download the 100+ page eBook HERE.
It's $9.99 and will last you through THREE holidays: Thanksgiving, Christmas, and New Year's Eve. In other words, I got your back big time this holiday season. The rest of the details on all that's included (45+ recipes, nutritionally-focused menus, how to pull off hosting, etc.) follow my long-winded sentiments.
Side note: that bad boy up there is my Honey Butter Glazed Turkey and it is pretty dang fabulous, if I do say so myself.
Back to it.
So, are you ready for some back story? I'm feeling awfully sentimental and just can't help myself. Skip to the bottom if you just want info on the eBook goods – I wouldn't blame you.
Here we go …
This Holiday eBook represents a huge milestone for Fed+Fit. This is the first project, aside from my work with individual nutrition clients, that I've invested in so heavily. About 4 years ago, I started this blog on a wink and a wish that I could help a few people looking for healthy recipes to substitute their favorite dishes. Little did I know that it would evolve into my life's work and passion. I have a hard time believing that my website reaches over 100k people each month (a number I try not to think about when I'm writing these posts). I'm beyond humbled by your support and felt an urgency to give more.
After some mentoring by a few of my friends and family members, they convinced me to write a 10-15 recipe eBook and place it for sale on my website. The purpose being to provide a concise resource for my readers (you) and also to help monetize the blog so that I can continue to grow my reach and impact. I took their idea and (in classic fashion) came up with all the ways I could make it 200x better.
Because I'm (pretty much entirely) obsessed with the idea of making sure that you feel like you're getting something of GREAT value, I broke the project up into 2 phases. First, I wrote and published the Fed+Fit Gameday Feast as a free download "thank you" for your support thus far. THEN, the eBook concept next-steps evolved into a complete and thorough Holiday Feast Blow-Out Guide. The document now includes over 45 recipes (with special notes on what ingredients to exclude if you're following a restrictive diet program) and 15 different menus spanning Thanksgiving, Christmas, and New Year's Eve for Autoimmune, low-FODMAP, Low-Carb, a "Fed+Fit Decadence," and even one that is 21-Day Sugar Detox-friendly …but more on all that in a bit.
In an effort to put my best foot forward, I hired a professional photographer to shoot the cover (though, I took all the food photos), brought on two new Fed+Fit interns to help me manage the other aspects of the business, and teamed up with one of the most encouraging (and talented) graphic designers I've ever met. You know the saying – surround yourself with people much smarter than you if you want to break through into new realms of awesomeness.
Maybe it's the lack of sleep or maybe I'm just really present to the moment, but I want to thank you, from the bottom of my heart, for your support. I couldn't, and wouldn't, do this without you and the Fed+Fit community we've built together.
I gave this project my all and I hope you're able to lean on it as a guide and resource for a healthy, happy holiday season.
Now, onto what's actually included!
Here's a summary/highlight reel:
100+ pages
45+ recipes that include: 5 appetizers, 4 main courses, 4 starchy sides, 9 vegetable-based sides, 7 condiments, 11 desserts, and 6 drinks/cocktails.
Recipe & menu modification notes for Autoimmune, low-FODMAP, low-carb, and 21-Day Sugar Detox.
How to "fed+fit" your holiday guide.
Separate menus for Thanksgiving complete with shopping lists & "what to make when" guide.
Download your copy below!
If you're on social media, please tag me (@fedandfit and #fedandfitholiday) if/when you post your own creations from this eBook! I'd love to see what you come up with.
Thanks again (like, x 1000) for all of your support. This project represents a dream come true.