I'm showing you the easiest, most efficient way to make two different meals using chicken breasts. Meal 1 is a Baked Chicken, Roasted Veggie, and Wild Rice dinner, and Meal 2 transforms the planned-for chicken breast leftovers into a really hearty, delicious Caprese Chicken Casserole.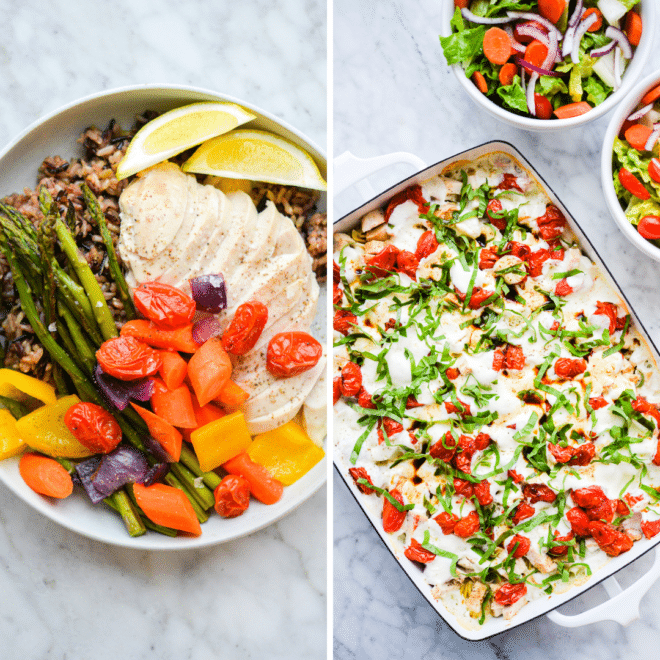 I'm REALLY excited to introduce you to this dinner series concept! In my new book, Cook Once Dinner Fix, I show you how to create a delicious and healthy dinner, then transform it into an entirely different dish on another night. These recipes are designed to help you be as efficient as possible in the kitchen without sacrificing flavor. In this Dinner Fix-style series, I focus on baked chicken breasts as our main ingredient!
Our Two Chicken Breast Dinner Recipes
The shared component in this dinner series is chicken breasts! Chicken breasts are probably one of the most loved and reached for proteins ever.
Dinner #1: Baked Chicken Breasts with Roasted Vegetables and Wild Rice
This simple dinner is so satisfying and nutritious! While the wild rice is cooking on the stovetop, simply seasoned chicken breasts bake alongside an array of colorful veggies for a meal that's sure to please the whole family.
Dinner #2: Chicken Caprese Casserole
Y'all, this dinner steals the show! Mozzarella cheese, fresh basil, and cherry tomatoes combine with hearty pasta and leftover chicken breasts for a cheesy, yummy, and satisfying casserole-style take on the Italian classic.
Combined Shopping Lists
Here's everything you'll need to make these two dinners:
Produce
Asparagus, 1 bunch
Basil, fresh, ½ cup
Bell pepper, yellow, 1
Carrots, 4
Cherry tomatoes, 2 pints
Onion, red, 1
Romaine lettuce, chopped, 4 cups
Meat
Chicken breasts, boneless/skinless, 3 pounds
Dairy/Refrigerated
Buffalo mozzarella pearls, 16 ounces
Pantry
Balsamic vinegar, 4 tablespoons
Honey, 2 teaspoons
Olive oil, extra-virgin, ¼ cup plus 3 tablespoons
Red wine vinegar, ¼ cup
Rotini pasta, 12 ounces
Wild rice, 1 cup
How These Recipes Work Together
While each of these really delicious recipes has its own home on the website and can absolutely be made all on its own, this is how you'll make the two work together in the most efficient way possible.
Meal One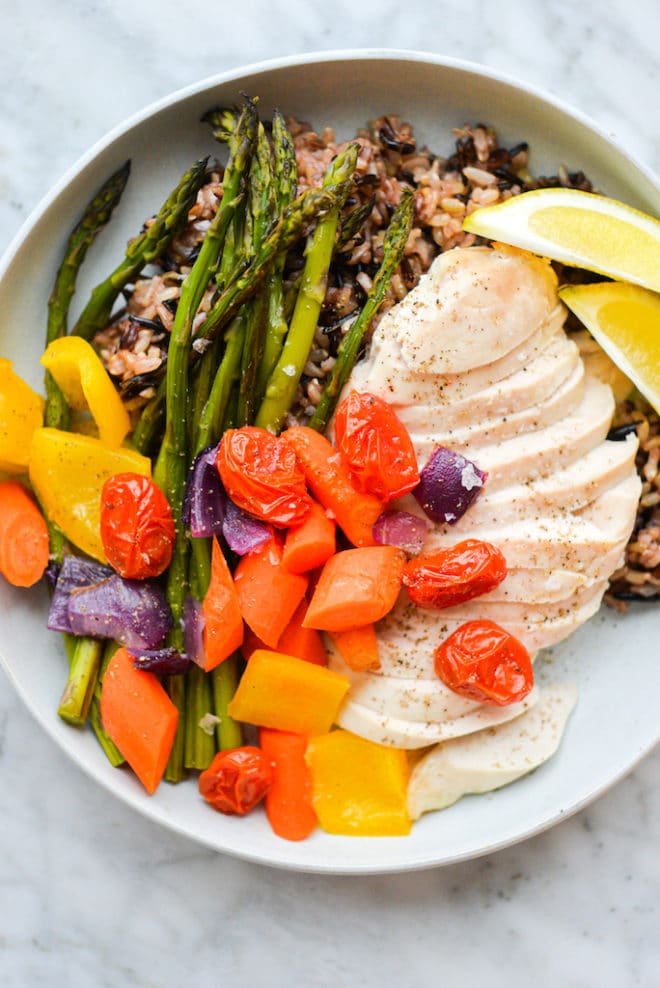 Here's what you'll do for the Baked Chicken, Roasted Veggie, and Wild Rice dinner:
To start, you'll need to purchase a little bit more of several of the ingredients listed in the individual recipe (complete shopping list above). You'll need:

3 pounds of boneless, skinless chicken breasts instead of 1 ½ pounds
2 tablespoons of EVOO instead of 1 tablespoon
2 pints of cherry tomatoes instead of 1 pint
1 red onion instead of ½ of an onion
And 4 carrots instead of 2

Bake all 3 pounds of chicken on a sheet pan, reserving half of it for Meal 2.
Roast the cherry tomatoes on a 3rd sheet pan (rather than combining them with the other veggies). Be sure to leave a ¼ cup out of the oven for Meal 2's salad, though. Once they're done baking, transfer ¾ of the tomatoes to a container for Meal 2.
Roast ½ of the onion on the sheet pan (as written in the individual recipe) with the other veggies, and thinly slice the other half for Meal 2's salad.
Otherwise, follow the temperature, time, and instructions here.
Meal Two
Here's what you'll do for the Caprese Chicken Casserole:
Cook Caprese Casserole according to the instructions here. Skip the instructions for cooking the chicken and chop up the leftover chicken from Meal 1 instead!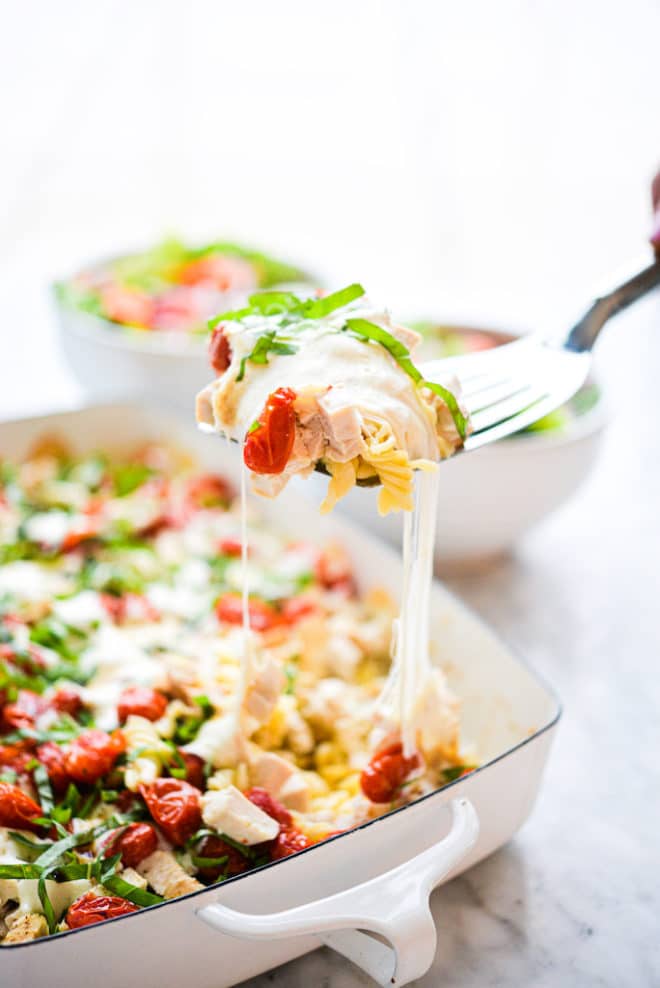 There you have it: two really delicious meals made easy-as-can-be through strategic planning.
How to Make these Recipes as Separate Meals
If you'd rather enjoy these meals independently of one another, find the Baked Chicken, Roasted Veggie, Wild Rice dinner HERE and the Caprese Chicken Casserole HERE.
If this method piques your interest, you can find 60 more dinner series (120 dinners + a bunch of side dishes!) in my book, Cook Once Dinner Fix. Learn more about the book + order it HERE.