Today I'm sharing all about my recent wellness vacation in Phoenix, AZ!
If you follow my adventures along over on Instagram, you may have seen that I went on the girls trip of a lifetime with my dear friend Juli Roth (of PaleOMG) to the enchanting town of Phoenix back in November. We got to stay at the absolutely STUNNING Civana Carefree, which is a brand new wellness resort (aka sanctuary of bliss) right in the heart of the beautiful state of Arizona. While exploring this incredible spa resort right outside of Phoenix, I had the distinct pleasure of being pampered with everything from the luxurious (and affordable) accommodations, the incredible food, wonderful staff, and the attention to detail with every experience. For those looking to truly unwind, nourish their mind, body, and soul, I cannot recommend this resort enough! I can hardly wait for my next visit.
In today's post, I'm breaking down the top 3 reasons that you need to visit Phoenix, AZ. Whether you're looking for a the perfect location for a solo vacation to get some alone time and unwind, a couples retreat, girls trip, or a relaxing bachelorette party, Phoenix has all you need and MORE!
Aside from the stellar fitness classes, incredible facility, all-star staff, and the fact that this place is AFFORDABLE (!), the food truly blew me away. It's one of the few properties I've been to that really sources food WELL and provides endless tasty options. I'm in love with this property and the integrity/thought behind EVERY aspect of it. I left with a totally refreshed lens on wellness – it can be so fun, accessible, delicious, and unhurried. Cannot wait to revisit now that their brand-new spa is open!
Reason #2: The Food
The food here was off the charts. Good salts, good fats, grass-fed/wild/sustainable proteins, organic/local produce, LOADS of gluten-free options, dishes that incorporate surprise nutrient-dense foods (because they want you to feel really, really great). Unlike many wellness resorts, you get a wide range of option from huge, fresh salads, burgers and fries, grass-fed steak, and even molten chocolate cake (gf), and you can rest assure that everything is sourced with care.
This restaurant is the more upscale onsite offering at the Civana Carefree Resort, and it was so darn delightful!  Farm-to-table veggie-centric meals (which you know I love!), supplemented with only the highest quality grass-fed meats, sustainable seafood, and GORGEOUS desserts. Everything on the menu is totally free of GMOs, hydrogenated fats, hormones, and preservatives with options for all food preferences including gluten free, grain free, vegetarian, and vegan. I cannot say enough about our experience at this incredibly memorable eatery.  You must go and see for yourself!
We ADORED this little cafe located just off of the spa at Civana Carefree!  It had just the most beautiful indoor/outdoor causal setting with some of the most health conscious breakfast and lunch options I've ever seen. With the same high quality food standard of their sister eatery, Terras Restaurant, you can pop in anytime between fitness classes or spa appointments and grab yourself a nutrient dense, gut-friendly meal, a green juice, or a thoughtfully sourced cup of incredible coffee. Not only are these meals delicious, they'll also give you plenty of energy to make the most of your time at the resort! My absolute favorite meal here was their avocado toast with delicious gluten-free bread, poached eggs, and a lemony arugula salad (studded with micronutrient-dense fresh herbs), and an immune-boosting ginger juice shot? Yes, please!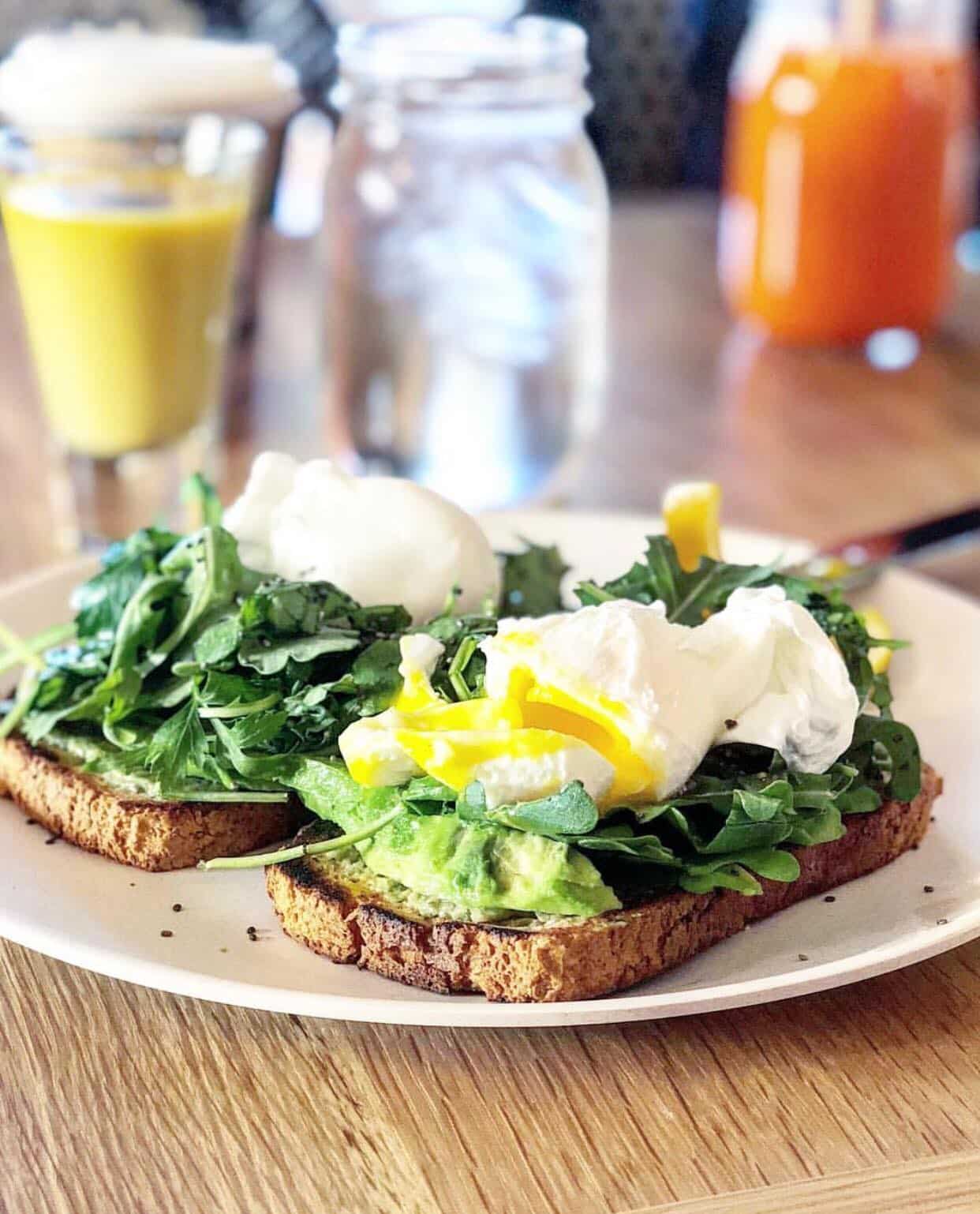 Reason #3: The Activities
Guests of the Civana Carefree can enjoy up to 12 complimentary classes and programs during their stay, and the line up to choose from is OUT OF THIS WORLD!  You can choose from movement based activities including hiking, wall yoga, foam rolling and more for those wanting to get some fitness in (my personal favorite was Wall Yoga!). Aside from movement, there are plenty of opportunities to learn new skills and ideas, or nourish yourself in completely different ways that you might not encounter at home!  Some really neat and unique ideas include a cooking class, watercolor 101, sound bathing (YES, it's a thing!), and pet whispering (this could have really come in handy with Gus).
I don't think I've EVER felt quite so relaxed as when we left our TWO HOUR 🤤 "Sonoran Signature" spa appointment at The Phoenician. We felt like absolute butter after. This spa is NOT to be missed if you're ever in the area, and the opportunities to pamper yourself here are endless! From massages, to wraps, scrubs, and facial treatments, your body will get the loving care and attention it needs. You can also branch out, and try new ways to unwind, including meditation, bowl healing, aromatherapy and essential oil treatments, and even hypnotherapy! I NEVER wanted to leave here, and I can't wait to go back!
Thank you to Visit Phoenix for having us for this incredible mind, body, and soul retreat. Phoenix, you were everything I imagined and more!