Every item on this page was chosen by The Fed & Fit team. The site may earn a commission on some products (read more here).
These air fryer baked potatoes are perfectly crispy on the outside, fluffy on the inside, and so, so delicious.
Can you bake a potato in an air fryer?
Absolutely! Air fryer baked potatoes actually yield the most similar result to traditional oven-baked potatoes (think: crispy outside, fluffy inside). Using an air fryer shaves off a considerable amount of cooking time (25-30 minutes), and doesn't heat up the whole kitchen like an oven might.
If you're looking for an even more efficient way to get a soft, fluffy baked potato on the table (though, you'll have to give up that crispy potato skin), THESE microwaved potatoes are the way to go!
Ingredients for Baked Potatoes in Air Fryer
The ingredients below are all you'll need for simple air-fried baked potatoes. Keep in mind that these ingredients don't include toppings or anything of the sort!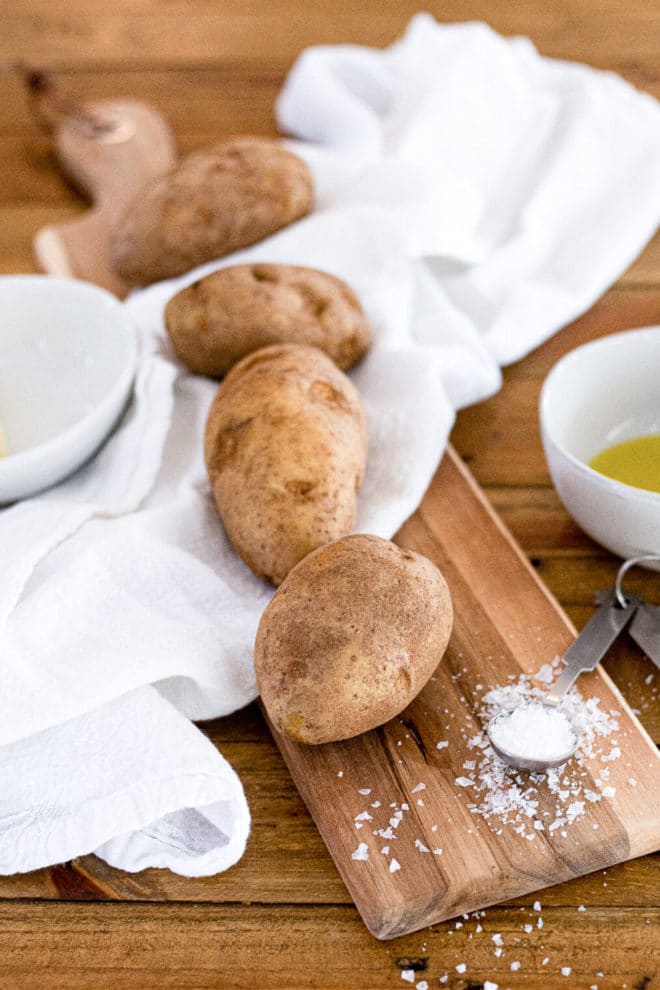 Russet Potatoes – to start, you'll need 4 medium-sized russet potatoes.
Olive Oil – 1 tablespoon of olive oil gets rubbed on the outside of the potatoes to help them get nice and crispy.
Sea Salt – 1 teaspoon of sea salt seasons the outside of the taters really simply!
Ingredient Modifications
Jazz up your potatoes with toppings galore or switch up the kind of potato you're cooking altogether! Here are a few swaps that I recommend trying:
Add toppings: go classic with butter, sour cream, cheese, bacon, and chives, or get creative. You can truly stuff potatoes with almost ANYTHING and get a really delicious result. One of my favorite childhood dinners was a baked potato loaded with cooked and crumbled ground beef, chopped steamed or roasted broccoli, sour cream, and shredded cheddar cheese — so yummy!
Try a different kind of potato: this method can be used with any kind of potato — sweet potatoes, Yukon gold potatoes, and red potatoes are all really great options!
Best Type and Size of Potato to Use for Air Frying
I really love air frying russet potatoes because they tend to be the best for stuffing, and as far as size goes, I tend to stick to medium-to-large-sized potatoes so that each member of my family is full and satisfied after one loaded potato.
Should potatoes be soaked in water before air frying?
While some say that soaking potatoes before air frying results in a crispier end product, I actually think that the same crispy-on-the-outside end product can be achieved without the extra step of soaking. Rubbing with olive oil + air frying at a nice, high temperature (400°F) really help with this!
Supplies Needed to Make this Recipe
Air Fryer — THIS is our favorite one!
How to Cook a Baked Potato in an Air Fryer
The process is super easy! Here's how you'll bake your potatoes in the air fryer:
Preheat your air fryer to 400°F.
Rub with olive oil + sprinkle with sea salt – rub each of your potatoes with olive oil, place them in the air fryer basket, then sprinkle them with sea salt.
Air fry – cook the potatoes in the air fryer for 35-40 minutes, or until cooked through and crispy.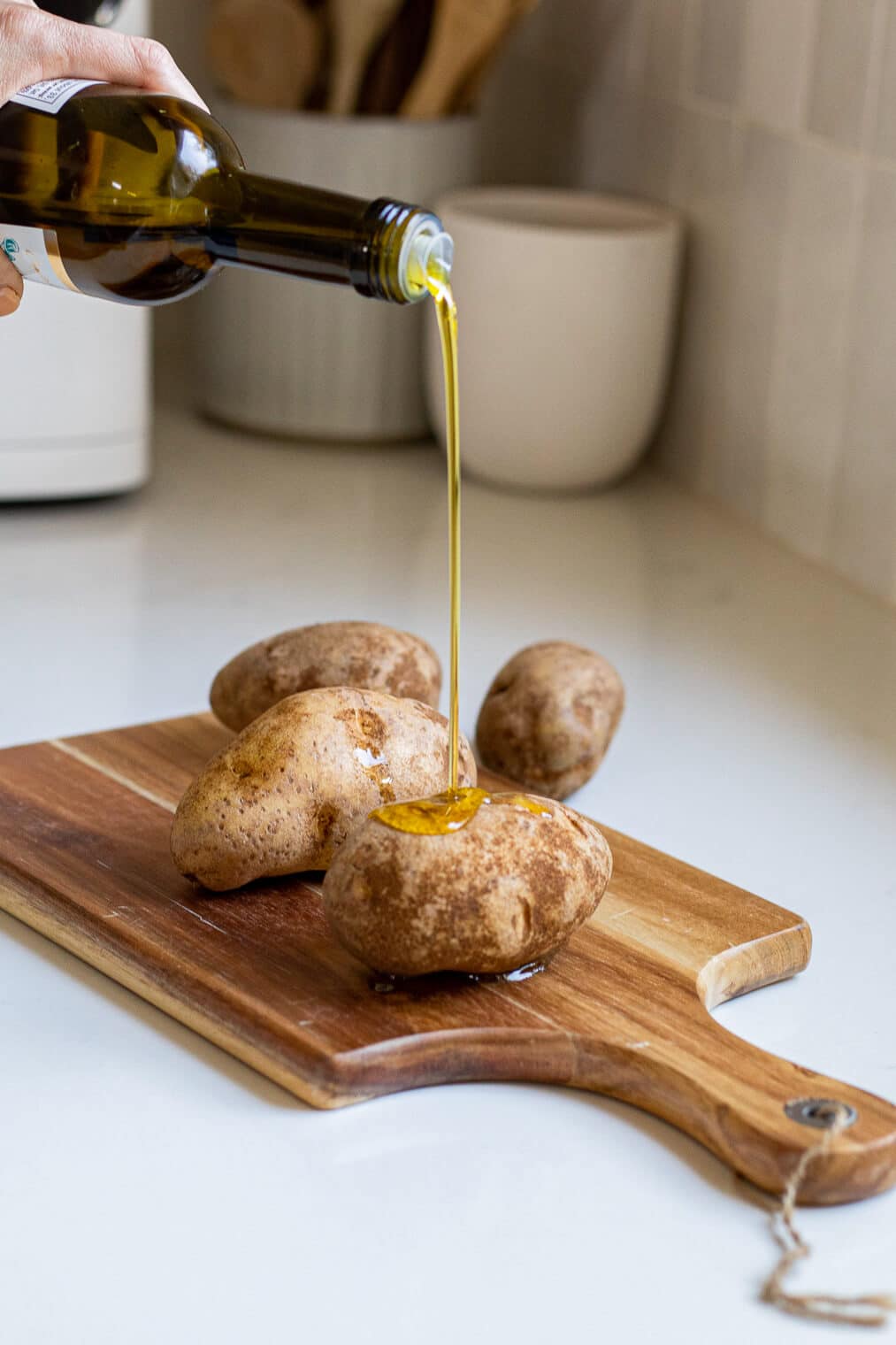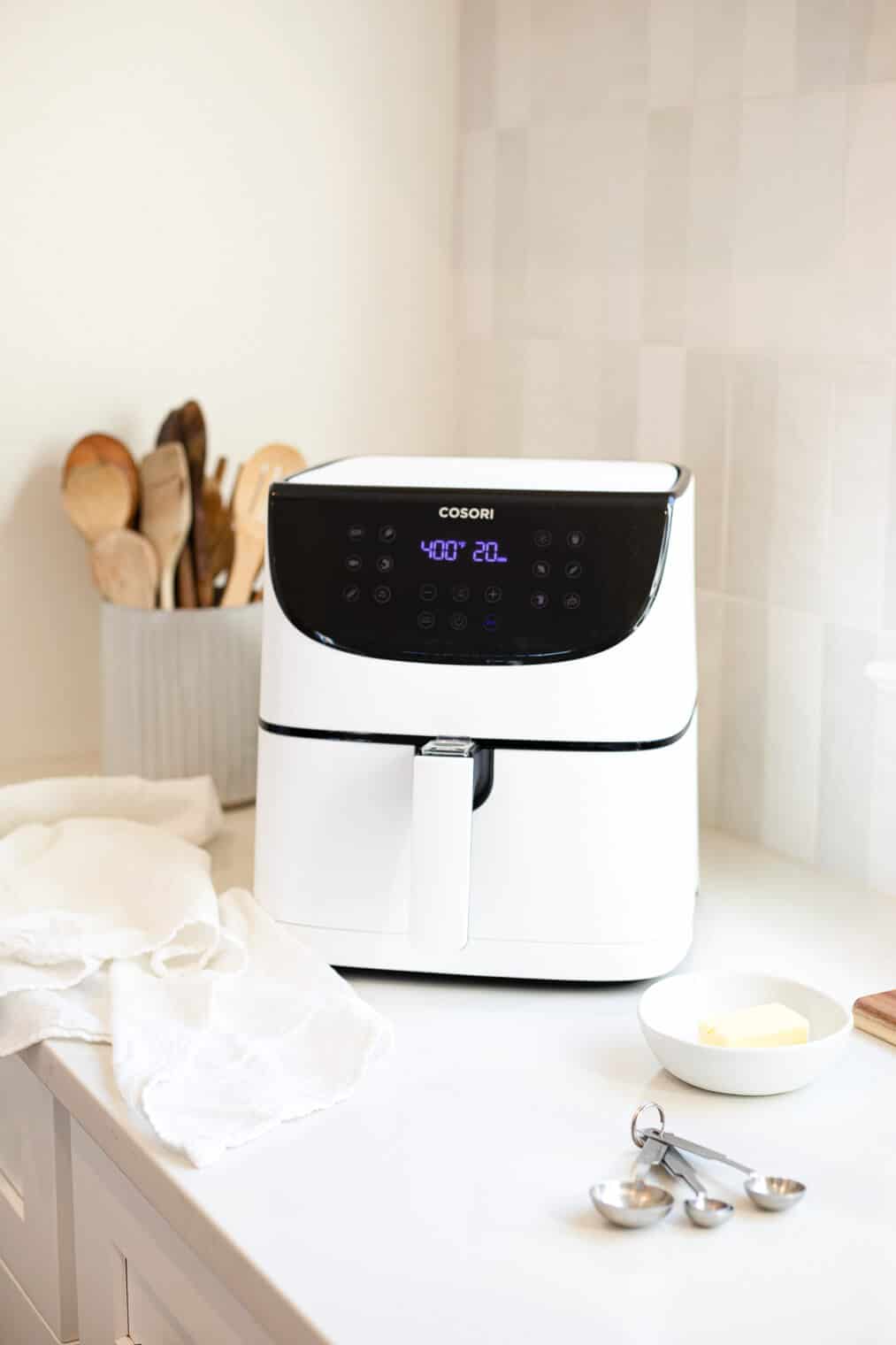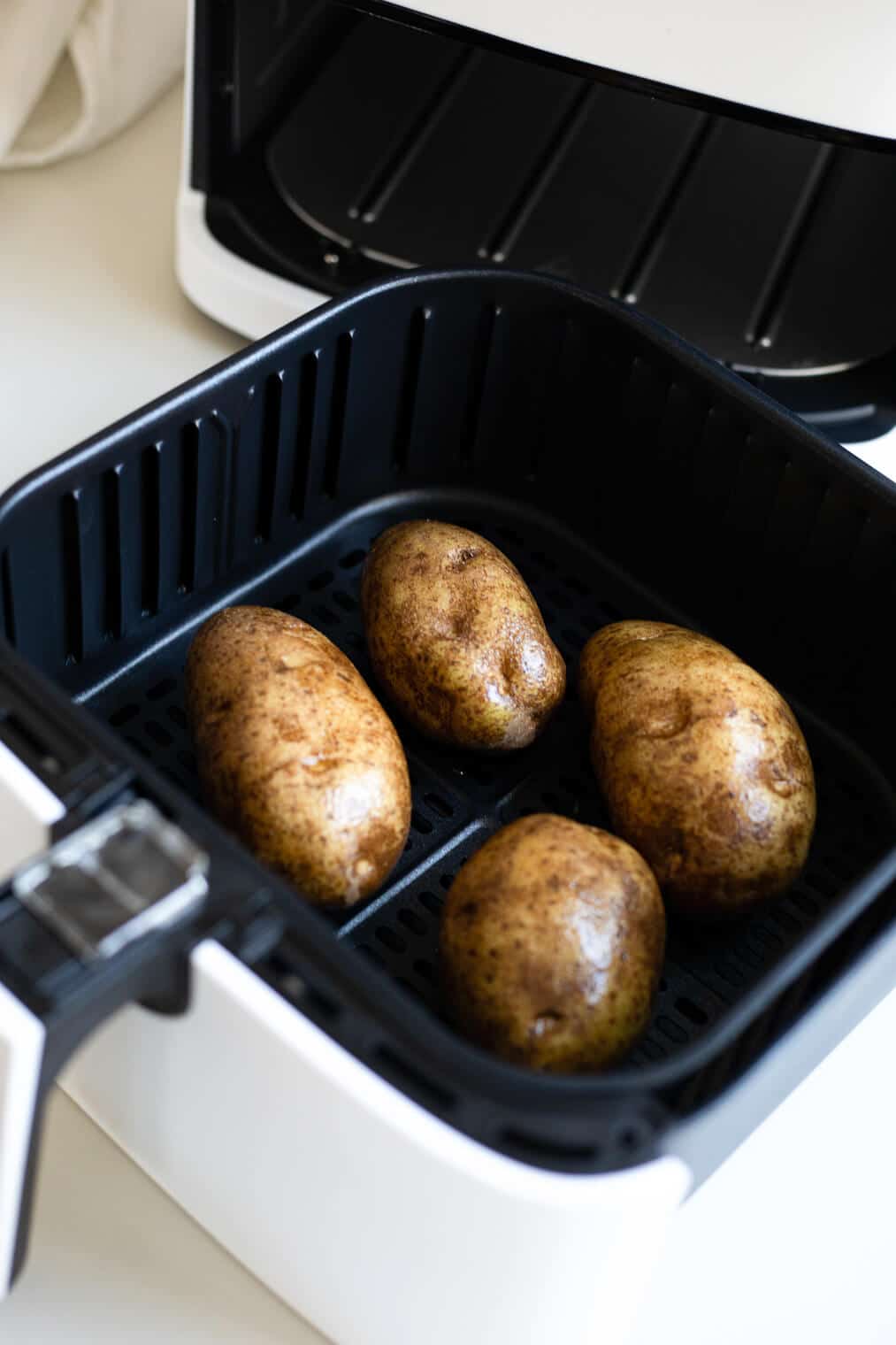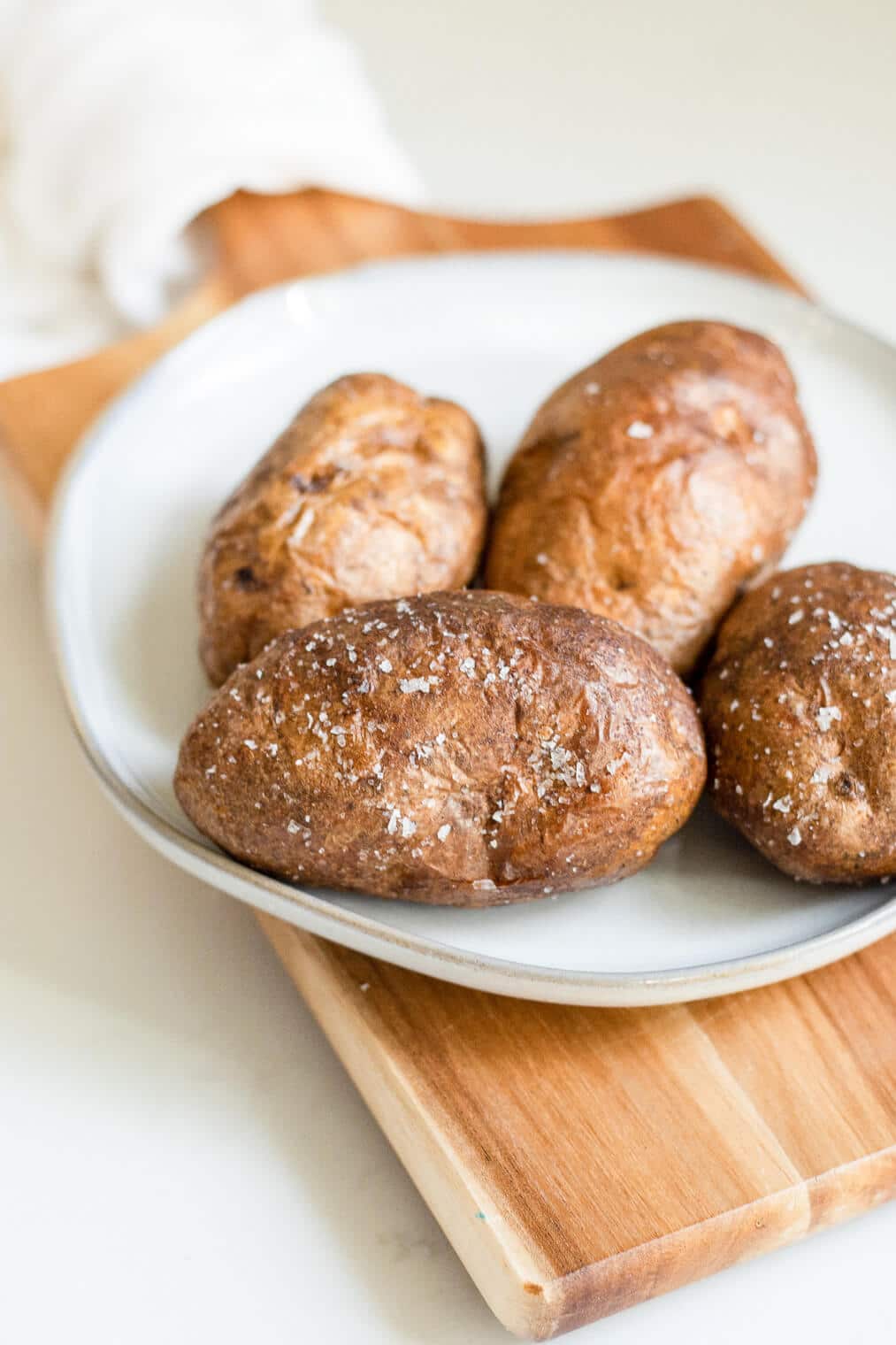 Do potatoes need to be wrapped when baking in an air fryer?
They don't! In fact, aside from rubbing them with olive oil, there isn't much that needs to be done to the potatoes before being air-fried.
How Long to Cook Baked Potato in Air Fryer
Your baked potatoes should take just about 40 minutes to cook in the air fryer, but because potato size + air fryer brand will vary, your potatoes may take a little bit more or less time than that. Keep an eye on them at the 35-minute-mark, and if they aren't done, continue to check on them every 5 minutes or so, until they're ready!
How many air-fried baked potatoes can be made at once?
Good question! This really just depends on the size of your air fryer. Feel free to cook as many as will fit, keeping in mind that overlapping or stacking potatoes (or anything) in the air fryer is less than ideal if you're looking to achieve a crispy texture.
Does this method also work for making a baked sweet potato in an air fryer?
It does! Any type of potato should work great here — just keep in mind that different types and sizes of potatoes may take different amounts of time. As long as you keep an eye on them, though, you should be good to go!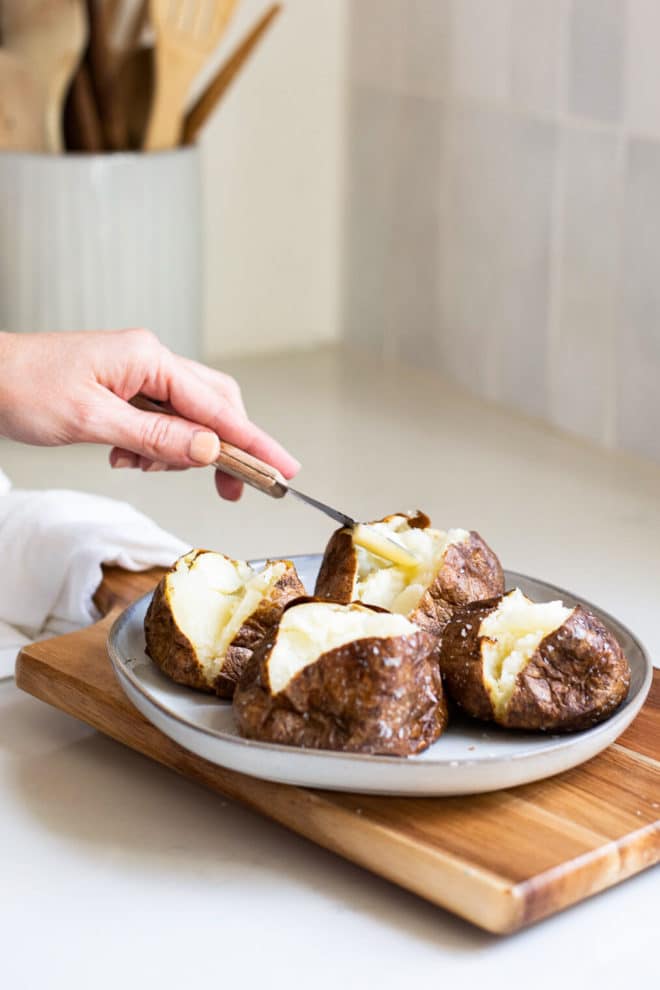 Are air fryer baked potatoes crunchier than oven baked potatoes?
I love a good, crispy baked potato, and I actually feel like both oven-baked and air-fried potatoes lend similar results (if cooked correctly). As far as finished product goes, this air fryer method is most comparable to our crispy, oven-baked potato recipe.
How to Reheat a Baked Potato in an Air Fryer
Reheat your leftover, refrigerated baked potatoes in the air fryer for maximum crispiness on day 2 (…or 3 or 4…)! To do this, simply preheat the air fryer to 375°F, pop the potatoes in the basket, and air fry for 4 minutes. Check to see if they're warmed through, and if they aren't, continue cooking for 2-minute increments until they are!
Ingredients
4

russet potatoes

medium-sized

1

tablespoon

extra-virgin olive oil

1

teaspoon

sea salt
Instructions
Preheat your air fryer to 400°F.

Rub each of your potatoes with olive oil, place them in the air fryer basket, then sprinkle them with sea salt.

Cook the potatoes in the air fryer for 35-40 minutes, or until cooked through and crispy.
Nutrition Information
Nutrition Facts
Air Fryer Baked Potatoes
Amount per Serving
% Daily Value*
* Percent Daily Values are based on a 2000 calorie diet.