Loaded Twice Baked Whipped Potatoes
jump to recipe
These loaded twice baked whipped potatoes will be the star of your side dish show this Thanksgiving! A base of creamy spuds is combined with all of the best things in life – grass-fed cheese, butter, sour cream, and crispy bacon for a dish you just might eat out of the pan with a spoon before you get out of the door.
Not to toot our own horns, but we consider ourselves potato EXPERTS around here. We smash 'em up, turn them into soup, fries, casseroles, and even pie! Truth be told, there's just not a lot we haven't done with potatoes, but I will say these loaded twice baked whipped potatoes top the list. And because we know you're dedicated to science as much as we are, you'll probably appreciate the fact that these terrific tubers actually became the first vegetable ever grown in space in 1995! Valued for their high energy content, apparently NASA believed they would be the perfect food to feed their astronauts, and any future space colonies.  NASA, if you're reading this, may we humbly suggest these loaded twice baked whipped potatoes for your next space meal plan?
When we were thinking about how to jazz up the traditional Thanksgiving mashed potatoes (hey, we love mashed potatoes as much as the next person, but Thanksgiving calls for something extra-special right?!), one of our first thoughts was twice-baked potatoes. The problem? They're a little high maintenance with having to essentially make potato skins, and they aren't so crowd-friendly. The solution? Get rid of the potato skins and make a twice baked potato bake instead!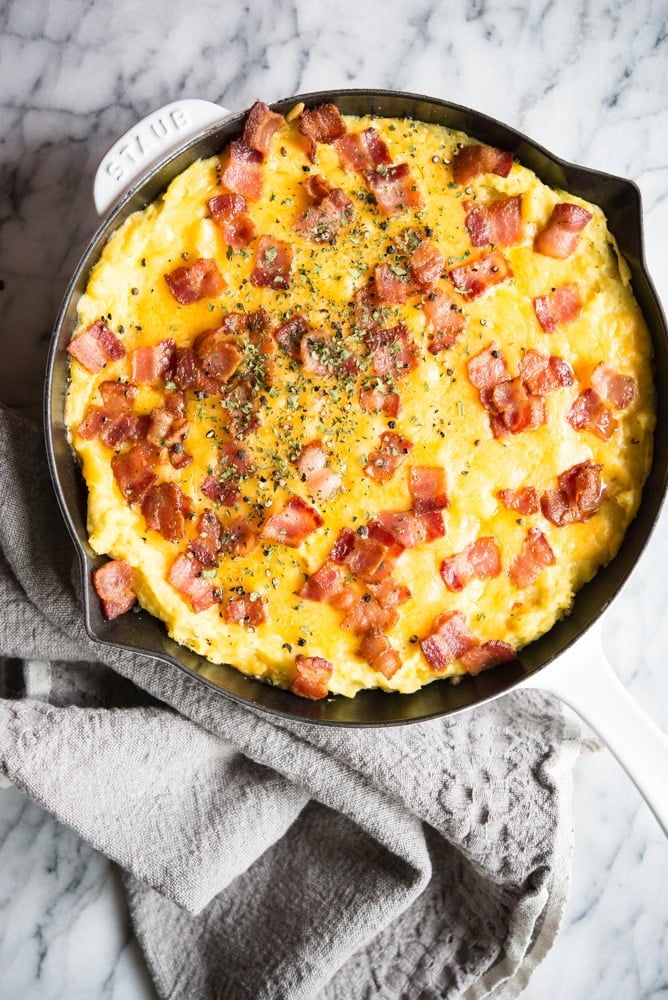 So here's the rundown: after baking your potatoes for round one, you simply remove them from the oven, peel off the skin, add your sour cream, butter, and bacon, and mash/whip them up til their as chunky or as smooth as you like. Then top with more cheese and MORE bacon (is there such a thing as too much bacon?), and bake them once more for maximum delight! Once they're done, you top these loaded twice baked whipped potatoes with extra garnishes like green onions and additional sour cream, and serve while warm and cheesy (token cheese pull photo optional). We can't wait to hear how much your family loves this gussied up version of mashed potatoes!
Print
Loaded Twice Baked Whipped Potatoes
These loaded twice baked whipped potatoes are just as delicious as the classic twice baked potato but made easier to feed a crowd!
Author:
Prep Time:

00:20

Cook Time:

01:30

Total Time:

1 hour 50 minutes

Yield:

Serves 8-10
Ingredients
2

pounds Yukon gold potatoes, scrubbed clean and dried

1 tablespoon

extra virgin olive oil

6

slices bacon

4 tablespoons

butter (substitute ghee or other oil of choice for dairy-free)

1/3 cup

sour cream (use full-fat coconut milk for dairy-free)

1 teaspoon

coarse sea salt

1/4 teaspoon

ground black pepper

1 cup

shredded cheddar cheese (omit for dairy-free)
Instructions
Preheat the oven to 375 F.
Coat the potatoes with the olive oil and place on a rimmed baking sheet. Place in the oven to bake for 1 hour, until they are easily pierced with a fork.
While the potatoes are baking, cook your bacon on the stovetop and crumble once cooled.
Remove the potatoes from the oven and set aside to cool. Once potatoes are cool to touch, remove the peels. Add the potatoes to a large bowl, or the bowl of your stand mixer.
Add the butter, sour cream, salt, and pepper to the potatoes, then whip them with an electric mixer or the paddle attachment of your stand mixer. Taste for seasoning and add additional salt and pepper as needed.
Transfer the potatoes to a 10-inch cast iron skillet or an 8×8 baking dish. Top with the cheese and bacon and bake at 350 for 30 minutes, until the cheese is browned and bubbling.
Notes
Feel free to add fresh herbs to this dish: chives, green onion, or thyme would all be delicious!
For dairy-free: try adding 1/4 cup nutritional yeast to the potatoes if you want a cheesy flavor!