This beef taco salad makes for a quick (but extremely satisfying) throw-together dinner on busy weeknights and weekends alike!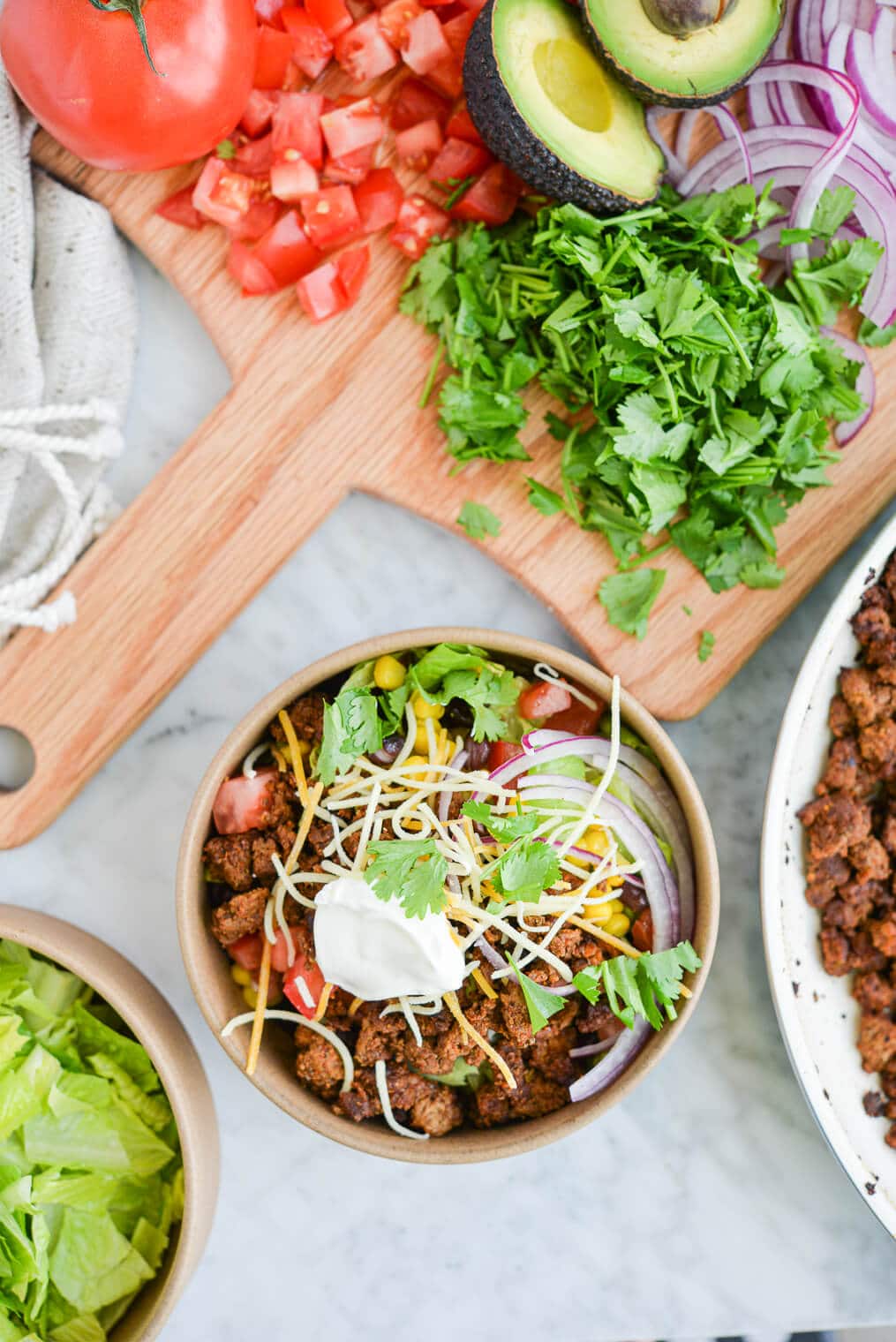 In my mind, there is truly nothing more satisfying than tacos. ANY kind of taco (freezer breakfast tacos, slow cooker barbacoa tacos, Intstant Pot carnitas tacos, and the list goes on and on) will do – essentially if it's stuffed into a tortilla, I LOVE it. While this taco salad does not include tortillas (though a few crushed tortilla chips wouldn't be a bad addition!), it is yummy and satisfying enough that you won't miss the tortilla one bit. BOLD STATEMENT, I know, but it is so true! This beef taco salad delivers all of the delicious Mexican-inspired spices and flavors but sits on top of a salad for a dinner that will satisfy (but not overstuff) you!
Our Favorite Ground Beef
We opt for grass-fed beef whenever possible in an effort to avoid trace hormones, antibiotics, pesticides that are often used in conventional beef, and to get higher concentrations of the omega-3 fatty acids, polyunsaturated fats, conjugated linoleic acid (CLA has some serious antioxidant capabilities), vitamins, and minerals that are found in grass-fed, grass-finished beef vs. conventional. For more about WHY we choose grass-fed beef, click HERE.
ButcherBox is our favorite source for high-quality grass-fed and finished beef. We love that ButcherBox delivers this quality meat straight to your doorstep so that you don't have to worry about finding it at your local grocery store (we know that can be tough!). Right now (through September 23rd, 2020), when you sign up as a new ButcherBox member, you can get FREE ground beef for life! Sounds too good to be true, right? It isn't! With each future box, you'll receive 2 pounds of high-quality, grass-fed, grass-finished ground beef for the duration of your membership…SCORE! ButcherBox is our favorite way to get high-quality proteins because it is convenient, cost-effective, and we know we can trust their sourcing. We've used them for the majority of our monthly proteins for nearly 4 years here, and remain huge fans.
Get your free grass-fed ground beef HERE.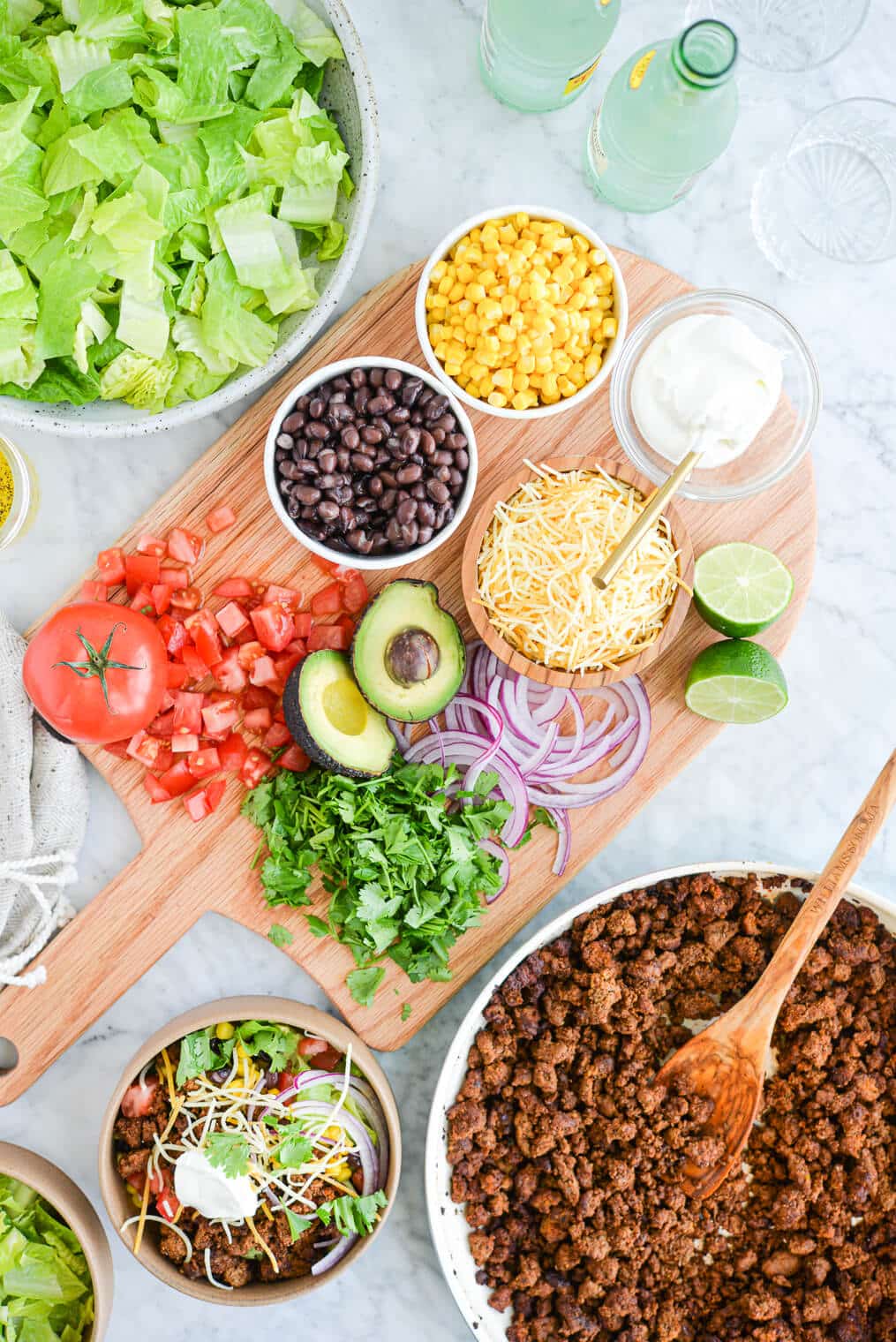 Ingredients
You'll need ingredients for the taco meat itself, several fresh ingredients for the salad, and then a couple of staple ingredients for the dressing! Here's what to add to your next grocery list:
For the Ground Beef
Ground Beef – you'll need 2 pounds of ground beef for this recipe!
Spices + Seasonings – we'll combine 3 tablespoons of mild chili powder, 1 teaspoon of cumin, 1 teaspoon of garlic powder, ½ teaspoon of onion powder, 1 teaspoon of dried oregano, 1 teaspoon of sea salt, and ¼ teaspoon of ground black pepper to make a quick, homemade taco seasoning that'll give this taco meat its bold, Mexican-inspired flavor!
Lime Juice – once the meat is cooked, you'll add the juice from one lime (about 2 tablespoons of lime juice)! We always opt for fresh when it comes to citrus, so grab a lime from the store and juice it yourself if possible!
For the Salad Base
Romaine Lettuce – we'll use 2 heads of thinly sliced romaine lettuce for the bulk of our taco salad.
Tomatoes – 3 medium tomatoes cut into ½-inch chunks will get thrown into the mix, as well as…
Red Onion – …half of a thinly sliced red onion, and…
Fresh Cilantro – …1 head of cilantro, roughly chopped.
Corn – to give our salad a little bit more substance, we'll also add in 1 (8.5-ounce) can of corn and…
Black Beans – …1 (15.5-ounce) can black beans, both drained and rinsed!
Shredded Cheese – to finish things off, we'll add in 1½ cups of shredded Mexican-blend cheese (or a mild cheddar cheese like Colby Jack if you can't find a Mexican-blend). Feel free to omit this if you're dairy-free!
For the Dressing
Lime Juice – to dress our salad, we'll throw together a super simple dressing, starting with the juice from two limes (¼ cup lime juice),…
Olive Oil – …¼ cup of olive oil,…
Sea Salt + Black Pepper – …½ teaspoon of sea salt, and ¼ teaspoon of ground black pepper! That's it!
Optional (but HIGHLY Recommended) Garnishes
While these garnishes are totally optional, we think they MAKE the salad:
Guacamole
Sour cream
Pickled Jalapenos
Lime Wedges
How to Make Beef Taco Salad
This is a quick one, you guys! Here's how to get this meal on the table fast: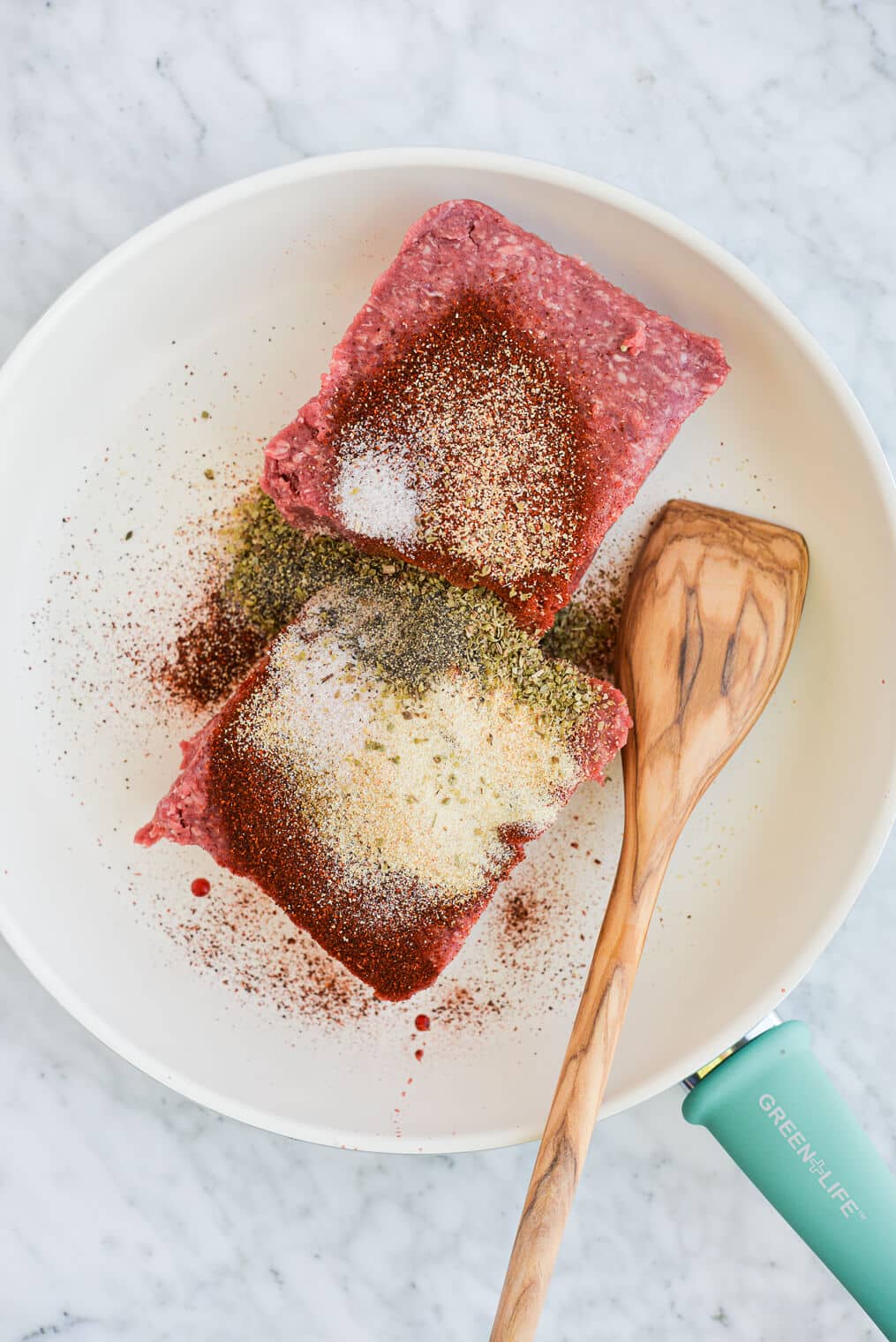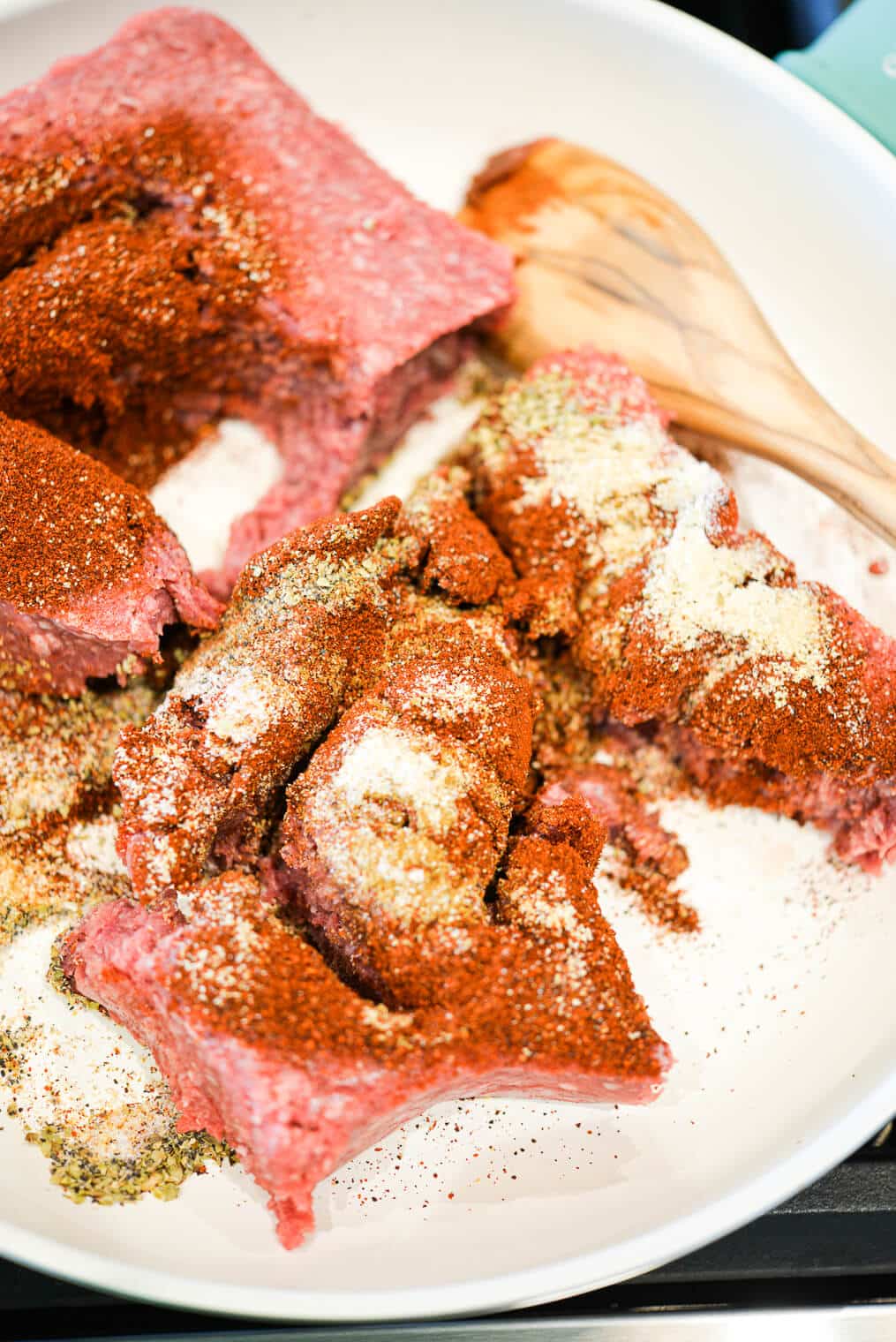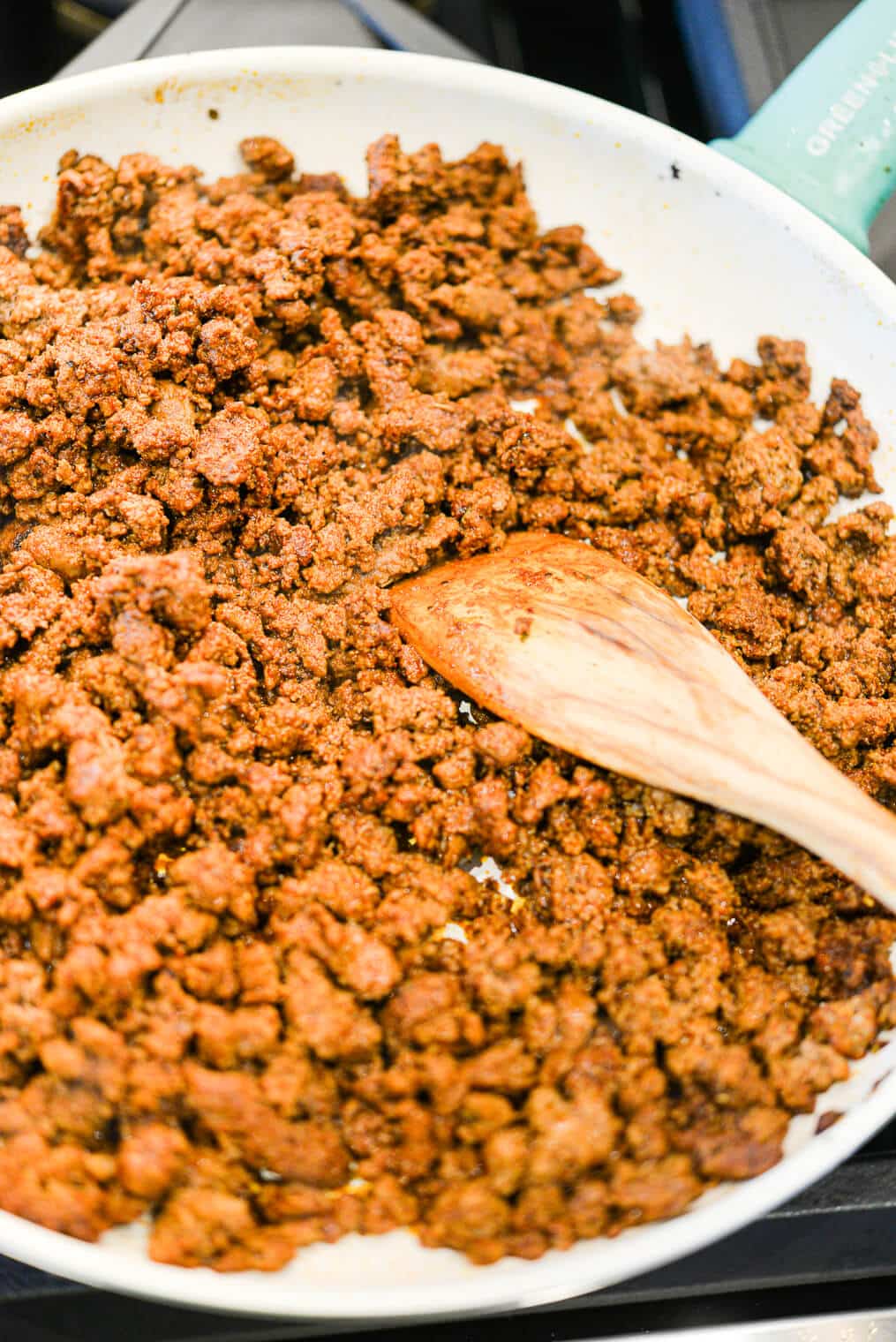 Brown the Ground Beef – to start, add 2 pounds of ground beef to a large skillet over medium-high heat. Once your meat is in the pan, add in the taco meat seasonings as the meat starts to brown, and stirring to combine!
Add the Lime Juice – once your meat is completely browned, turn off the heat and add in the juice of one lime. Then, set the meat aside while you get your salad ready!
Toss the Salad Ingredients – in a large bowl, combine the romaine lettuce ribbons, chopped tomatoes, sliced red onions, roughly chopped cilantro, corn, black beans, and shredded cheese, and toss.
Make the Dressing – in a small bowl, whisk together the lime juice, olive oil, sea salt, and ground black pepper.
Assemble + Enjoy – lay your desired amount of salad base into a bowl, top with taco meat and a drizzle of homemade dressing, and then garnish with a dollop each of guacamole + sour cream, your desired amount of pickled jalapenos, and a lime wedge! Enjoy!
Taco Salad Add-Ins and Variations
Feel free to add or omit things to make this easy beef taco salad recipe your own! This is really a template of sorts for a really yummy salad, and there aren't any hard or fast rules around which toppings you use or what you add to your salad base! Here are a few ideas that we think would be really yummy:
Add raw, crunchy, chopped bell peppers to the salad base, OR add chopped bell pepper to the skillet after your meat is browned to allow it to cook and soften a bit.
Use a store-bought dressing instead of the homemade lime + olive oil dressing. Ranch is a great option for taco salads!
Swap the guacamole for cubed avocado if you wish.
Omit the corn and beans for a lower carb taco salad.
Add crushed tortilla chips or a corn, flour, or grain-free tortilla cut into strips to your garnishes!
Add a drizzle of hot sauce or salsa to your salad for a little bit of spice.
Swap the ground beef for ground turkey or chicken if you'd prefer. Shredded chicken, beef, or pork would also be really great here!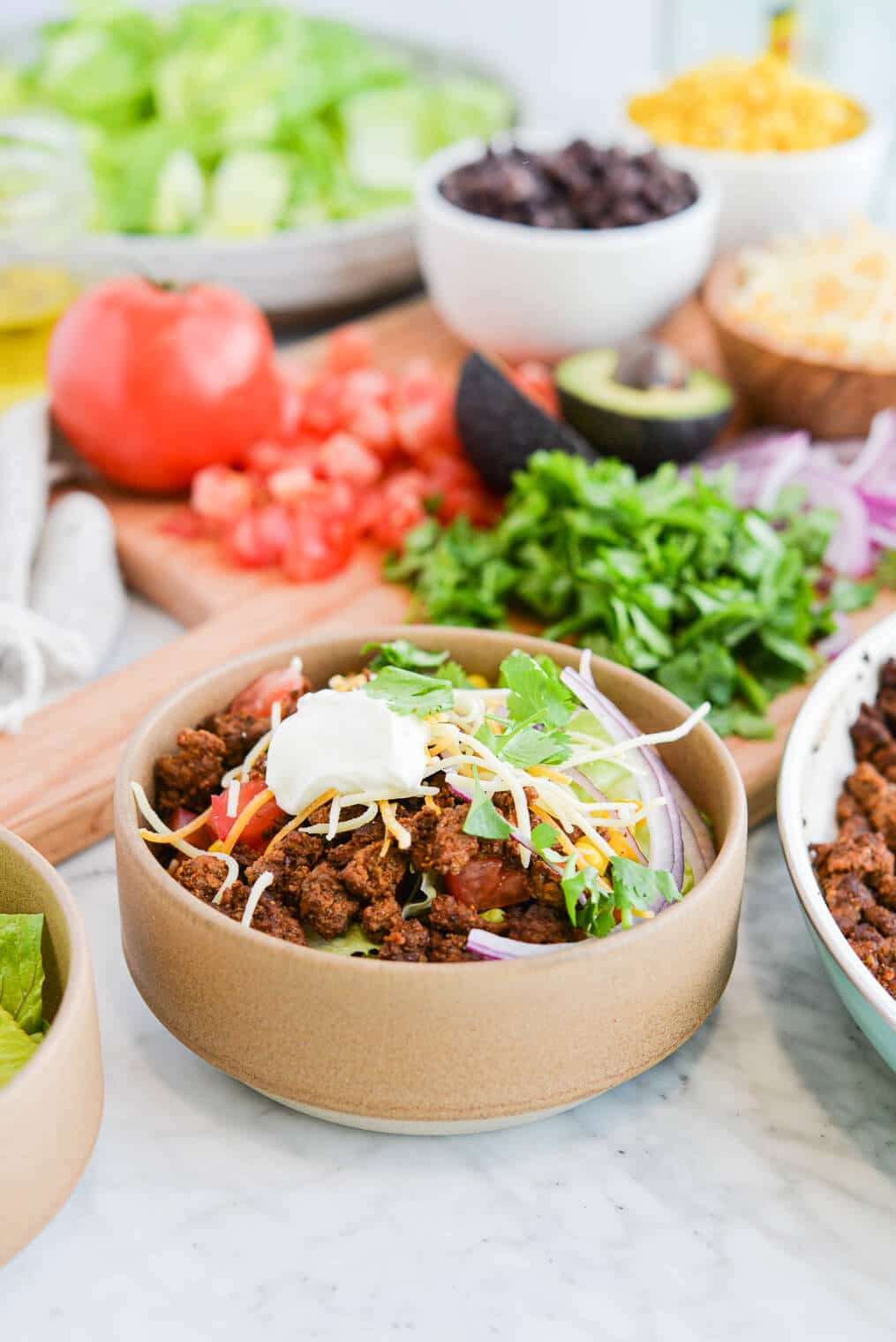 Should taco salad be warm or cold?
Honestly, this is totally up to your preference! I personally prefer my salad base and garnishes to be cold and my taco meat to be warmed up. This happens pretty naturally if you're enjoying your ground beef taco salad on the night that you cooked it, but if you cooked the meat ahead of time (hello, meal prep!) or are enjoying leftover taco meat, I recommend heating the meat up in the microwave before adding it to your salad!
We hope you love this healthy taco salad recipe as much as we do – it's quickly becoming a weekly dinner around here!
More Favorite Ground Beef Recipes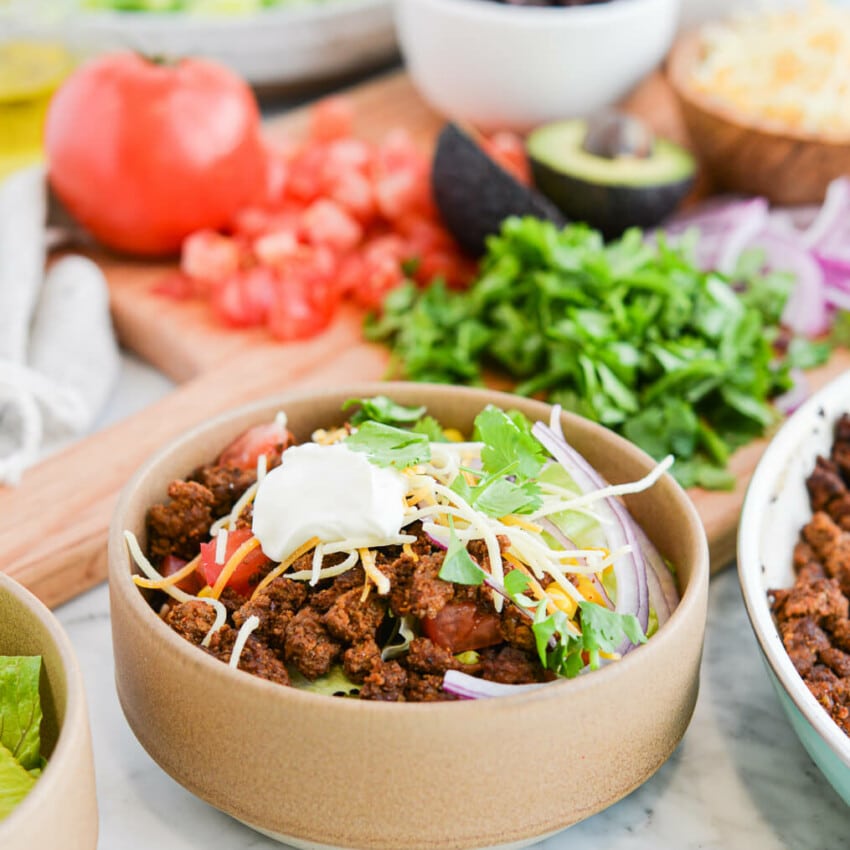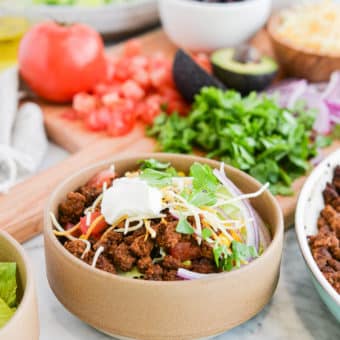 This beef taco salad is a perfect last-minute dinner that the whole family will love!
Ingredients
For the Salad Base:
2

heads of romaine lettuce

thinly sliced

3

medium tomatoes

cut into ½-inch chunks

Half of a red onion

thinly sliced

1, 8.5-

ounce

can corn

drained and rinsed

1, 15.5-

ounce

can black beans

drained and rinsed

1

head cilantro

roughly chopped

1½

cups

shredded Mexican-blend cheese

– omit for dairy-free
For the Garnishes:
Guacamole

Sour cream

– omit for dairy-free

Pickled jalapenos

Lime wedges
Instructions
Add the ground beef and seasonings to a skillet over medium heat, then break up the beef to combine with the seasonings. Cook for 8-10 minutes, crumbling as it cooks until the beef is browned. Remove from heat, then squeeze over the lime juice and stir to combine.

To make the dressing, add all ingredients to a mason jar or other small container with a matching lid, and shake for about 15 seconds until fully combined.

In a large bowl, toss the beef with the lettuce, tomatoes, onion, corn, black beans, cilantro, shredded cheese, and dressing, then serve with guacamole, sour cream, jalapenos, and lime wedges.
Recipe Notes
For Paleo, Whole30, Grain-Free, or Low-Carb: Omit the corn, black beans, cheese, and sour cream. You can eat the salad as-is, or you can add more veggies to replace the corn and black beans. A diced red bell pepper or sauteed zucchini would work great here! If low-carb isn't a concern for you, crushed plantain chips are a great way to add crunch and healthy carbohydrates.
For Low-FODMAP: Omit the chili powder, garlic powder, and onion powder. Replace with 1 teaspoon of ancho chile powder and 1 teaspoon garlic-infused olive oil. Omit the black beans and corn, replacing with diced bell pepper or zucchini, if desired. Omit the red onion and replace with 1/4 cup thinly-sliced green onion.
Nutrition
Calories:
849
kcal
|
Carbohydrates:
69
g
|
Protein:
42
g
|
Fat:
46
g
|
Saturated Fat:
16
g
|
Polyunsaturated Fat:
3
g
|
Monounsaturated Fat:
21
g
|
Trans Fat:
2
g
|
Cholesterol:
125
mg
|
Sodium:
1408
mg
|
Potassium:
1474
mg
|
Fiber:
12
g
|
Sugar:
42
g
|
Vitamin A:
20150
IU
|
Vitamin C:
25
mg
|
Calcium:
481
mg
|
Iron:
8
mg