Every item on this page was chosen by The Fed & Fit team. The site may earn a commission on some products (read more here).
These Blackened Shrimp Skewers are first marinated in zesty lime juice, tossed in the most delicious dry seasoning, and then cooked to perfection! Enjoy them for dinner or as a finger food at your next party!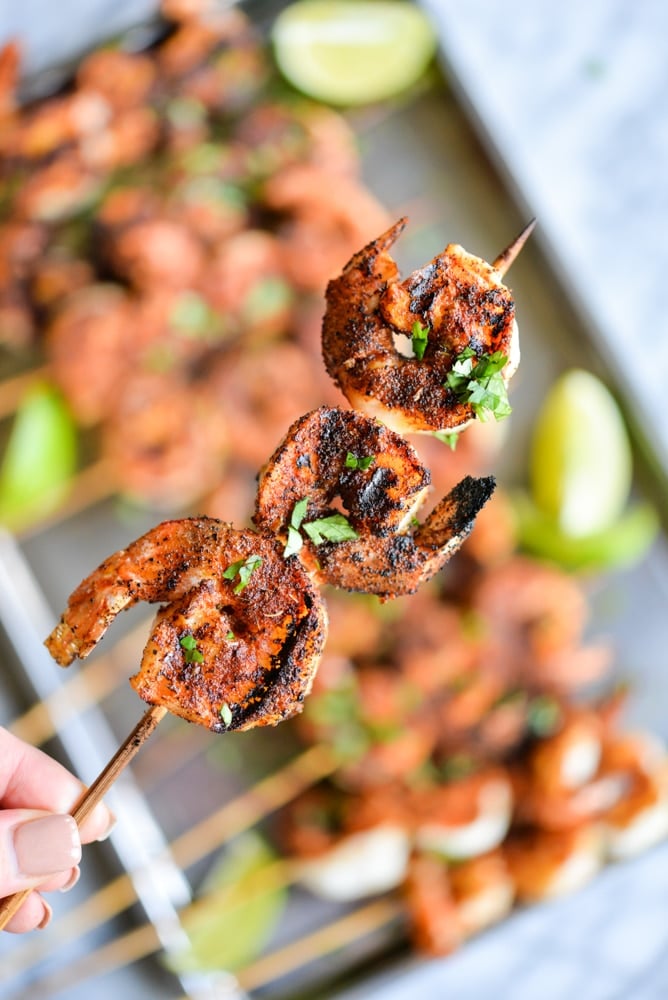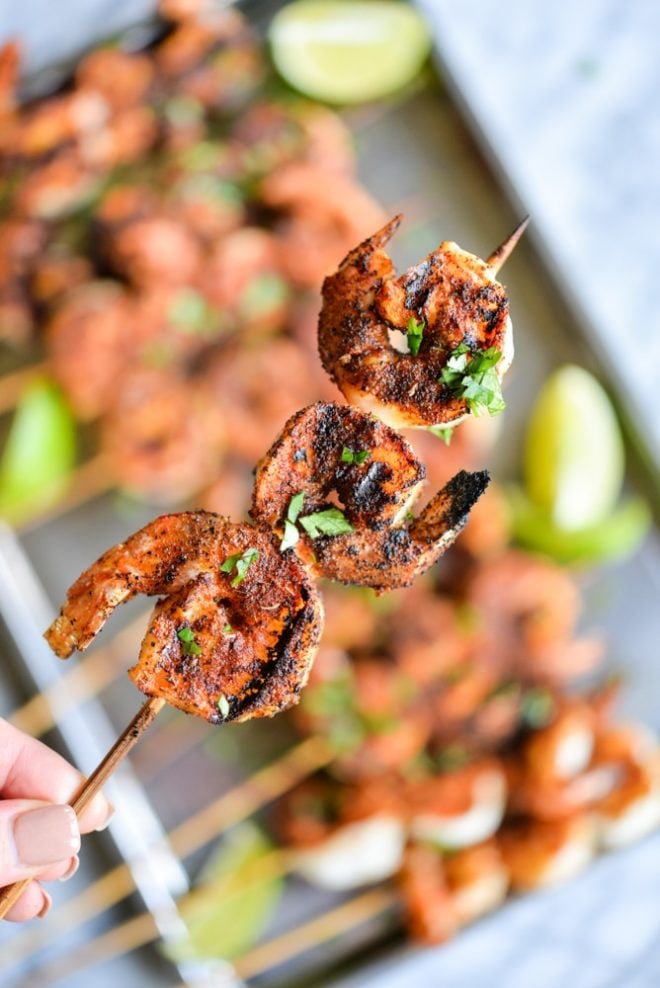 Raise your hand if you IMMEDIATELY gravitate towards anything that says "blackened" on a menu! (My hand is up.)
I don't know what it is about "blackened" that I've always found so appealing. Maybe it's the knowledge that what I'm about to enjoy is NOT going to be bland or maybe it's because I know it's a better option than deep-fried. Either way, blackened seafood is my jimjam.
Making Blackened Shrimp Skewers
These blackened shrimp skewers are nothing short of delicious, wonderfully seasoned little morsels of seafood! The trick to really great shrimp skewer? First, you want to try to get your hands on FRESH shrimp (if possible). Peel and devein the shrimp, but leave the tails on (makes for slightly easier finger fooding, in my opinion). These shrimp are first quickly marinated in some fresh lime juice! NOTE, however, to not leave them in the juice for too long or you'll have shrimp ceviche. After they've sat in the juice for a spell, dust with the seasoning blend and get ready to grill those bad boys up! If you've got an actual grill, I recommend applying oil to the grate to help keep the shrimp from sticking. If you don't have a grill, don't worry – you can also make these on your stovetop. Just grab a nice big pan, apply some oil, turn the heat up, and cook until they're done on both sides.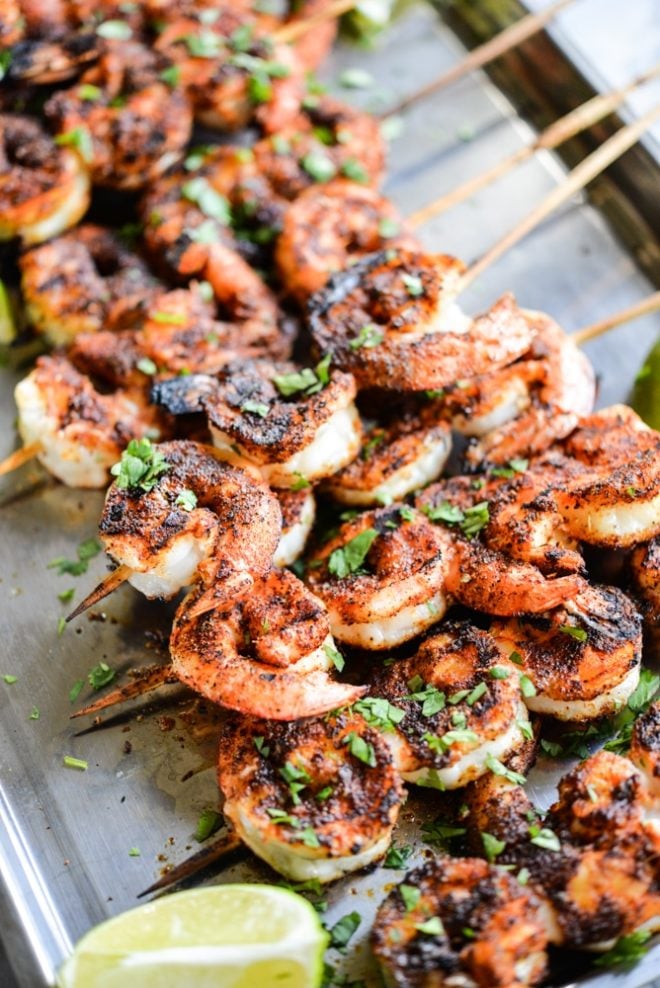 More of our Favorite
Seafood Recipes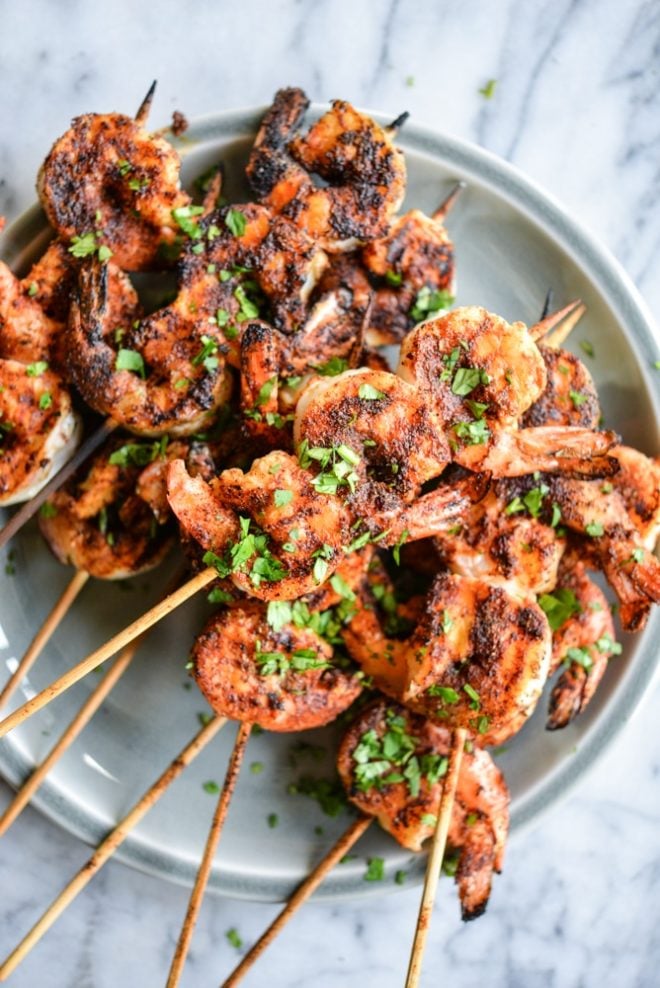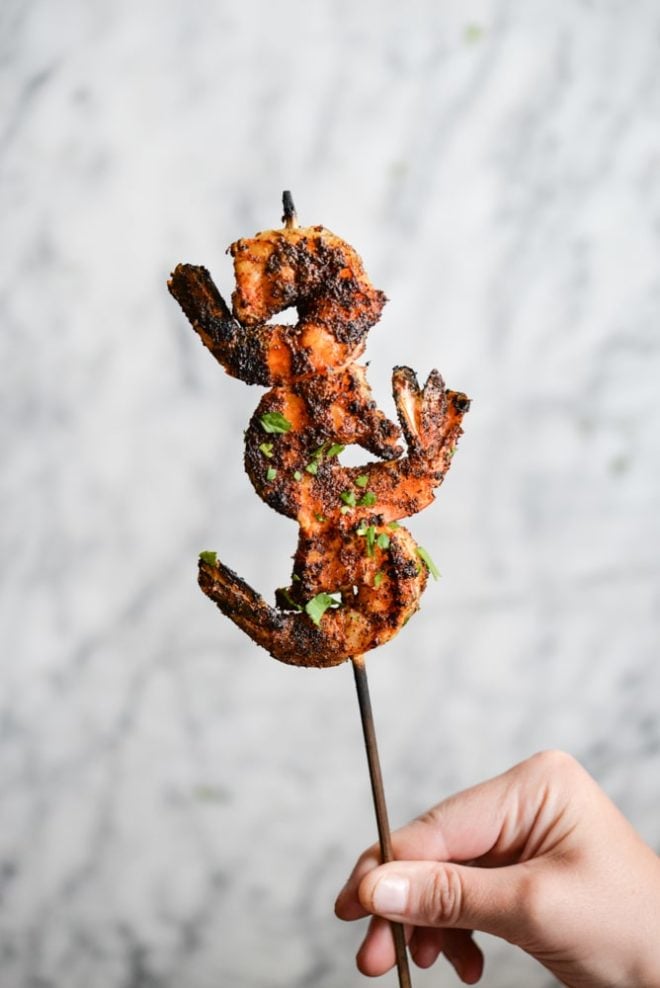 What to serve with Blackened Shrimp Skewers
These would be GREAT served next to the Easy Citrus Guacamole and some Chili Lime Plantain Chips if you *happen* to be hosting a Super Bowl party this weekend (or just happen to want something especially delicious and festive for dinner). Or you can wrap them in your favorite paleo friendly tortilla for some extra fun!
I hope you enjoy!
Just for You
Seafood Recipes
Want more recipes like this?
Ingredients
2

pounds

jumbo shrimp

2

tablespons olive oil

Juice of 2 small

or 1 large lime

2

tablespoons

chili powder

1

teaspoon

garlic powder

1/2

teaspoon

onion powder

1

teaspoon

cumin

1

teaspoon

oregano

1

teaspoon

sea salt

1/2

teaspoon

pepper
Instructions
If using bamboo skewers instead of metal, soak them in water for at least 5 minutes while preparing the shrimp.

Peel and de-vein shrimp, making sure to leave the tails on. In a large bowl, toss the shrimp and lime juice. In a small bowl, combine all of the seasonings.

Heat a grill or grill pan to medium high heat. Place three shrimp on each skewer, and season liberally on both sides with the spice mixture.

Brush the grill grates (or grill pan) with olive oil to prevent the shrimp from sticking. Cook shrimp 4-5 minutes per side (3-4 minutes if using smaller shrimp), then remove from heat and serve!