This Carolina-style Mustard BBQ Sauce is tangy, slightly sweet, and just a tad spicy!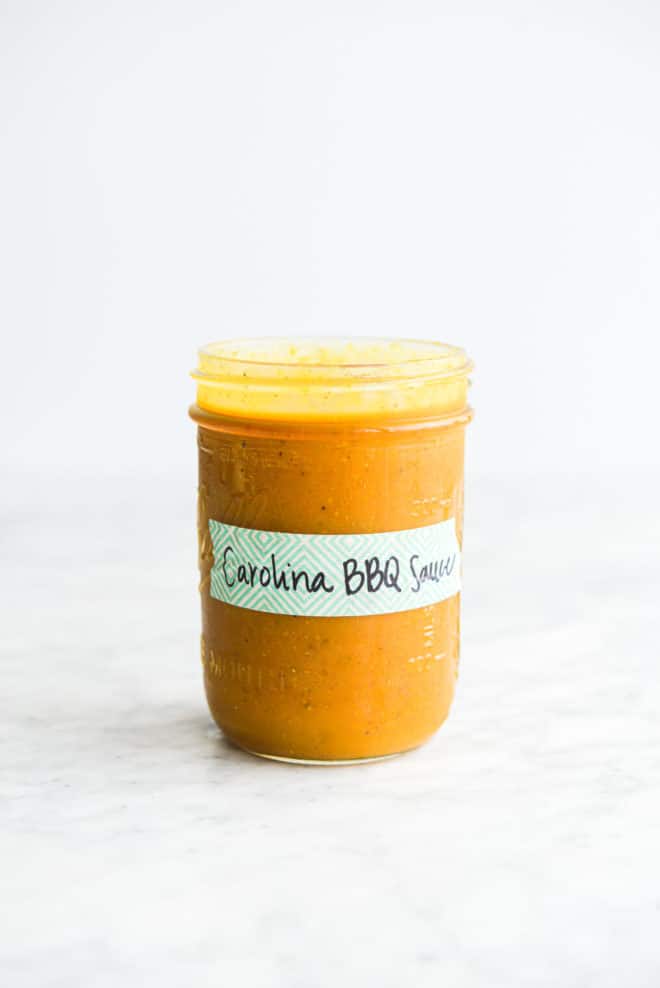 Carolina Mustard BBQ Sauce Recipe
This Carolina Mustard BBQ Sauce is so delicious. It's got a really yummy tang to it (thanks to the mustard + vinegar additions), so if you're like me, and super sweet BBQ sauce isn't your thing, this Carolina-style sauce is for you.
What does Carolina Gold BBQ Sauce taste like?
While Carolina BBQ sauce still has *some* tomato product (ketchup, in this case) in it (unlike Alabama-style white BBQ sauce), it isn't nearly as tomato-based as a traditional sweet BBQ sauce. Instead, ingredients like mustard, apple cider vinegar, tamari, and cayenne pepper give it a hint of spice and a really yummy tangy flavor. The honey in the recipe provides a hint of sweetness to counter the tang!
Carolina Gold Sauce Ingredients
Here's everything you'll need for this tangy, mustard-based sauce: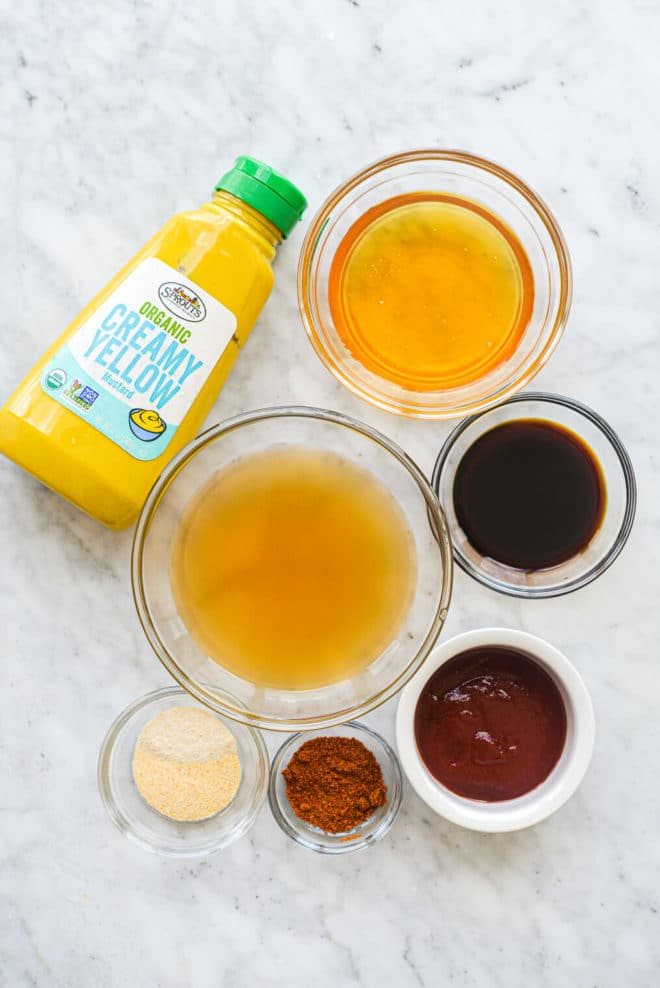 Yellow Mustard – to start you'll need ¾ cup of yellow mustard. This mustard base is really what *makes* Carolina-style BBQ sauce.
Honey – you'll need a ⅓ cup of honey too — this will add a really nice sweetness to the sauce.
Apple Cider Vinegar – a ½ cup of apple cider vinegar helps to thin the sauce out while also adding to the classic, Carolina-style tangy BBQ sauce.
Ketchup – 2 tablespoons of ketchup adds a hint of tomato flavor to the sauce.
Tamari (or Soy Sauce) – 2 tablespoons of tamari (or regular ole soy sauce if you're not gluten-free) adds some umami to the sauce.
Spices and Seasonings – to season the sauce, you'll need a ½ teaspoon of cayenne pepper, 1 teaspoon of garlic powder, and 1 teaspoon of onion powder.
How do you make Carolina Barbecue Sauce from scratch?
If you've made any of our other sauces, you know that we keep things EASY around here. For this recipe, you'll just need to add all of the ingredients to a bowl or jar and whisk until smooth and fully combined.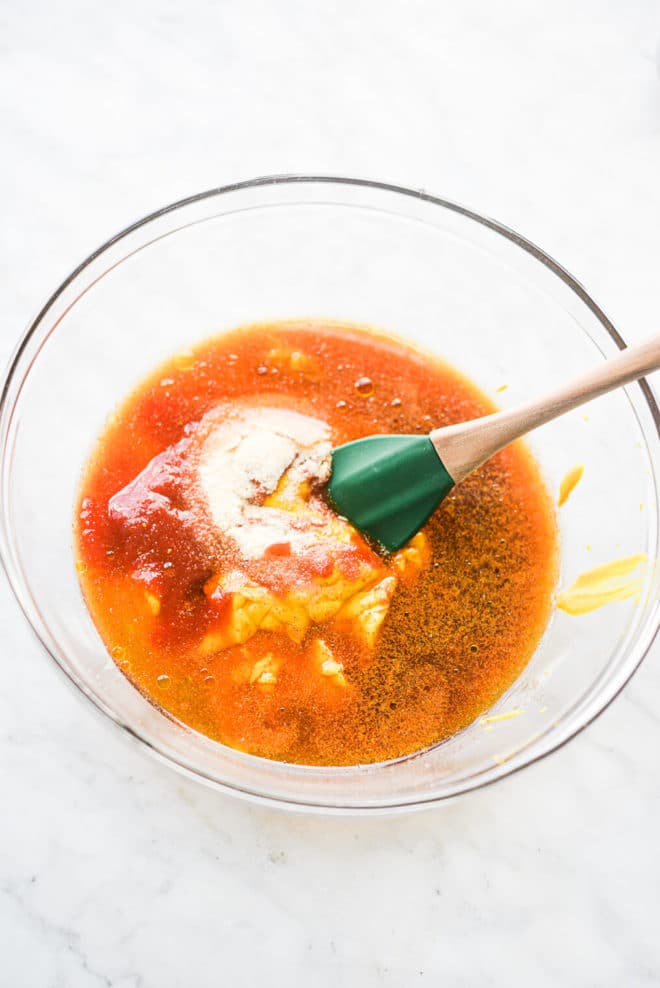 How long does it take to make this Mustard BBQ Sauce Recipe?
Because this BBQ sauce recipe doesn't require any cooking, the time spent is minimal. Measuring out and whisking the ingredients together shouldn't take any longer than about 10 minutes.
What temp does Carolina BBQ sauce need to be cooked at?
This sauce actually doesn't need to be cooked! When this recipe was being developed, Amber and Cassy really wanted to make sure that the process was as easy as possible, so coming up with a no-cook version of the sauce just made sense.
What can you add to barbecue sauce?
Because this is more of a specialty BBQ sauce, I don't recommend swapping the ingredients too much, but if you want to add a little more heat, you could certainly up the amount of cayenne pepper in the recipe, and if you want to make things a little bit sweeter, up the honey just a tad!
Is the BBQ sauce supposed to be thick?
This sauce is about as thick as you'd expect any other BBQ sauce to be — not runny, but also not overly thick and spoonable.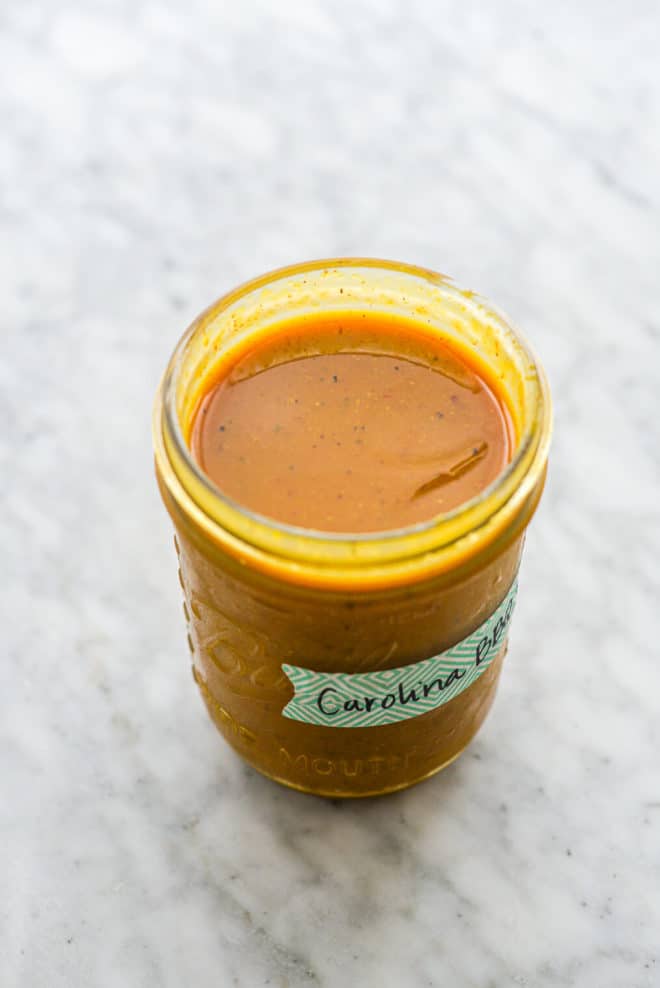 What goes well with this Carolina Gold BBQ Sauce recipe?
EVERYTHING! No really, this is the sauce that I actually prefer when it comes to BBQ-style sauces. I've enjoyed it on all of the classic BBQ'd proteins (think: brisket, sliced turkey, ribs, pulled pork, etc.) and have also found it to be a really delicious dipping option for chicken tenders or french fries.
How to store Homemade Carolina Gold BBQ sauce?
As with most homemade sauces, you'll want to store this one in an airtight container (a mason jar works GREAT here — this is the size we used!) in the refrigerator.
Does mustard-based bbq sauce need to be refrigerated?
Yes! In between uses, you'll want to store this sauce in the fridge.
How long will this homemade Carolina BBQ sauce recipe last?
Stored properly (in an airtight jar in the fridge), your BBQ sauce will last for a solid 2 weeks.
Carolina Mustard BBQ Sauce Recipe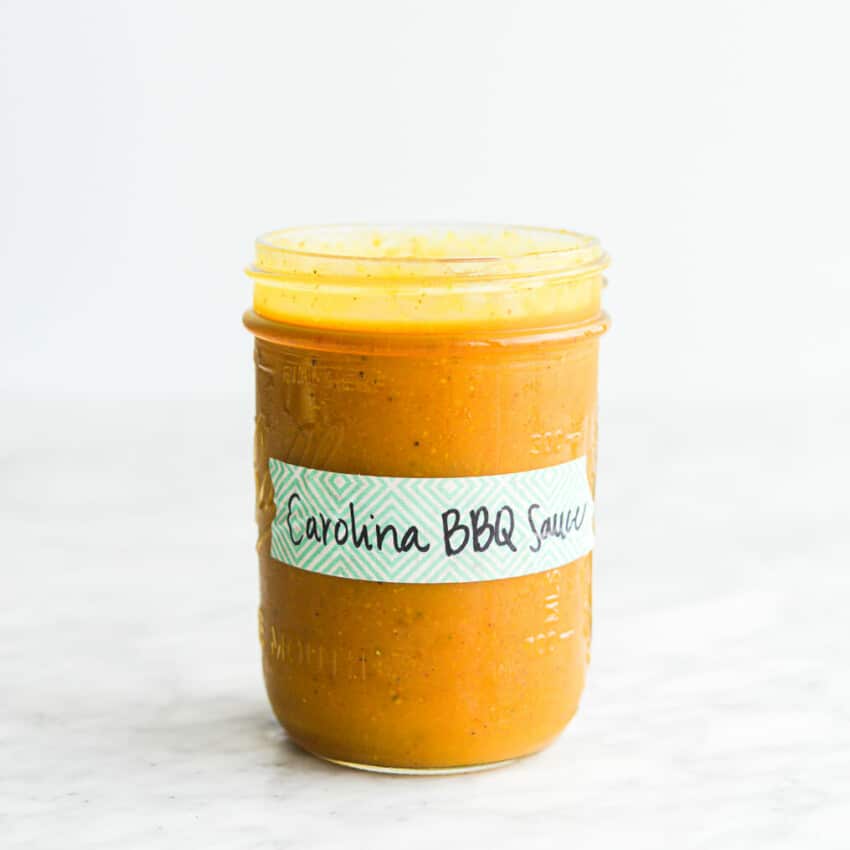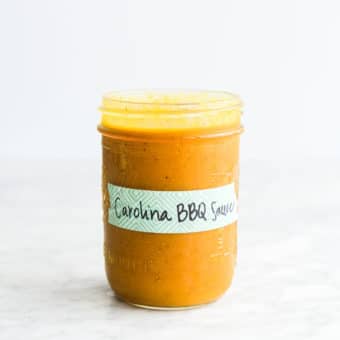 This tangy, slightly sweet mustard-based BBQ sauce is delicious on poultry, pork, and beef!
Ingredients
¾

cup

yellow mustard

⅓

cup

honey

½

cup

apple cider vinegar

2

tablespoons

ketchup

2

tablespoons

soy sauce

tamari for gluten-free

½

teaspoon

cayenne pepper

1

teaspoon

garlic powder

1

teaspoon

onion powder
Instructions
Add all of the ingredients to a bowl or jar, and whisk until smooth and fully combined.
Recipe Notes
Makes about 1 3/4 cups sauce
1 serving = 1/4 cup
Nutrition
Calories:
81
kcal
|
Carbohydrates:
17.7
g
|
Protein:
1.5
g
|
Fat:
0.9
g
|
Saturated Fat:
0.1
g
|
Sodium:
466.2
mg
|
Fiber:
1.2
g
|
Sugar:
15
g