Every item on this page was chosen by The Fed & Fit team. The site may earn a commission on some products (read more here).
Cranberry juice, tequila, orange liqueur, lime juice, and agave nectar combine to make the most delicious, festive cranberry margarita!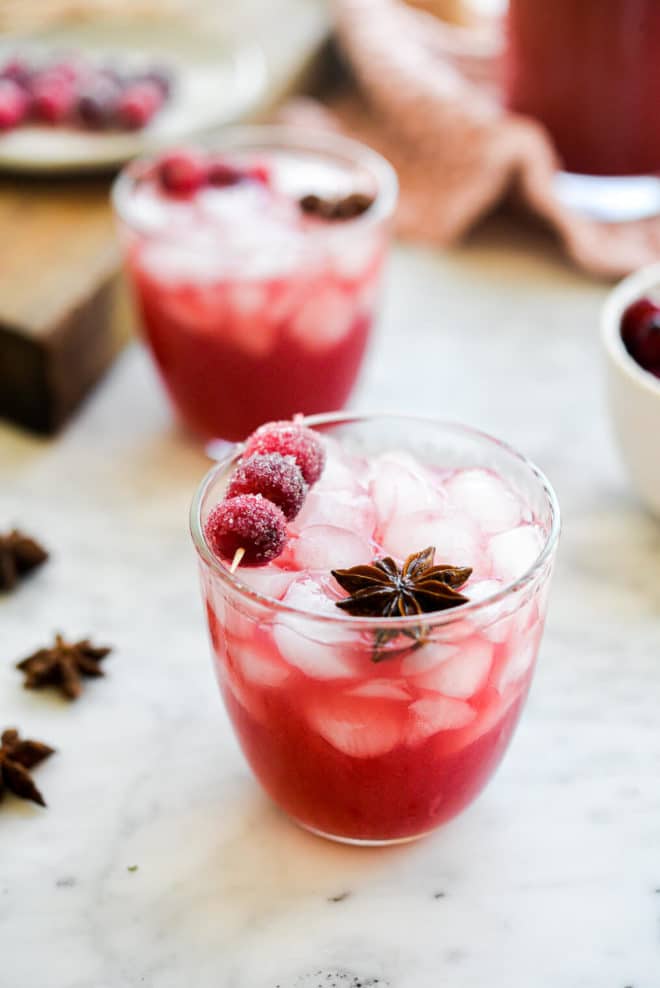 Also Known as a Christmas Margarita
This margarita is absolutely delicious. Ingredients like fresh lime juice, tequila, Grand Marnier, and agave nectar give a nod to the classic margarita, while cranberry juice and a few special garnishes make it super fun and festive.
Fancy and fun enough for your next holiday gathering but simple enough for a night-in, this cocktail will be a hit for anyone (over the age of 21!) who tries it.
What makes this cranberry margarita drink recipe so good?
The use of really fresh, simple ingredients always makes a huge difference when it comes to cocktails, and that's proven to be true again with this recipe! I tend to steer clear of premade mixes and syrups when it comes to margaritas (and cocktails in general) and instead lean on ingredients like fresh lime juice and agave nectar to brighten and sweeten the drink.
Cranberry Margarita Recipe Ingredients
The ingredient amounts listed below are enough for two cranberry margaritas. If you'd like to make a larger batch, feel free to scale the amounts accordingly. Here's everything you'll need:
Cranberry Juice – to start, you'll need a ½ cup of cranberry juice.
Tequila – a ½ cup of tequila goes into the mix also. I actually prefer to use a silver (or blanco) tequila in margaritas because it tends to have a milder taste, but any tequila you have on hand will work.
Grand Marnier – to add a subtle hint of orange and vanilla, a ¼ cup of Grand Marnier gets added to the cocktail too.
Fresh Lime Juice – for a nice punch of acidity (and to give a nod to the classic margarita), you'll also need a ¼ cup of fresh lime juice (about 2 limes worth of juice).
Agave Nectar – if you like a sweeter margarita, you'll also add 2 teaspoons of agave nectar. This ingredient is totally optional, though!
Garnishes – to make these extra festive and special, garnish each glass with three sugar-coated cranberries (skewered on a toothpick) and star anise!
How to make a Cranberry Margarita
As with all of our cocktails, this recipe is super easy to execute. Here's how you'll do it:
Mix – add the cranberry juice, tequila, Grand Marnier, lime juice, and agave (if using) to a pitcher or jar (depending on how many margaritas you're making). Mix everything together and taste for sweetness, adding more agave if needed.
Coat the cranberries – pour a few teaspoons of white sugar on a small rimmed plate. Then, skewer the cranberries on toothpicks in sets of three and roll them in the sugar.
Pour, garnish, and serve – fill each glass with ice and pour in the margarita. Garnish with the optional sugar-coated cranberries and star anise, serve, and enjoy!
More of our Favorite
Margarita Recipes
Garnishes to Dress up Your Christmas Margaritas
For this margarita, Cassy used sugar-coated fresh cranberries and star anise as garnish. Feel free to get creative, though! You can use lime wedges, rosemary or thyme sprigs, or any other garnish that you love and feel would be a good flavor accompaniment.
Cranberry Margarita Variations
Though this recipe is dynamite as written, feel free to get creative and make swaps as you see fit!
Cranberry Margarita on the Rocks by the Glass
This recipe is already written to be a cranberry margarita on the rocks, but the ingredient amounts listed are for two margaritas rather than one. If you'd like to make one at a time, you'll just need to cut each ingredient amount in half…
¼ cup cranberry juice
¼ cup tequila
2 tablespoons Grand Marnier
2 tablespoons fresh lime juice
1 teaspoon agave nectar
Frozen Cranberry Margarita Recipe
To make frozen cranberry margaritas, you'll need to…
Mix, pour, and freeze everything but the tequila – mix together the cranberry juice, Grand Marnier, lime juice, and agave, and then pour the mixture into silicone ice cube trays (THESE large ones are great), and freeze.
Blend – once the cranberry mixture is completely frozen in the ice cube trays, pop the cubes out, and add them to your blender with the tequila. Blend until smooth!
Pour, garnish, and serve – pour the frozen cranberry margaritas into glasses, garnish as desired, and serve!
Cranberry Margarita by the Pitcher
If you're looking to serve a larger group, make a pitcher of margaritas! The amounts listed below will make 8 servings:
4 cups cranberry juice
4 cups tequila
2 cups Grand Marnier
2 cups fresh lime juice
¼ cup plus 1 tablespoon agave nectar
How to Enjoy this Festive Holiday Margarita Year-Round
This cranberry margarita doesn't have to be Christmas (or holiday) exclusive. Cranberry juice is available year-round at the grocery store, making it super easy to make a batch whenever you'd like. If you're serving it at a different time of year, I'd stick to a simple garnish like lime wedges versus the festive garnishes listed in this recipe.
Just for You
Margarita Recipes
Want more recipes like this?
Cranberry Margarita Frequently Asked Questions
Q
What is the difference between white cranberry juice and red cranberry juice? Can either be used in this recipe?
A
While white and red cranberry juice have really similar health benefits, white cranberry juice tends to be less tart than red cranberry juice. I prefer a red cranberry juice here (I actually really love the unique tartness present in cranberry juice) because it adds a fun, festive spin to the color of the cocktail!
Q
Should 100% juice (or unsweetened juice) be used for this recipe or can cocktail juice (sweetened juice) be used?
A
I definitely prefer 100% cranberry juice. I like that it comes without the added sugar present in sweetened juices. If all you can find is a sweetened cranberry cocktail juice, though, feel free to use that instead — if you're going this route, I'd recommend giving the drink a taste before adding ANY agave nectar.
Q
Which tequila is best for a cranberry margarita?
A
I always prefer to use a blanco (or silver) tequila in my margaritas. It's milder in taste than aged, golden tequilas and also comes in at a much more affordable price point.
Q
Can I use a margarita mix in this cranberry margarita recipe?
A
I don't recommend it! In my opinion, there's nothing quite like a fresh margarita. This recipe calls for only a few simple ingredients, and because of that, the finished product is so fresh and robust. Stick with this ingredient list (as opposed to a mix) if you can!
Q
Do you salt the rim for a cranberry margarita?
A
This recipe doesn't actually call for a dressed rim, but if you'd prefer, you can absolutely salt or sugar the rim.
How to Salt the Rim of a Margarita:
Salting the rim of your glass is super simple. To do this, you'll simply pour the salt (or sugar) on a small plate that is big enough to accommodate the margarita glasses. Then, cut a small slit in a lime wedge, and run the wedge along the rim of each margarita glass. Dip each glass in the salt or sugar, then tap it to knock off any excess!
Q
Can Christmas Margaritas be made ahead?
A
You can absolutely combine all of the margarita ingredients in a jar or pitcher and store them in the refrigerator until you're ready to serve. I'd wait on the garnishes, though, as they're best popped into individual glasses just before serving.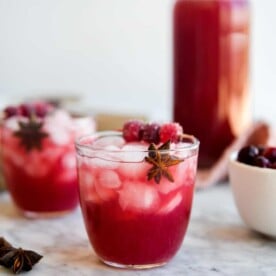 Ingredients
1/2

cup

cranberry juice

1/2

cup

of tequila

1/4

cup

Grand Marnier

1/4

cup

fresh lime juice

2

teaspoons

agave nectar

optional, for a sweeter margarita

2

teaspoons

white sugar

for serving (optional)

6

cranberries

fresh or frozen, for serving (optional)

star anise

for serving (optional)
Instructions
Mix the cranberry juice, tequila, Grand Marnier, lime juice, and agave (if using) together, and taste for sweetness. If needed, add more agave.

Pour the white sugar onto a small rimmed plate. Then, roll in the cranberries in the sugar, tap off the excess, and skewer them (in sets of 3) on toothpicks.

Fill each glass with ice and pour in the margarita. Garnish with the optional sugar-coated fresh cranberries and star anise, serve, and enjoy!
Nutrition Information
Nutrition Facts
Cranberry Margarita (Christmas Margarita)
Amount per Serving
% Daily Value*
* Percent Daily Values are based on a 2000 calorie diet.
Recipe Notes
If you're rolling fresh cranberries in sugar, roll them in a honey/water mixture first so that the sugar sticks on. Slightly thawed frozen cranberries should hold onto the sugar on their own.
For 1 serving:
1/4 cup cranberry juice
1/4 cup of tequila
2 tablespoons Grand Marnier
2 tablespoons fresh lime juice
1 teaspoon agave nectar (optional, for a sweeter margarita)
1 teaspoon white sugar, for serving (optional)
3 cranberries, fresh or frozen, for serving (optional)
star anise, for serving (optional)
For a pitcher (8 servings):
4 cups cranberry juice
4 cups of tequila
2 cups Grand Marnier
2 cups fresh lime juice
1/4 cup plus 1 tablespoon agave nectar (optional, for a sweeter margarita)
2 tablespoons white sugar, for serving (optional)
24 cranberries, fresh or frozen, for serving (optional)
star anise, for serving (optional)