This classic margarita recipe is sure to become your new "home base" for when you want a crowd-pleasing, fresh margarita. It's a great recipe to have in your back pocket and is so much easier to make (and probably, eventually memorize) than you may think!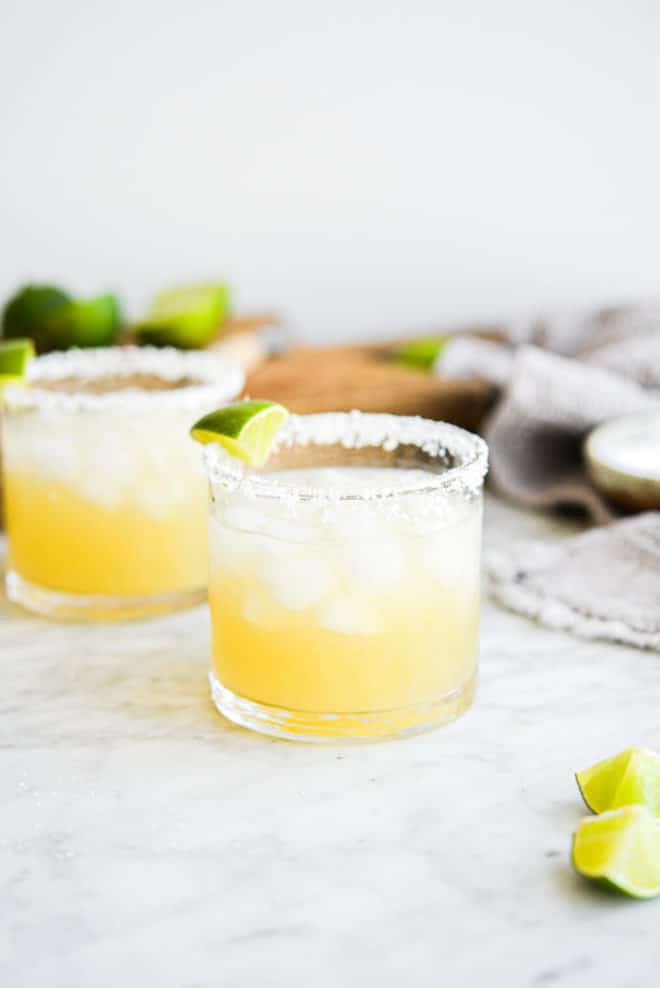 As a 35 year-old San Antonio, TX native, proud Garcia, and lover of just about anything citrus, the margarita has landed itself at the tippy top of my favorite cocktail list. I have a few margarita recipes here on the website and while they're all excellent, I wanted to bring you a how-to guide that would knock your socks off, answer ALL of your margarita questions, and provide you with the most classic, most crowd-pleasing, and most delicious "home base" margarita recipe ever.
How did we tackle this lofty "publish the best margarita recipe ever" goal? I got really scientific. After a lot of research, we orchestrated a massive margarita taste-off here at the Fed + Fit studio kitchen! Our taste testers systematically went through 17 different margarita variations. I took careful notes, mixed new options on the spot, kept our tasters nourished with plenty of water and guacamole, and at the end of the day, I knew we'd cracked the code.
Margarita Recipe
I'm going to be bold for a second here, and say that I really, truly believe that when it comes to a classic margarita, this recipe is THE BEST. Here's why:
It's easy. Truly, this cocktail recipe is so easy and can be whipped up in a matter of minutes.
It's FRESH. We trade in pre-made syrups and mixes for fresh, real ingredients, and boy can you taste the difference!
It can be made in an individual serving or big-batch. That's right! Whip up a margarita for just yourself after a long week, or make a pitcher for a get-together.
It's simple. Only the necessary ingredients here. Nothing more and nothing less!
Margarita Ingredients
The ingredient list is short and simple, and we actually believe that's part of what makes this recipe so good. We've included everything you need for a good margarita and left out all of the things that you don't! Here's what you'll need for 4 servings:
Tequila – we chose silver tequila for this recipe because it is milder than the gold, aged varieties like reposado and Anejo. You'll need a 1/2 cup of tequila for this recipe.
Lime Juice – this is another essential ingredient in any margarita! We recommend freshly squeezed. If you can find freshly-squeezed lime juice at your store, go for it! We do not recommend using shelf-stable bottled lime juice, though. You'll need a 1/4 cup of lime juice.
Triple Sec – triple sec is an orange liqueur that adds a bit of sweetness and an orange flavor to margaritas. Our tasters overwhelmingly preferred a plain triple sec over Cointreau, which has a higher alcohol content than most triple sec. You'll need a 1/4 cup for this recipe.
Agave – if you like your margaritas on the sweeter side, add a bit of agave. Agave is the classic margarita sweetener because it complements the flavor well and is easy to stir! We recommend 1 tablespoon of agave for this recipe.
Coarse Salt – In my opinion, no margarita is complete without a salted rim! For the most restaurant-style salt rim, we recommend going with kosher salt, but any coarse sea salt will do. You'll need about a 1/4 cup to dip your margarita glasses in.
What To Buy To Make A Margarita?
When you're buying ingredients for margaritas, quality should be a big consideration! A margarita has just a few ingredients, so each one will greatly affect the flavor.
Tequila
Of course, the main ingredient for a margarita is tequila! The quality of tequila makes a big difference in your margarita, so we recommend reaching for at least a mid-priced tequila. Our go-to's are Espolon and Casamigos! A silver or blanco tequila is best here because of their mild flavor profiles.
Triple Sec
Most classic margarita recipes contain either triple sec, Cointreau, or Grand Marnier. Any of these three will work for this recipe, though our tasters did prefer triple sec! All three are orange liqueurs made from orange peels, but there are some differences between them.
Triple Sec – triple sec is the least expensive of the three options, and you'll likely find many brands of triple sec available at your local liquor store. Triple sec varies in alcohol by volume from 15-40% (though, I have found a zero proof triple sec) and tends to have a sweet, orange flavor. When picking a triple sec, we recommend going for a mid-priced option, as cheaper varieties can be overly sweet and artificial.
Cointreau – Cointreau is the most recommended triple sec option for margaritas. It is 40% alcohol by volume, so boozier than your average triple sec, and has a sweet, orange flavor that is a bit more complex than most triple secs.
Grand Marnier – the most expensive orange liqueur option, Grand Marnier, is 40% alcohol by volume and is actually a blend of 49% orange liqueur and 51% cognac. It is darker in color than triple sec, and also more complex and deeper in flavor.
Overall, our tasters preferred a regular, mid-priced triple sec for this margarita recipe! If you like your margarita a little on the stronger side, though, Cointreau may be a good option for you as well.
Limes
If you want a truly great margarita, fresh limes are a MUST! Either buy freshly-squeezed lime juice at the store or squeeze them yourself (this citrus juicer makes it a breeze!) but skip the shelf-stable bottled lime juice, please!
Agave
This may vary person-to-person, but our tasters preferred just a hint of sweetener in their margaritas. Agave is a traditional margarita sweetener and comes from the Blue Agave plant – which is the same plant that tequila is made from. It's taste is similar to honey, though a little bit more neutral, and it is also thinner in viscosity, which makes it easy to stir!
Salt
This one is optional, but I am "team salted rim" on a margarita. Steer clear of fine (like table) salt here, as it can be a bit too salty. Instead, reach for a Kosher salt or you could even crush a flaky salt like Maldon.
How To Make A Margarita From Scratch
This recipe is as classic and fresh as it is simple! Here's how you'll throw this delicious cocktail together:
Squeeze the limes. If you weren't able to find freshly-squeezed lime juice, the first thing you'll need to do is squeeze your limes!
Salt the margarita glasses. Pour the salt on a small plate that is big enough to accommodate the margarita glasses. Then, cut a small slit in a lime wedge, and run the wedge along the rim of each margarita glass. Dip each glass in the salt, then tap it to shake off any excess salt.
Fill the glasses with ice. Next, fill each glass with ice, taking care not to knock any of the salt into the glass. Keeping the liquid about 1/2 inch from the top is a good measure.
Add the ingredients to a mason jar or cocktail shaker. Add the tequila, lime juice, triple sec, and agave to a cocktail shaker or mason jar, then seal and shake for about 30 seconds. If you're not ready to serve these right away, chill your mix in the refrigerator.
Pour. Once your margarita is fully shaken, simply pour it into each glass, leaving about a 1/2-inch at the top of the glass so that the salt doesn't dissolve into your margarita, then serve!
How to Make a Margarita to Your Liking
How to Make a Margarita That's Less Sweet
If you're looking to make the classic margarita just a tad less sweet, we recommend that you start by leaving out the agave. If you really prefer an unsweet margarita, you can also cut the triple sec in half!
How to Make a Margarita That's More Tart
We are BIG fans of tart margaritas here, and if you are too, we recommend adding more lime juice to your margarita. We think that a great starting place here is doing 1.5x the amount of lime juice that the recipe calls for. Remember, you can always add more until you're satisfied, but you can't take any away, so we think that starting slow is the best way two go.
How to Make a Margarita That's Less Boozy
Love the taste of the classic marg but want a little less alcohol? No problem! Just cut the amount of tequila in half. You'll still get the really delicious taste of the classic cocktail but with a little less of the booze. You can also swap the tequila (and/or triple sec) for sparkling water or kombucha.
How to Make a Margarita That's More Boozy
If you're looking for your margarita to pack a boozier punch, feel free to add more tequila! Again, we'd start out slow with any additions you make, because they'll likely add up quicker than you think. We recommend starting by multiplying the amount of tequila by 1.5 and then adding more from there if desired.
How to Make a Margarita with Alternate Sweeteners
If you're looking to swap the sugar in this margarita for a natural sweetener, we recommend skipping the Triple Sec and simply using agave to sweeten it. We did a version of this in our skinny margarita, so using that recipe as a reference is a really great idea! Other natural sweeteners you could use include honey and maple syrup (trust me, it's good).
Video
What type of food would pair well with a Margarita?
While enjoying your margarita next to a yummy Mexican-inspired dish is optional, it's definitely recommended! Here are a few of our favorite options:
…and as always, a side of guacamole never hurt anyone!
How To Make Margaritas for a Crowd
If you're looking to make margaritas for a crowd, simply scale the ingredients accordingly! The recipe (as written) makes 4 servings, but below, you'll find ingredient amounts for 8, 12, and 16 servings. The recipe directions will stay the same regardless of quantity, though!
For 4 servings: 1 cup tequila + 1/2 cup lime juice + 1/2 cup triple sec + 2 tablespoons agave
For 8 servings: 2 cups tequila + 1 cup lime juice + 1 cup triple sec + 4 tablespoons agave
For 12 servings: 3 cups tequila + 1.5 cups lime juice + 1.5 cups triple sec + 6 tablespoons agave
For 16 servings: 4 cups tequila + 2 cups lime juice + 2 cups triple sec + 1/2 cup agave
Just for You
Margarita Recipes
Want more recipes like this?
Margarita Frequently Asked Questions
This classic margarita recipe is super refreshing, easy to make, and a true crowd-pleaser!
Ingredients
Ratio for a Classic Margarita:
2

parts tequila

1

part lime

1

part triple sec

1/4

part agave

– omit for less sweet option

lime wedge

for garnish (optional)

kosher or coarse sea salt

for the rims (optional)
To Serve 2 People:
1/2

cup

tequila

1/4

cup

lime juice

1/4

cup

triple sec

1

tablespoon

agave

– omit for less sweet option

1

lime wedge

for the rims (optional)

Coarse or kosher salt

for the rims (optional)
Instructions
If salting your margarita glass rims: Pour the salt onto a small plate that is big enough to fit the margarita glass rims. Then, cut a small slit in the lime wedge and run it around the rims. Dip the glass in the salt, then shake off any excess.

Fill each glass with ice.

Add the tequila, lime juice, triple sec, and agave to a cocktail shaker or mason jar, then seal the lid and shake for about 30 seconds, until the agave is fully dissolved. 

Pour the margarita mixture into the salted glasses and enjoy!
Recipe Notes
The margarita mix can be made several days in advance! The bonus here is that if you mix it, shake it, and chill it in the refrigerator for at least 4 hours, it'll be especially cold on serving.
Nutrition
Calories:
70
kcal
|
Carbohydrates:
12
g
|
Protein:
0.1
g
|
Fat:
0.1
g
|
Sodium:
1.3
mg
|
Fiber:
0.1
g
|
Sugar:
9.1
g