Flourless Dark Chocolate Brownies
jump to recipe
These flourless dark chocolate brownies are a rich and fudgy treat that are easier to make than you think and perfect for Valentine's Day!
These flourless dark chocolate brownies taste like the definition of decadence. Each bite is rich, fudgy, and intensely chocolate-y, and makes you feel like you're eating some kind of very-indulgent, took-hours-to-make dessert. But, I've got good news! These brownies contain no flour, and are made from a base of dark chocolate, eggs, butter, and a touch of coconut sugar. Even better? You don't need to be a pastry chef to make this incredible dessert, it comes together in just a few simple steps!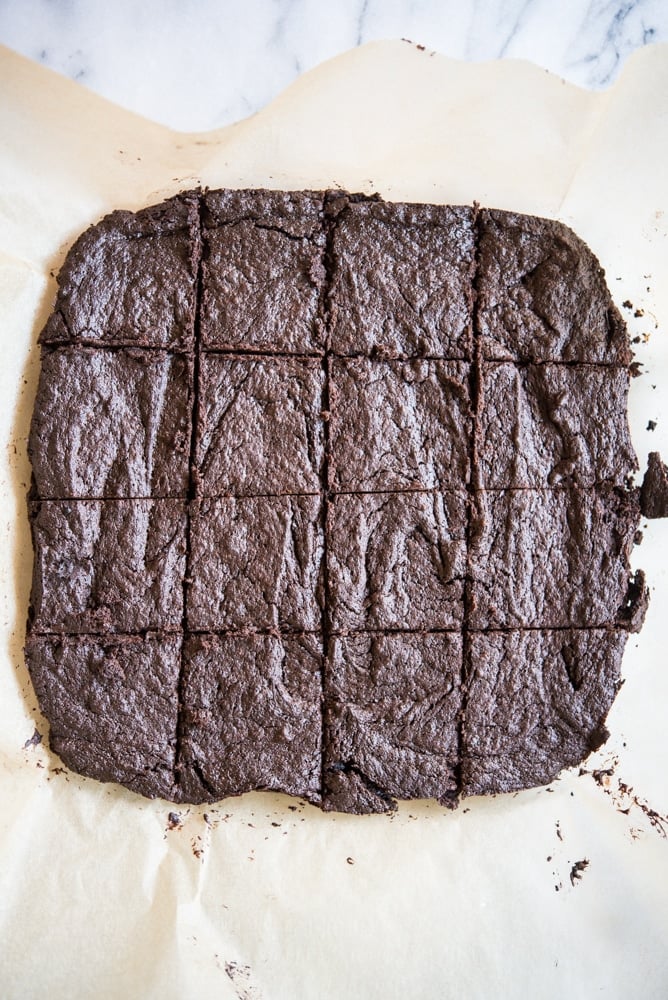 When we were thinking about what treat to make for Valentine's Day, these flourless dark chocolate brownies came to mind immediately. I'd been dreaming about them for a while, and what better time is there than Valentine's Day to go all-in on chocolate? I'll be honest, the first time I made these flourless dark chocolate brownies, I was very skeptical. I couldn't quite wrap my head around how it was possible to make a brownie without any flour. So, I was very pleasantly surprised when I opened the oven to find that the brownies had that classic shiny crust on top and a dense, yet cake-y texture. Then, I took a bite. The rich, dark chocolate flavor was perfectly balanced with just a hint of sweetness from the coconut sugar and a bit of salt, and made me want to keep going back for more.
As amazing as these brownies are on their own, here's a few ideas on how you can take them to the next level:
We hope you love these flourless dark chocolate brownies as much as we do!
Print
Flourless Dark Chocolate Brownies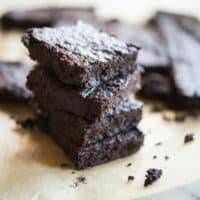 These flourless dark chocolate brownies are rich, fudgy, lightly-sweetened, and naturally gluten- and grain-free!
Author:
Prep Time:

00:15

Cook Time:

00:25

Total Time:

40 minutes

Yield:

16 brownies
Ingredients
8 tablespoons butter (1 stick), melted
3 large eggs, beaten
Instructions
Preheat the oven to 350 F and line a square cake pan with parchment paper.
Unless you're working with chocolate chips, cut the chocolate into small 1/2-inch sized pieces. Next, melt the chocolate via one of the two methods below:

A. Double-boiler method: place the chocolate in a medium-sized glass bowl that can rest on top of a pot without falling in. Fill the pot with a couple inches of water, place the bowl of chocolate over top, and bring the water to a boil. Use a spatula to constantly stir the chocolate until it's melted and smooth.
B. Microwave method: place the chocolate in a medium-sized glass bowl and microwave it in 20-second increments, stirring well between each spell, until it's melted and smooth.

Once the chocolate is melted, add the butter, sea salt, and vanilla. Continue to stir until it's fully incorporated. Note: if the mixture starts to seize up, it means the chocolate isn't warm enough. Place the mixture back over the double-boiler or back in the microwave long enough so that the butter can melt and incorporate into the chocolate.
Stir the eggs and vanilla into the chocolate mixture. Once fully incorporated, stir in the coconut sugar and cocoa powder.
Pour the mixture into your parchment paper-lined pan and bake for 20-25 minutes, or until a toothpick inserted in the center of the brownies comes out clean.
Let cool slightly and enjoy!