Paleo Dark Chocolate Chip Walnut Cookies
jump to recipe
Dark chocolate? Check.
Nutty goodness? Check.
Paleo? Check. (…well, depends on who you ask. I put dark chocolate and honey into the "acceptable with moderate use" category)
Ooey gooey deliciousness that takes you back to childhood cookie heaven? CHECK.
This past weekend, I had the distinct honor and privilege of observing the wedding of one of my very best friends as her bridesmaid.
Before I departed for the extended weekend of pre-wedding pampering and slave labor (totes kidding), I took the bride's favorite cookie and turned it into a guiltless treat.
Julie, the beautiful bride, LOVES Chocolate Chip Walnut Cookies.
I got to work.
What I wound up with is one of the tastiest paleo conversions E.V.E.R. This recipe is foolproof and I promise you'll put it on repeat. I did … not a week has gone by and I've made it twice. Whoopsie.
The wedding was absolutely beautiful. Champagne flowed like water; blessings were numerous, heartfelt, and hilarious; and the bride couldn't have been more radiant.
Even though at the last minute Julie asked: "can Xanax be my something blue?" everything was seamless.
We toasted! We took pictures! We connected with old friends.
(That's me in the bright blue, the bride in cream, our bestie Morgan in navy, and the hilarious and precious Missy in front.)
It was a blast.
I wish Bryan and Julie all the happiness in the world. You both deserve it. Thank you for making me a part of your special day.
Okay, back to the cookies …
Cheers to Bryan, Julie, and Paleo Dark Chocolate Chip Walnut Cookies.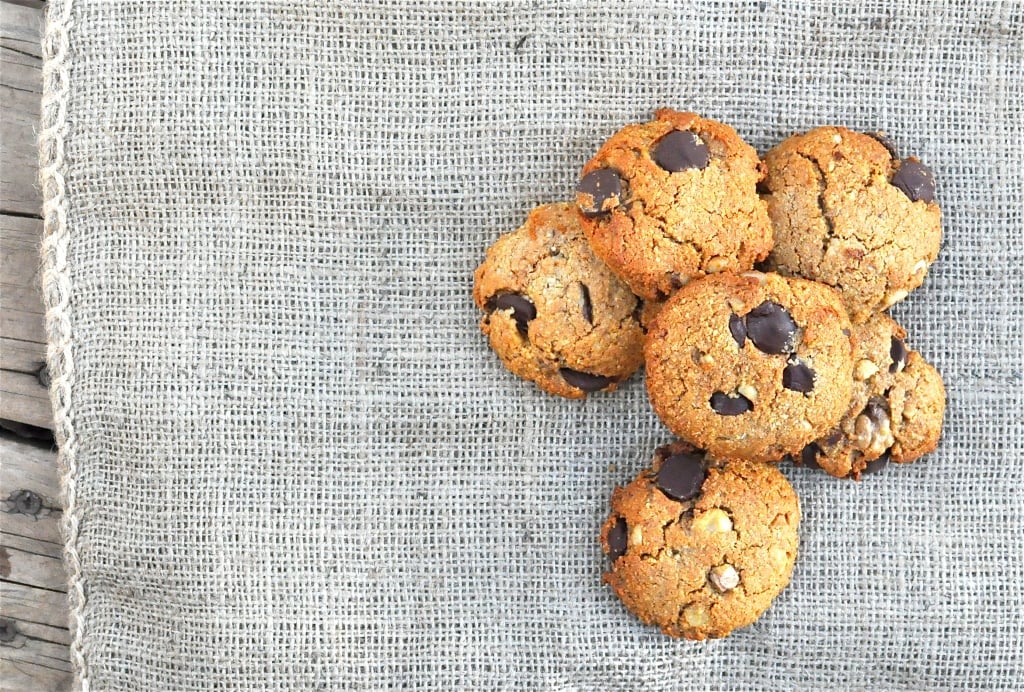 Print
Paleo Dark Chocolate Chip Walnut Cookies
Author:
Prep Time:

15 minutes

Cook Time:

10-13 minutes

Total Time:

25-28 minutes

Yield:

~24 cookies
3 cups

almond meal, sifted

1 cup

dark chocolate chips

1 cup

walnuts, roughly chopped

¼ teaspoon

sea salt

½ teaspoon

baking soda

1/3 cup

honey

2 tablespoons

virgin coconut oil, melted

½

 teaspoon vanilla extract

1

egg
Instructions
Preheat oven to 350 F.
Line a baking sheet with parchment paper (or aluminum foil).
In a large bowl, thoroughly mix the dry ingredients together with a fork. Includes: almond meal, salt, and baking soda.
Add the chocolate chips and chopped walnuts to the dry mixture and stir evenly.
In a separate bowl, whisk the wet ingredients together (honey, oil, vanilla extract, and egg).
You may need to slightly heat the honey and oil in order to liquefy them. 30 seconds in the microwave will do. Be sure to heat BEFORE you add the egg.
Make a crater in the center of the dry ingredients and pour in the whisked wet ingredients.
Stir the wet ingredients into the dry until evenly mixed.
Using a 1 tablespoon scoop or a spoon, spoon out balls of the dough and align them on the baking sheet.
Using either the palm of your hand or the back of a spoon greased with a little coconut oil, smash the balls of cookie dough down. Because the cookies don't expand much during baking, the shape you make will stick.
Bake for 10-13 minutes (or until golden brown), then let cool for at least 5 minutes.
Note: the cookies will not come off the parchment paper (or aluminum foil) very easily if they're too warm.