Every item on this page was chosen by The Fed & Fit team. The site may earn a commission on some products (read more here).
These Jameson Caramel Brownies are a truly decadent gluten-free treat. Complete with chocolate chips, (optional) nuts, a dense texture, and a slightly salted Jameson caramel, these brownies are nothing short of epic.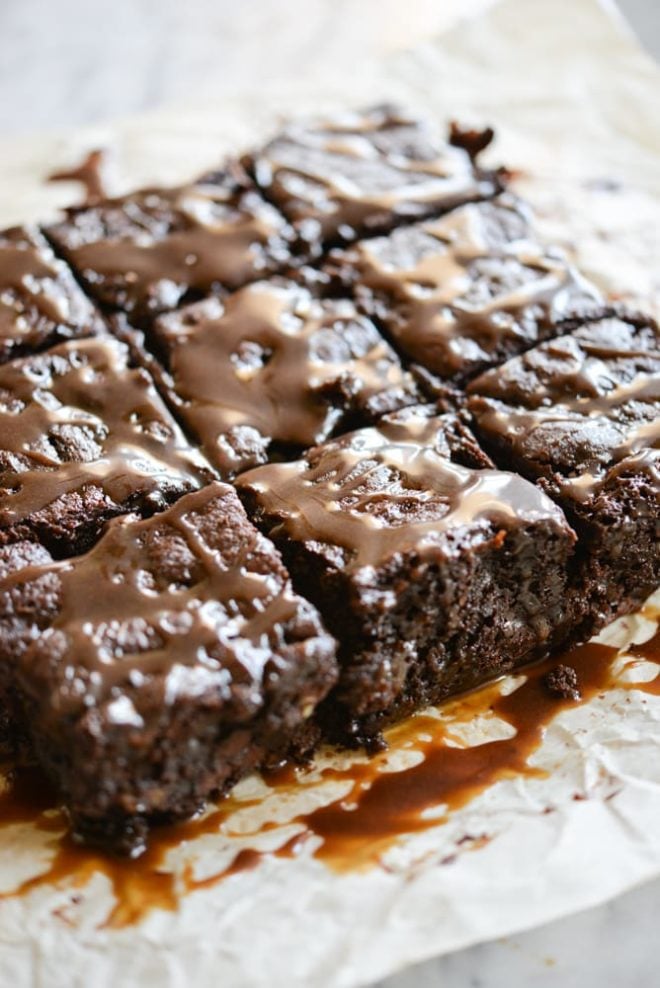 I have been toying with a gluten-free brownie recipe for years now! Brownies are a challenge to develop because they're such a unique pastry. They need to be dense, a bit chewy, and be able to have firm edges. We finally added brownies back to our recipe development calendar and got back to work! After several rounds of tinkering with the classic cast of brownie ingredients, we finally landed on the perfect combination. These brownies have my favorite texture: a bit cake-like, but dense and slightly chewy. They needed texture, so we added nuts and chocolate chips. THEN, we looked at the calendar and saw that Saint Patrick's Day may be the perfect opportunity to level these brownies all the way UP. We got busy developing a Jameson (Irish whiskey)-infused caramel that we used to dollop both in the mix and on top of the finished product. These Jameson caramel brownies are completely epic. Though delicious while warm, I actually prefer them chilled! If I'm REALLY going for it, I'll enjoy one of these brownies with a big scoop of grass-fed ice cream on top.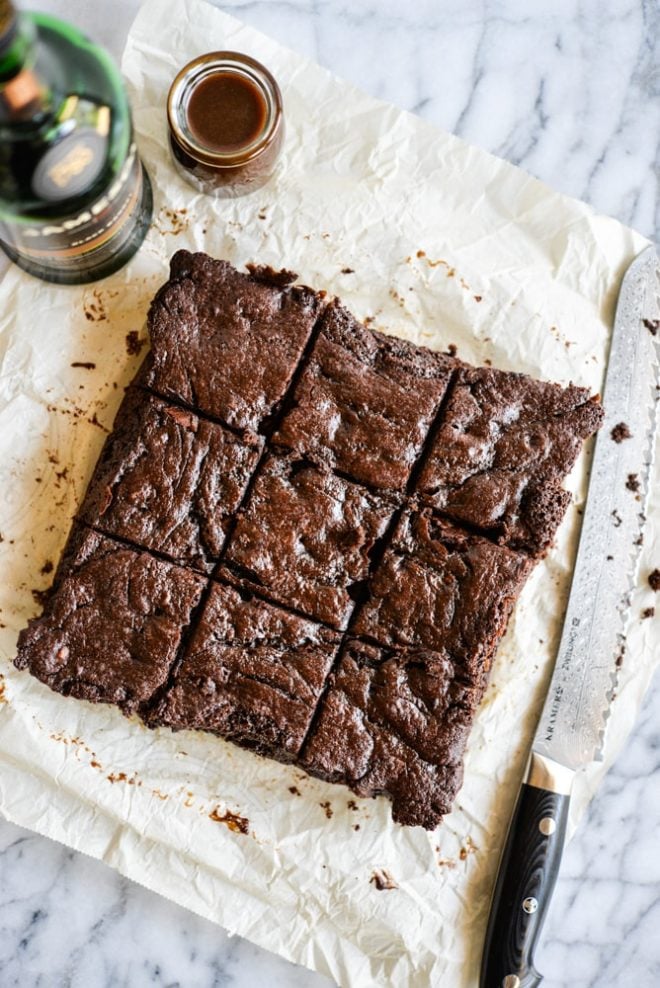 Can this be made egg-free?
It can! In fact, we tested a TON of different egg substitutes in several different baked goods, took all kinds of notes, and then laid it all out for you in this super helpful guide to egg-free baking. For brownies, we recommend using an egg replacer combo: chia (1 tablespoon of milled chia seed + 3 tablespoons of water) and plain Greek yogurt (¼ cup). This combination produced brownies that were soft on the inside, crispy on the outside, with a really delicious flavor. If you're looking for a vegan substitute, leave out the Greek yogurt and add another chia egg for a crispy-yet-fudgy brownie!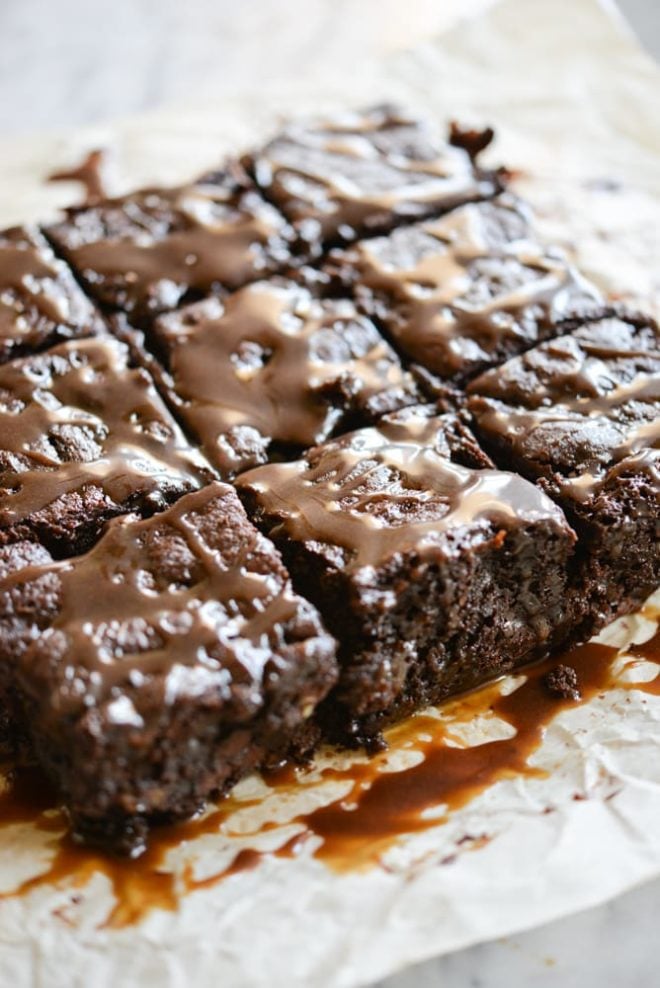 More of our Favorite
Dessert Recipes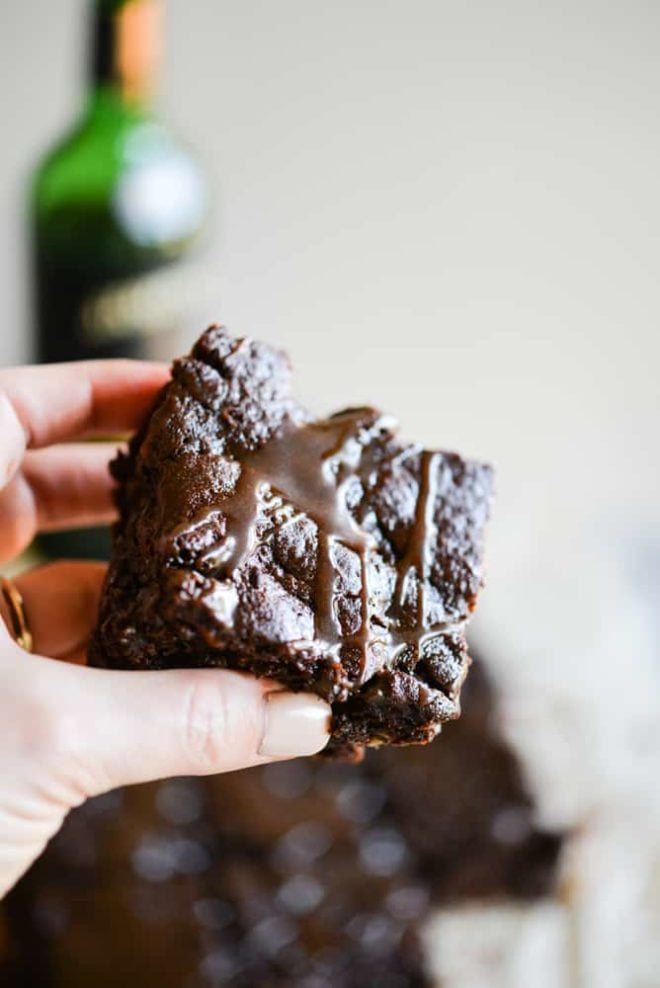 I hope you love these Jameson caramel brownies as much as we do!
Video
Just for You
Brownie Recipes
Want more ideas like this?
Ingredients
For the Jameson Caramel Sauce:
Instructions
For the Jameson Caramel Sauce:
Combine the sugar, butter, and cream in a medium saucepan over medium heat. Stir frequently until butter is melted.

Simmer 4-6 minutes until thickened, stirring occasionally.

Whisk in the Jameson whiskey and sea salt,  and continue to look simmer until the mixture begins to bubble and looks like it has doubled in volume. Remove from heat and let cool, then refrigerate. The caramel will thicken as it cools.
For the Brownies:
Preheat the oven to 350 F.

In a medium-sized bowl add the eggs, butter, vanilla, water and apple cider vinegar, then whisk until well combined.

In a large bowl, add the gluten free flour, coconut sugar, cocoa powder, salt, baking soda, and baking powder. Whisk until fully combined.

Make a well in the center of the flour mixture and add in the egg mixture. Either beat with an electric mixer or whisk until the ingredients are fully incorporated.

Stir the chocolate chips and walnuts into the brownie batter.

Line an 8×8 baking pan with parchment paper.

Spread half the brownie batter on the bottom of the pan, then top with 1/2 cup of caramel. Add the rest of the brownie batter in dollops on top of the caramel, smoothing into one layer as much as possible.

Bake at 350 F for 45 minutes, until a toothpick inserted into the middle comes out clean.

Let the brownies cool, then drizzle with remaining caramel sauce, cut, and serve!
Nutrition Information
Nutrition Facts
Jameson Caramel Brownies
Amount per Serving
% Daily Value*
* Percent Daily Values are based on a 2000 calorie diet.