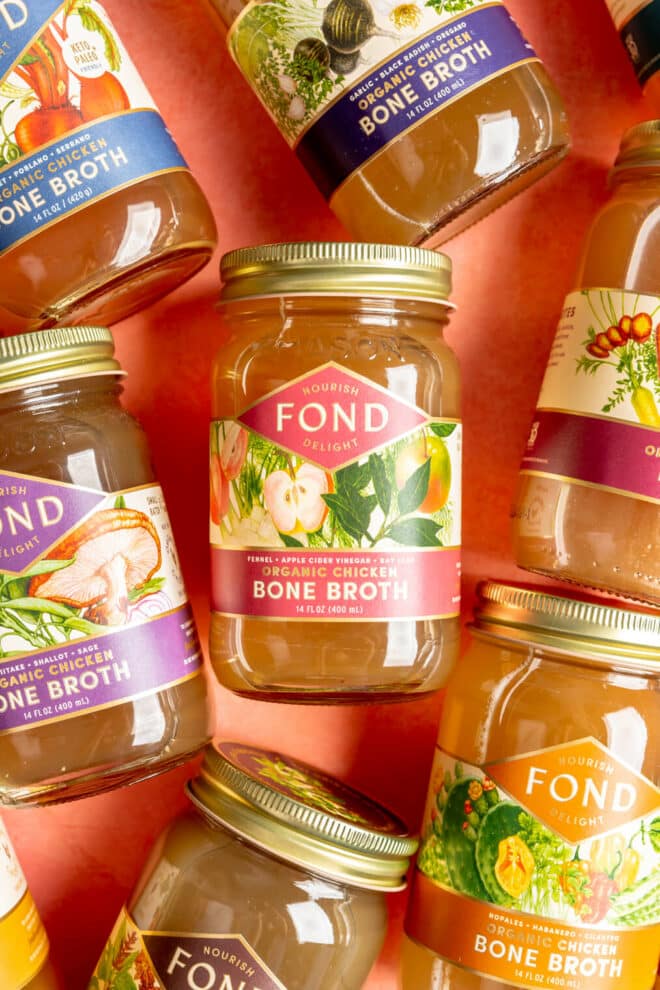 What is Bone Broth?
Bone broth is a nutrient-dense food with many health benefits. It is made by slowly extracting all of the minerals and collagen from bones by simmering over a long period of time. The addition of vegetables, herbs, and other ingredients pack even more nutrients and flavor to this healing food.
Why is Bone Broth good for you?
There are a plethora of health benefits that come from consuming bone broth since it is packed with essential vitamins and minerals. Some of the added benefits from adding bone broth to your regular diet include:
Builds and strengthens bones – animal bones contain trace minerals (such as calcium, magnesium, and phosphorus) that are essential to building and strengthening your own bones.
Supports joint health – glucosamine and chondroitin (which help to support joint health) are released into the broth from the connective tissues as they break down during the cooking process.
Strengthens hair, skin, and nails – you also get a big dose of protein collagen and all the important amino acids that are key for strengthening your hair, skin, and nails.
Supports digestion – bone broth is easy to digest and easy on the stomach thanks to the gelatin that is created in the process.
Anti-inflammatory – the amino acids in bone broth have anti-inflammatory compounds that have been researched to help combat inflammation in the body.
How to Use Bone Broth
Bone broth makes an excellent base to soups, stews, or sauces. One of our favorite, and maybe less known, ways to enjoy bone broth is sipping it on its own. FOND Bone Broth is our go-to for bone broth sipping tonics, and they are delicious served hot or over ice.
About FOND Bone Broth
FOND Bone Broth was born from a mother's search for healing, easy-to-digest nourishment to soothe her chronic health issues. FOND is a female-founded, female-led company based out of New Braunfels, TX (hello, neighbors!) that makes ready-to-sip, organic bone broth tonics. They have combined our love for supporting nutritional wellness with culinary inspiration, and the result is the most functional combinations of crave-able flavors that help support good health.
What makes FOND Bone Broth different?
We've sipped a LOT of bone broth in our time, knowing the health benefits in doing so, but typically have to doctor them up with lots of added herbs and spices to make them at all enjoyable. We were skeptical if there were any shelf-stable broths that are actually delicious straight from the jar …until we tried FOND. We were blown away by the crispness of flavors that were absolutely delightful to drink AND the purity of the ingredients that make it clear why they taste so good.
FOND Bone Broth is exceptional and leagues ahead of other bone broths on the market for a variety of reasons. Here's what sets them apart.
Flavor – we can say with confidence that one of the key differentiators between FOND and other bone broths (including homemade) is the flavor! Their ready-to-sip organic chicken and beef bone broth tonics combine pasture-raised bones with fresh, organic herbs and botanicals that result in the most delicious flavor combinations that are nourishing for the body AND pleasing to the palate. They come in 12 unique flavors and are so satisfying sipped straight out of the jar!
Sourcing of ingredients – FOND only uses the freshest of ingredients (never powdered), from the organic herbs to the Redmond Real Salt in every broth. They only use 100% grass-fed and regeneratively-raised beef and pasture-raised chicken. All broths are free of any preservatives, additives, acids, or artificial flavorings and have zero added sugars, hormones, or GMOs. Every jar supports local farms.
Sustainability – FOND has been committed to sustainability since its inception and packages in glass with a 100% plastic and aluminum-free process.
Testing – FOND tests every batch for heavy metals, including lead, arsenic, cadmium, and mercury, which can sometimes be present in animal bones. While we wish this was the industry standard, it is not. They also test for amino acids and collagen to ensure the nutrient-density of the broth.
Diet-inclusive – all flavors are certified organic, keto and paleo certified, and Whole30 approved. There are also options that are low FODMAP and AIP-friendly broths.
Why doesn't FOND Bone Broth gel?
Since FOND is shelf-stable, it will never be gelatinous in the pantry (did you know gelatin only gels once cooled?). Once it's refrigerated, many of the flavors will gel, but it truly depends on the flavor (some of them contain acid, like from lemon juice, that doesn't gel well) and how cold your fridge gets.
FOND Bone Broth Tonic Flavors
FOND carries 12 distinctly different and unique flavor combinations. There is something for every taste preference, and you truly can't go wrong. They're all so delicious!
Organic Chicken Bone Broth Flavors:
Organic Beef Bone Broth Flavors:
Firstade – this immune-boosting bone broth tonic uses flavors from the garden like garlic, tomato, and thyme.
Ginger Cleanse – made with ginger, cayenne pepper, and lemon, this bone broth tonic packs some heat to turn up metabolic benefits.
Stressless – calming spices, like star anise and cinnamon, combined with basil make this bone broth tonic perfect for stress relief and makes a great replacement for coffee!
Where can I find FOND Bone Broth?
FOND is available at all Sprouts, HEB, Central Market, and Eataly locations, select Market Street and Bristol Farms locations, and online (get 20% off your first order or 10% off your first subscription with our code: FEDANDFIT). You can also use their store locator to search for specific locations.
Bone broth is a nutrient-dense food with many health benefits. It is made by slowly extracting all of the minerals and collagen from bones by simmering over a long period of time. The addition of vegetables, herbs, and other ingredients pack even more nutrients and flavor to this healing food. 
Instructions
Pour ½ a jar (or 7 ounces) of FOND Bone Broth (or bone broth of choice) over ice.

Squeeze in the juice from 1 lemon.

Add 1 packet of raw, unflavored LMNT Recharge electrolyte pack (use half for a slightly less salty version).

Stir well to combine and enjoy!
Nutrition
Calories:
59
kcal
|
Carbohydrates:
10
g
|
Protein:
8
g
|
Fat:
0.3
g
|
Saturated Fat:
0.04
g
|
Polyunsaturated Fat:
0.1
g
|
Monounsaturated Fat:
0.01
g
|
Sodium:
78
mg
|
Potassium:
149
mg
|
Fiber:
3
g
|
Sugar:
3
g
|
Vitamin A:
24
IU
|
Vitamin C:
57
mg
|
Calcium:
28
mg
|
Iron:
1
mg