Would you eat them in a box? Would you eat them with a fox?
Partly inspired by one of the best Dr. Seuss stories of all time and partly inspired by my love of breakfast, today I bring you my Green Eggs & Ham Paleo Frittata.
My name is Sam. Sam I Am!
My life's passion is to tirelessly chase after people with delicious plates of healthy food. I work hard to make paleo food as appealing and craveable as possible. Imagine …a world of people who actually craved healthy food! This girl is dreaming and scheming.
I'll do my best to be less annoying than Sam I Am.
…but still, you should try it. I know you'll like it.
If you need a Cat and the Hat refresher, you can catch the full cartoon here.
If you've ever spent the weekend with me, you know how much I love a good Sunday morning breakfast frittata. It's my go-to when I'm feeding a lot of people or if I want delicious reheat-able leftovers for the week.
Frittatas are like an egg pizza pie or crust-less quiche.
All you do is brown some meat (sometimes bacon, turkey, or leftover steak and chicken), throw good-looking veggies in the pan (again, whatever you've got in your veggie drawer), drown it all in eggs, and bake to perfection. It's that simple!
Today I'm sharing a recipe for one of the tastiest frittatas I've ever made. I brown some pork breakfast sausage, sauté baby kale, whisk eggs (or egg whites) with a few heaping tablespoons of my Roasted Garlic Paleo Pesto and bake it all together until it transforms into the best Green Eggs & Ham you've ever had.
I bet you would eat them on a train. You would eat them in the rain!
You'll be saying…
I so do like green eggs and ham. Thank you, thank you, Sam I Am.
Enjoy!
First off, preheat your oven to 375 F. Now, let's brown some pork sausage to crispy perfection. I recommend doing this in a large non-stick frying pan. Set the sausage aside, drain off most of the excess grease, and set the semi-greased pan back on the stove.
I like to use baby kale because it requires very little prep. If you can't find baby kale, chop the leaves of curly or dino kale for an easy substitute. Grab a few handfuls of kale. I used about 1 ½ cups packed. Throw it in the semi-greased pan (grease leftover from the sausage). Sauté the kale on medium/high heat until it starts to wilt.
Add the sausage back to the pan. Stir and evenly spread the sausage and kale over the bottom of the pan. This will ensure the same amount of meat and kale in each slice.
For this recipe, I like to use an entire carton of egg whites. Why? Well although there's plenty of fat in the sausage and pesto to makeup for the missing egg yolks … also … egg whites are just easy. The steps are open and pour. You can substitute with a dozen large scrambled eggs if you like.
(I recommend this carton of egg whites. I've tried others and they were NASTY.)
Measure out 4 Tbl of your pre-made Roasted Garlic Paleo Pesto. Because the pesto is already seasoned, I don't add any additional salt or pepper to the frittata. I recommend you sprinkle some after you plate if you still need it. Whisk the pesto into the eggs. Pour the egg mixture over the sausage and kale. Whatever you do, don't stir the eggs. Let it sit from here out if you want an even fluffy frittata. Cook it on the stovetop over medium heat until the edges start to look slightly cooked, like below. At that point, put it in the 375 F oven for 15-20 minutes. It should look something like this and should not jiggle if you shake it.
Remember your oven mitt! I ALWAYS forget when I pull a pan out of the oven and brainlessly grab the handle. Between CrossFit and my kitchen mishaps, I now sport the hands of a professional rancher.
Cut into as many pieces as you like (I usually get 8), plate with some of your favorite berries, hot cup of coffee, and enjoy!
Green Eggs & Ham Paleo Frittata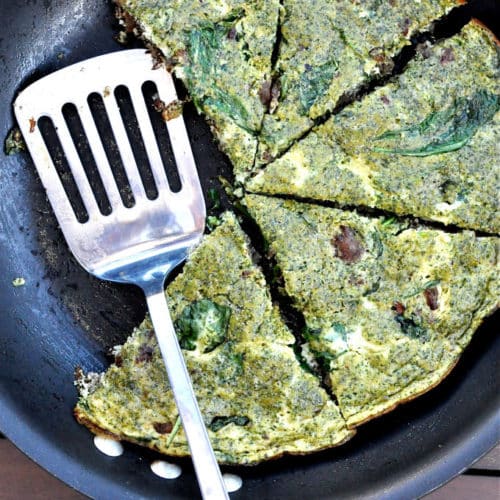 Make ahead breakfast option with a fun GREEn twist!
Instructions
Preheat oven to 375 degrees F.

Brown the sausage in a large non-stick frying pan. Set it aside in a separate bowl and drain off the excess grease in the pan.

Add kale to the semi-greased frying pan and cook over medium heat until wilted.

Add the sausage back in and evenly spread out over the bottom of the pan.

Whisk the eggs with the pesto and pour over the sausage and kale.

Leave on medium heat until the edges start to look cooked.

Place the frittata in oven at 375 F for 15-20 minutes or until it is cooked through.

Cut into 8 pieces and serve.

Enjoy!
Nutrition
Calories:
300
kcal
|
Carbohydrates:
2
g
|
Protein:
18
g
|
Fat:
24
g
|
Saturated Fat:
8
g
|
Polyunsaturated Fat:
3
g
|
Monounsaturated Fat:
9
g
|
Trans Fat:
0.1
g
|
Cholesterol:
287
mg
|
Sodium:
531
mg
|
Potassium:
275
mg
|
Fiber:
1
g
|
Sugar:
1
g
|
Vitamin A:
1805
IU
|
Vitamin C:
12
mg
|
Calcium:
86
mg
|
Iron:
2
mg