Every item on this page was chosen by The Fed & Fit team. The site may earn a commission on some products (read more here).
Wondering what to pack in your hospital bag? In this post contains I'm sharing all of my hospital bag must-haves from my overnight bag, toiletries, postpartum care, linens, considerations for dad, what to bring for baby, and snacks!
Today, I want to focus on the topic of the hospital bag. What to pack for the hospital was a pretty big mystery to me! I did a LOT of research and then (admittedly) totally over-packed the first gor-round. I had a clothing bag, a toiletry bag, a linens bag (for towels + blanket), and a snack bag. Although I knew I wouldn't use it all, I wanted to have the option to use it all so that I could report back with the nice-to-haves and the MUST-HAVES. Today's post includes a list of what I have found essential to include after doing this three times!
Let's get to it!
Hospital Bag Must-Haves: Clothing
Loose-Fitting Pajamas:
A long sleeve top + pant PJ set is a must! It's nice to be able to change into something soft and cozy from the standard hospital gown. I opt for long sleeve and pants since hospitals tend to run cold. You could also go for a shorts option if that is more comfortable for you. If you plan to breastfeed make sure you have an easy-access top! I've found that buttons are the easiest option here. Pro-tip: order your set a size larger than you think you'll need! There is often swelling and water retention (if you have had an IV) after birth, and your body will still look very much pregnant!
Robe
I absolutely used my robe and I'm so glad I brought it. I wore it on top of my hospital gown while I was in early labor and on top of my pajamas while in recovery. I love that it offered a little more modesty and warmth when I was out and on my feet. I opt for a lightweight robe.
Nursing Bra
There are a bunch of options out there and you may have to experiment with what works for you. I bring one more traditional nursing bra and a bralette that is easy to nurse in and also what I go home wearing. I recommend sizing up in your nursing bra to accommodate for the increase in breast size once your milk comes in.
Going Home Outfit
I like to keep this simple! A pair of loose-fitting joggers, nursing-friendly top, bralette, and cozy socks make for the perfect in ease and comfort. I always plan to wear sneakers (or loose-fitting shoes) to the hospital so that I can also wear them going home. Before going to the hospital, I had fantasized about a Kate Middleton hospital exit where I'm wearing a fabulous outfit and holding our new bundle of joy. Real like looked a whole lot more like a really slow walk in almost pajamas, and I am here for that!
Warm Socks
Our hospital room was on the cool side and having a cozy pair of warm socks made a big difference. Bonus, they have some traction on the bottom.
Having a pair of slippers to easily slip on for our walk down the hall was so nice! I was in no mood to bend down to tie on any more serious shoes and also didn't want to walk around the hospital in my socks. These are a must! I'm bringing these grippy slippers.
Essential Toiletries for Your Hospital Bag
Before we get to my list of toiletries, you have to know that I wound up *not* showering at the hospital the first time. That being said, in hindsight, I do wish I had. I think that a quick rinse in the shower on my 2nd day in the hospital would have been so refreshing. That said, this is the list of toiletries I have found to be essential to tote along.
Also note, all of the products listed below are what I consider SAFER. Switching to safer personal care products was important not only for my health, but for the health of our little one. From the shampoo I use to deodorant, moisturizer, and chapstick, all are safer options for myself and my family.
Shampoo & Conditioner
I'm bringing travel bottles of this Rahua set that I ordered from their website! My hair loves this cleaner shampoo + conditioner brand.
Simplified Skincare Routine 
I keep this routine super simple to make it as easy on myself as possible. I bring makeup wipes and this really powerful moisturizer so I can keep the process to just two steps.
Primally Pure Deodorant
This is my favorite, clean deodorant (and I have kissed many a frog to find one). I bring a tube of their charcoal deodorant in travel size.
Toothbrush & Toothpaste
Bring the ones you like best! If you're looking for a slightly safer toothpaste option, THIS is the one I use. Note that it's not perfect in terms of ingredients. I've tested COUNTLESS options and just like this one best.
Hair Care Products
I brought a hairbrush, some clips, hair ties, and one cute bow for my hospital exit (wanted to feel slightly put-together).
Minimal Makeup
My "minimal" makeup these days includes just 2 items: this brow gel and this primer + mascara in-one.
Post-Delivery Care Essentials
There's a good chance your hospital or recovery facility will provide a version of the items below for you! If that's the case, and you're not too picky about what goes on you (down there), you can leave these items at home. I brought them with me to the hospital because I wanted to have the option to use these safer alternatives for my postpartum recovery. NOTE: I do recommend stocking up on the below to keep at home for after your return! Though I'll discus it more in my 4th Trimester Recap, I used the following products for a solid 2 weeks.
Maybe this is just me, but I like to take an emery board + cuticle clippers with me on ANY overnight trip. Nothing bums me out like a painful hangnail, so I like to have a tool available to help relieve the pain immediately. Apparently, during labor, I'd nervously picked at a few of my cuticles (like I do unknowingly when watching a scary movie) and was SO THANKFUL that I packed these tools when I got into my recovery room.
Hospital Bag Essentials for Baby
Baby Clothes
Newborn Cap – all hospitals (and I assume birthing centers) will provide baby with a little cap to put on right after their birth in an effort to help keep the little one's head warm. While those are cute, I couldn't help myself and ordered a couple other options online. I got THIS ONE with a big bow and THIS ONE that is slightly larger, just in case her head is too big for the other. I also liked that I could pre-wash them with a fragrance-free detergent first.
Going Home Outfit –

I'm packing two

footed ZIPPER jammies

for baby girl! Though newborn gowns are adorable, they're impossible to use in a carseat (because you'll need to clip her in between her legs). I'm bringing two because you never know if you'll need an outfit change.
Diapers & Wipes
Diapers – these will (almost certainly) be provided, but we wanted to use these Bamboo diapers diapers, so we brought our own and asked that the nurses use them instead. We cloth diaper after the newborn size and these are my favorite disposable.
Wipes – our hospital actually had water wipes on hand (awesome!) but we brought a package of these Honest Wipes just in case
Bathing & Grooming
Baby Nail Clippers – just in case your little one is born with long nails, I use these infant nail clippers to give them a little trim. To use it, I just waited until she fell asleep and gave them a trim.
Baby Soap – this one was really important to me. First, we opted to perform our own bath at a delay of 24 hours after birth. Because we opted to perform it ourselves, we were able to make sure that we got to use a soap of our choosing.
Blankets and Swaddles
Swaddle x2 – I just like to have two of these on hand at all times! We use them to swaddle her or as a light cover while she's riding in her carseat.
Blanket – we brought a baby blanket to lay over baby on our way out just in case it was chilly!
Carseat
Carseat – you'll need a carseat to safely get baby home. THIS is the carseat we opted for and you can see the rest of our baby gear choices on my Baby Registry Post. Remember to install the base before you visit the hospital (if possible) and visit someone who can help demonstrate how to use it safely. Local stores, baby groups, or even the fire department can all aid in this.
Carseat Shield – this one was IMPORTANT to me because hospitals are a hornet's nest for the ill, so I wanted to make sure our brand new daughter was as protected as possible as she went from the nursery floor to our car. We carried her out in her carseat and I made sure that she was thoroughly covered as we walked her out into the halls and atrium, just in case we passed anyone ill on the way While you can absolutely use a swaddle draped over the carseat, I liked having a separate special carseat shield.
More Baby Essentials
I'm also bringing a couple of pacifiers (though, she'll have unlimited access to me), a pacifier clip (for use likely in the car), a little bow (maybe for a photo), this soft baby hairbrush, a nosefrida, a bulb syringe, and a tube of this balm for all (just in case).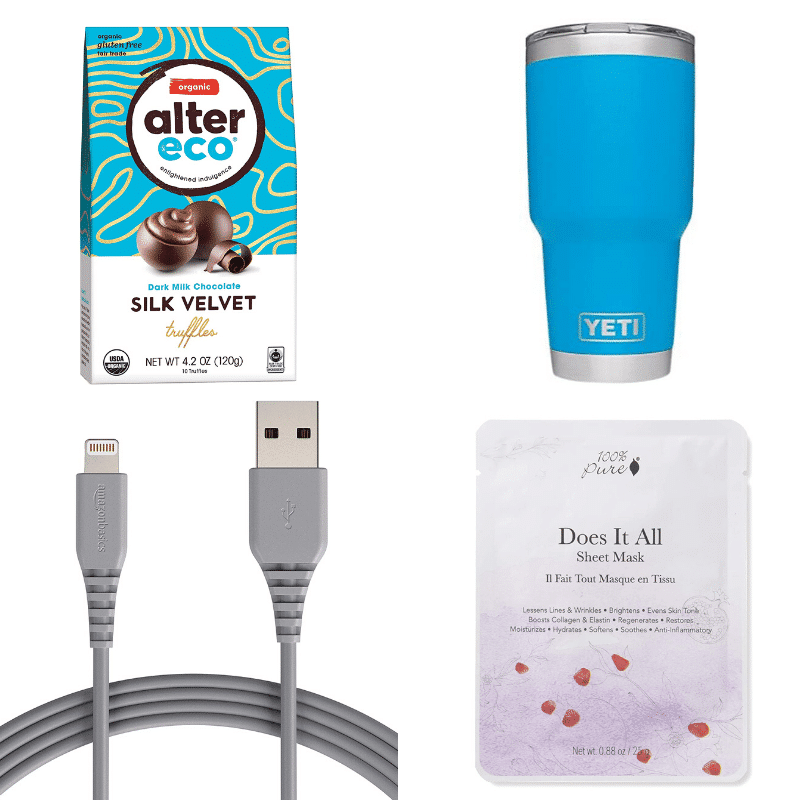 Other Hospital Bag Essentials
Phone Chargers
Don't forget these! Though, if you do, it's not the end of the world. A friend or family member can always bring a replacement. I drained my battery several times answering texts from friends and family. Pro tip: bring an extra-long cord (like this one) so that your plugged-in-phone can reach your bed in the recovery room.
Gift for Nurses
Totally optional, but really thoughtful. I do recommend checking with the hospital first, though. I had planned on gifting all of our labor/delivery + nursery nurses a hand cream, but after inquiring, I learned that gifts of that sort were frowned upon. Instead, they suggested something edible! A sweet treat (donuts, cupcakes, cookies, etc.) is a nice way to thank these precious people for their loving care. I almost get weepy-eyed thinking of how much our team of mama + baby nurses helped us in those first few days as parents. THEY'RE AMAZING.
I'm bringing 6 gift sets that will include: hand cream, chapstick, 3 powdered electrolyte packs, a sheet face mask, and a bag of chocolate truffles.
Book, iPad, or Computer
I found some kind of entertainment helpful in the delivery room! A book is nice or, if your significant other is there with you, you could also pull up a TV show (or movie) on an iPad or computer so that the two of you can snuggle up together.
Cup with a Lid + Straw
Though the hospital provides this, I liked having one, too. This is the cup I own, here's the lid + straw, and here's the handle! After the delivery room, I was THIRSTY and sent my hubs to refill this cup a LOT.
A Bag
This is the overnight bag I used to store my goodies! It's a GREAT price and fantastic quality. If you travel by air quite a bit, know that this bag is also a good size for under the seat or overhead compartment. I love it!

The Best Snacks for Your Hospital Bag
A snack bag was a MUST! After delivery, I was (first) THIRSTY and (second) really hungry. Most hospital kitchens close after a certain hour and, if you're in postpartum during the middle of the night, most restaurants are closed, too. Having a snack bag within reach full of my favorite foods made a big difference for myself and my husband.
Coconut Water – I brought 4 big jugs of this potassium-rich beverage and made it a point to drink at least one full one each day. We kept these in a cooler bag so that they were chilled.
Gluten-Free Graham Crackers – most hospitals will bring you graham crackers, but they don't always have a gluten-free option. I liked the idea of a tasty, easy-to-eat carb, so I brought a box of THESE.
Dried Fruit – tart cherries were my choice!
Prenatal Vitamins – though not a snack, remember to toss those in! THESE are the ones I chose. If you have questions about what prenatals are right for you, ask your team of baby professionals.
Dates – for a really tasty, sweet treat.
Peanut (or Almond) Butter – to put on the dates
Chips – in case I wanted something salty to snack on.
Green Pears – pears are actually known to help loosen stools a bit, which you'll be thankful for after a vaginal delivery. I ate one a day!
Sparkling water – because who doesn't love a little bubbly.
I hope you found this helpful!! While you could get away with an abbreviated list of what I've got here, the items included in my hospital bag are what I think helped make my experience so smooth and comfortable.
More Pregnancy Related Articles
If you want to see more of my pregnancy-related articles, check out my Baby Registry, Baby Announcement, 1st Trimester Recap, 2nd Trimester Recap, and 3rd Trimester Recap.