My Baby Registry
jump to recipe
I hope you enjoy my Baby Registry! It covers the preliminary decisions we've made for baby gear, clothing, feeding, nursery, bath, health, toys, diapering, and ideas for mom. Our goal was to try to stay somewhat minimal and also toxic material-free, where possible. I hope you enjoy! I'll be sure to keep this list updated with personal experience after she arrives (expected January 13, 2018).
Last update: April 18, 2018 when baby girl was 11 weeks old! I've only left comments on items that we have really used. For all others that she hasn't used yet (like her crib, ha!), I'll update on when we've had some experience.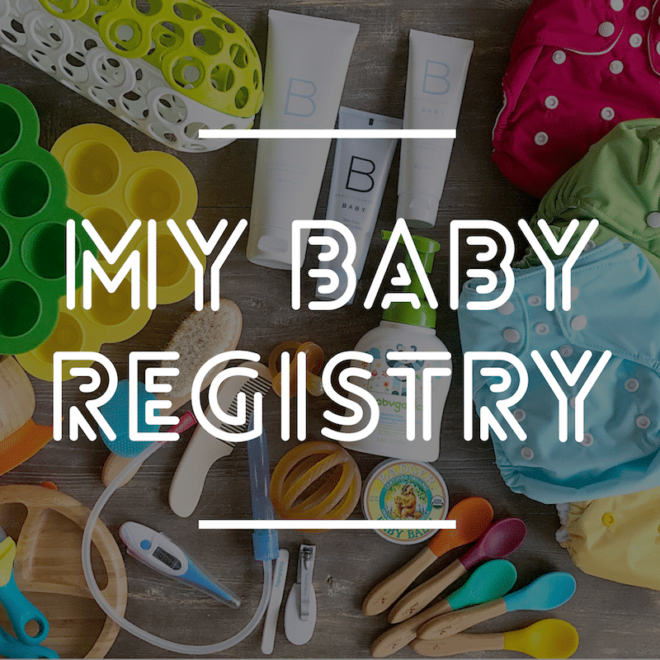 Pregnancy (and I'm sure parenthood) is a LOT like building a muscle. Slowly, over time, you build your weighty "a dependent life is directly impacted" decision-making muscle. Pregnancy starts off with mini decisions that FEEL like big ones. Just like a workout, those decisions get bigger and more important as your muscle to make them strengthens. My biggest, "oh my gosh I'm sore" decision making muscle exercise in my 1st and 2nd trimesters revolved around this registry. Goodness gracious, I had a LOT to learn and (what felt like) endless decisions to make.
Are we going to cloth diaper? If so, when and with what? 
How much does organic matter? 
Which companies can we trust? 
What ARE the US safety standards compared to products made elsewhere? 
Where is a reasonable stance (for us) between eco-friendly and practical products?
etc.
After reading more manuals and reviews than I can count, I finally started to chip away at our baby registry. I put SO MUCH thought into this registry (in the spirit of complete honesty) really because I wanted my husband to have the resource should anything ever happen to me. I hope that comes across how I intend. It's not that I *expect* anything bad to happen, but on the off-chance, I'd rather him have a list of answered questions and resources so he's not left wondering what I would or would not have voted for our baby girl.
Our registry or list of "pre-decisions" is a whittled-down list of baby stuff options from the OCEAN of products available on the market right now. Of course, all we really need are each other, a baby, good health (praise), something to cover her bottom, something to cover her body, and something to cart her around in the car. So much of the rest can be seen as extra or nice-to-haves, which is exactly our perspective. I'm a maximizer at heart. I want to maximize efficiencies as much as possible. Surrounding ourselves with what we need, what makes the most sense with regard to safe-for-baby materials, and what will help us guide this little human through her first precious years of life.
I hope you find my registry helpful and that it empowers you as you whittle-down the endless list of baby stuff options out there. If you're feeling overwhelmed, know that you are NOT alone. Research until you're happy, make a decision that resonates with YOU, and move on to your next to-do. We can always call an audible down the line when we learn (with experience) what will serve our individual little ones best.
Note for my TRULY minimalist friends: I've BOLDED the items below that I would consider absolutely essential. The non-bolded items are all nice-to-haves. I plan to revisit this list with updates in the future as we've got more practice using everything!
Where I registered: I registered on Baby List! It's a neat service that allows you to link to (essentially) any website. This way, you're not juggling multiple lists and can have a little more freedom as you find products from other small shops.
BABY GEAR
Cybex Cloud Q Infant Car Seat – I probably did the more research on car seats than anything else, mostly because the options are vast. I loved this seat because of the added safety features and the fact that it will lay flat (when not clicked into the car seat base) so that baby can sleep on the go in a reclined position.

We LOVE this car seat so much. The lay-flat feature is fabulous for when we're out and Gray is in a deep snooze – we just recline it so that she's not napping while sitting up. My husband loves to show off the car seat's features, especially the front base foot and the side impact bars. I

Cybex Priam Fram with All Terrain Wheels – this is our main stroller base and it's awesome! Very minimalistic and easy to use. It will work with our carseat and the clip-in stroller seat below. We LOVE this stroller!! This may sound a little weird, but it drives like a nice car. Truly. Turns easily with one hand, provides plenty of storage (for me), and is light enough to carry over steps if necessary. Note that I also recently purchased this bag hook and I LOVE it! They no longer carry the exact frame we have, but I've linked a similar one!
Cybex Priam 2-in-1 Light Seat – this is the stroller seat we got for walking use around the neighborhood trail or for when she outgrows her infant car seat. It clicks into the same base above and converts from a bassinet into a toddler-friendly seat. Note you can grab both the Priam Frame (all terrain) and the Lux Seat as a discounted package HERE.

We've only used this seat in the bassinet configuration, but it's awesome. Gray gets some great naps in here while we're on our walks!

Nuna Rava Convertible Car Seat – my sister-in-law recommended that I go ahead and register for a convertible car seat off the bat. We'll use this when she outgrows the infant seat.
Brica Seat Guardian – this simple product was on the wish list of my hubby. It goes onto the car's seat BEFORE the car seat base. It helps to protect the car's seat from wear seen by the car seat base, dropped food, and kicking feet. We have ours installed and, so far, I'm really glad we have it!
Lotus Bassinet Kit + Crib Bundle – this is our version of a "pack n' play" for those who are familiar. It folds up SMALL (you can wear it as a backpack) and has awesome features as it transitions from a bassinet to a true crib. The side unzips so that babies can crawl in/out (of the crib option) or so that moms can lay down and comfortably nurse.
Fisher-Price Swing – just about every parent we know has one of these swings and loves them! They will rock baby and provide entertainment while you (mom or dad) have your hands free for a moment.

We keep this swing in our living room and Gray loves it! Funny enough, she likes it best when it doesn't swing …but it's nice having a seat for her in the living room so Austin and I can eat our dinner while she gazes at the fun birds above her!

BabyBjorn Bouncer in Organic Cotton – this is the seat we plan to bring with us to the gym! Baby can self-sooth and grow with this seat into toddlerhood.

We JUST broke into this bad boy and I'm sad we didn't do it sooner. SO FUN! Gray can sit up in a minimal bouncy style chair while she watches me cook. We also bring it to my parent's house for her to sit in during mealtime. 

Highchair – Stokke Tripp Trapp ($$$) is the main highchair we decided on for our house. We love that it will convert as she continues to grow. We've also heard wonderful reviews from other parents about how easy they are to clean (spray them down and you're done). If the Tripp Trapp is out of scope, check out THIS ONE ($) from Ikea. I've heard good things about it as well.
Highchair Attachments – if you go for the Stokke, make sure you register for a Tray, Baby Set, and Cushion.
HALO Swivel Bassinet – we haven't officially decided on our sleeping plans, but this is already set up in our bedroom. We also got this Newborn Insert and these Organic Cotton Fitted Sheets (2 of them). I like this bassinet because it will actually fit over the bed a bit so she can be really close to me. One side also collapses (when you want it to) so that I can easily reach in and grab her for feeding.

SO, she's spent maybe 10 hours in here total …but in a few weeks, I'm going to transition her there. The bassinet has been hanging out in our room, but Gray has been (safely) in our bed so far. I still love this peace and think it'll be a great way to transition her from our bed to hers. 

Snuggle Me Organic Baby Bed – this came highly recommended by friends who chose to co-sleep! I love the materials used to make this bed. It's great for newborn to 6 months.
DockATot Deluxe+ – this also came highly recommended! Though I think the Snuggle Me Organic would be ideal for those wanting to co-sleep, this DockATot is loved for being a portable crib and lounger for baby. We'll likely use ours in the living room or for when we travel and want a safe space to place her (with observation, of course). We also opted for the DockATot Toy Arch, Toy Set, Transport Bag, and Cover (to help make cleanup/washing even easier).

This is where she currently sleeps! We have it nestled between us and she sleeps like ….a baby. The first night I put her in here, she slept for a miraculous 5.5 hours …and I wish I'd done it sooner. Love how portable this is! I also love that we can easily wash the cover. 

Inglesina Fast Table Chair – this is also known as a "lobster" chair. I did a good amount of research digging into chairs that will clean easily AND that will fit on a thicker (3″) table. This one fit the bill! It comes in a number of colors and we plan on this being our main chair when we go to my parents each week.

She's still too young to sit in here, but I'm excited about the day we can use it!
Note: I would consider *some* kind of sleeper that you can keep in your bedroom as essential (would be bolded) while your little one is a newborn and not quite ready for their crib. I didn't bold the bassinet or the snuggle-me organic above, because you could reasonably choose one or the other 
CARRIERS
My carrier game plan is to try several! I know that some are best for tiny babies and other great for when they're a bit older. These are the ones I included in my registry:
SWADDLES & BLANKETS
Like the carriers, I wanted to have several options on hand so we can figure out what works best for our little one!
CLOTHING
If your friends and family are like mine, the majority of your baby gifts will be adorable pieces of clothing! As such, I really only registered for everyday basics.
DIAPERING
Though I do plan to share a dedicated post on our actual experience, our initial thoughts are to lean on disposable while she's a newborn and then we'll transition to cloth (all-in-ones) when she's about 10 pounds. We will then reconsider our stance once she starts to walk as there are some emerging studies correlating healthy hip development with diaper bulk. Stay tuned!
Smart One 3.1 by SmartBottoms – these are just the all-in-ones (AIO) we've settled on but there are a BUNCH of options out there. We also have some Thirsties All-in-Ones.

Gray is still in pretty small disposable diapers, so we haven't switched to cloth yet! I'll be sure to update as soon as I've got some experience here.

Bambo Nature Disposable Diapers – I registered for a set in newborn (size 1) in addition to a stock of sizes 2 and 3.

I love these diapers! No complaints. I love that they're made with safer ingredients and, even though there's no wetness line, we have had no issues determining when she's dirty or wet.

Water Wipes – these will be our primary wipes as the ingredients are most simple and benign! I'm actually not a huge fan of the texture of the water wipes and instead loved THESE "Bets & Emy Wipes." They're also essentially a water wipe, but have a bit more texture – making them easier to use when cleaning dirty bums. 
Honest Wipes – we plan to have these on hand if we decide that we want to employ a wipe with a bit more scrubbing power. I don't need these now that I found the Bets & Emy!
Wet Bag Roll from OH BABY! – we plan to keep these on us for wrapping up our used diapers and dirty cloths while out.

These are handy!

Gerber 3-Ply Prefold Cloth Diapers – though we don't anticipate using these to diaper our daughter, I do want them as burp cloths.

We use these ALL THE TIME. I think I must have 10 of them scattered around our house at all times. They're great burp cloths.

Ubbi Steel Diaper Pail – after a bunch of research on diaper pails, this is where we landed! Their reviews tout that they really lock in any odors and are easy to use. We actually got 2 of them so that one could be for our laundered diapers (cloth) and the other for wipes/trash or used disposables.

We still love these pails! I have zero complaints. I do think that they do a great job of keeping odors contained! 

A Diaper Bag for Mom (this is the one I have ($), but this one ($$$) is also neat!)

I LOVE my diaper bag!! 

A Diaper Bag for Dad – 

Austin loves his Dad bag.
BATH
PRIMO EuroBath – this one adapts for both an infant and toddler. When this bath showed up in the mail, it was MUCH bigger than we anticipated. It's too big to use in a sink and will have to be used in a tub. We kept it because we think we'll use it in the future, but instead opted for this Boon Bath Tub. It's small enough to fit over our kitchen sink (where we like to bathe her right now) and has a handy temperature reader.
Wood Step Stool – makes a great gift that they can use when they're older!
Hook Shelving – for little hoodie towels, ours is installed and it replaced our standard towel rack.
Bath Accessories – I just loved this soap dispenser, toothbrush cup, and trash can. We opted for gray.
Hoodie Towels – I registered for 3.

Love these!!

Critter Wrap – they're just so cute and make great gifts.
Dr. Bronner's Baby Unscented Soap – I wanted 3 bottles to keep in stock. – I actually started alternating between this Beautycounter Baby Soap (a liquid) and this Goat's Milk Baby Soap (a bar) from Primally Pure. I found that these two options dry her skin out much less.
Natural Baby Bath Sponge

I haven't used this yet! I just use the washcloths to bathe her. I find the cloths easier for getting in all her little wrinkles and between tiny toes.

Infrared Temperature Gun – I'll be honest, I thought my husband was joking when he showed me this "temperature gun." It shoots a laser into water and gives a digital reading of the temperature. I was like, "hun, I'm sure we'll be able to tell if the water is too hot for her." THEN, we tested ourselves (ideal temp is somewhere between 90, but under 100 F) and got HOOKED on this little gun! I love it. Use it all the time and highly recommend.
TOYS / ENTERTAINMENT
One thing that I've seen done (if you're having a baby shower) is to request a children's book in lieu of a card. This is a great way to stock up your little one's book shelf!
Skip Hop Activity Gym (lay down and play)

this is the only "toy" she's really used so far! We love it! It's great for tummy time and just general floor time. She likes to look at herself in the mirrors and finds the hanging toys really fun to look at.

Skip Hop Activity Center (where they can sit and play)
Baby Einstein Sea Dreams Soother – this will go on her crib, but we've decided to use it only if we really need it.
HEALTH, SAFETY, & SKIN
Primally Pure Baby Powder – though we haven't decided if we're going to use a powder at all, this is the talc-free kind we're keeping on hand just in case. Note also that this Primally Pure Baby Kit is a great gift option for safer skincare conscious expectant parents.

I've used this powder just about 2 times, to see if we liked it, and really haven't had a need for it so far! If we do need a baby powder, I'll still use this one. Also, to avoid the risk of inhalation, we applied the powder to the clean diaper FIRST (and aways from baby).

Beautycounter Baby – for safer options for a Calming Diaper Rash Cream, Daily Protective Balm, and Baby Oil. This "Ultimate Baby Collection" is a great option for a gift as it even includes a great diaper bag!

I still love all these products!! She had some dry skin at first and the baby oil helped. We'd apply it after her (about once weekly) bath on her legs.

Natural Baby Brush & Comb Set – I like that this one also includes a cradle cap brush. The cradle cap brush was helpful! She had a little cradle cap (looked like dandruff) and it helped scrub a bit with a little olive oil. I also love the soft brush for her fine hair.
Baby Toothbrush – though we won't use it for a little while, I want to have these on hand.
BioGaia ProTectis Drops with Vitamin D – I know moms who will add a drop to their nipples before breast feeding as a way to administer to their infant. I need to do a bit more research on frequency we'll administer, but I have them on hand for the time being. I stopped using these and started REALLY supplementing myself. I'm not advocating for any one thing and be sure you talk to your doctor for the best direction. This article was helpful for me!
Fridababy Nail Clipper Set – the emery board I'll take with us to the hospital to help gently trim her newborn nails.
Fridababy NoseFrida Nasal Aspirator – this is a replacement for the classic bulb and every parent I know swears by this gadget. Just make sure you don't run out of filters! 😉
Digital Thermometer – we opted for a classic thermometer so that the temperature would be more accurate (vs. a forehead thermometer).
Badger Baby Balm – to have on hand if we need it!
Babyganics Alcohol-Free Foaming Hand Sanitizer – we'll keep this on hand in diaper bags and around the house for use, especially when we have visitors who want to hold our newborn. 
Fragrance-Free Laundry Detergent – in some irony, finding a truly squeaky-clean detergent is tricky. Most contain some kind of additive that I would be less than excited about applying directly to my skin. Most of what we wash our clothes in washes off …save for fragrances, which can transfer to the skin. If you find a fragrance-free detergent you like, I'm of the "it's close enough" mindset – but you choose what's right for you! Biokleen and Babyganics are a couple options that are readily available. If you'd like a "cleaner" version that requires a bit of work to use, I recommend Branch Basics (the concentrate + oxygen boost). 
FEEDING
Medela Manual Breast Pump – though we're getting a much nicer one for primary use (through insurance) this hand pump will go in the diaper bag/car should I ever get caught in traffic and need to pump. Haven't used this hand pump yet because I LOVE my other pump!
Spectra Hospital Grade Breast Pump – we did a good amount of research on pumps and settled on this one! It's great. Comfortable, compact, and user friendly. I don't love pumping (breast feeding is so much easier for me), but I have no complaints about the pump!
UPDATE: I've ordered the Lanisoh Milk Storage Bags instead after hearing from several people that the Medela bags tend to bust in the freezer (no bueno for a mama who worked so hard to collect that milk). Medela Pump and Save Breast Milk Bags – this is what I'll freeze if I need to build a stock for when I'm away from baby girl.
Ergobaby Nursing Pillow – there are a LOT of options for nursing pillows and I just really liked this one.

I used this a lot when Gray was a tiny newborn, but find that I really don't need it anymore. I've found that I can prop up a leg and hold her in place easily.

Dr. Brown's Newborn Feeding Set – from what I understand, Dr. Browns is best for reducing gas. I've pre-washed this and they DO have a bunch of parts. Click HERE for a glass Dr. Brown's set, if you prefer to go that route.

These are our go-to bottles (for all 4 times she's gotten a bottle, ha!). The parts aren't that difficult to wash and the bottles really do help reduce gas.

Avent Natural Newborn Baby Bottle Starter Set – we wanted at least one other bottle system on hand so we can figure out which ones work for us. Click HERE for a glass Avent set, if you prefer to go that route.
Lebenswert Stage 1 Organic Infant Milk Formula – though I do plan to exclusively breastfeed, I wanted to have this on hand just in case it's ever needed (like what I said above about wanting this list to support my hubby if I'm ever not around). After a lot of research and talking with several friends, this formula came with rave reviews.

We still haven't had to use this formula, but I'm glad I've got it just in case!

Ecopiggy Round Pacifier – though we're planning to avoid the use of a pacifier at first (to help make sure she's a strong breastfeeder), this is one of the ones (of 3) we'll have on hand for when the time comes.

This pacifier is still too big for her right now.

Hevea Non-Toxic Natural Rubber Pacifier – this is another one we'll have on hand.
Avent Newborn Pacifier – this is the 3rd kind I grabbed.

She doesn't like this one!

Mam Pacifier – these are her favorites! 
Avent Soothie Pacifier – these are her 2nd favorites. 
Silicone Baby Food Freezer Tray – I wanted 3 of these on hand so that, when the time comes, I can get a head start on stocking the freezer with homemade baby food.
Nuby Garden Fresh Fruitsicle Pop Tray – so that I can make her some healthy popsicles!
Boon Pulp Silicone Teething Feeder – great for helping her mash and teethe those first foods.
LunchBots Stainless Steel Food Container – I wanted a couple of these on hand so that I can easily bring snacks (when she's eating solid foods) with us on the go.
Avanchy Plate and Bowl Gift Set – it will be a while before she can use these, but I think they're awesome! The bottom of the plate and bowl will suction to the table, making sure that it stays put.
OXO On-the-Go Travel Drying Rack with Bottle Brush – this one will go in our diaper bag for use when we're visiting friends and family for an extended time.
Boon Clutch Dishwasher Basket – to help us keep track of all the small parts and pieces in the dishwasher.
NURSERY
Crib! Considering the amount of time our little one will spend in the crib, we wanted to make sure that we have one made with minimal toxins. We ultimately decided on this Babyletto Hudson 3-in-1 Crib ($$) that comes with the toddler conversion kit. The Oeuf Sparrow ($$$) was also on our list. If those two are out of the question, check to see if iKea brought back the Sniglar crib. It's at around the $100 mark and is (supposedly) made with unfinished beech. Unfortunately at the time of my writing this, it's not available in their online store.
Crib Mattress – we got the pure core non-toxic Babyletto mattress ($$) that comes with a dry waterproof cover, but this Oeuf Organic ($$$) is a good option, too!
Hanging Clothing Dividers – these help us organize all the sweet clothing gifts baby received!

These are so handy for organizing her closet!

Baby-Size Hangers 

I am SO glad we got these!! They work great for her tiny clothes.

Hatch Baby Rest Night Light & Sound Machine – like so many gadgets, we may or may not use this, depending on the needs of our little one …but we're grateful to have it on hand. I like that it pairs with our phones and that we can have it emit yellow-toned lights at night (blue lights stimulate cortisol).
Nest Cam Indoor Security Camera – we're planning on this camera for our primary baby monitor! We also ordered a couple Fire HD 8 Tablets so that we can run them as a dedicated monitor (vs. having to log into the app on our phone). Note that the Fires need to be "side loaded" to work how we're planning. This camera will be installed permanently in the nursery.

We love our nest! Gray doesn't spend much time in her room right now, but it's fun watching Gus in there whenever we're gone. 🙂

Samsung Wisenet Baby Monitor – we're also going to make use of this monitor for whenever we want to keep an eye on our daughter when she's not in the nursery: like when she's napping in the bassinet in our bedroom or when we're traveling to see family.
Oeuf Organic Crib Sheets – I got the advice to register for 3 crib sheets, which is what I did!
Basic Organic HALO Bassinet Sheet – for use while she's in a bassinet, before we transfer her to her crib.
Hamper – I like to have two hampers so I can pre-separate light and dark clothes.
Oeuf Eco-Friendly Chaning Pad – this one fits our dresser/changing table perfectly and I love that it's made without toxic materials.
Wool Moisture Barrier for Crib, Bassinet (if you have one of this size), and Changing Table – I've heard rave reviews about this exact wool barrier by Holy Lamb Organics!

This works great!
FOR MOM
Lace Nursing Sleep Bras – I've heard wonderful things about these! I've stocked up on 4 of them already.

I love these! If you already prefer a bralette, you'll like these. I wear them during the day (and nothing while I sleep).

Comfy Slippers – slip-on style so that she can easily slip (possibly) swollen feet in and shuffle through the house, hospital, or birthing center halls.
Motherlove Organic Sitz Bath Soothing Herbal Spray – going in my hospital bag for sure!
Vital Proteins Collagen Peptides – though I need to officially recommend you consult your doctor on adding this into your diet, I've been enjoying 1-2 scoops daily this entire pregnancy. Read more about the benefits HERE.
Primally Pure Body Butter – I have been slathering this on my belly every day this entire pregnancy and SWEAR that it's helped my skin tremendously.
VISUAL BABY REGISTRY
For those of you who prefer a visual shop, here's a clickable version of my baby registry! Note that this does not include all the products mentioned above, just the ones I could find with the program I use to bring you these handy boutiques. I hope you find it helpful!