Every item on this page was chosen by The Fed & Fit team. The site may earn a commission on some products (read more here).
I hope you enjoy this 2nd trimester recap! I'm sharing the big moments, symptoms, lessons-learned, how my fitness plan is evolving, what I'm eating, what I'm not eating, and a few pieces of the best + not-best advice I've received.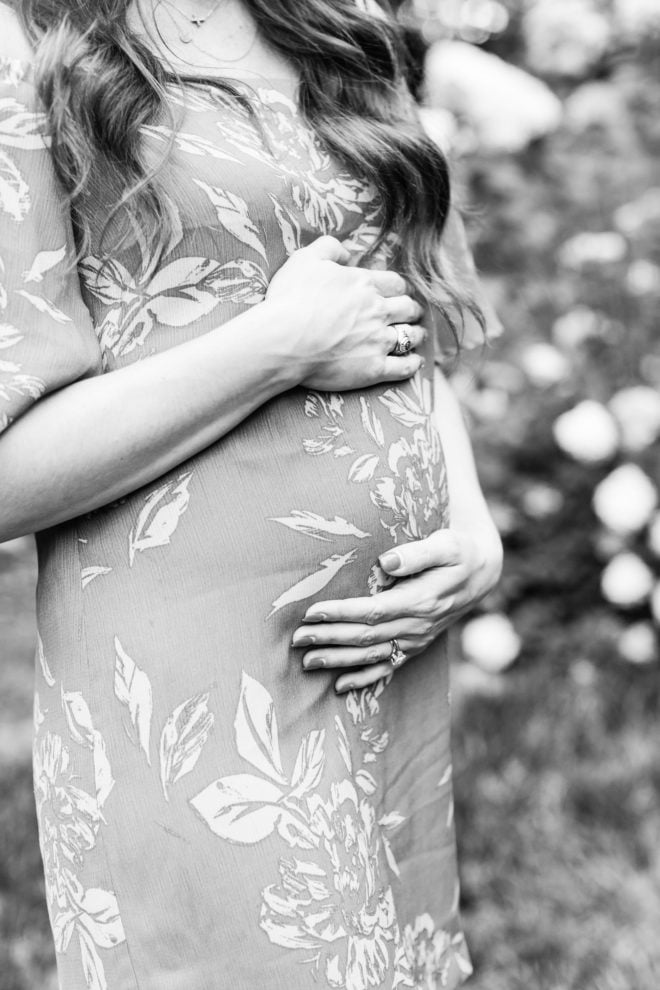 My 2nd Trimester Recap
Marked by week 15 to week 26 of my pregnancy.
The Important Dates
Though there were less BIG milestones (in the form of dates) during the 2nd trimester, there is one big date that I don't think I'll ever forget…
Week 20 – August 23rd: I (undoubtedly) felt baby girl move for the first time. It was SO EXCITING. Austin and I were away on a trip to the Greenbrier, WV for a ladies golf tournament (TPC International, for anyone curious) with my parents and a few friends. This was also the first trip where a stranger braved asking if I was expecting, to which I excitedly replied, "YES!" My bump was looking a little more like a baby and less like I'd been glutened at dinner the night before. During this trip, I started walking around with my hand on my belly to see if I could interpret the tiny, confusing butterfly-like movements I thought I *might* be feeling. It wasn't until we were in the car on the way back to the airport that I felt a REAL, no-question kick. I jumped in my seat, yelled, "I felt her kick! A really real kick!" Those beginning months were marked by doctor's appointments that seemed so few and far-between. We were due to go see my doctor later that week, but I was impatient to hear her heartbeat. Her little kick was instant, divine reassurance. I cried a little in the car as I thought to myself, she's okay!
How My Body is Changing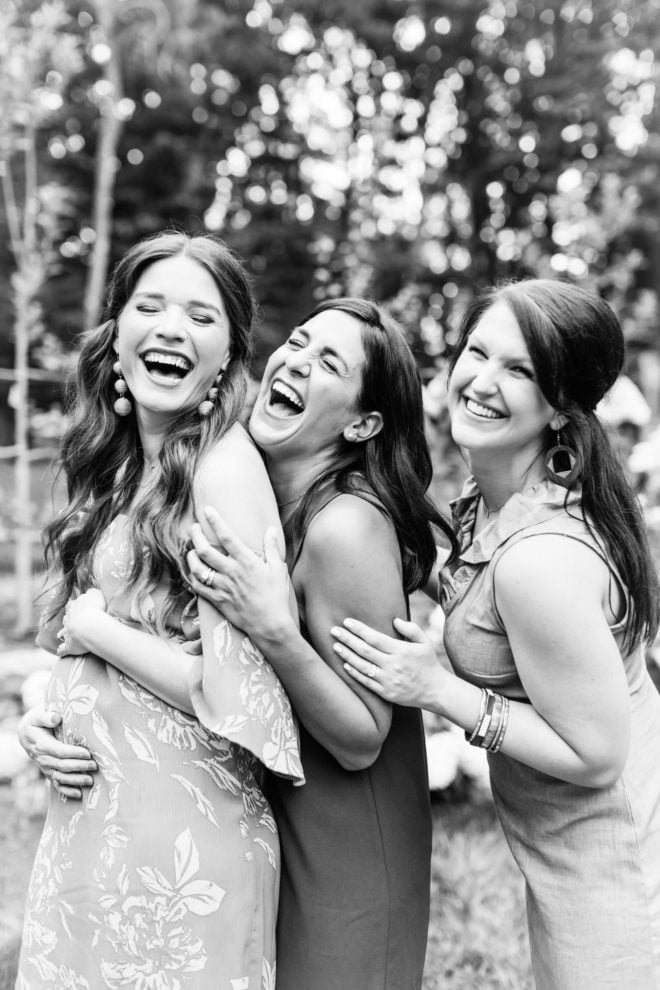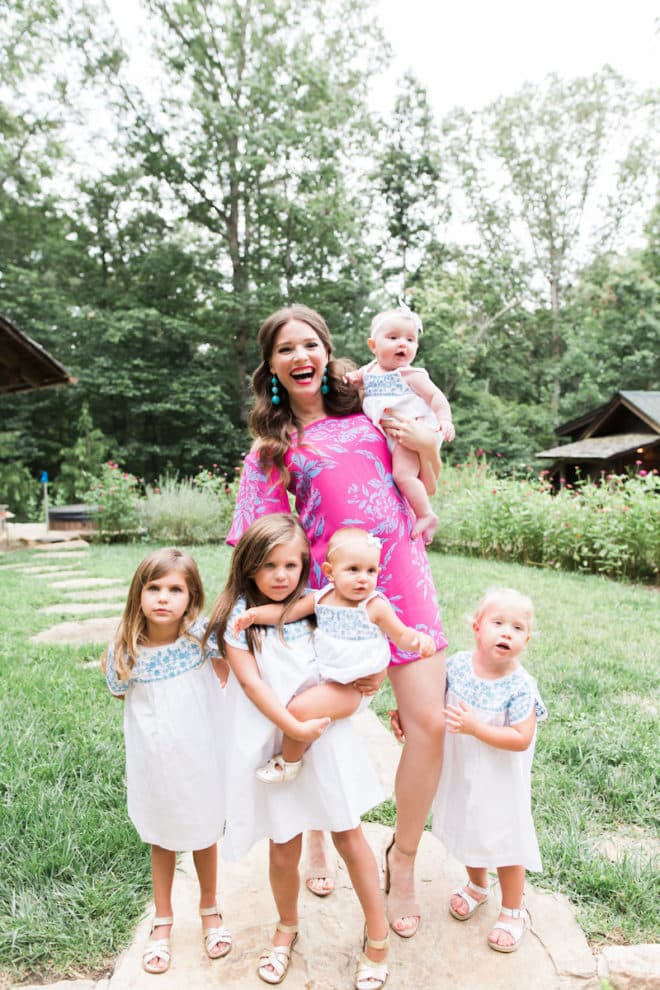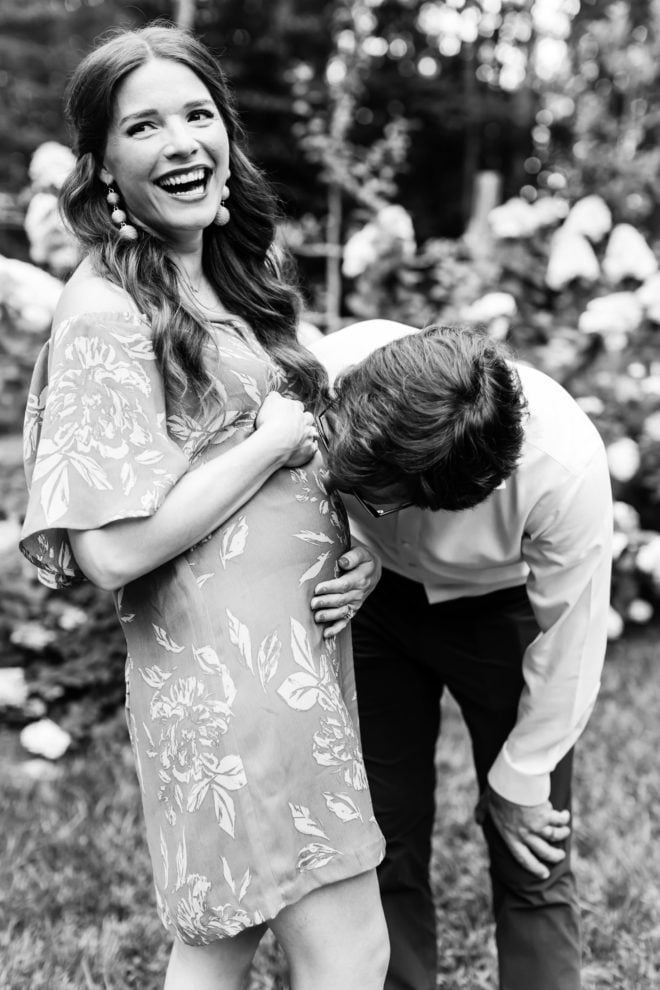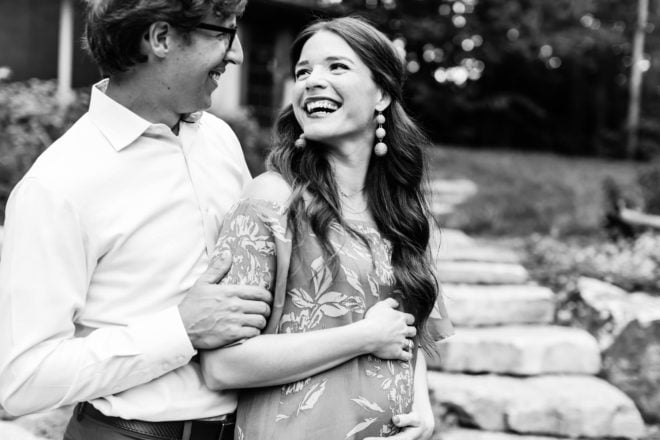 The photos in this post were taken at the very beginning of my 2nd trimester. We were on vacation in Asheville, NC with Austin's family (you can see the full recap HERE) and scheduled a big photoshoot for the occasion! Though my bump was so tiny during this time (I was about 17 weeks), it was still so sweet to have the youngest member of the family present with her flock of cousins.

The 2nd trimester, at least for me and at least for this first pregnancy, is where I went from just knowing that I am pregnant to finally looking like I am pregnant. Though I gained a little weight in the first trimester (putting on a little more water and a little more fat, both important for sustaining a healthy baby), my belly felt like the last thing to grow. Then, finally, around weeks 17-20, she started to make her appearance. Of course, my belly was more noticeable depending on what I ate and the time of the day. If I ate something that disagreed with my body, she'd pop out a bit more. She was also a little more more noticeable towards the end of the day.
All other changes have been minimal! It seems that my non-belly weight gain has stalled and all new growth is now pointed directly at my lower belly. …bring on the belly-friendly stretchy pants!
Current Symptoms
This list is blessedly short and if anything, is marked by GOOD things. I've been told by a few people that the 2nd trimester is the "sweet spot" of pregnancy, usually marked by more energy and fewer painful symptoms. I'm happy to report that my own experience matches!
More Energy! Oh thank the heavens for this. I hadn't anticipated being so tired in my first trimester, which slowed my roll quite a bit. Having more energy in these middle months really helped me both catch-up and get-ahead.
No More Migraines! Okay, maybe that's not entirely true. I did have a couple, but they were short-lived and triggered by food. My body does NOT do well with wheat gluten. It normally (as in when I'm not pregnant) causes swelling and headaches. If I accidentally have gluten while pregnant, it apparently causes even MORE swelling and a migraine. Since this realization in my 2nd trimester, I have been extremely careful to avoid it. The frequencies of my headaches has slowed down considerably!
Minor Swelling. This is really only focused on my ankles and it really only shows up at the end of the day WHEN I've been on my feet for hours at a time. My team and I are working hard to build up a 3-month backlog of content to support *you* (here on the blog) so that I'm able to take a real-deal maternity leave when baby arrives. Our efforts has included several all-day cookathons in the kitchen and I'm usually left a little swollen by the end. In this Maternity Athletic Wear 101 post, I link to some socks/shoes that have helped to give my ankles plenty of breathing room.
State of Emotions
Determined – to make the most of this 2nd trimester energy high! I'm leveraging this energy to get my business (Fed & Fit) ready for a maternity leave so that I can be with baby, you have an abundance of great content, and my team is set up for success.
Energized – by the baby's movements! Her becoming-more-frequent kicks keep me focused on our family.
In awe – every one of her little movements feels like a brand new miracle.
Grateful – for the break in migraines. I'm almost in tears typing this with gratitude.
More Direct – maybe not an emotion exactly, but I've been washed with a conviction to be more direct. My decisions are more deliberate, the way I communicate more straightforward, and I'm making fewer apologies for putting inclinations/intuitions into practice. The desire to please for the sake of pleasing is less and less. It's as if I can see my time and how I spend it more clearly. I can more clearly see the people in our lives who are great company (making great company for our growing family) and the people who represent a (maybe passing) season in our lives.
Baby Decisions (so far)
Goodness, this is the one area that's littered with the most opinion landmines …but here I go! Like I said in my 1st trimester post, we did make the decision to give birth in a hospital. In this setting, there can be 2 non-hospital staff people (in addition to me) present in the room. Of course, my husband will be one person. We've given our 2nd person a LOT of thought and ultimately asked my mom if she'd be there with us. Our list of reasons are LONG and we've weighed the pro's/cons' (between my mom or a doula) extensively. I won't bore you with all our reasons, but it ultimately came down to clear-headed council that we trust on the deepest level. My mom is, by far, the strongest person I have ever known and we trust her completely. If she doesn't know the answer, we trust her to seek-then-vet information in our same style. She's someone who does an incredible job of offering insight only when asked, always reminding us that we're equipped to make the right decisions. She's my personal lightening rod for checking into my own gut and my own intuition. With no pride and just an abundance of support, love, and faith, she's exactly who we want by our sides to help us navigate any (heaven forbid) complicated decisions.
Most of our other decisions (in this 2nd trimester) have been nursery-related! I have mostly finished designing the nursery and cannot WAIT to show you. As soon as it all comes in, I'll publish a blog post to chat share the details.
ALSO note that I *do* plan to share our complete baby registry here on the blog. I feel like I'm walking away from that experience with a doctorate in baby safety. It was a LONG process and I promise to share all our little-to-big decisions! I hope you (or someone you know who's expecting) find it helpful.
Eating Mostly…
FRUIT! I made the decision (backed by what makes good baby-building nutrition sense) to snack more than I did pre-pregnancy. The pregnant body is SO different and one way to support it (for me) has been somewhat regular snacking and lots of fruit.
I haven't really had many specific food cravings, but have been eating a LOT of pomegranate seeds. They make a handy snack in that I can just enjoy a few spoonfuls to be satisfied.
I've also been more diligent about adding collagen peptides to my daily routine. Whether it goes in my morning cup of coffee or evening cup of ginger + lemon tea, the little proteins will continue to help my growing belly accommodate baby girl. I have a "everything you need to know about collagen" post coming to the blog soon, so stay tuned!
Not Eating…
Alcohol (I still don't miss it)
Excessive caffeine (I still have 1 cup of coffee a day)
Potentially questionable proteins (like sushi in a landlocked city or too-pink burgers at restaurants)
High-mercury foods (think shark, swordfish, or an excessive amount of tuna)
Gluten-containing foods (migraines? NO THANK YOU)
Note: the above list is the same as my 1st trimester post! There will be a couple changes in my 3rd trimester post. #staytuned
Fitness Gameplan
I interviewed Brianna Battles on my podcast and think that she does a FABULOUS job of explaining a healthy approach to fitness during pregnancy. You can find the episode (#126) in iTunes or the full transcript HERE. I recommend you give it a listen!
In a nutshell, I've implemented the following:
No-more sit-ups, v-ups, GHD, or kipping swings (for now). The reason is that I want to nurture a healthy, STABLE core …but not a core focused on abs. My abdominal muscles + connective tissues are stretching to make room for baby right now. To counteract that outward movement with contraction-based exercises could possibly result in strain that makes postpartum recovery more difficult. That being said, the core-based benefits from movements like squats can be GREAT for a growing-baby-filled-core. For more on this, go watch Brianna's videos on her website!
Focus on moving, not personal bests. This can be a big mindset shift, but moving is what's best for myself and for baby right now – not worrying about personal bests. I've become one of the slowest in my gym in these last couple months and that is OKAY.
Move weights, but not too much weight. It's so easy, especially with my 8ish years of Crossfit brain, to slip into the mindset of "sure! put another 5# plate on there! That felt too easy." Weightlifting is still important, but making sure that I'm *planning* those weights according to what makes healthy sense vs. following what my muscles can lift is an important distinction. If I get too distracted by a workout and too caught-up in the movements, I could possibly lift more than my body needs at the time. Though my muscles are still strong, my joints and ligaments are adjusting (thanks to the hormone relaxin) and I want to make sure they're supported.
Neatest Moment
The first time baby girl kicked FOR Austin. I have an anterior placenta …SO, if you were to put your hand on my belly, the placenta is between your hand and the baby. It acts like a giant pillow that absorbs a good amount of her movements. This made it difficult for Austin to feel her movements for a bit …but whenever he'd put his hand on my belly, she'd try so hard. He started to feel her little flutters at about weeks 21/22 and his eyes lit up. It was the most swoon-worthy thing I think I've ever seen.
Favorite Pregnancy Hack
Craving candy? Eat pomegranate seeds! They're still indulgent, still sweet, and still so small …but a much better choice than that bin of leftover Halloween candy.
Favorite Part of the Trimester
It's a combination between baby girl kicking, having lots of great energy to work, clear headedness, no more headaches, and just living in an abundance of joy for this new phase of our lives!
Least-Favorite Part of the Trimester
Making polarizing decisions. Even though we're clear-headed about making right-for-us decisions for our family, it doesn't mean we're immune from the weight of those decisions. It's not always fun saying goodbye to old seasons of life or making not-universally-popular decisions (like giving birth in a hospital, for one small example). I know this is the tip of the iceberg for where our lives are headed (parenting decisions sure to complicate further) and I'm thankful for the conviction to be more direct in this new phase of my life – it helps to relieve some of the sting.
Favorite Product
Pregnancy pillow! HANDS DOWN. I went big with this one and got a mega pillow. Though it takes up half our king-sized bed, it has really helped to train me to sleep on my side. It supports my back and helps me keep my knees aligned more properly. I wake up feeling so much more refreshed!
Best Advice Received
Savor the little moments. It can be so easy to let my mind wonder off to all the things I feel I "should" be doing to get ready for baby. It can be so easy to want to hop off the couch, make a few more lists, or tackle a few more to-do's. It's tempting to live so far in the world of preparing for after she's born, that I miss so many of the moments before she's born. With a number of big-ticket to-do's, I'm thankful of the mandated evening quite time I have with my husband. After dinner, we put our computers away (at least, most nights) and just be. It's because we've taken the time to be with her before she's born that we'll have such sweet memories of this chapter.
Most Unhelpful Advice (let's go there)
"You haven't made/done/finished  __(nursery, registry, other baby decisions)__  YET?!" Maybe this isn't exactly advice, but it's a backwards way of someone wanting to give you advice with a few sprinkles of disempowering judgement. At the end of our 2nd trimester, our nursery still wasn't completed, our registry just barely started, and we still have plenty of medical decisions to make. When we're asked about the status of any of those (+ others), my response of "we haven't quite gotten there yet," is usually met with an anxious remark. I've been reminded of babies coming early more times than I can recall. I think it's important for us as expectant parents to remember that we don't have to assume other's anxieties as our own. Your gut will guide you towards the right timing and, if timing goes awry, you WILL figure it out. It will all be oaky. Shrug off those likely well-meaning judgements of timing from others and remember that you've got a great handle on things.
XO,
Cassy Joy