Flourless Chocolate Cake
jump to recipe
I want to talk about this flourless chocolate cake like it's a person.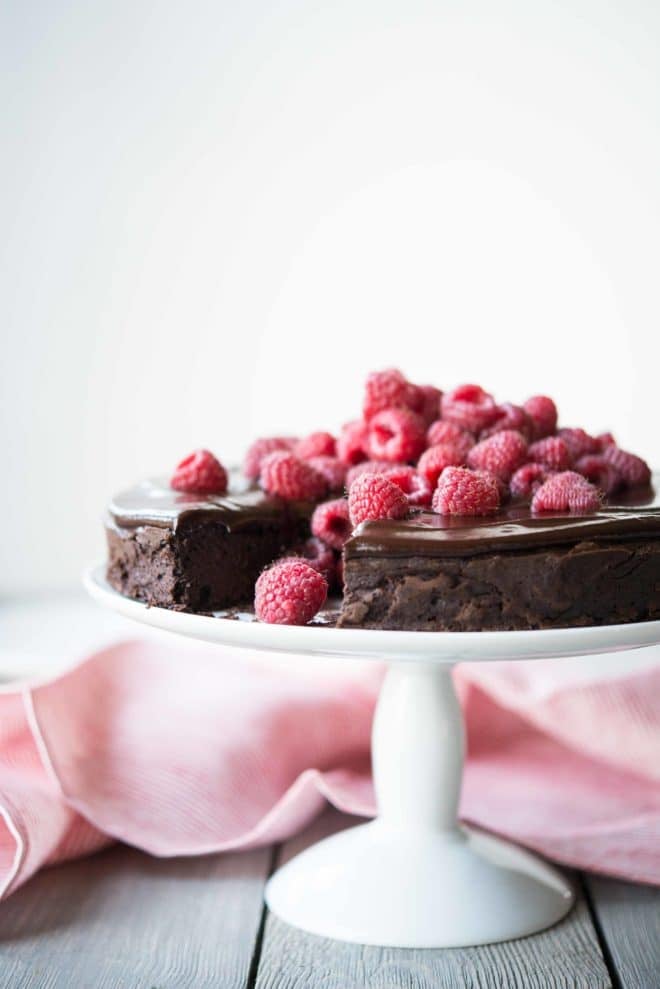 You with me?
Here we go!
Meet Lollie. Lollie was our favorite friend from school. She was funny, easy-going, and smart. We've been pretty bummed that, in addition to navigating the health insurance labyrinth and learning the tricks to a lower water bill, adulthood also meant we don't get to see our favorite Lollie much anymore. She lives several towns over and only drops by once in a blue moon. But by golly, when our BFF Lollie comes to town, we have the BEST time. We open a bottle of wine, giggle for hours, forget our grievances, and walk away happier versions of ourselves.
This cake is just like our BFF Lollie.
I don't make this flourless chocolate cake very often, but when I do, it's absolutely life-changing. Dense, rich, delicious, and special. It's best enjoyed with a glass of red wine and the kind of smile that tells any sad, negative thoughts to "go take a hike." This cake is my spirit animal, my love language, my Lollie.
Because extensive, complicated baking directions sometimes intimidate me too, I've crafted this recipe so that it's as straight-forward as possible. ANYone can whip this bad boy up and have themselves set for an epic night in or epic night out, blowing the socks right off that dinner party potluck you've got on your calendar for next week.
Though this flourless chocolate cake can absolutely be enjoyed "naked" (no frosting), I do recommend a batch of Hard Cider Ganache for a finishing touch. If you don't have hard cider, substitute with water! Remember, I don't do complicated. I do easy, logically modifiable, and delicious.
I threw a carton of raspberries on top of mine, but strawberries, blackberries, cherries, and lingonberries (please someone do this last one and tag me in a photo) would ALL be delicious, too!
Enjoy, love birds.
Print
Flourless Chocolate Cake
Author:
Prep Time:

5 minutes

Cook Time:

30 minutes

Total Time:

35 minutes

Yield:

8

-

10

servings

1

x
Scale
Ingredients
16 ounces

dark chocolate

7

large eggs

1 cup

(

16 tablespoons

or 2 sticks) butter, cut into 1/2-inch cubes

1/2 teaspoon

sea salt

1 teaspoon

vanilla extract

1 tablespoon

cold butter, for greasing the pan

1

batch Hard Cider Ganache

1 pint

fresh berries
Instructions
Unless you're working with chocolate chips, cut the chocolate into small 1/2-inch sized pieces. Next, melt the chocolate via one of the two methods below:

A. Double-boiler method: place the chocolate in a medium-sized glass bowl that can rest on top of a pot without falling in. Fill the pot with a couple inches of water, place the bowl of chocolate over top, and bring the water to a boil. Use a spatula to constantly stir the chocolate until it's melted and smooth.
B. Microwave method: place the chocolate in a medium-sized glass bowl and microwave it in 20-second increments, stirring well between each spell, until it's melted and smooth.

Once the chocolate is melted, add the butter, sea salt, and vanilla. Continue to stir until it's smooth and incorporated. Note: if the chocolate isn't warm enough, place it back over the double-boiler or back in the microwave long enough so that the butter can melt and incorporate into the chocolate.
Place the 7 large eggs in a large bowl and using either a stand mixer or hand mixer, beat the eggs on high for at least 4 minutes, or until they almost double in size and have a frothy texture.
Once the eggs are finished, fold about half of the eggs into the chocolate. Continue folding the chocolate over the eggs until the color is even (though lightened) and it's all incorporated. Then add the remaining eggs and repeat the same process, folding the chocolate over the eggs until you have an even consistency. Note: resist the urge to stir the eggs into the chocolate – stirring will cause the air you just beat into the eggs to disappear. The goal is to maintain as many air bubbles as possible.
Grease a 9-inch spring form pan with the remaining tablespoon of butter. Place a circle of parchment paper, cut to fit, in the bottom of the pan. Pour the chocolate cake mix into the prepared pan, smoothing out the top with a spatula.
Bake the cake at 350ºF for 30 minutes, or until the edges look like they've started to pull away from the side of the pan. Let the cake cool at room temperature for about 30 minutes and then transfer to the refrigerator to continue chilling for at least 4 hours. The cake needs to be completely cooled so that the cake can maintain its shape.
Once the cake is cooled, use a knife to cut around the edge of the pan to make sure that it's completely separated. Remove the sides of the pan and then, by using a sheet tray or platter, flip the cake upside down so that you can peel off the bottom and parchment paper. Flip the cake right-side over on your serving platter. Add the ganache and berries. You can then store it in the refrigerator until ready to serve!
Notes
If you don't have a springform pan, you can use a regular cake pan! Just be sure to grease well and use that sheet of parchment paper at the bottom.
If you let the chilled cake rest at room temperature for about 20 minutes before serving, it will have a softer consistency.