Every item on this page was chosen by The Fed & Fit team. The site may earn a commission on some products (read more here).
This Lemony Kale is possibly one of my most famous recipes ever! It solves two problems: how to make kale delicious and how to eat it more often.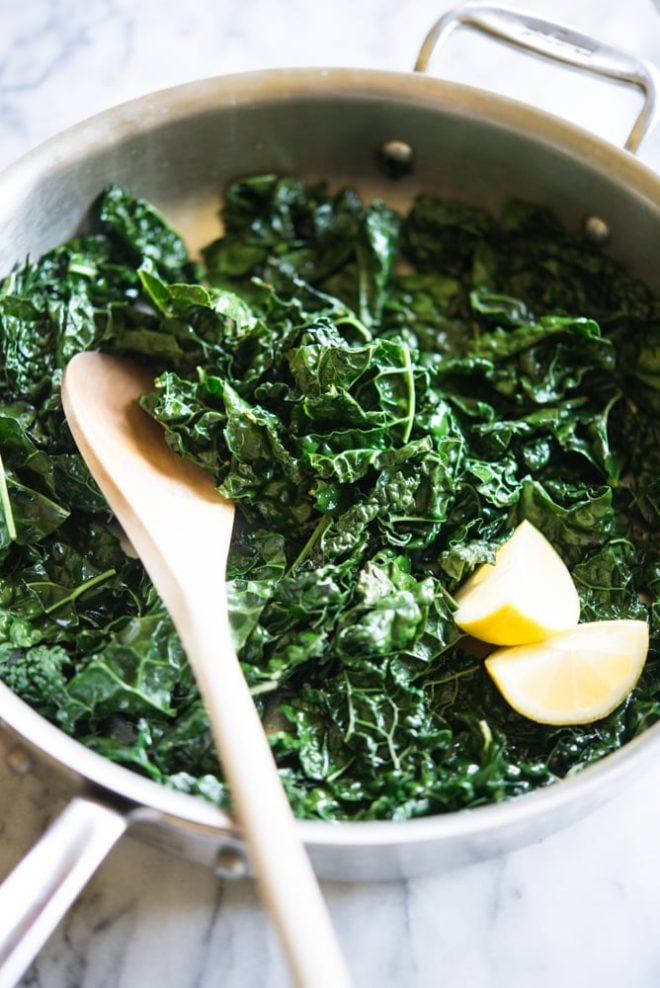 Lemony kale! It has officially swept the Nation and I can't tell you how much that makes my little kale-loving heart swell. When I learned of the nutritional POWERHOUSE that is kale, I made a deal with myself that I would do two things:
Figure out a way to eat it that actually tastes REALLY GOOD.
Find a way to plug it into my routine so I can enjoy it regularly.
You see, kale really is king of the veggie world. It contains more Vitamin A, C, and K than you can shake a stick at. But, it also has a reputation for being the worst kind of health food: chewy and without great flavor. Before I learned how to prepare lemony kale, I really thought: rabbit food.
Lemony kale got its official debut in my first book, Fed & Fit. While my dear friend Diane Sanfilippo and I were out on our combined book tour, I introduced her to the lemony kale. You see, I prefer this kale for (brace yourself) breakfast. I do! It's light, bright, and (believe it or not) totally crave-able if prepared correctly.
What are the secrets to preparing kale that actually tastes REALLY GOOD? The following:
Though curly kale is acceptable in a pinch, lacinato (or "dino") kale is best. The texture of lacinato kale can't be beat!
Use a tasty cooking fat to start: bacon grease is my preference, but butter and ghee are great, too!
DESTEM! Peel the leafy kale off the stem. Nobody, save for actual rabbits, enjoy eating those thick stems.
Saute in your hot pan with cooking fat just until the kale wilts and reduces in size a bit. Undercooked = warm salad. Overcooked = better than undercooked, but not as good as perfectly cooked. This usually takes me about 3-4 minutes until it's all bright green and a little droopy.
Season with: SALT AND ACID. This is the most important part. You really need to season the kale with both salt and acid. I sprinkle mine with a pinch of sea salt and then (hence the name) I add a liberal amount of FRESH lemon juice.
This preparation method takes (maybe?) 5-7 minutes in total and BOOM, you have a health-packed side dish that actually tastes great.
The next part of my "let's eat more kale riddle" was finding a way to plug it into my routine. That's when BREAKFAST KALE was born! While lunch and dinner are sometimes a toss-up (maybe we're dining out or want a specific dish), breakfast is highly consistent in our house. Adding a pile of lemony kale to our breakfast plates was easy and ensured that I enjoyed this chewable vitamin OFTEN.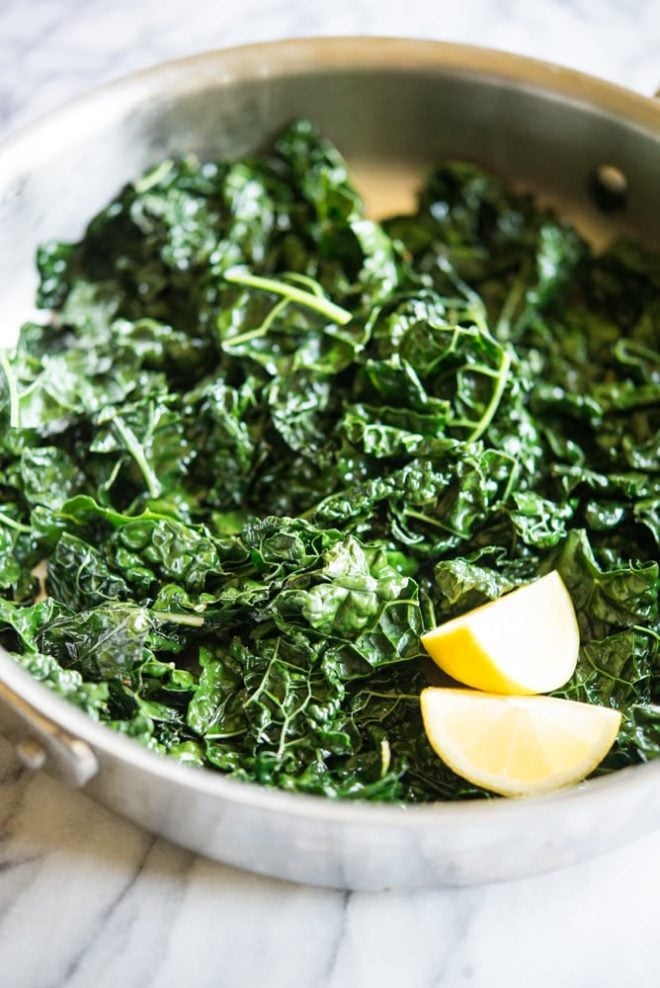 Ingredients
Instructions
Melt the butter over medium heat in a large frying pan that has a matching lid. Add the greens, toss to coat in the butter, and cover to steam until wilted, about 5 minutes.

Add the lemon juice and salt and stir to combine with the wilted greens. Serve warm.
Nutrition Information
Nutrition Facts
Lemony Kale
Amount per Serving
% Daily Value*
* Percent Daily Values are based on a 2000 calorie diet.
Video