Fresh Lime & Jalapeno Margarita
jump to recipe
A fresh lime & jalapeno margarita is simply made with lime juice, silver tequila, honey, and some jalapeno + cilantro. This almost-good-for you combo will please even the most discerning margarita lover!
It's official, folks. Summertime is upon us! Because it's been a while, we should probably recap how summer works:
Summer's obligation to us: provide sunshine, chirping birds, warm cars to enjoy upon exit from chilly buildings, minimal mosquitoes, and countless excuses to throw parties of 1 to 100.
Our obligation to summer: find a completely engrossing book, spend as many days as possible relaxing poolside and feeling confident in our bodies, eat only the best BBQ, and find/make/share a knock-your-socks-off margarita.
While I can't help with all the above, I CAN provide book inspiration in that I'm planning to read Girl on the Train, Mindy Kaling's Is Everyone Hanging Out Without Me?, and Ajax Penumbra 1969 (a prequel to the WONDERFUL book Mr. Penumbra's 24-Hour Book Store) this summer. If you want to join my entirely unofficial Fed+Fit Book-Club, follow me on Instagram! We can dish over our thoughts on these summer reads.
Books aside, I can ALSO aid in your search for a knock-your-socks-off margarita by sharing the very best jalapeno margarita recipe in the whole wide world! It's the very best and it's almost good for you.
Important note of qualification: as a Garcia by birth and resident of San Antonio, TX with a picky palate for only the best ingredients that actually jive WITH my healthy body (vs. make me feel like crap), I am actually the foremost authority on tasty-delicious, almost-good-for-you margaritas.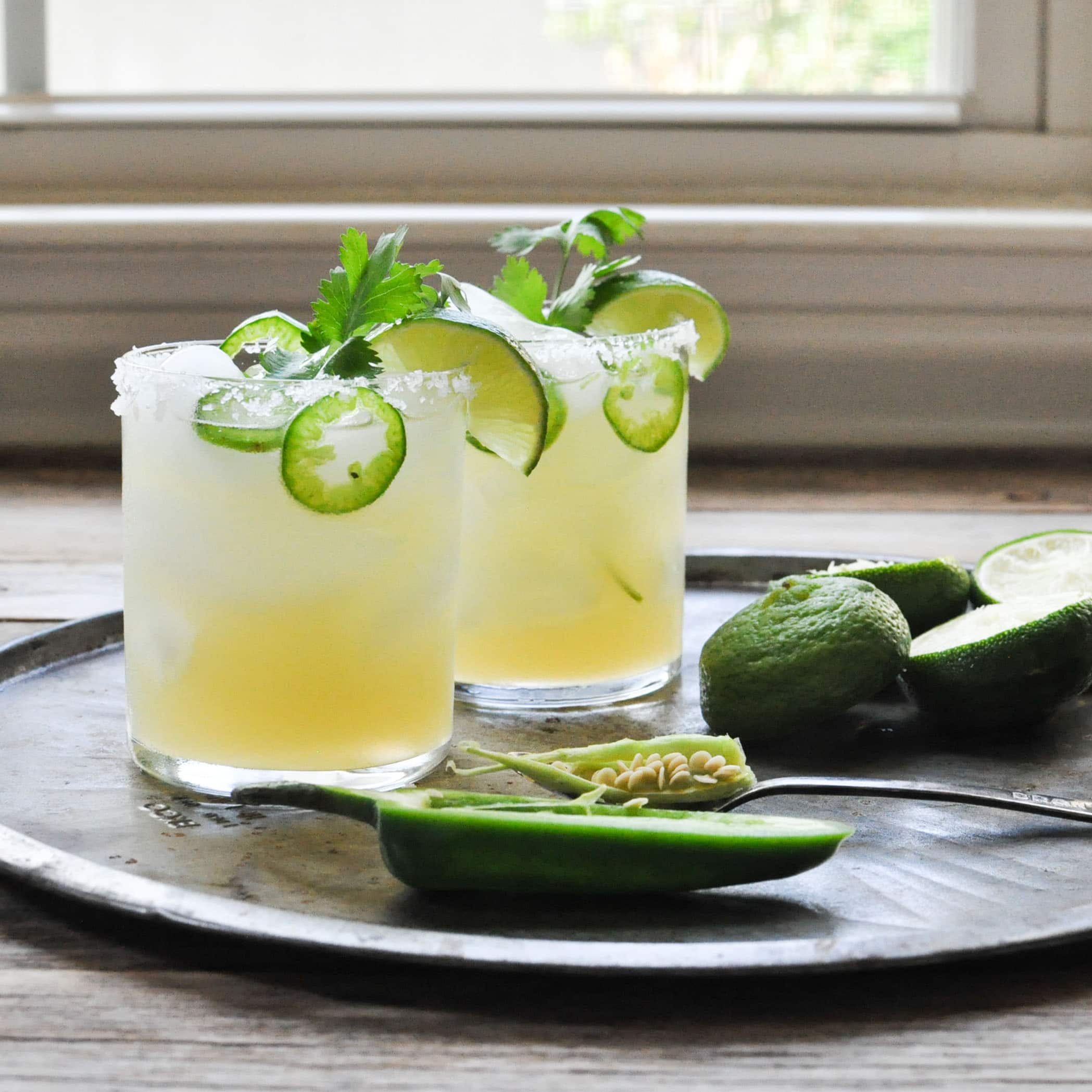 This masterpiece of a cocktail is made possible by a small, but powerful list of ingredients: FRESH lime juice, silver tequila, honey, and some jalapeno + cilantro. The cilantro is optional for anyone who thinks cilantro tastes like soap. I'd never ask you to put soap in your margarita.
Why honey? It's not only a delicious sweetener, but raw honey also plays host to a wonderful range of natural enzymes that help promote our health! Honey IS still a sugar and, therefore, should be consumed in moderation – but it's the healthiest sugar out there.
Why silver tequila? On average, most "gold" tequilas are colored to make them so. This is NOT true for some high-end tequilas, but I'm assuming you'd rather use a more affordable variety in your margarita. Silver tequila is simply an easier path to finding a "cleaner" version.
Why fresh lime juice? Unless you're purchasing lime juice that was squeezed THAT MORNING from a Whole Foods, you absolutely must juice your own limes. Lime juice concentrate and (worse) lime juice mixer contains a whole slew of make-you-feel-like-crap culprits. Everything from added sugars, dyes, water, and other preservatives makes for a drink that is miles away from it's more delicious, freshly squeezed alternative.
Why jalapeno and cilantro? Um, because they're delicious. Duh. Sure the jalapeno and cilantro offer a tiny punch of additional vitamin/minerals, but they're really just included for flavor and pizazz. You and your summer deserve all the pizazz!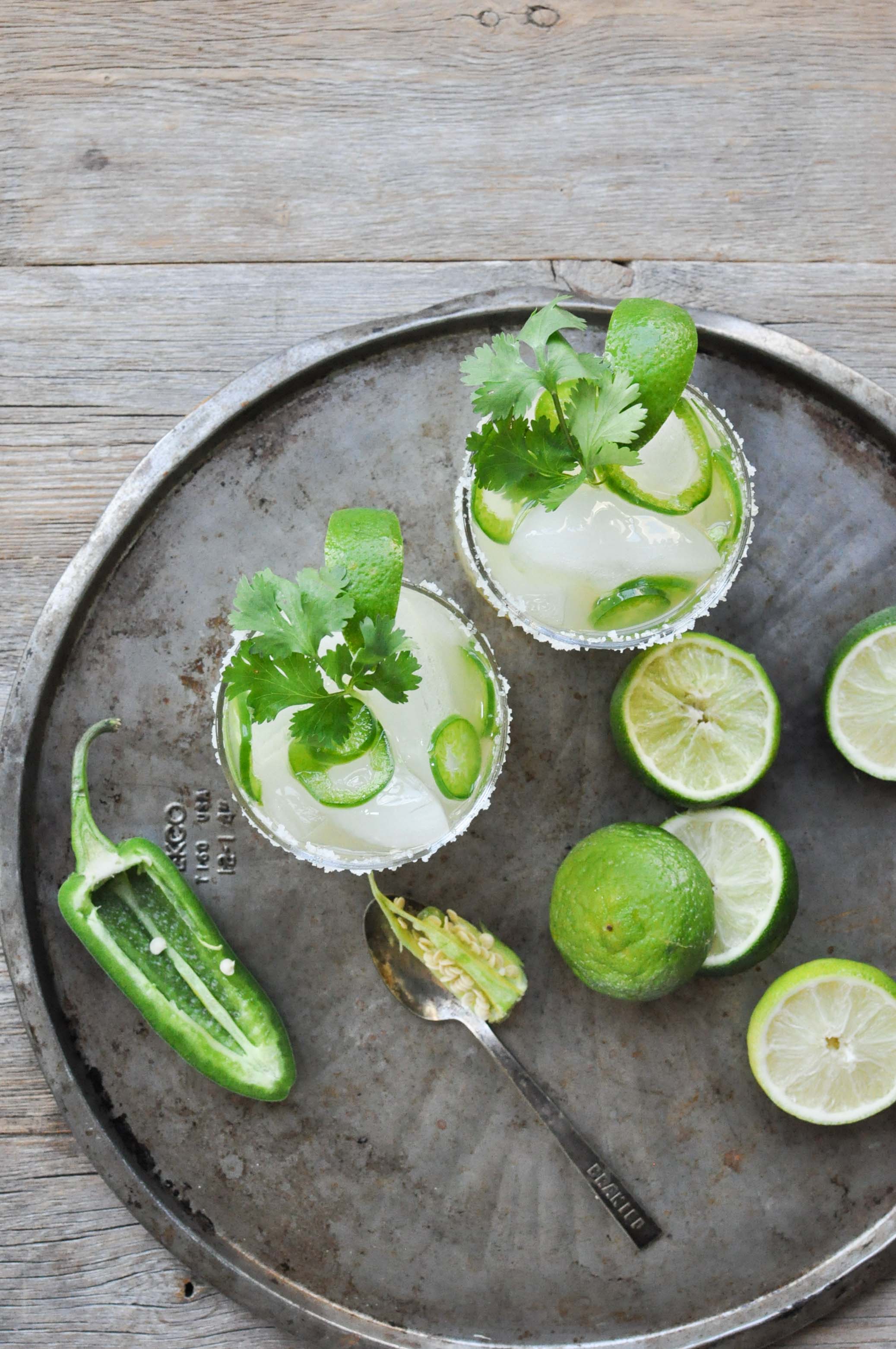 That's it! The cat is officially out of the bag. You know the key to my heart: good summer reads and a fresh lime jalapeno margarita. You can find me sitting poolside while I laugh and cry out loud to my books (I'm that girl who can't bottle book emotions) and asking the bartender if he can sweeten my margarita with honey instead of syrup.
If you're interested in hearing more of my thoughts on alcohol, how it's made, how it's processed, how to best prepare your body for a drink, and how I personally indulge, check out Episode 22 (Alcohol 101) of the Fed+Fit Podcast! I promise I only geek out over the science 7 times.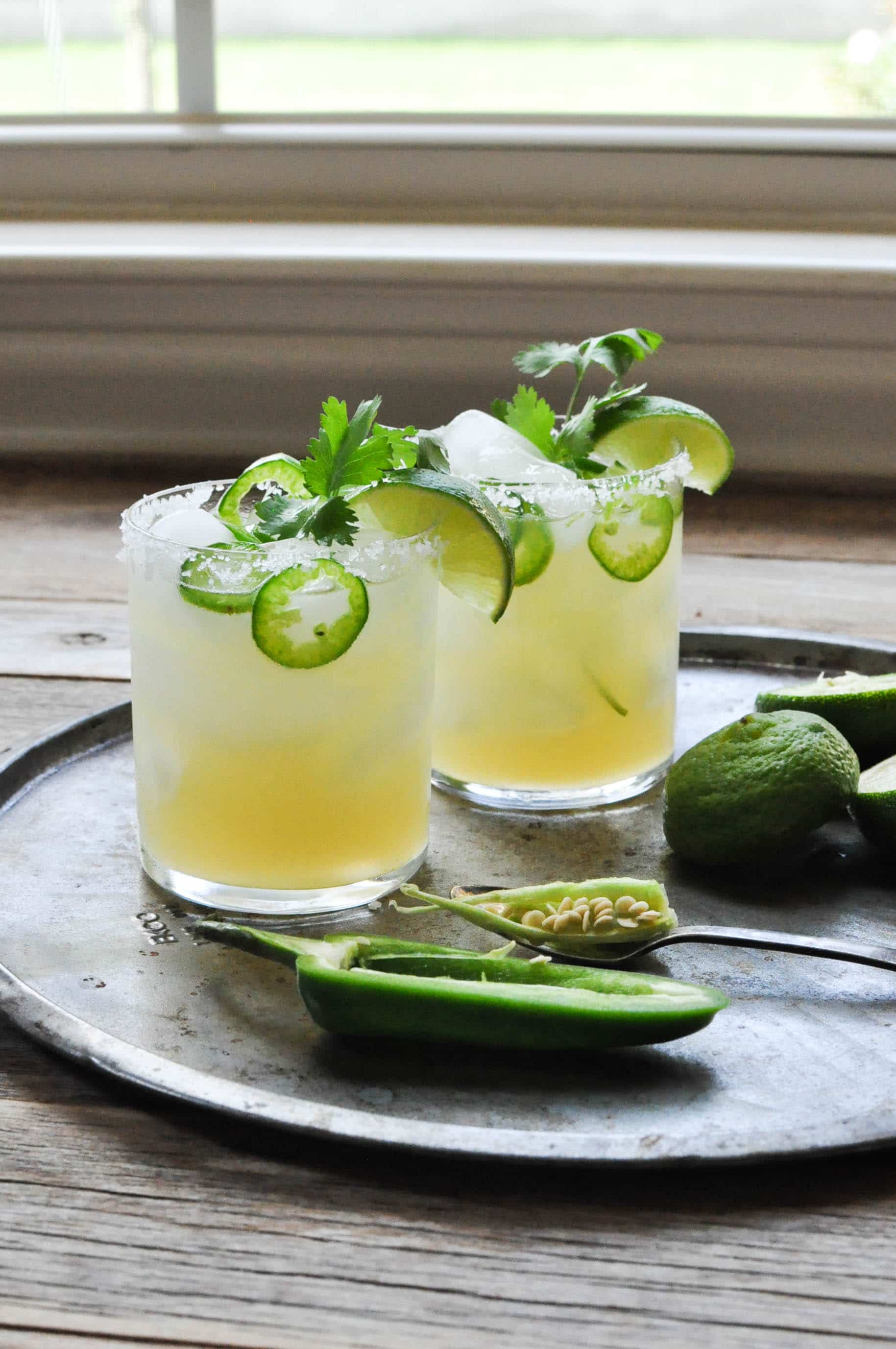 Print
Fresh Lime & Jalapeno Margarita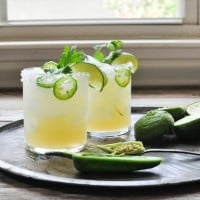 Author:
Prep Time:

10 minutes

Total Time:

10 minutes

Yield:

2 servings
Ingredients
1/2 cup

fresh-squeezed lime juice (no exceptions!)

1/2

large green jalapeno pepper, sliced thin

4 ounce

s silver tequila

2 ounce

s honey

2 tablespoon

s sea salt

2

lime wedges for garnish

2

sprigs cilantro for garnish (optional)
Instructions
In the bottom of a pitcher, muddle the jalapeno slices with the lime juice. 10-12 presses with a muddler or back of a wooden spoon will do!
Add the tequila and honey, stir to combine thoroughly – or until all the honey is dissolved.
Pour the sea salt in the bottom of a small bowl. Dip the top of each glass in the margarita mixture, let it drain off, then press the top of the glass into the bowl of salt. Gently tap the glass with your hand to knock off any excess.
Fill each glass with fresh ice and pour in the margarita mix.
Garnish with the fresh lime and cilantro.
ENJOY!