Mediterranean Hummus Wraps
jump to recipe
These Mediterranean Hummus Wraps are the perfect combination of creamy hummus, salty feta cheese, tangy black olives, and crisp red onions for a make-ahead lunch that is sure to become one of your favorites!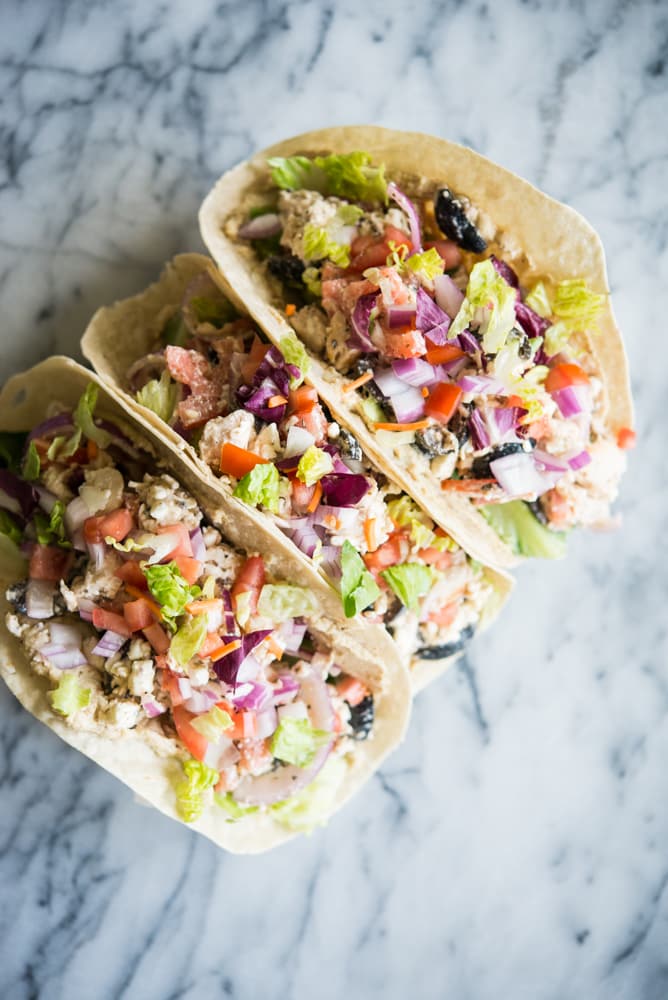 I've never been to Greece, but it is absolutely my number one dream destination for a vacation away from it all!  I've wanted to go there since I was a little girl.  There's something about crystal clear blue water, white topped villas, and the passionate nature of the people that just appeals to me. And don't even get me started on the food!  Rich flavors, cheese, healthy fats, and CHEESE….did I mention cheese?
Let's talk about my love affair with feta, since it's the start of the show in these Mediterranean Hummus Wraps!  Traditionally, this distinctive cheese is made from sheep or goat's milk, though much of what we consume today is often time sourced from cow's milk.  In the store, we find both the crumbled and block version, and what you choose depends really on what you plan to do with it! It crumbles and melts perfectly on all sorts of deliciousness, tops a salad like no other, and in this dish, creates a creamy dressing-like quality to our chicken that is out of this world!
The true beauty of these Mediterranean Hummus Wraps is that they're SO VERSATILE.  You can pick your own vessel (lettuce, collards, jicama, gluten-free tortillas, etc.), you can get your chicken pre-cooked from the salad bar or from a rotisserie chicken, and you can make your own hummus or buy store bought—really whatever makes sense for you in the time and budget categories, the world is your oyster with this one!
Tell me, if you had to pick a favorite cheese, what would it be?  Brie and Feta get me every time, but I'm dying to know if it's something you love or just have luke-warm feelings about!  If you're dairy-free, how do you get your creamy, cheesy fix?  Let's hear it friends!
Print
Mediterranean Hummus Wraps
The perfect cold salad for your weekday lunch!
Author:
Prep Time:

10 minutes

Cook Time:

30 minutes

Total Time:

40 minutes

Yield:

6

1

x
For the Chicken:
For the Salad:
6 ounces

crumbled feta

2

roma tomatoes, chopped

half of a

medium red onion, sliced and halved

1/2 cup

black olives, quartered

1 tablespoon

oregano, dried

1/2 teaspoon

salt

1/4 teaspoon

black pepper

1 tablespoon

lemon juice

1 tablespoon

olive oil

1

head romaine lettuce, chopped

8 ounces

of hummus

1

package of Siete Foods tortillas or other wrap of choice
Instructions
Preheat oven to 350 degrees.
Lightly grease a baking sheet.
Rinse and pat dry chicken breasts, then place them on the greased baking sheet.
Season with salt and pepper then bake for 30 minutes, then remove and let cool for at least 20 minutes.
While chicken is baking, prepare the additional ingredients.  Place all remaining ingredients except for the romaine, wraps, and hummus into a large mixing bowl and combine well.
Once the chicken has cooled, dice into bite sized pieces and add to ingredients in mixing bowl.  Stir well to combine.
Heat a griddle or large pan to medium to medium high heat.
Warm each tortilla in pan about 15 seconds per side.
To assemble your wrap, take your warmed tortilla and spread a liberal amount of hummus on it.
Place a layer of chopped romaine on the hummus, then spoon desired amount of chicken salad on top of the romaine.
Wrap up and ENJOY!
Notes
Store remaining salad in an airtight container in the refrigerator until ready to serve.