Every item on this page was chosen by The Fed & Fit team. The site may earn a commission on some products (read more here).
This pesto hummus is smooth, creamy, delicious, and well-balanced, making it the perfect healthy snack!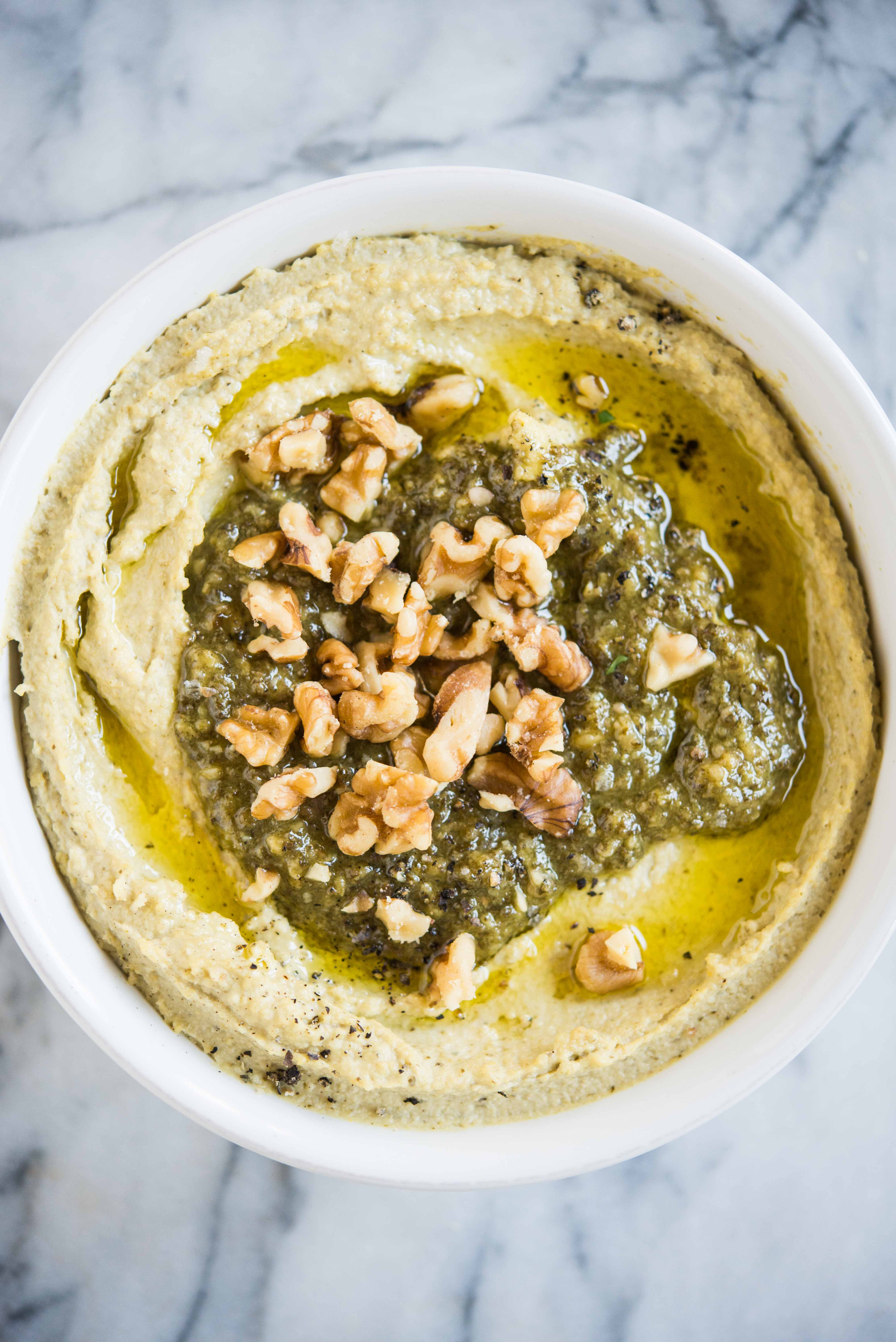 We're back with another *uber* creamy hummus (first, we brought you a good ole classic hummus), and this one is for the pesto lovers of the world! For me, pesto ANYTHING is guaranteed to be delicious (it's one of my go-to flavors), and this dreamy creamy hummus is no exception.
Store-bought hummus often lacks flavor, a creamy texture, and, more often than not, is filled with junk that doesn't *need* to be in hummus. Because of this, I found myself wasting a lot of store-bought hummus in the pursuit of a really good one… one that I never did find. What did I find, though? The KEY to making the creamiest, most delicious homemade hummus (that's WAY easier than you may think) that'll forever be in my snack prep rotation!
Is hummus healthy?
The answer to this varies from person to person! Health is all about what your body can tolerate and what makes you feel at your absolute best. If you are able to tolerate legumes, hummus is a great, healthy snack option for you! On the other hand, if you don't tolerate legumes well, you may want to skip the hummus since it's made up largely of chickpeas. We love that hummus is satisfying and well-balanced (made up of a combination of protein, healthy fats, and carbohydrates) – meaning that if you reach for hummus as a snack, you'll be full and satisfied until you're next meal rather than mindlessly reaching for more snacks throughout the day.
What is Pesto Hummus made of?
Just a few ingredients come together in a food processor to make the most delicious, creamy hummus! Here's what you'll need to add to your grocery list:
Chickpeas – chickpeas (also known as garbanzo beans) are the main player in hummus! For this pesto hummus recipe, you'll need one 15-ounce can of drained chickpeas. Be sure to save some of the liquid from the can (also known as aquafaba)…we'll need that later!

Tahini – tahini is another super important ingredient in hummus. Made from ground sesame seeds, tahini contributes to the creaminess of hummus!

Extra Virgin Olive Oil – olive oil really helps to thin out the hummus while adding a beautiful depth of flavor. We find that using high-quality olive oil here is the way to go!

Garlic – most hummus recipes call for a clove or 2 of garlic, and this recipe is no different in that respect. We'll use 1 clove of garlic in this recipe!

Lemon Juice – lemon juice helps to brighten the flavor of the hummus, while also adding a bit of contrast to the bitterness of tahini. We recommend using freshly squeezed juice here!

Aquafaba – aquafaba (the liquid from a can of chickpeas) is the KEY to creamy hummus! We'll start with 1 tablespoon of aquafaba, and add more if needed!

Pesto – you can either use store-bought basil pesto, or you can make homemade pesto with fresh basil, pine nuts, olive oil, and parmesan cheese. Our roasted garlic pesto makes for an incredible hummus!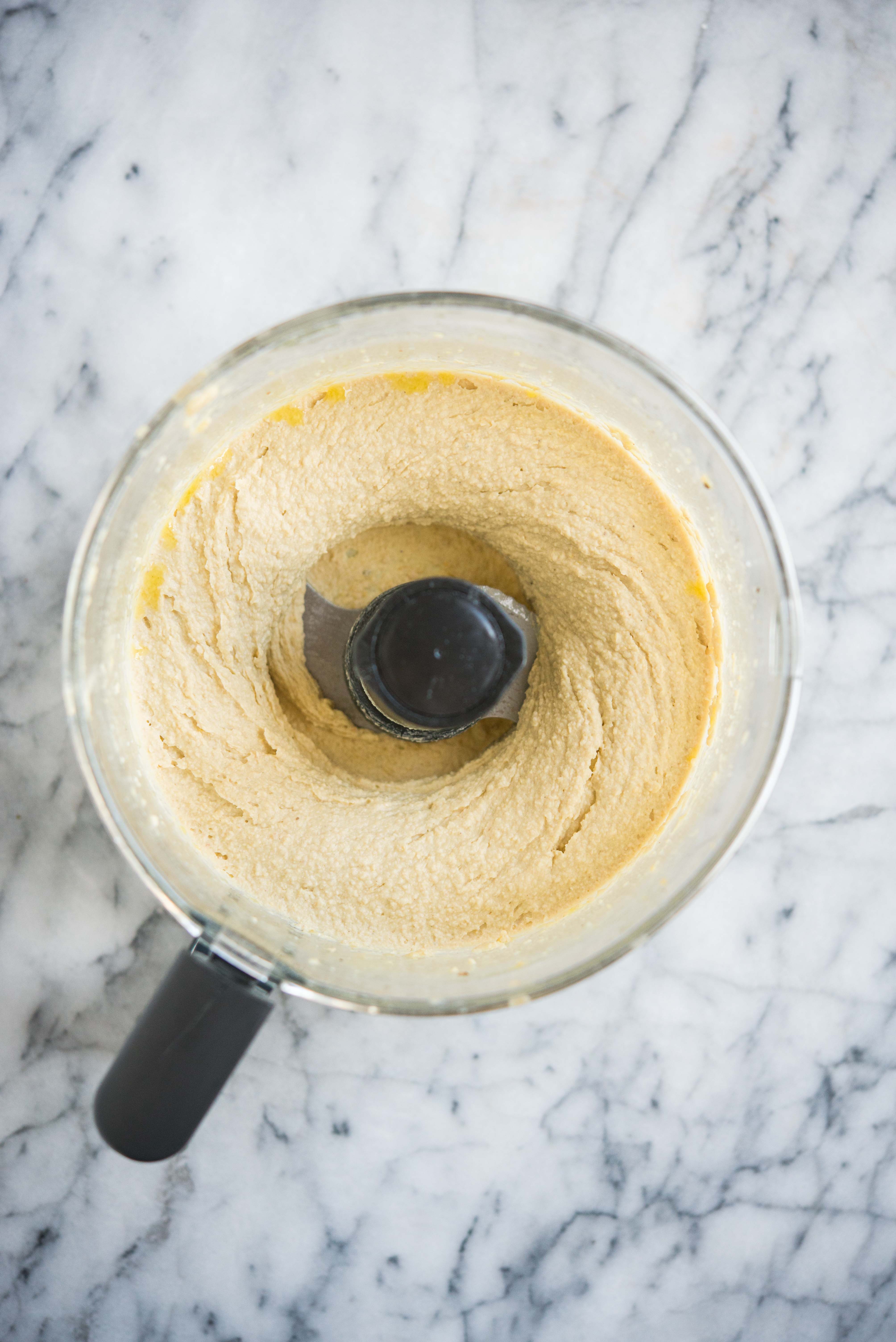 How to Make Pesto Hummus
It's easy-peasy, you guys! Just as a good snack should be! Here's how you make the most delicious homemade pesto hummus:
Add the chickpeas, tahini, pesto, and lemon juice to a food processor. Start by adding the chickpeas, tahini, pesto, and lemon juice to the food processor. You'll add these first because the chickpeas are too dense to blend on their own. The tahini and lemon juice will help thin out the chickpeas to form a smooth paste.

Add the olive oil, salt, and garlic. Once the chickpeas, tahini, pesto, and lemon juice have formed a smooth paste, you'll add the olive oil, salt, and garlic, and blend again until the mixture is totally smooth.

Add the aquafaba one tablespoon at a time. Finally, you'll add in a tablespoon of aquafaba (the liquid from the can of chickpeas) and blend the hummus for about 1 minute, then check the consistency. If you'd like your hummus smoother, add another tablespoon of water and repeat the process until you achieve your desired consistency.

Top with additional pesto + walnuts and enjoy! Dollop some more pesto on top of your hummus + walnuts (or pine nuts) if you wish, and dig in!
Tips + Tricks for the Creamiest Homemade Hummus
Just because you're making your hummus at home does not *guarantee* it to be smooth and creamy. Following these quick, easy (no peeling or boiling the chickpeas necessary!) tips and tricks, though, will!
Use High-Quality Tahini – when it comes to tahini, our advice is to look for the smoothest one your store carries – we had great results with this one. The smoother your tahini, the smoother your hummus!

Use Aquafaba Instead of Water – we really believe that this is the KEY to creamy, smooth hummus. While many recipes call for adding water, we found that in the trials that we used water, our hummus lacked the rich, creamy texture that we were aiming for. Aquafaba (the liquid from a can of chickpeas) is much thicker than water and really helps to thin the hummus without sacrificing texture.

Use a Food Processor, NOT a Blender – when it comes to making hummus at home, you'll need to use a high-quality food processor rather than a blender. Most blenders just aren't able to blend such a thick mixture, resulting in lumpy hummus. We use this food processor and love it!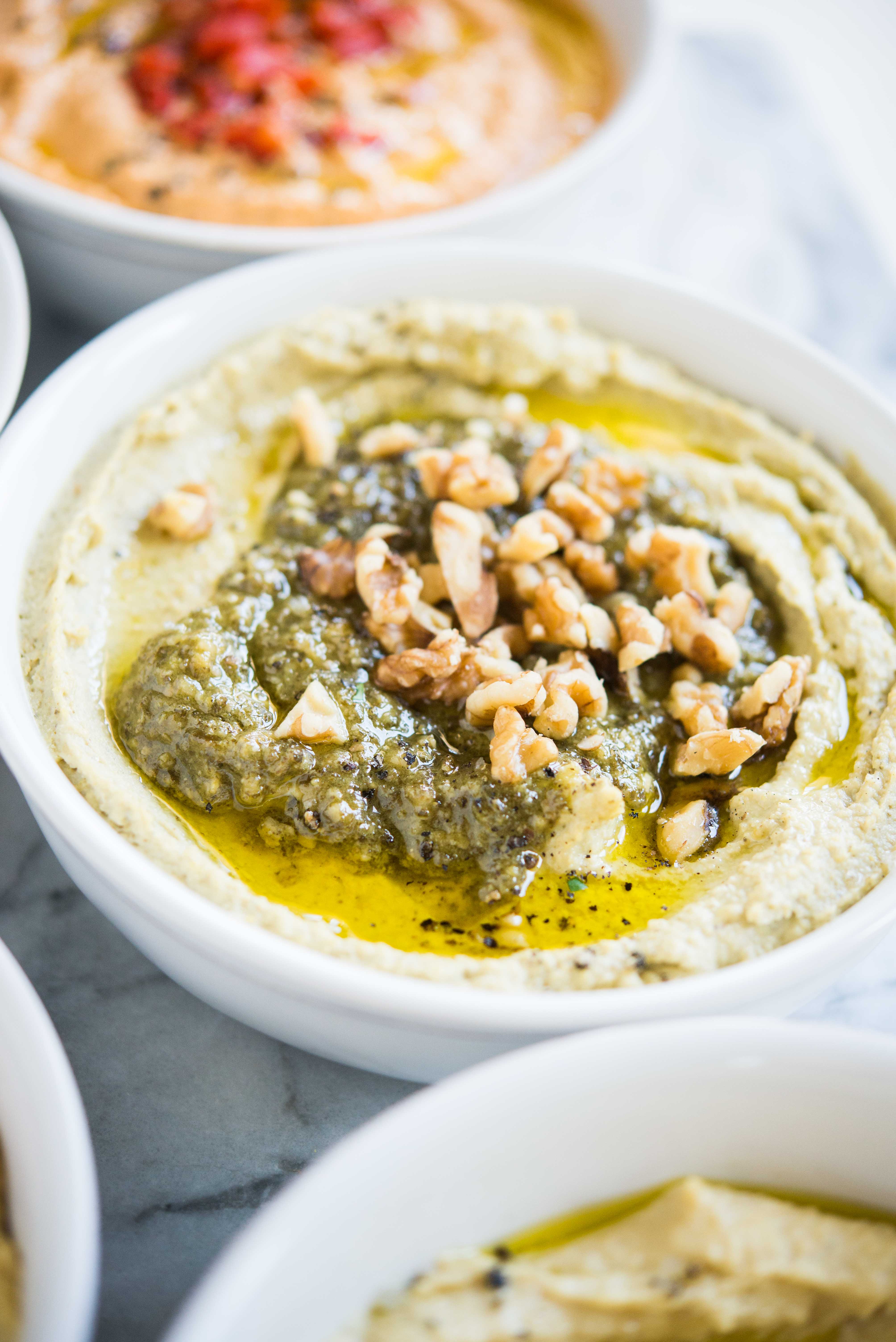 How to Use Pesto Hummus
Pesto hummus dip is delicious eaten with crunchy, raw veggies, pretzels, plantain chips, pita chips, or any other crunchy dipper (eating it this way makes for a really great party appetizer)! It's also super yummy as a sandwich or wrap spread, as a sauce for a simple pasta dish, a protein marinade, or even a chicken salad binder (instead of the traditional mayo + mustard combo)!
More of our Favorite
Dips
Ingredients
15

ounces

canned chickpeas

rinsed

1/3

cup

tahini

¼

cup

pesto

store-bought or homemade

3

tablespoons

extra-virgin olive oil

2

tablespoons

lemon juice

about 1 lemon

1/2-1

teaspoon

coarse sea salt

to taste (the amount of salt will depend on how much is in your pesto)

¼

teaspoon

fresh cracked black pepper

2

–3 tablespoons aquafaba

water from the can of chickpeas

Additional pesto and walnuts or pine nuts

for topping (optional)

Carrot sticks

celery, bell pepper slices, or other veggies of choice, for serving
Instructions
Add the chickpeas, tahini, pesto, olive oil, lemon juice, salt, and pepper to a food processor and blend until smooth.

Add the aquafaba one tablespoon at a time, blending between each addition, until a smooth consistency is achieved.

Top with additional pesto and walnuts or pine nuts, if desired, then eat immediately or transfer to an airtight container and store in the refrigerator for up to one week.
Nutrition Information
Nutrition Facts
Pesto Hummus
Amount per Serving
% Daily Value*
* Percent Daily Values are based on a 2000 calorie diet.